Cheap mass-market weed is taking over… and it's actually not that bad!
Profiling Pure Sunfarms.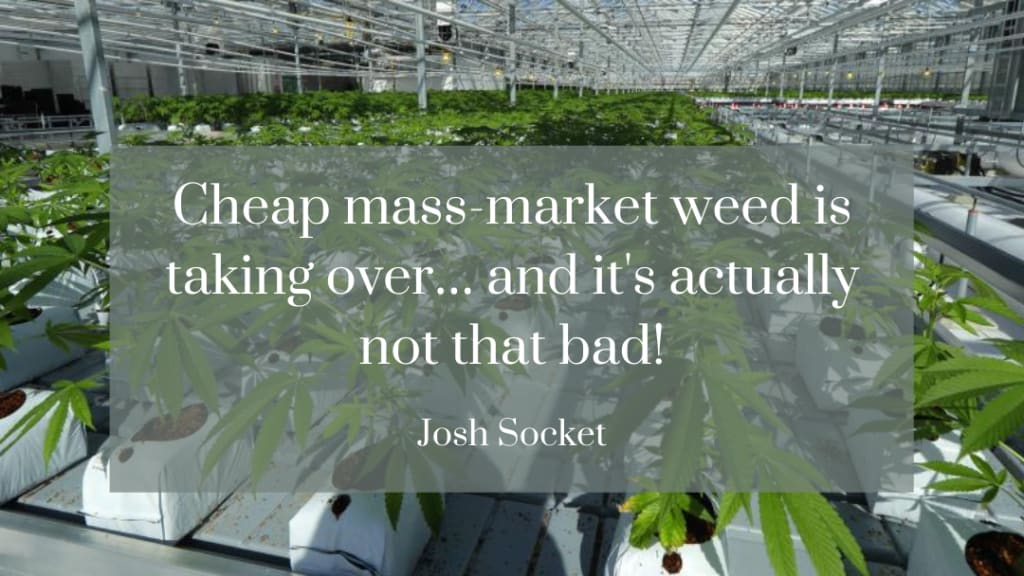 There's a weed war going on.
There's currently a war in the national cannabis market. A race to produce the cheapest weed per gram year-round. At 84 cents per gram, Pure Sunfarms is winning. Pure Sunfarms is blowing its competitors Organigram and Aphria out of the water.
Organigram is second with 98 cents per gram. Aphria trails farther behind with $1.69 per gram. They are all licensed producers growing year-round in a sun grown greenhouse. Meaning, they can control the temperature, climate inside, while also using the sun to grow their bud. Although they also use additional lighting in the months when the days are shorter.
Indoor weed is often more expensive because we're paying the Licensed Producer's power bill. Outdoor cannabis is far cheaper but is seasonal. Growers usually start in late April, sometimes May until roughly September. Outdoor grows are the cheapest to run because you don't require any sort of power, just climate and the sun. The downside is that there's 6 or 7 months out of the year where you can't grow weed outdoors in Canada.
Many people look at hybrid greenhouse grows because they blend the most important parts of an indoor and outdoor grow in order to produce low-cost cannabis all year. Typically, low-cost products are associated with poor quality. Pure Sunfarms markets on the basis of consistent, high-quality, low-cost bud. Which raises some questions:
• How are they able to make their weed so cheap?
• Is their weed high-quality?
• Can cheap weed still be high-quality?
I think I can answer these questions. Stay with me for a sec.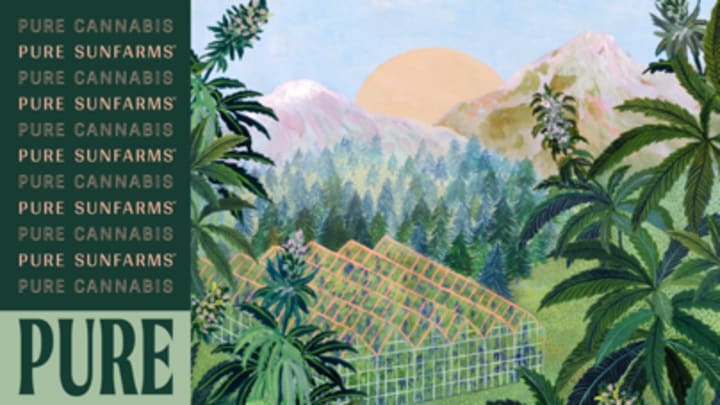 Pure Sunfarms: The leaders in Economies of Scale.
Since The OCS site launched, Pure Sunfarms has been their top-selling brand for flower. They also sell their products in most (if not all) of the other provincial markets. They operate nationally in the recreational and medical markets and have multiple channels to sell their weed through. They've even recently started selling their products through Shoppers Drug Marts' Cannabis Portal. Pure Sunfarms is a perfect example of something called Economies of Scale.
Essentially, Economies of Scale is a theory in which large production of any good can become cheaper to produce as production is scaled up and channel output matches production. Meaning, the more a company can produce and sell, the easier and cheaper it gets to produce. Production efficiencies as well as efficient practises greatly contribute to this theory being actualized.
It is also believed that when your production is bigger and enough people are buying your products from enough places, costs can be spread out across your production. You don't have to rely on your product to recoup its own costs. Sometimes you could have a product that recoups costs for everyone. It's usually a product that has is in a healthy phase in its lifecycle and generates cash flow. Think of the Ford F-150. People buy enough of them that Ford can fund all sorts of new projects like the Ford Bronco and the Electric Mustang. Marketing theorists call these products cash cows. A cash cow is great when you're trying to introduce a new product or support a product in an early stage in its cycle.
Dried flower is Pure Sunfarms' cash cow. 6% of The OCS site's flower sales between 2019 and 2020 came from Pure Sunfarms.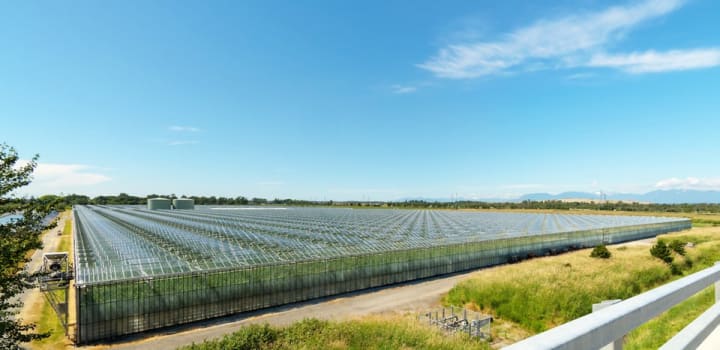 Let's talk specifically about Pure Sunfarms.
Pure Sunfarms has three facilities in Fraser Valley, British Columbia. The first facility started as a 25 acre (or 1.1 million square foor) greenhouse on 50 acres. Since their founding in 2017, they've added two more facilities. They are not completely operational yet. When they are operational, they expect to be able to produce 150 Greenhouses 'Delta 1', 'Delta 2' and 'Delta 3' are all 25 acres as well. There is also another facility currently being used by Village Farms that could potentially further increase production if needed.
A 25 acre greenhouse is supposedly capable of producing 75 thousand Kgs of weed annually. 75 thousand metric KG is 165 thousand pounds. There are 15 ounces in a pound and 28 grams in an ounce. They can produce over 2.4 billion ounces. Pure Sunfarms is one of Canada's largest single-site grow facilities.
This is how they have been capable of operating in multiple markets across multiple channels. Sheer volume. They are capable of growing enough cannabis to compete in every market. They also sell it cheap.
Pure Sunfarms currently has 9 strains. Their strains are:
• White Rhino (Indica)
• Afghan Kush (Indica)
• Pure Sun CBD (Hybrid)
• D Bubba (Indica)
• Headband (Hybrid)
• Pink Kush (Indica)
• Island Honey (Sativa)
• Critical Kali Mist (Sativa)
Each strain comes in multiple formats and format sizes. One of their specialties is bulk. Most of their strains are offered in 14g and 28g packages. They also offer most strains in smaller sizes (1g, 3.5g and 7g), vapes, pre-rolls, oils, and seeds.
On their website I counted 43 SKU's. They've recently announced they're only going to continue to offer more products. They promised more High-THC vape products in the new year. It will be exciting to see how many new SKU's they introduce in 2021.
How Pure Sunfarms came to be:
In 2017, Emerald Health Therapeutics partnered with Village Farms. Emerald Health specialized in cannabis research and development; they were mainly in the medical market. Village Farms had come from greenhouse produce. They previously grew mass-market tomatoes, cucumbers and peppers. Their specialty is growing large amounts of plants. Together, Emerald Health and Village Farms be equal owners in Pure Sunfarms.
Village Farms would bring its greenhouse expertise and Emerald Health would contribute their cannabis knowledge. Together the two intended to bring large-scale, low-cost, high-quality to Canadians.
Over time, the relationship would change. Emerald Health would prove to be an unequal partner. Slowly, they gave up ownership to Village Farms to pay off their debts. They also sold off unrelated facilities in other provinces. Emerald Health spent most of 2020 trying to become profitable. In September it was announced that Village Farms would be buying the rest of Pure Sunfarms. The sale would be worth roughly $80 million. Now Pure Sunfarms is entirely owned by Village Farms.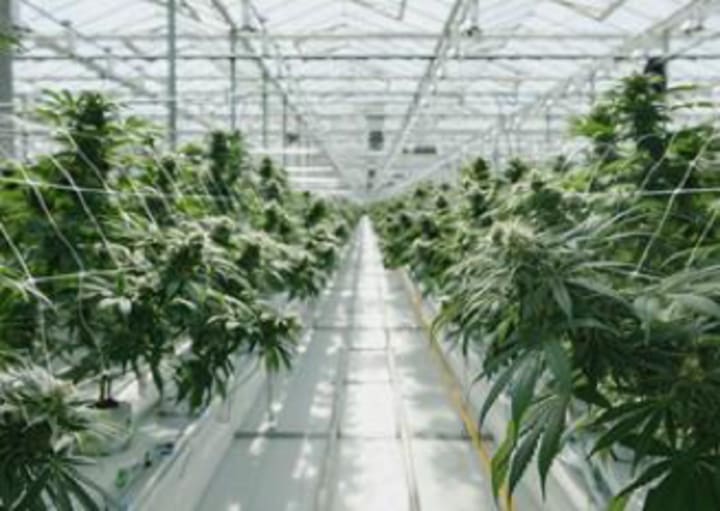 What does consistent cannabis mean?
High-quality weed to me starts with consistency. High-quality also means being able to produce an identical product every time. If someone buys a 14g or 28g bag, the product should be identical at the top of the bag and at the bottom. It should also be identical in the next bag. This comes from consistency in the grow.
Consistency is a two-part process for cannabis. The elements a licensed producers put into their planting methods is incredibly important for the end result. The end result is ultimately important for everyone.
These inputs are:
• Soil mediums (hydroponic, soil, etc.)
• Genetics
• The environment (temperature, climate, etc.)
• Light sources (High intensity lights, LED's, the sun, hybrid lighting systems.)
• Light schedules (longer hours, schedules meant to mimic certain locations)
• Food (nutrients)
• Drying practises (post-harvest)
• Curing practises (post-harvest)
That's the first key to quality, the second key to quality is output. The part user's experience. At the end of the day, they're the judges. They will be the ones who dictate if a product is worth their money and time. Choosing the right inputs will ensure the outputs are a high enough quality for consumers.
These outputs are:
• Aroma
• Taste
• Effects
• Potency
• Appearance
• Product information
Pure Sunfarms' Pink Kush checked off these boxes for me. Their Afghan Kush and White Rhino seem to check off these boxes for many Canadians.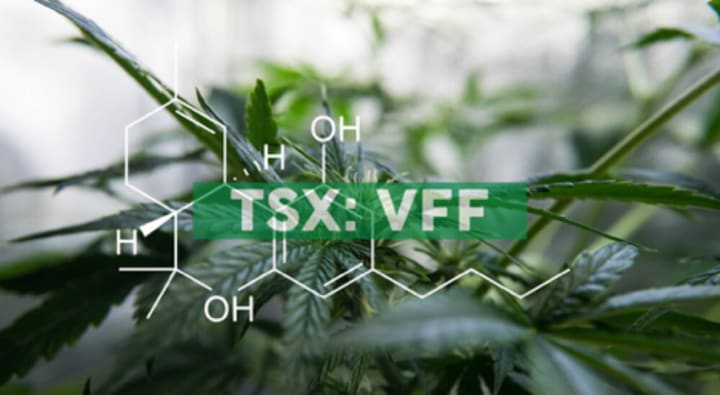 Pure Sunfarms: Successfully bringing you good, cheap weed.
For 7 consecutive quarters, Pure Sunfarms reported a positive EBIT (Earnings Before Interest and Taxes). For 6 consecutive quarters, they also reported a positive Net Income (earnings after Interest and Taxes). Some of their competitors (of equal size) are still consistently reporting losses. There's something to be said for that.
People are buying Pure Sunfarms products in droves. As long as the product can remain consistent, they won't stop. This means Pure Sunfarms products will not only remain affordable, but will grow even more affordable. It's a cycle, as long as we keep buying their pot, the pricing will keep getting better. This is also the case with other companies, providing they can capture hearts and minds to generate sales. 2021 is going to be interesting for Pure Sunfarms as well as the rest of the industry.
So far, I have only tried their Pink Kush and I liked it. The flavour was nice. It remined me of grapefruits or oranges. The smell was pretty similar too. The bud was green with bits of orange. It broke up nicely in my hand when I went to roll it. I would buy their Pink Kush again.
Pink Kush is a strong Indica with a THC range of 18-23%, which I think is pretty good. I intend to buy more Pure Sunfarms products. I grow my own plants and I want to try growing Headband seeds. I can't decide if I want to do an indoor grow and mimic sunlight or plant them in my backyard. I have time to decide.
If anyone has tried to grow a Pure Sunfarms seed, let me know how it went. (include pics)
I want to hear from you!
If you've tried a Pure Sunfarms product and you loved it, hated it, were undecided or anything in between, email me at:
If I made you think or maybe taught you something, please don't hesitate to leave a tip!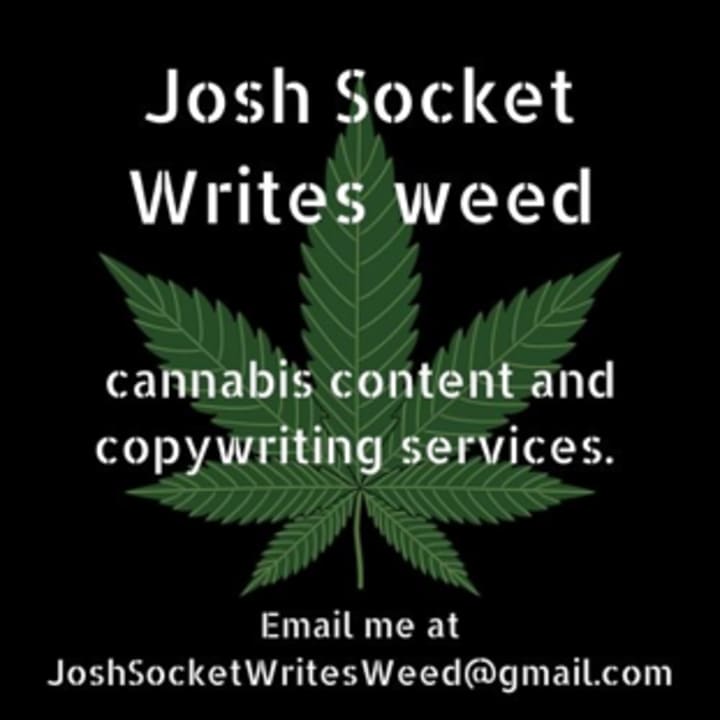 About the Creator
I'm a copywriter. My first thought was to create a library of cannabis information but I've decided to expand my writing.
I used to write for an agency that specialized in merchandising for influencers. Check it out.
Reader insights
Be the first to share your insights about this piece.
Add your insights