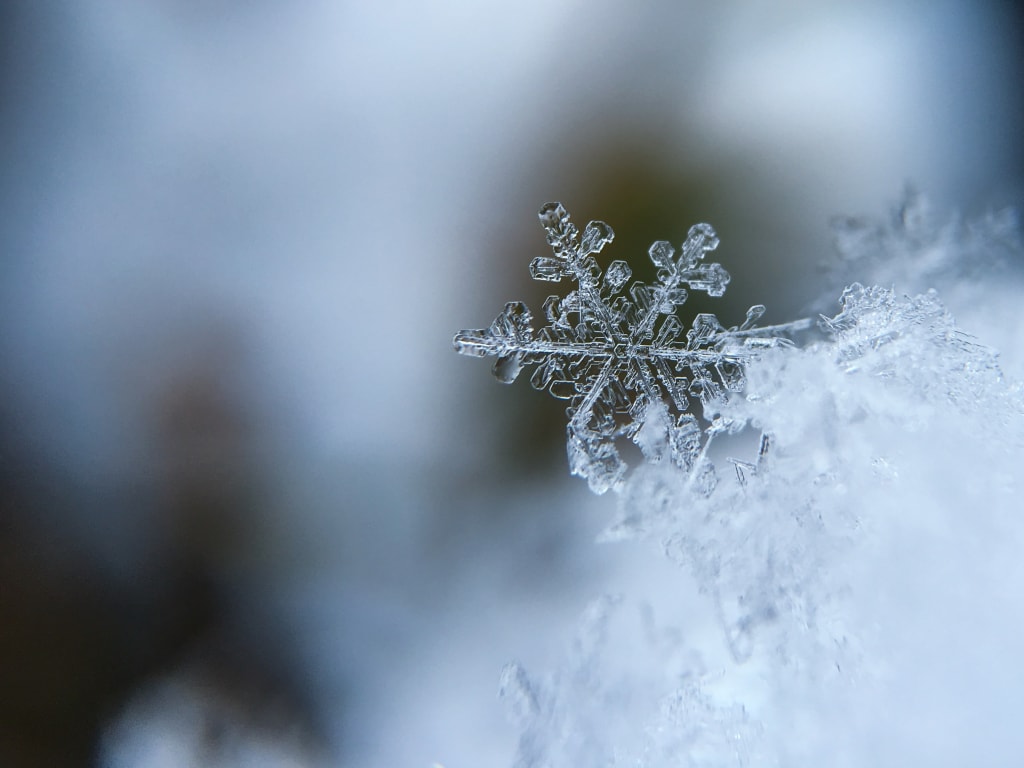 I burst through the door
Into the frigid unknown.
Fire feasts on the building behind me...
I cannot return.
//
The brightest white blankets the ground,
And I am blinded
While angels brush
The dandruff from their hair.
//
I am naked, skin exposed,
And I have no choice
But to proceed through
The thick, freezing
Clouds confined to ground.
//
I was promised purity
Where there are no stains…
But I shatter the stillness,
And now my footprints
Ruin the wholeness of the holiness
Covering the dirt below
In colorless clothes
That my intrusion rips holes through.
//
I sink lower the more I struggle.
Layers of winter's powder
Collapse under my weight,
And I hear the insides of the earth
Growl in hunger…
I may be Its next meal.
Her appetite is endless;
We all end up consumed.
//
But I am exhausted,
Forced to stop and accept
The outfit of icy pins and needles
Constricting me breathless
Like a corset I cannot untie.
//
But as I pause, you land on me.
Snowflakes that somehow
Be it chance or perhaps fate
(Does it matter in the end?)
Find their way to these places
On my arms, my hair, my cheeks...
//
And sometimes, I see you
And others, I can only feel.
But when I get a glimpse,
The intricacy of your existence
Makes inhaling forgettable…
Transfixed by the miracles
That gravity has gifted me.
//
I have no camera,
No pencils or brushes
To capture or mimic
Your unique design,
So I stare and attempt
To memorize the details…
But there are too many,
And in moments,
You have disappeared.
//
But you are not gone.
You are transformed.
Silently seeping through my pores,
Absorbed into my body
Joining the structure of my form
And becoming a part of me.
//
But even this is temporary.
Maybe you will escape
Through sweat released
While I make love,
Or leap from my eyes
And become the rain made of my tears.
//
Either way, you will leave.
But not without forging your way
Inside me first
Before exiting to begin your next
Metamorphosis.
//
And suddenly, I can move again.
The snow resists, but I will keep going.
//
And if you'd like to kiss me more,
I'll wait for you.
Caress me in your crystal cold…
I don't mind.
//
If you must bite me with frost,
Use all your teeth
Dig in deeply,
And give me a scar
To remember you by.
About the Creator
I have been writing poetry and lyrics since I was a child. I have recently started writing short scripts for "found footage" horror TikToks. I dream of writing books and full length screenplays. Thanks for being in this community with me!
Reader insights
Outstanding
Excellent work. Looking forward to reading more!
Top insight
Compelling and original writing

Creative use of language & vocab
Add your insights