RESCUE
— For Pet Haven Minnesota —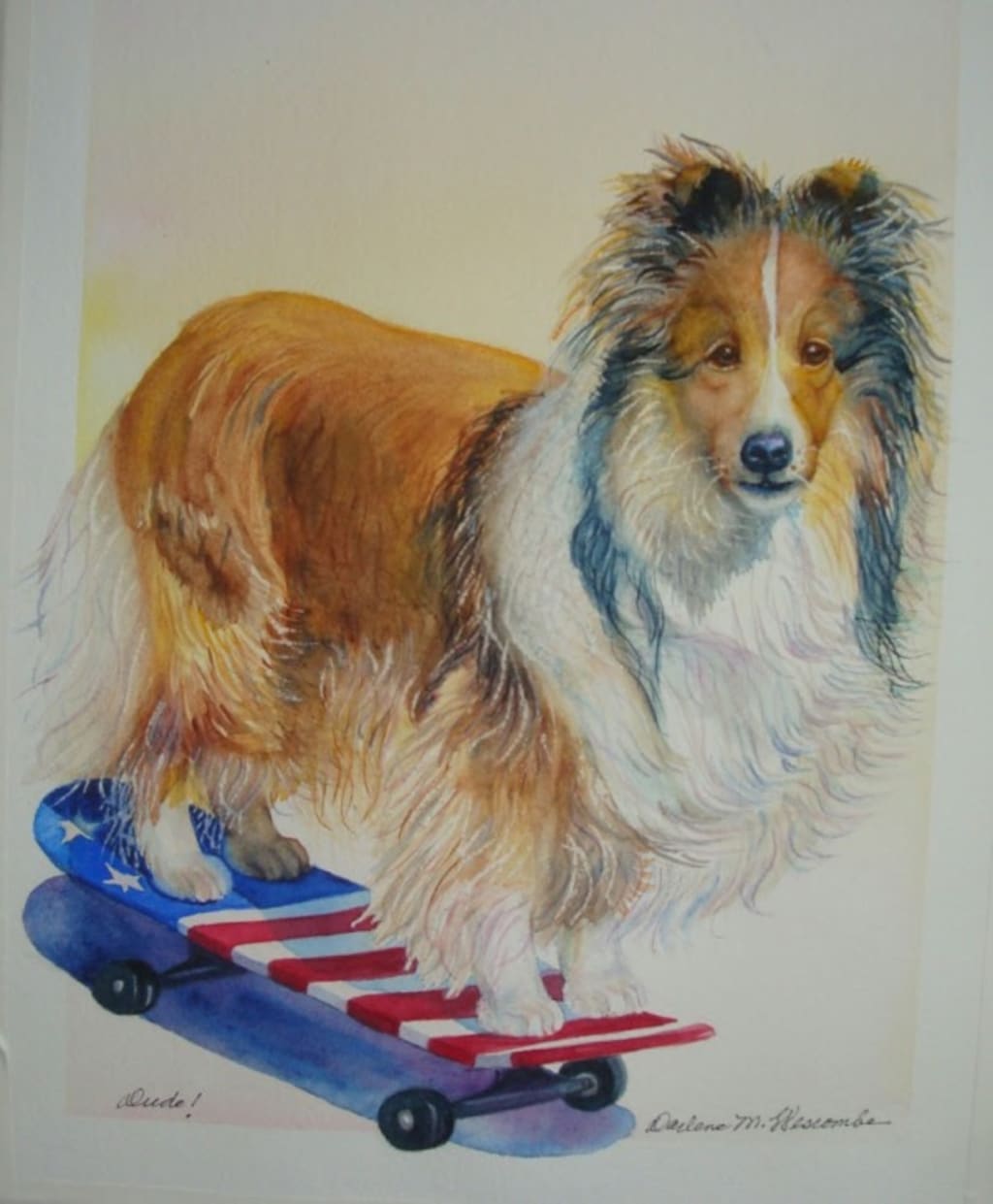 © Darlene M. Wescombe
This is 'DUDE'
— For Pet Haven Minnesota —
~ Re-Home ~
'DUDE' the Shetland Collie had been trained as a therapy dog and for years regularly went to hospitals, facilities where people recovered from surgery, retirement communities and so on. When Covid hit, his owner/trainer wasn't allowed inside to visit. Because Collies are working dogs by nature DUDE needed a 'Job' so his Pet-Parent began teaching him to ride a skateboard for deliveries — now also his current mode of transportation. Anyone can teach their dogs to 'Board' – Enormous amounts of Treats-Rewards-Patience-Lovin' – Especially Hugs!
Just like the Rescued-Sheltie 'DUDE' my two Corgis were 'Rescues'. They showed so much affection: "Best Kissers Ever!" Never left my side. Almost got annoying — but, a 'Good-Annoying'.
Corgis, also in the Collie family, were 'working' dogs. They would Herd – Waggle Tail-less & Short legged upside our bed in the mornings for attention to get up and start the work-day – what's on the agenda? Really! I would take both of them to Dad's rest home. And, when the guests got a 'whiff' of our visits, they would line the halls wanting to pet/hold them. And, of course, while instantly bringing out their long term memories with those special 'Pet' moments — we've all had those pet-tail-tales. I always looked forward to those heart warming 'encounters' — Odd though Dad wasn't much of a Dog-Guy; but the others swooned over our munchkins.
— Not a Dog Guy — even less, a 'Dog-Sitter'. Once, not happy about it, but he reluctantly agreed to 'Sit' our Corgi 'Lola' for just a few hours; providing she's relegated to the back room. When we came home we saw them snuggled on Dad's recliner – we didn't wake them!
A friend works in a library that hosts dogs to come to their child reading section so children can read to them. The idea is kids feel less pressure reading aloud to a dog than to an adult; more patience? This organization has Children read to pets in their facility. Quote: "Easier than speaking to their parents – Pet's don't talk back." These events became so popular that there is a 'waiting list' for children to participate when there are scheduled openings – how lovely is that!
We are going where? Tails-Down 'They Know' — Going to the Vet. Our Corgis had to be carried-dragged into the 'Vet' not unlike when I have to go to the Dentist! They would actually Howl: This was just for simple checkup visits. Who does that – I put on my Egg-Shell Shoes to carefully walk through these visits.
Dogs have unique ways of showing they care for us. Whenever I sneeze, Lola comes running at full speed with the most quizzical look on her face as if to say, "Dad, are you OK?" I have to laugh because I know this is her way of showing she's my girl! Ah~Heartsy!
DUDE'S Brother 'DOUG' was adopted too; they had to split them apart! But, they stay in touch with weekly 'Board' tricks @ the Dog-Park—quite the showoffs—along with 'Go-Fetch' contests!
Most feel that 'Rescues' are only Unruly or Unwanted Dogs. The documented-history for my Corgi Rescues read that they were once owned by now deceased Pet-Parents. There are many reasons-types of categories for Pet 'New-Home-Finders' to be chosen from that may not be realized; they aren't all neglected pound-dogs! It breaks my heart just walking through those facilities - I want to take them all home.
Before 'Fostering' became a Pet Haven humane-bridge prior to adoptions we saw an ad placed by a woman that rescued 'Pound' Dogs right before their last days. We were given Charlie but once shot records arrived from the shelter for our female dog, a month later, they said "Melissa is due her shots." Melissa perked right-up when we called to her, "Who's Melissa?" Turns out the rescue lady called all the dogs Charlie. Unlike Pet Haven: They 'name' everyone!
As witnessed by the–always shadowing you–attachments of Grateful Rescues. Does the earlier 'Loss Factor' tug at your heart with the choice of adoption rather than raising a new puppy outweigh ~ versus the loving aspect of saved Rescues?
The world is a much nicer place than the evening news would have you believe! Enrich your Family – Adopt!
~ Go Fetch ~
Jay Kantor, Chatsworth, Cal
'Senior' Vocal Author
"For The Kids Someday"