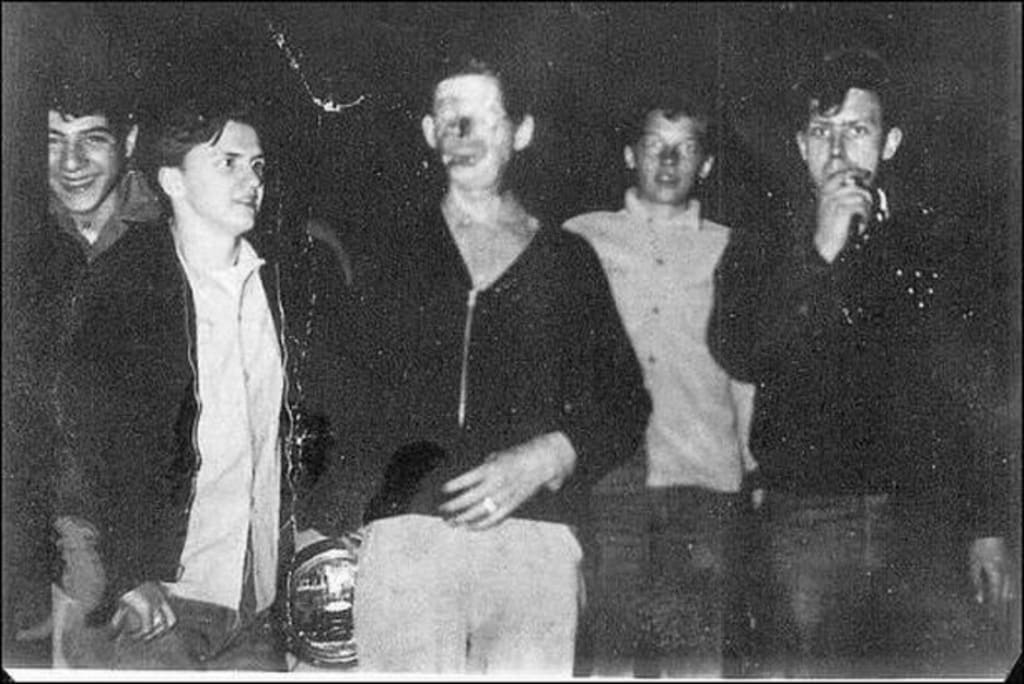 (Image: All That's Interesting)
In western Pennsylvania, it is common for people to have heard of the legend of a faceless man who haunts the highway or local tunnel at night. There are various stories associated with this man, each different from the other.
Some believe that he was struck by lightning in his childhood, which left him severely disfigured with glowing greenish skin. This event caused him to lose his eyes, nose, and right arm. Others suggest that he fell into a vat of acid while working in a local factory, which could explain his greenish skin.
Some people believed that the Green Man was not human, to begin with, that he was a ghostly figure who roamed the isolated highways of western Pennsylvania for all eternity.
Maya Ranchod, who was in high school during the mid-2000s, decided to spend her Saturday evening searching for the Green Man with her boyfriend by driving around the highway. Since Elwood City wasn't exactly renowned for its nightlife, searching for the Green Man for a cheap thrill was the only way Ranchod knew how to relieve her boredom.
As Ranchod stated, "Everyone has grown up hearing about the Green Man, but it's one of those things where you don't really think you're going to see anything. It's a ghost story, something your parents talked about around a fire pit, but we still did it. It was still scary even though we knew it wasn't real."
For almost a century, people have been on the hunt for the Green Man. If you were brave enough, you would go out and attempt to locate him.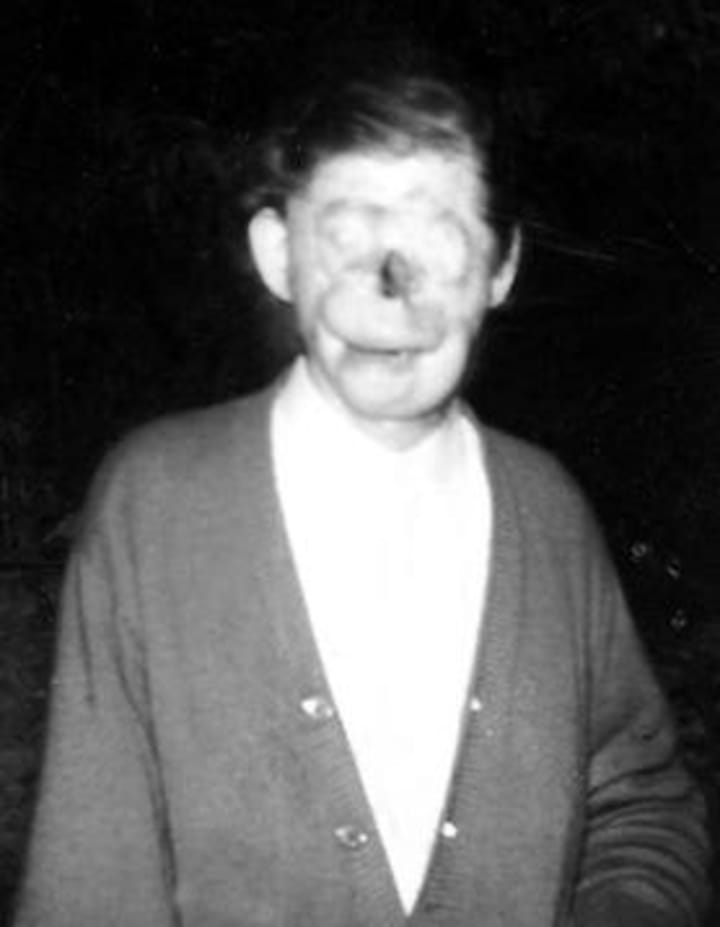 The Green Man, also known as Charlie No Face to locals, is based on the true story of Raymond Robinson.
In March 2007, The Times ran an in-depth feature on Ray Robinson, who was famously referred to as the Green Man. The article recounted a tragic incident that occurred in 1918 in Beaver Falls when an 8-year-old boy was electrocuted. Ray, accompanied by his sister and a group of friends, was exploring New Castle, Pennsylvania when they spotted a bird's nest atop a tree next to an abandoned trolley trestle.
Curious to see it up close, Ray decided to climb up but accidentally touched a wire that was still carrying power from the trolley. The voltage was so intense that it destroyed and melted all of his facial features, including his right arm. Unfortunately, Ray was not the first victim of this deadly wire. Nearly a year prior, another boy had touched the same wire and died after spending two excruciating weeks in the hospital.
Despite the severity of Ray's injuries, he somehow managed to survive the accident, which doctors, family members, and friends all considered to be a miracle. However, his life was forever changed as a result.
A filmmaker named Tisha York had plans in 2008 to create a documentary about the urban legend of the Green Man titled Route 351. The legend was based on a man named Ray Robinson, and York had spent three years researching and conducting interviews with people who knew him personally.
The documentary was set to be released in 2009 but was postponed due to the Great Recession. According to York, the name "Green Man" was not derived from rumors about his employment at a factory, but rather from something more macabre. Specifically, Robinson's nose was an open wound for the entirety of his life, which caused frequent infections and turned it green.
It's a mystery why he was known as Charlie no Face instead of Ray no Face. Ray was often isolated and excluded from social interactions, even by his own family who would eat separately from him.
If you take a look at old Victorian homes, you will notice that many of them have isolated rooms equipped with plumbing and everything necessary for living. During that era, these rooms were used to keep individuals like Ray hidden away from the rest of society. Despite this, Ray tried his best to make the most of his situation.
Similar to many individuals, Ray was a huge fan of baseball. He would tune in to every game he could on his radio. He also taught himself how to read Braille and how to make items like wallets and doormats out of old tires.
As an adult, he lived in a small apartment fashioned for him in his family's garage. He lived a life of solitude until a certain point when he longed for a connection to the outside world.
According to York, who also grew up in Ellwood City, Ray became known for his habit of strolling along route 351 and other nearby roads in Beaver County during nighttime.
Ray's appearance drew attention, which led to rumors circulating about him, causing people to actively search for him. While many were interested in meeting him, Ray seemed to relish the attention. He enjoyed smoking and drinking beer, and these after-hours encounters became a crucial way for him to connect with the world outside.
This is the tale recounted by Daniell Fishel in her article on The Thrillist, which tells the story of her father's personal experience with the "green man."
During the late night of the 1960s, when my father was just thirteen years old, he encountered Charlie no face, an experience he describes as the most terrifying of his life. He and his friends had been night swimming at the local pool when they began discussing the Green Man.
By that point, everyone in town had heard about the legend, but what made that night different for my father was one of his older friends, who claimed to have met the man in person. They decided to search for him with a case of beer, a straw, and some cigarettes. My father was unsure what to expect and had to see him in person to believe he existed.
Eventually, they found Ray walking alone on the side of the highway and pulled up next to him. The driver, who had met Ray before, got out of the car as my father and the others watched through the fog. When Ray got into the car, my father was not prepared for what he saw. Ray had a black face, which was illuminated by the dashboard lights, and my father screamed in fear. He had never seen anything like it before.
After a few moments, my father managed to calm himself down and realized that the subject of one of the most notorious urban legends of his generation was sitting beside him in the back seat of a station wagon, casually sipping a domestic Light beer through a bendy straw. He gradually realized that he had nothing to fear and that it was like meeting the boogeyman and discovering he's just like any ordinary guy.
Being different in this world can be a harsh reality that many can attest to.
Ray's experience was no different, as not all who came across him had good intentions. Instead of sharing a drink and moving on, he was often met with violence and cruelty. He was beaten up and given urine-filled beer bottles, causing him to never drink an open drink again. Some even took him to remote locations, only to abandon him there.
Ray was always on edge, and the sound of an approaching vehicle was enough to make him feel restless. Rumor has it that he even had to carry a gun for protection at some point. Despite all the mistreatment, Ray was a beautiful and kind person, "People need to understand this was a human being, a real person, someone who endured one of the most tragic lives I've ever encountered," said York. "Underneath it all was this beautiful, kind man."
I recently looked up pictures of Ray online and shared them with my father. He was silent for a while, simply gazing at the images and reminiscing. Eventually, he expressed regret that he had ever been afraid of Ray in the first place.
According to York, who interviewed hundreds of individuals throughout western Pennsylvania, most of whom were young men like my father who would go out with Ray or drive him around, many of these grown men wept when discussing their experiences with Ray.
Although many of them understandably regretted how they had treated him in the past, others were simply overcome with emotion at the thought of Ray's impact on their lives. For some, it was a reflection on his life that left them feeling sad and melancholic.
One photo shows Ray standing next to a woman, perhaps the only woman other than his family members whom he ever touched. He looks happy, and the woman appears unafraid. Another story tells of a young man who had lost a brother in Vietnam and who credits Ray's companionship and boundless empathy for helping him through his grieving process. Ray taught countless people who would spend long nights sitting in a car or on a porch with him about the importance of looking past surface-level differences, of conquering fear and preconceptions.
He inspired people to embrace their individuality and to realize that it is okay to be different. He genuinely changed lives. Remarkably, throughout his life, Ray never expressed anger or frustration or asked "Why me?". He remained positive, authentic, and the kind of person and friend we all aspire to be. "Everyone will remember the legends, but he meant so much more to so many people, and it really made him happy."
Urban legends often have a foundation in truth, and many times in tragedy. Ray Robinson's face was one that people could never forget. His reputation kept children up at night and still continues to do so. Even now, in Beaver County and throughout the world, people speak of him.
It's impossible to keep him hidden any longer. In 1981, he passed away in a nursing home and was buried just a few feet away from a young boy who had been electrocuted the year before. Every now and then, visitors place fresh flowers on his grave. Despite his circumstances, he was an inspiring example of someone being given the worst and making the best of it.
About the Creator
We should enjoy every moment fully, fall in love, make the most of our time, and live without regret. We should cherish the fact that there are still many moments in life that we have yet to experience for the last time.
Reader insights
Be the first to share your insights about this piece.
Add your insights