"The Shrug" Podcast
By Jazzy G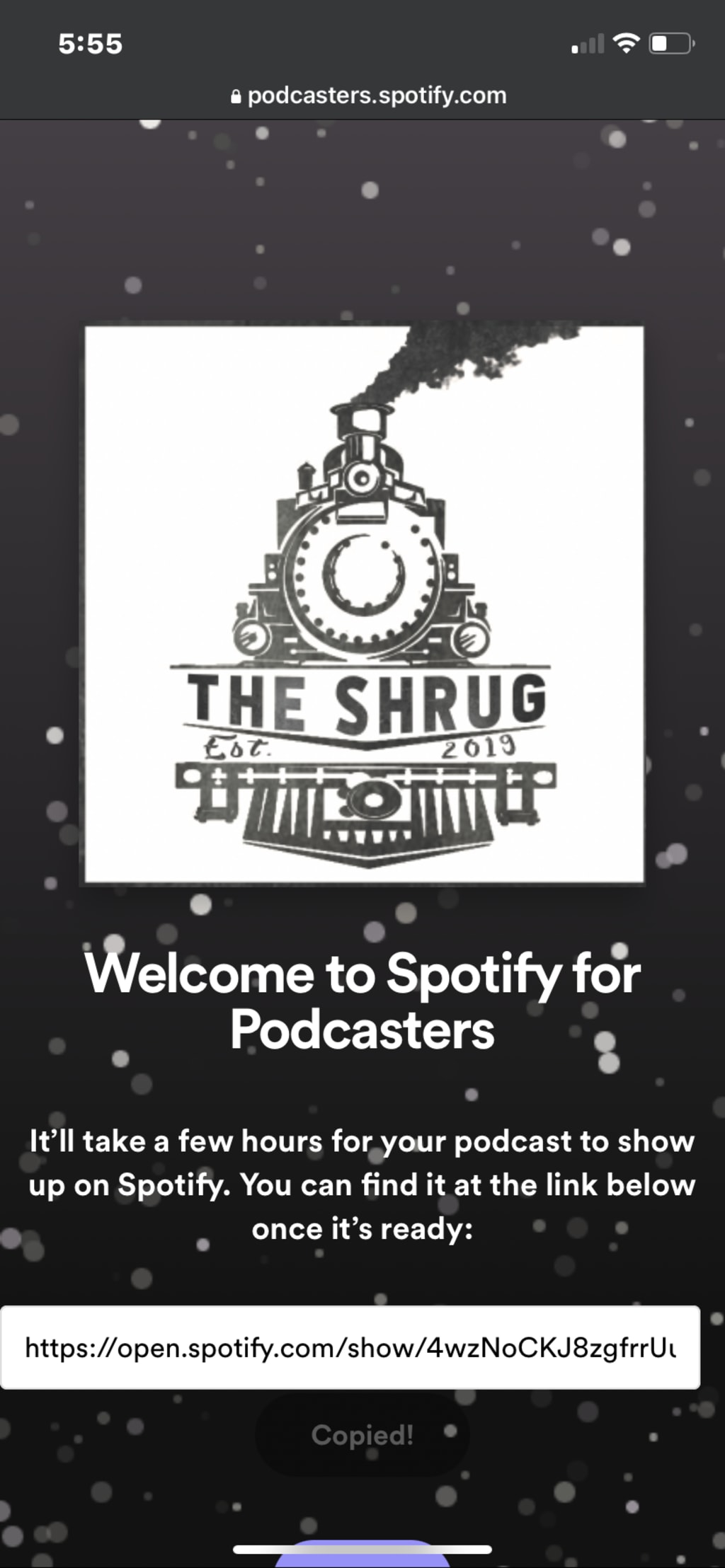 I've talked about it in the Discord chat and wrote about it a few times and here it is.
Here it is! 🥹 I'm so excited!
The official "The Shrug" podcast, revamped and available on all podcast players! Personally I use Spotify, but I know it's on Apple Podcasts as well. Humbly, I ask you to check out the podcast. Rate and subscribe! Finally, if you'd like to be sponsored, drop a link to your stories! And of course, listen to the podcast, tell me your thoughts. Episode 2) Real Poetic's Interview coming soon!
Here is who is sponsored in Episode 1) Start Up.
JUST NICOLE's "Unlikeable"
Kayleigh Fraser's "Empty Echoes of Unsocial Media"
Cathy Holmes' "Your New Home"
Sara's "why"
Jazzy G's (ME) "My First Word was Shit"
And finally please check out this profile and support his work.
Please check the links above and leave hearts and comments on these amazing poets and creators!
If you made it this far, thank you! I have to make the 600 word count so I'm going to start with some history of me and my podcast. I started the podcast originally in 2019, as a way to present my voice and share my viewpoints on things. Eventually after my first divorce, it turned into my dating stories. I would get drunk and talk about what it was like being a girl on Tinder or Hinge. Which funny story is how my husband (current) and I reconnected, on Hinge. I had a blast talking about different issues and creating content. Podcasting has never felt like work. Even now, doing my researcher on Vocal for stories to share, isn't work for me. I love to read, and well Vocal people love to share. There will always be content. What I will be working on is my views and dissections of the poems and short stories; so I can have more to say about the poem on the podcast. Wow, six hundred words is so many and I'm only half way there. Anyways, back to the point; the art design of "The Shrug" was created by my sister-in-law (that only counts as one word?). We based it off the book, "Atlas Shrugged", it being both our favorite book. I loved the message of that book, we create when we have the mind to do it. Interesting fact about me, I did modeling classes through John Casablancas and Barbizon and was told I would be a really great personality for Television or podcasting. I think they had one thing right, I am just right for podcasting. I'm technically obese so the television would only make me look huge. This rant is going on forever. If you're still reading, I apologize. They should consider making the word count less, especially if we just have announcements. Someone tell Judey, she'll make it happen. Anyways where was I; right the podcast. I started doing reviews of shows and other media eventually, where I talked about an amazing show "spinning out" and eventually another podcast "dying for sex". These both were life changing media to cross me in that time of my life. Almost there, so very close. I did interview a couple people before on the podcast, one was a sex coach, where we talked about consent and how sex coaching works. I think I just ruined the rice and salmon I was making, which is tragic. I'm sure it's fine. I came to the idea to create the podcast again when I saw Naomi Gold interview Em Starr. I thought, this would be amazing as a podcast (YES 600). Thank you for reading.
About the Creator
Please leave a heart and comment to tell me what you like and don't like.
Check out the podcast https://open.spotify.com/show/4wzNoCKJ8zgfrrUuvqAdyK?si=qTNBCTSsTB6-Qsg3iVPdlg
My children's book, "The Stars That Shine," is also out soon!
Reader insights
Outstanding
Excellent work. Looking forward to reading more!
Add your insights