Follow your expertise. Don't follow the shiny trends!
If you focus on what you know, you will overdeliver, if you focus on the latest trend you will take unnecessary risk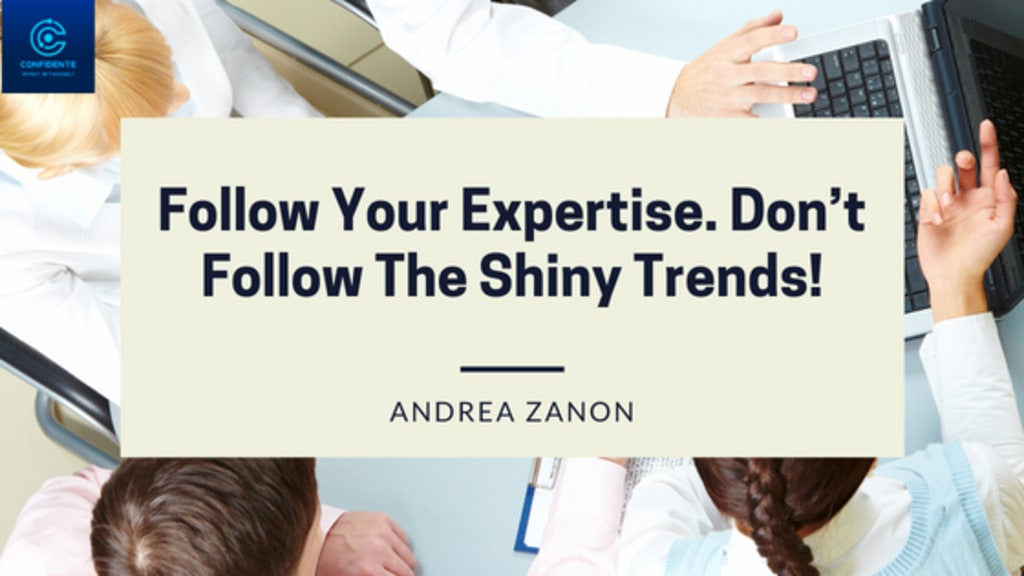 https://andreazanon.co/follow-your-expertise-dont-follow-the-shiny-trends/
In a post Covid world, it is hard to ignore the success of digital trends, investment platforms, and new video games. But if those type of businesses aren't what you know best, they probably don't represent career opportunities for you.
Instead of being seduced by these shiny trends and in my view "speculative transition businesses", take your expertise, ignore the trends, and find the consumer or what is broken in the marketplace that needs to be addressed. Start with what is broken. Identify a feasible solution, and then create a product or service around it. That's how you can leverage your expertise beyond what you're currently doing.
As I write this blog, I think of two of my favorite quotes from billionaire investor Warren Buffett that relate to the topic at hand. First, "Risk comes from not knowing what you are doing", and second "Never invest in a business you cannot understand." These two quotes have been guiding me throughout my career and have allowed me to learn to focus, to prioritize and take decisions within the areas of expertise I am the best at. In so doing I have continued to grow, become more impactful and stayed away from the shiny trends that could have distracted me from reaching my goals.
I say this, as I have learned the hard way how to focus. I have started companies in areas outside of my expertise, I worked with people that I did not fully trust, nor respected, and I took unnecessary risks. These were all bad decisions, influenced by emerging trends, disruptive technology and noisy opportunities that dominated the media. Sometimes you have to make bad decisions in order to get to the right place.
Perseverance is underestimated
If you can persevere, continue to learn, and invest in yourself, success will come. Perseverance, is silent, is relentless, is lonely but it allows you to learn, grow and in so doing make more money. Become the best at what you like, surround yourself with people that bring the skills, the ethics and the energy that compliments you, and the rest will happen alone. While you should build a network, and always socialize, be very selective at how you do it as time is finite and we often waste a serious amount networking without a goal. Be also prepared to be a ghost and produce result every day.
Success does not happen overnight
Success is always the result of hard work, trial and error, and consistency. When you fail, and make mistakes, those should be taken as market feedback instead of setbacks. It takes at least 5 years to build a stable company, and often more than 10 to build a successful business. So be patient, and continue to grow, and as Buffett teaches us "the more you learn the more you earn".
Be a force of nature alone
Work out and read as there is no tomorrow. When you get physically and mentally fit you will be unstoppable as you would have built a physical and mental shield to protect you from life disturbances and distraction. As you get physically fit, focus on your inner training, write down what matters to you and meditate as this is the quickest path to identify your life's calling and your distinguished differentiations. Once you have done that, you will be able to force-multiply your personal and financial growth. You will also reach a high level of mental freedom that will convert into high focus and extreme effective decision making, Again, mental and physical fitness, will guide you find your path by making you conscious of time and focus on what matters.
About the Creator
Andrea Zanon is a Founder, CEO and experienced technology and impact entrepreneur who has made powerful strides in his career. He is currently the CEO of Confidente Coaching and Empower Capital.
Reader insights
Be the first to share your insights about this piece.
Add your insights