The Most Unexpected Change to Make for Better Sleep
The slightest improvement in your sleep has a ripple effect through your days.

Supported ByLull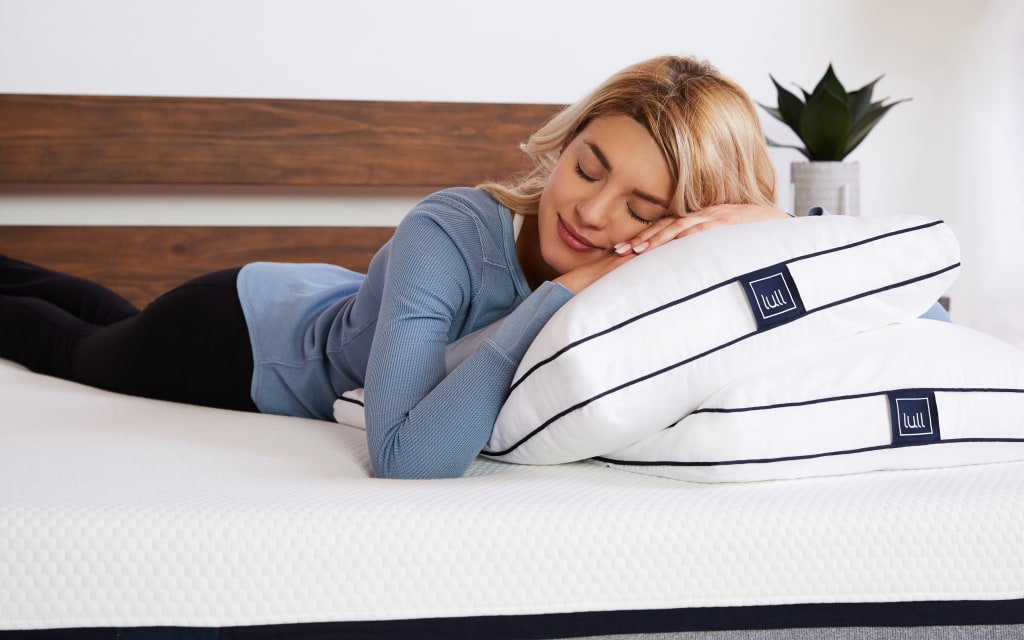 A few months ago, I got a Lull Mattress. And it was amazing: supportive, but not too firm; soft, but not pillowy. It was great for alleviating my back pain, and, for the first time in years, I woke up every morning refreshed and pain-free. I couldn't believe that one purchase had pretty much solved all my sleep problems.
Yes, I was having some slight lingering neck pain, and my partner was having some allergy problems he just couldn't shake that made falling asleep difficult. But we thought this was just normal—a mattress can't solve everything, can it?
But we hadn't yet tried the other products Lull has to offer.
We needed to replace our pillows, so, seeing we'd had such a good experience with our mattress purchase, we decided to buy our new pillows from Lull. But wait—they sold a Bedding Bundle, and it would save us an additional $125, on top of their $300 off each mattress! We could do with a new comforter, and can always use some more sheets, so we went for that.
When our Lull goodies arrived, I didn't really expect them to make nearly as much of a difference as I had noticed with my new mattress. Pillows and sheets can't possibly be as important as the mattress you sleep on, right? WRONG! Together with our Lull Mattress, Lull's sleep accessories teamed up to give us the perfect night's sleep.
My New Favorite Pillows
My Lull Pillow has been the biggest improvement to my sleep since getting my mattress. Our old pillows were flat, shapeless, and horrible for my partner's allergies, and my stiff neck. I can't even remember when we last bought new pillows, but think about it: why take the steps to give your spine the proper support by purchasing a brand new mattress, and then not follow through with something as simple as new pillows to do the same? (Plus, I didn't even know that you're meant to replace your pillows often because of mold, dead skin and dust mites. Eek!)
I was amazed at the transformation when we got our Lull Pillows. My partner was no longer sniffling all night, because Lull's pillows are hypoallergenic (and because they're machine-washable, we'll never have to deal with the mold, dust mites and dead skin again).
As for me, my Lull Pillow gives my neck such good support that my neck pain went away. I was pleased with the firmness—my partner initially thought the pillows would be too firm for him, but they weren't: they were just right. He was pleasantly surprised to find that Lull Pillows are actually really soft and fluffy. This perfect blend of softness and support is because, similar to a Lull Mattress, Lull Pillows have multiple layers of materials: a soft, open microfiber layer on the top, and bottom layers with a firm inner-layer of dense microfibers for support, meaning you have a similar level of support and proper alignment thanks to the perfect pairing of the mattress along with the pillows.
We were also really lucky in that Lull Pillows are breathable, which made such a difference in the summertime! Between the airy pillows and the cooling gel layer of our Lull Mattress, we had serious protection against overheating throughout the night.
A Dreamy Duvet
I know it's a tired old stereotype, but we were one of those couples that wrestled over the duvet—no duvet was big enough for the both of us. But Lull's Duvet Comforter changed all that: their duvet is super roomy, so there's plenty of space for the both of us and no one needs to go cold.
Another really practical feature of the duvet was the little loops that attach to the duvet cover. The duvet bunching up in one corner of its cover used to be one of our biggest pet peeves with our old duvet—it was so annoying that we actually sewed little loops on. But with the Lull Duvet, that's already done for us.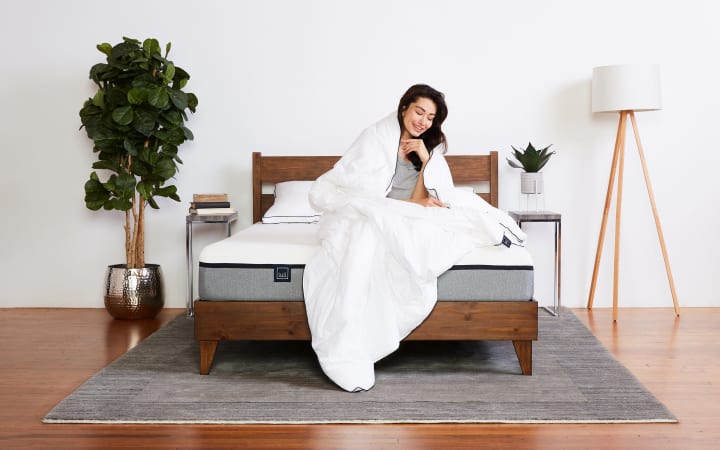 Of course, with my partner's allergies, it was essential for us to have a hypoallergenic duvet: Lull Duvets are made of premium cotton and synthetic down duvet microfibres, which fit the bill perfectly. Apparently, even if you're not allergic to dust mites, using a natural down duvet can give you a scary condition called "duvet lung", so we are doubly happy that we've bought a modern Lull Duvet.
Speaking of health, we were also pleased to find that, like the pillow, the Lull Duvet is machine washable, meaning it will keep my partner sneeze-free for longer. Given that most duvet owners hardly ever wash their duvets (leading to the same yucky buildup as in pillows), I think Lull's doing everyone a service! (And you can even put your Lull Duvet in the dryer, without worrying about it bunching up, which is pretty amazing).
We were also surprised to find that, just like our mattress, the duvet stayed cool and breathable in summer—but it's still been keeping us nice and warm now that the weather's getting chillier.
Game Changing… Sheets?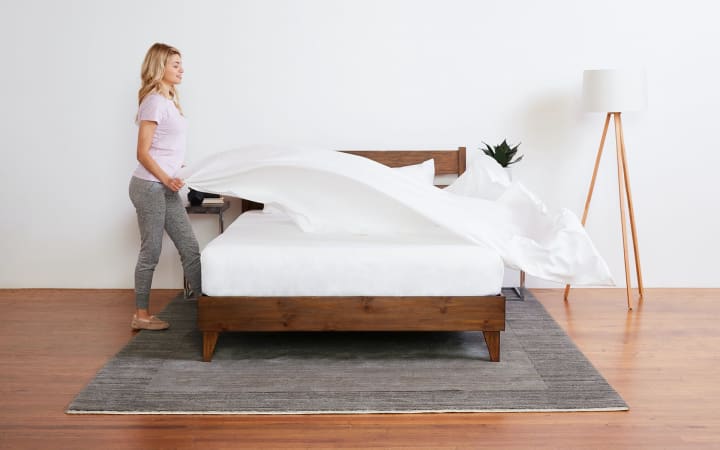 Yes, you read that right. I couldn't believe how much of a difference I noticed from such a simple swap. We've always had cheap, discount sheets: fuzzy, thin, low-quality sheets that stuck to our skin, sheets that ripped, "winter" and "summer" sheets because no sheet was right all year round.
Well, no more! Lull's Sheets are 100% combed long staple cotton (not the itchy, easily ripped short staple stuff) with a three-over, one-under specialty weave which is good for all year round use. But they're not just good technically: these sheets are really comfortable and they just keep getting softer.
We were concerned that the thread count was a bit low—only 400? Yes, we too thought that 1000 or 2000 thread count sheets were the best. But high thread count is actually a myth: 1000 or 2000 thread count sheets are actually less soft, hotter and bulkier because of all of the extra threads. We now know it's better to get something with a moderate thread count: so, Lull's 400 thread count sheets turned out to be perfect.
And, of course, Lull Sheets addressed the ever-present elephant in the (bed)room: cotton is the perfect material for my partner's allergies. And there's nothing else in the Lull Sheets that will irritate his skin: Lull's Sheets are certified to Standard 100 by Oeko-Tex, which means they are free of harmful levels of more than 300 substances and we can sleep safely.
Lull Sheets are pretty reasonably priced as well. In fact, we're going to buy ourselves another set, and get a set for my parents as a Christmas present.
All in all, I have been so pleasantly surprised with our Lull Bedding Bundle. It's been the finishing touch on our perfect night's sleep and cost a lot less than I ever would have expected, considering its quality. The only thing that was preventing us from getting the sleep we'd dreamed of was not getting ourselvesLull Bedding to complement our mattress purchase even earlier! Together with our beloved Lull Mattress, it really is a dreamy match made in heaven.
Reader insights
Be the first to share your insights about this piece.
Add your insights