Clean Eating
Switchel: Nature's Very Own Energy Drink
Before there were commercial energy drinks in a plethora of artificial colours and flavours, there was switchel.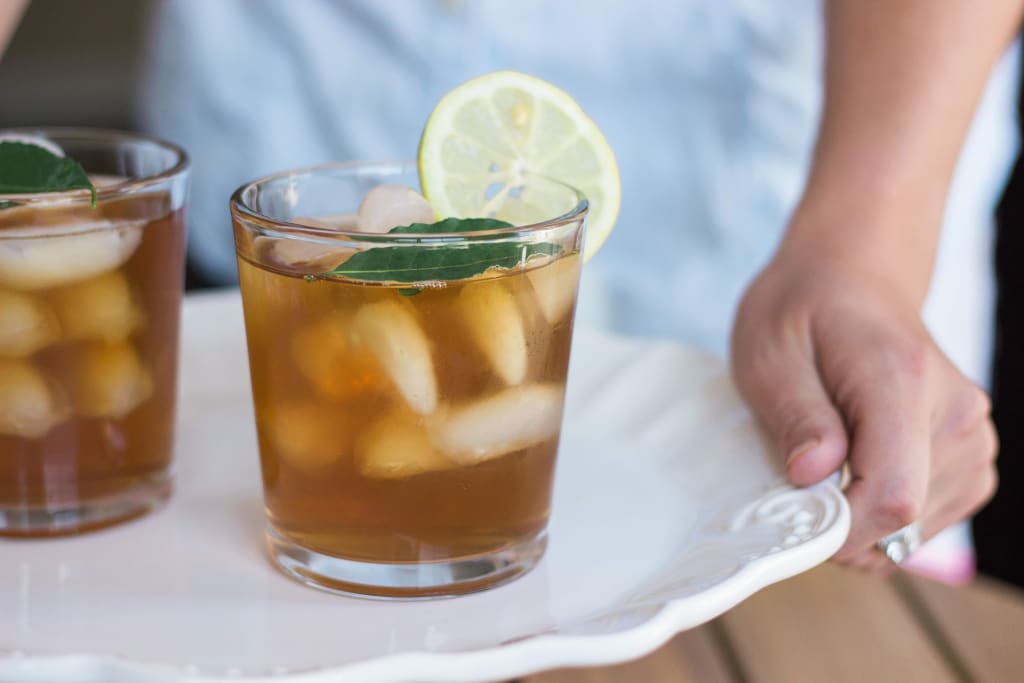 Two of my passions are history and food. Thus, the history of cooking, and the relationship between culture and food (gastronomy), have been an exciting journey full of surprising stories and delicious intrigue.
When I first learned of switchel, it was a word used to describe a drink popularized by hipsters, foodies, and the contemporary natural foods/raw diet trends. The drink tastes lightly carbonated with a yummy tang developing as a result of the fermentation process by which it develops.
However, as much as I enjoy that drink in all its flavour and potential benefits to gut health, I'm not going to discuss that type of switchel here. I learned of a different kind of switchel during my investigation into seventeenth and eighteenth-century cooking. Also known as Switzel or Haymaker's Punch, the variation I'll be discussing is non-fermented, so it's both easy and quick to make. And just like the fermented version, some people love it and others may not, but it is still an effective way to stay hydrated during a hot summer day or power up after doing manual labour.
Origins
Alhough the origins of switchel are actually somewhat contested, generally, it's roots can be traced back to colonial times. It was popularized as an energy drink used by field workers and slaves in order to help refuel their bodies during the gruelling physical labour and exertion of working in the fields and outdoors in hot temperatures. Because of this, it is thought to have originated within the West Indies region of the Caribbean; a traditional beverage imported to the colonies during the North American Slave Trade.
Another popular theory seems to be that it was a drink traditionally enjoyed by Amish farming families and so may have its roots in Amish tradition.
But most interestingly, similar forms of the drink date back to ancient Roman and Greek eras (albeit, the partcular ingredients have since undergone a few changes over time; but its uses and flavour components have essentially stayed the same).
Benefits
The basic historical uses for switchel are both for hydration, and the replacement of electrolytes (i.e functionally, an energy drink). This is because while the water content will prevent dehydration, while the acetic content will help prevent over-hydration and lower blood-sugar levels. Most of the ingredients within this simple drink contain potassium, which will help to maintain the body's electrolyte balance. Depending on the ingredients, the drink may also contain plenty of healthy enzymes and helpful bacteria; promoting good gut-health and aiding with muscle exertion and fatigue.
Finally, a common component used in traditional switchel recipes is ginger. Ginger contains a chemical compound called "Gingerol". This component is known for its medicinal and health benefits. Among some of the most impressive, it aids in digestion and gastrointestinal issues, is an anti-inflammatory, lowers the effects of heart disease risk factors; improves cognitive function, helps with pain relief, and lowers cholesterol and blood-sugar levels. There is even evidence that it is an effective cancer-fighting agent.
All around, switchel seems to be not only a delicious drink with an interesting backstory, but also a useful tool to stay hydrated and keep healthy.
Traditional Recipe
The traditional recipe as transcribed from 18th century cookbooks and literature:
8 cups water
1/3 cups sweetener of choice
1/4 cup apple cider vinegar
2 tsp ground ginger
*note: "Sweetener of choice" could be anything available at the time. Most commonly, colonists used molasses or maple syrup. But today, variations can include anything from white, brown, or cane sugar; to maple syrup or molasses, even honey. Each will give a different taste to the beverage, so my advice is to experiment with different combinations to see what you like!
Ancient Roman Variation
8 cups water
1/3 cup honey
1/4 cup lemon or lime juice
2 tsp ginger
Apple Cider Variation
This particular combination tastes similar to the apple cider drinks you can buy from the grocery store during the holiday season. Serving it as a cold switchel during the summer is a delicious take on the hot winter version.
8 cups water
1/3 cup brown sugar
1/4 cup apple cider vinegar
2 tsp ground cinnamon
Fruit Infusions
As you can see, the basic recipe components and proportions stay the same (water + acid + sugar + flavouring), but the specific ingredients can be changed. Once I got comfortable making switchel on a regular basis, I decided to branch out and try some of my own inventive flavour combinations.
Using fruit infused water recipes and the switchel recipe as a template, I mashed some fruits/and or herbs and added them to the mix. The amounts will depend on your particular taste and the portions being made, so you can just add it to your jug or your own glass while serving. Here are a few I enjoyed:
Berry (strawberries) + Fresh Mint (+water, cider vinegar, and sugar)
Lemon + Fresh Thyme (+ water, and a sweetener)
Cucumber + Mint (+ lemon juice, water and sweetener)
Orange + Blueberry (+ water, sweetener, and a bit of lemon juice or apple cider vinegar)
There are plenty of other flavour combinations to enjoy, I'm sure. So if you don't like your first swig of switchel, you can always try again with a different combination of ingredients or sweetening agents. Use the recipe as a guide and then tweak it to your liking. You never know, you might find something you love!