Productive Things to do during Covid-19
You know for when you are avoiding people, working from home or quarantined in your house.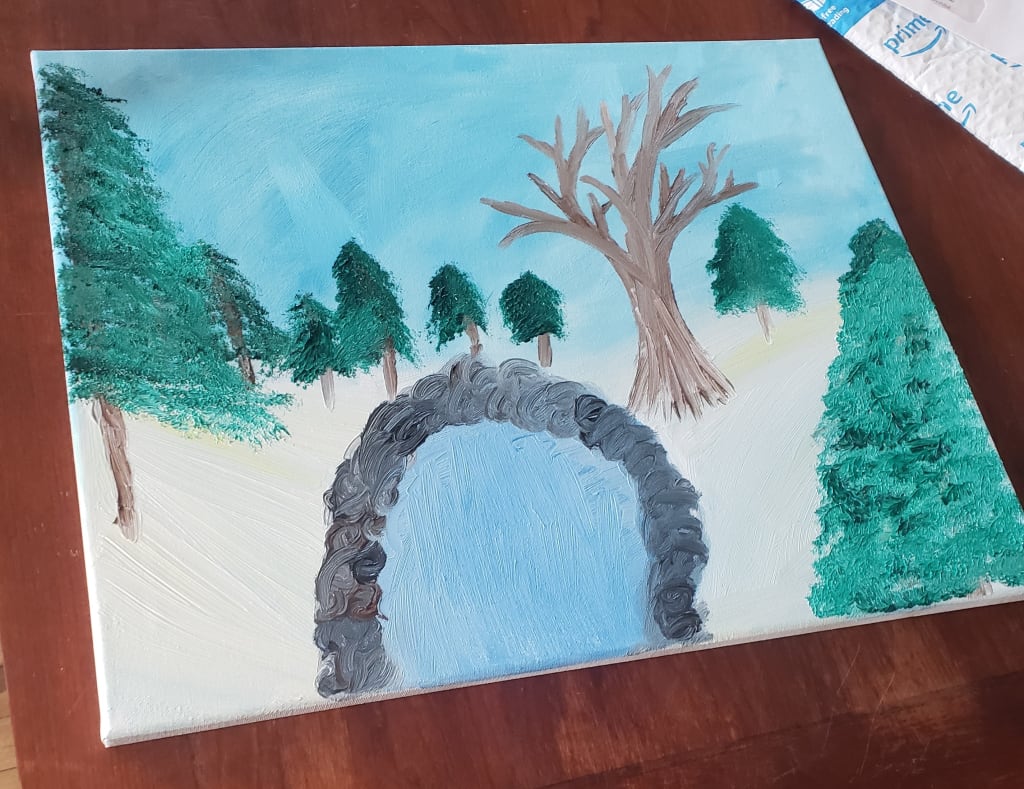 1) Do a Bob Ross style painting or watch Bob Ross. This is a great way to calm down, relax, remember happy little accidents and in great head space. Bob Ross is a great way to relive stress and a bulk of his episodes are on Netflix. The picture above is of my Bob Ross styled painting from a few days ago and it was a lot of fun.
2) Its spring time, so while you are disinfecting every counter top and surface why don't you also go through your clothes, books and other personal affects and see if you can get rid of some and down size. If you live in the north now might be a good time to start packing away your winter clothes since you have the time.
3) Since you are worried about your physical health take some time to improve your physical health. There are a lot of at home exercises that you can you can. Also, if you are not quarantined, you can go out into nature and take walks or go for short hikes. It will make you feel energized and you will not come into contact with a lot of people.
4) With all this hype about your physical well being take this time to focus on your mental well being. Everyone needs a therapist, even therapist need a therapist. So if you are in isolation take this time to talk to a licensed someone. Betterhelp and Talkspace eliminate the need to go to an office but if you want to go the office route you can take this time to research a therapist and set up an appointment. If you believe therapy is not your style, give it time you will learn but try some meditation or mindfulness exercises.
5) Everyone is predicting a baby boom, but before you practice spend this time to take a look at your finances to see if you can afford one, or pay off student loans early, buy a house, retire, or meet any other financial goals. This also might be the time to pick up an online side gig to help pay some bills. I personally like playing Givling which is a free trivia game to win money that goes towards a house or a mortgage. It has a lot of other cool features like a queue for a $50,000 payoff. If you decide to go this route use my invite code: S204494
6) Start being gratuity regime. Spend a little time everyday being grateful. If you are working from home, be grateful your work allows that. If you are able to self quarantine after being exposed be grateful you could do that without worrying about money. If you could stock up be grateful you could do that without worrying about money. If your kids are home from school and you have no idea what you are going to do with them, be grateful you do not have to worry about where there next meal is coming from.
7) Be the people helping people not the people hurting people. We have seen news articles about people taking masks from urgent care centers, hoarding supplies and up charging hand sanitizer. To me it the peoples reaction to this virus that is a lot scarier then the virus itself. Help the people around you. If you have family, community members, neighbors who are higher risk see if they need things from the store if you go shopping to prevent them from being exposed. If you are healthy and not higher risk only buy what you need, so when people who are high risk go out they can easily find what they are looking for. Finally, if you are a parent in a school that shut down and are able too, see if you can help out another family who can't afford food with food and other essentials. There are other ways to get involved and help out during this virus and if you are home you can find them.