My Rebellious Individual Protest
I couldn't bring myself onto the grounds, so I took a knee.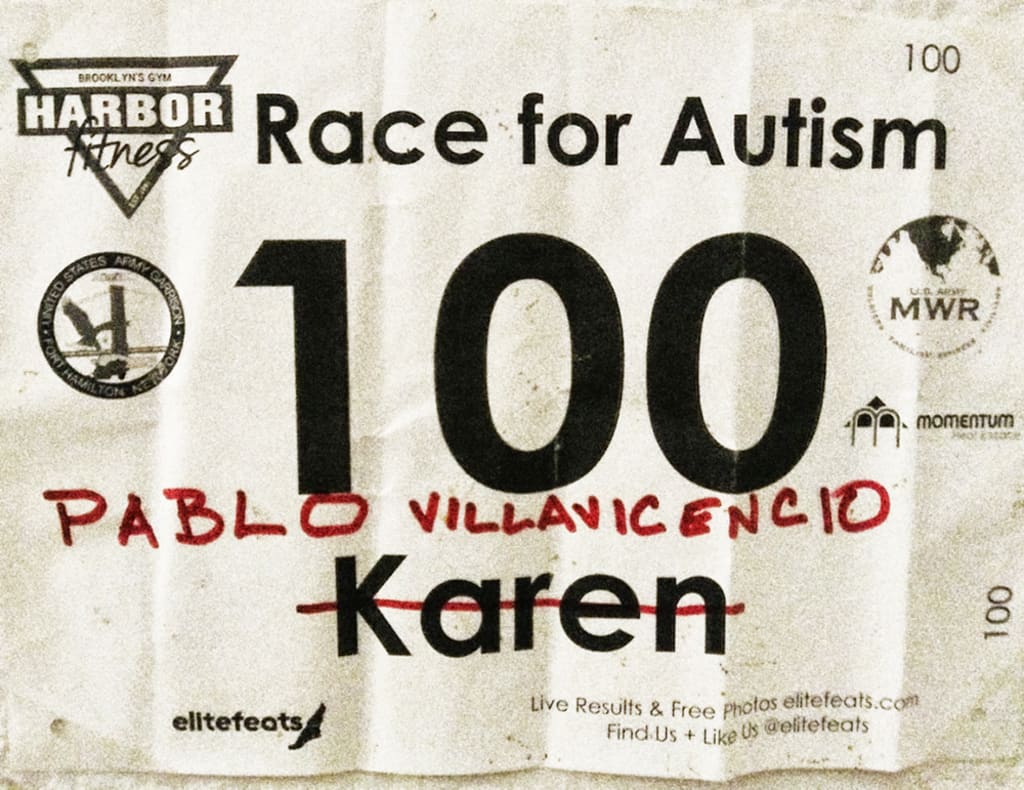 SATURDAY -- MAY 2, 2020
Rundown:
• 5:27am: pay water bill, meditation, light, drop kids off at pool, hydration, shroom, window, movement.
• Morning movement: swung around 1 pound hand weights, and 6.5 pound sack. 13 minutes. 62 calories.
• Baked a spinach, corn, and peanut (cake? loaf? bread?). Turned out to be a warm spinach dip. I had these new cassava chips in the apartment. It was all so good. Later, I rolled the remainder into vegan meatballs? Flesh balls? Fruits and vegetables have flesh you know. Frozen for later use.
• Ran 1.3 miles. Headphones kaput. Not working. Tossed in trash. Listened to the neighborhood instead. Will grab a new pair tomorrow. 22 minutes, 38 seconds. 131 calories.
Today's Page From My Book:
I noticed it yesterday, while doing tai chi in my apartment. On one of my walls, which are adorned with bibs from races gone by. But my eyes lock on #100. I have put a red line through my printed first name, and written in "Pablo Villiavicencio."
And then I passed the very spot, today, during my run.
I remember that day very well. Rebellion can manifest itself in so many ways. I did it for myself, my individual protest.
It was the "Race for Autism," and one of the advantages was that this event was taking place in my neighborhood. The greater gift was being able to make a donation to an organization I truly respect and admire.
I had run this race two years earlier. It is held on a Military Base on the southern shore of Brooklyn, which is ordinarily closed to the general public. Imagine me listening to Hamilton as I ran, hearing the lyrics "We put a stop to the bleeding as the British take Brooklyn. Knight takes rook, but look..." The musical number details the vastly outnumbered New York revolutionaries, battling 32,000 troops in New York Harbor. In speaking to Washington, Hamilton proclaims his need to "RISE UP!"
At the start of what was to be my second race onto the Military Base, I took a spot outside the coral, adjacent to the starting line. My bib #100 was in my hands, rather than pinned to my shirt. As the National Anthem was sung, I took my "Courage" hat off my head, and dropped it to the ground so I could take a knee. Kneeling even on one knee on pavement in running tights can really hurt, all those pebbles. No one really noticed. And if they did, they didn't say anything about it. And I was, after all, exercising my Rights.
"Runners take your mark!"
BANG!
Actually, there are no more guns at the start of races. Especially in Brooklyn. You can understand why. I put that BANG! is there purely for dramatic effect. It was actually just a very loud...
CHIME!
The runners start moving, several hundred of them. I'm still on my taken knee. I raised my bib number above my head and shouted three things as the runners passed:
• FREE PABLO!
• ABOLISH ICE!
• NO SE PUEDE!
Two and a half months earlier an immigrant pizza delivery man, who was married to a US citizen, brought an order to the Military Base. He had done so nine times in the past. But on this tenth visit, a guard told him that he had insufficient ID to enter the premises. Pablo Villiavicencio was detained, and then turned over Immigration. He was held in prison, and was threatened with deportation.
Which is crazy, CRAZY!
This is my neighborhood. I LIVE here.
His two little children were at home. And all they know is that daddy left for work, and now his picture is on every news station, and he's in jail. How is their mother supposed to explain this to, or protect them! She's a citizen in a nation created by immigrants, in a City which invites your tired, poor, huddled masses yearning to be free, which included all four of my grandparents.
Autism Speaks already had my money. I just couldn't bring myself onto the grounds of where this was all allowed to happen. After the last runner crossed the start line, I ran myself. Past the Base and along the water, I continued six miles to the Holocaust Memorial Park, in Sheepshead Bay, Brooklyn.
This was how I rose up, protested, respected the past, and moved forward. Using all my breath.