I invested in my mental health
Can apps count here?
Sitting here reflecting back on 2020 I find myself feeling queasy, frustrated, still pretty distraught. I think we can all collectively agree that this past year has not been anything any of us could be prepared for. I started the year off feeling pretty on top of the world; had a pretty cool job (so I thought) , had some pretty cool roommates (again so I thought, damn was I in for one) the list goes on. The end of 2019 was an interesting time of my life personally.
Prior to 2019 I had been working on recovering and rebuilding my life. I went back to school where I was able to get my high school diploma and even gave a speech at our graduation ceremony. Look I won't fill you all in too much with my life story; I promise that'll all spill out over time throughout my future reads for you all! However; I just want to take you back to parts of my life so you can understand the importance of what has made me make my choices today!! So grab some tea, maybe puff on your cannabis pen with me and let's ease into this? I'm new here, and I'd love to leave a good impression! I firmly believe first impressions are important.
Now back to rebuilding and recovering shall we? I spent years rebuilding my life after many years of trauma. Honestly; I am always rebuilding, recovering, reflecting. Life has somewhat felt like a loophole for me lately. You know when you find yourself stuck replaying a song over and over again?! That has been me with patterns in my life which I allow in it. I really do need to learn personal boundaries for myself! I grew up in a very traumatic household and later created my very own. I married a man who abused me in many ways. But what I was recovering and rebuilding from most. What I spend most of my time trying to overcome and fight. My toxic habit of self sabotaging anything good in my life. Self harm in my opinion comes in a variety of forms. Mine is self sabotaging my life it seems. The anxieties from my past have told me that I could never become anything great and then I was hired at a pretty well known sex store and that changed me. I found purpose for myself, I felt motivated and ready to embrace life again!
Putting the past behind me I wanted a new start at a new me. I embraced my new job at the start of 2019 and quickly I received great feedback. So much so that I was given employee of the month just a month or so into being officially hired! I was truly feeling confident in myself in ways, but have always noticed my struggles with mental health. A person can only handle so much until they crack right?! 2019 was a "rise, fall, rise??? " kind of year for me shall we say?
In other words I lost my girlfriend, got my license, got back with my girlfriend, got dumped by said girlfriend, the list goes on honestly! In the midst of all this chaos I was also raising a human being!!! Homeschool, work, new move, fresh new break up all before the holidays! I took the next few months learning more about me and diving deeper into my work. I met new people and really found my confidence again.
Then March 14th happened. Long story short I found myself in the middle of a NEW MOVE while the entire world seemed to be shutting down around me. Without any time to think I took off with my new relationship and my kid to a new town. His grandmother happened to have a safe haven about an hour and 30mins away! Tucked into the mountains I saw hope for my family and I during this pandemic.
Depression and anxiety have been my two best friends all throughout my life. A mix of childhood trauma and drug addict parents I mean what else do you expect?! Sad to say they weren't even the ROOT of all of it but we can get into that all later! Being in the mountains has not been easy in the slightest. First off I'm the only person here that happens to get service on my phone...IN ONE SPOT of the house. So for the past year my phone has been everyone's source of entertainment. Using my hotspot from my phone allowed us to watch all our favorite shows and somewhat play our favorite games. This is where I found some amazing apps!!!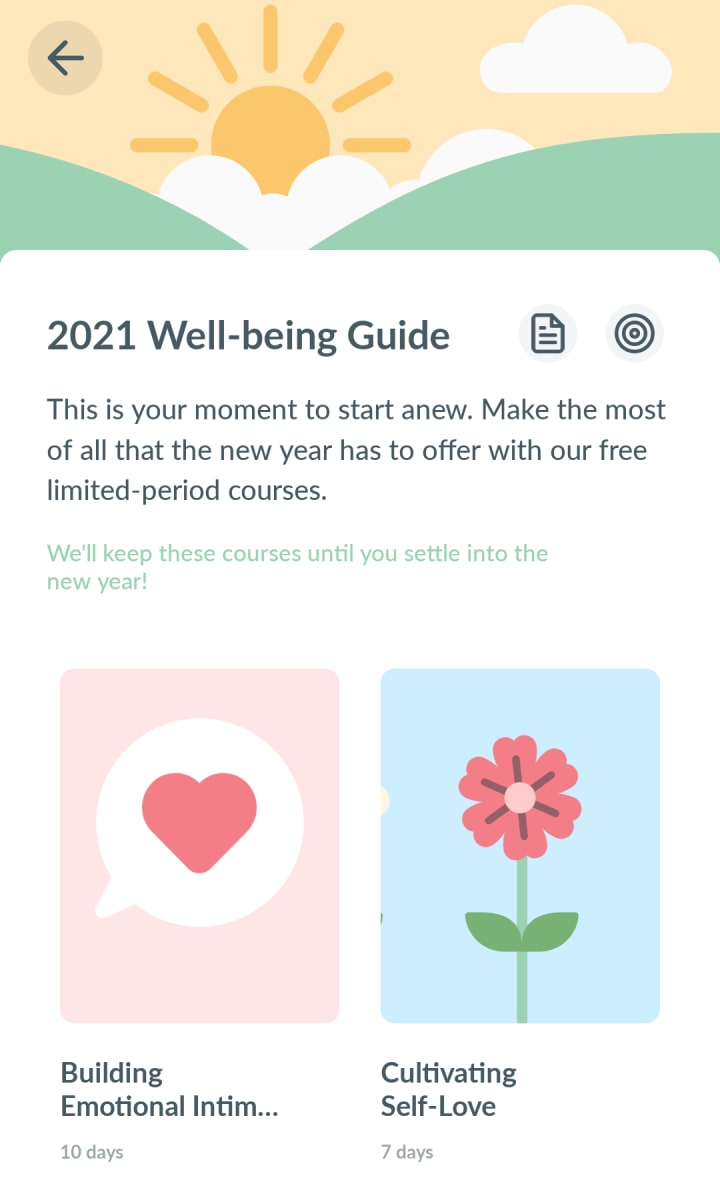 https://www.theinnerhour.com
InnerHour: This app has truly been my lifeline in some ways! I stumbled upon this app when I was searching for self-care apps during the darkest time of quarantine for me. I live with high functioning anxiety. This type of anxiety can for me at times not seem so high until it spirals without a chance for me to get a grip of it! This is exactly what Covid brought to my life. After recovering from last trauma thinking life was brand new BOOM covid hit. InnerHour truly is a remarkable app with amazing resources for those of us who may need the extra comfort! Living in a rural area I highly recommend this app! It was great even when my service wasn't. I was able to charge my phone bill for a year subscription for 40.99$ I think it was worth the investment!
Well this was an absolutely thrilling time for me. I hope it was just as fun for you! Leaving picture evidence of my current mood after finishing my very first Vocal challenge entry as well as my very first Vocal post in general here. I truly hope you enjoyed the read.