Goodland and Warba
God's Country, or is it?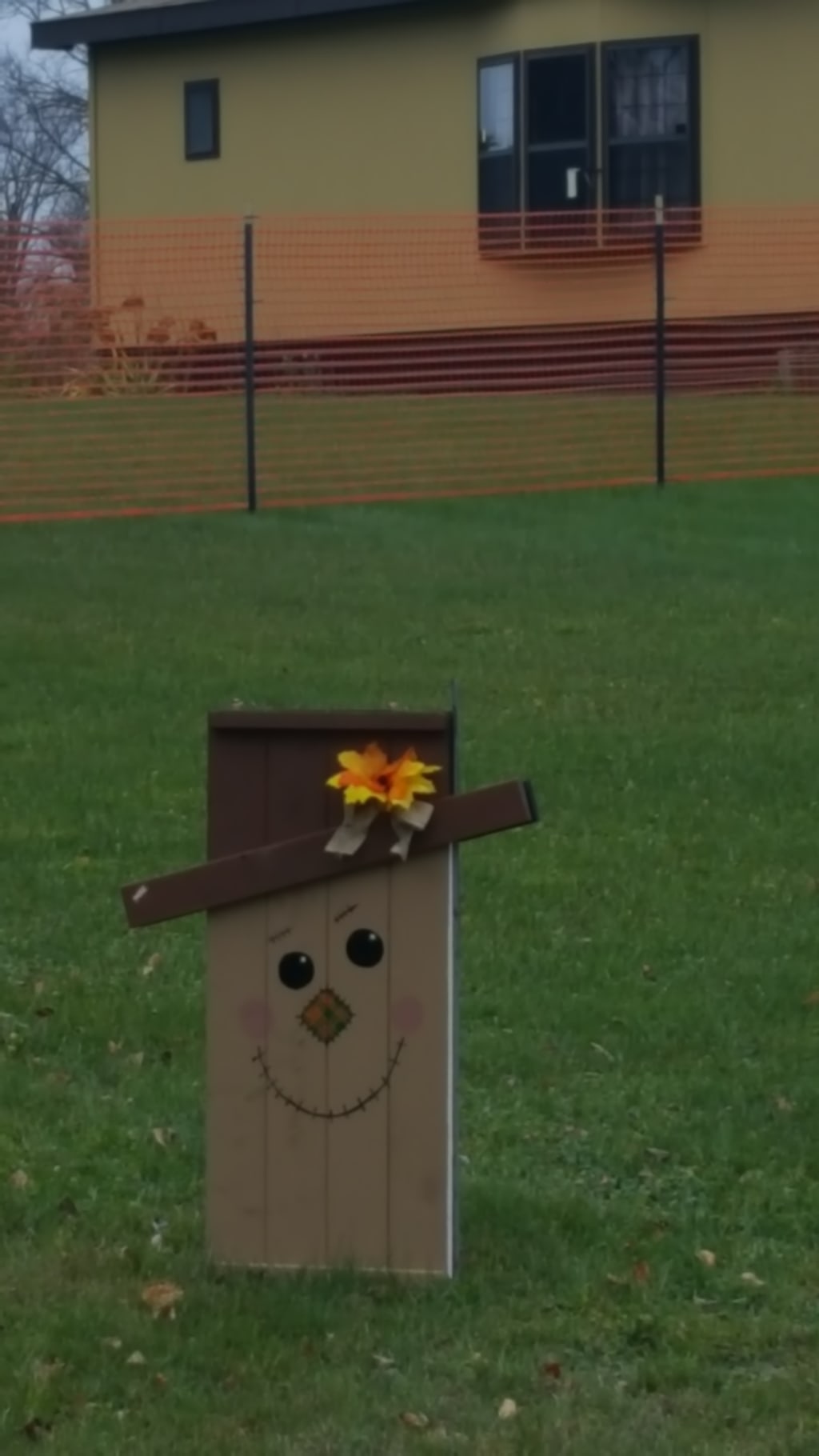 We are preparing for winter, and it is a bright fall day in Warba, Minnesota. We are on twenty acres and the other twenty of the old family farm is in Goodland, Minnesota. There is much to do before winter gets here. The hubby says, "I have to change the cylinder on the lawn mower. This will be the third one, but I got a forty dollar one this time, and that should last." I said, how come you put the snow fence up already? Hubby said, "It is the time of year when you just can't tell if it will rain or snow. It did just rain, I told you it would be rain. And if it wasn't an inch of rain we would have had a foot of snow!" If I would have known there was so much work that goes into living here, I don't know if I would have agreed to live here and then add the farms around here and the crops being soaked in chemicals.
Chemicals was not a part of the farmland we would be living on when we moved here. They grew raspberries and hay and no chemicals were used. Johns dad and stepmom lived just across the field from us then. It was great having them close by but that didn't last long enough. My husband and his younger brother bought the property from his folks, so that when he retired he could move onto the property. His brother owned the other half and was content to stay where he was until the folks either went into assisted living or whatever. The folks lived there until their dad died. Stepmom stayed until she ended up in a nursing home for her final days. Her older sister was there and it was a good placement for both of them then.
After my father-in-law died, the brother not living here gave the farmer permission to plant a corn crop. He first had to kill the weeds and we found out as he was spraying the property with roundup. I left for a week, as soon as I knew the farmer was in the field to spray. I knew it would still be present but I did what I could. I learned it would be in the land for 5 years after being sprayed. The cancer I had was connected to roundup many claimed as there is a class action law suit. We bought plants that take the toxins out of the air, air purifiers, and a salt lamp by my bed in our house after that.
When the crop was about halfway through the season the farmer was back to spray the crop again. My husband stopped him and asked if he would talk to me. I told him about my cancer and I told him how my husband's step mother had gotten pulmonary fibrosis after he sprayed the first time and how her friend by the other corn crop had gotten it about the same time. All he could say was that no one else had complained. So, I took by that he meant all the farms around us were using the chemicals too and he wouldn't be changing his farming method. We told him no. He wanted to spray the crops again at the end of the season but again we said no. The field is back to use for hay and this year it was needed and harvested twice during this time of drought.
I know it is in the food. I started buying organic and non GMO, which can be a problem too but better than nothing and I stopped eating gluten as I'm sensitive to that and beef due to being allergic, which is new this year. My mother in law and the neighbor died from pulmonary fibrosis. When we moved here, I was told the mail lady had the same cancer I had but it was in her neck/face area. She had chemo and radiation. I did not need the radiation. She is retired now from her mail carrying position. I spoke with her a few times about the chemo. She told me that I would lose my hair after the first treatment. She was right. She told me she bought 13 wigs and still has them just in case. I bought 3 and gave them away when I could. At the end of our block, a neighbor had a throat/mouth cancer that she has been treated for since we moved here and it killed her this year. I was happy she got to know her first grandchild.
My brother in laws grandson bought his property next door. My husbands brother had lung cancer and now has Lewy bodies dementia. My husband has a familial essential tremor, newly diagnosed. It is something that several family members have had. I thought with the diagnosis, who is to know if it is caused by chemicals used by farmers for both he and his brother's diagnosis as they were raised here until age 11 or 12. My husband is outside much of the time and he loves it. I ride 4 wheeler occasionally outside but not often anymore. I rode all of the time when we would visit here before moving here. Now I walk on the treadmill rather than outside. My Native American medicines are picked elsewhere. I ride motorcycle for a shorter season than in the urban area, and am concerned about the air I ride in, while in farm country.
I have to say that when I lived in the twin cities, I moved into a place with a well groomed lawn. The older woman selling the property had a lawn service. I used the medicines from the cedar trees in the yard. The big and beautiful trees that were growing there, made beautiful cedar tea and smudge for me. I didn't want to stay in the cities as long as we did but my hubby wanted to retire from the company he was working for. I was concerned about the over head power lines that were close by, and the traffic I drove in daily with the exhaust while sitting on the highway in the parking lot like situation. Then there was the trucking company that had trucks running much of the winter day and night in their lot just down the road. How could I say what the cancer is from, or where it came from? I just know I will continue to visit the "cancer lady" who lives in Blackduck and do what I can. I will continue to give and get support from my Sisters of the Y, online, and family and friends.
health
About the author
I am married and we have 7 children, 25 grands and 9 greatgrandchildren. I work part-time as a culture consultant. I started writing A Poem a Day in February 5 years ago. I've written 4 - 50,000 words in NaNoWriMo. Now Vocal and Medium.
Reader insights
Be the first to share your insights about this piece.
Add your insights