Best All Natural Hair Products
All natural hair products will help keep your hair strong and healthy, while keeping your wallet intact.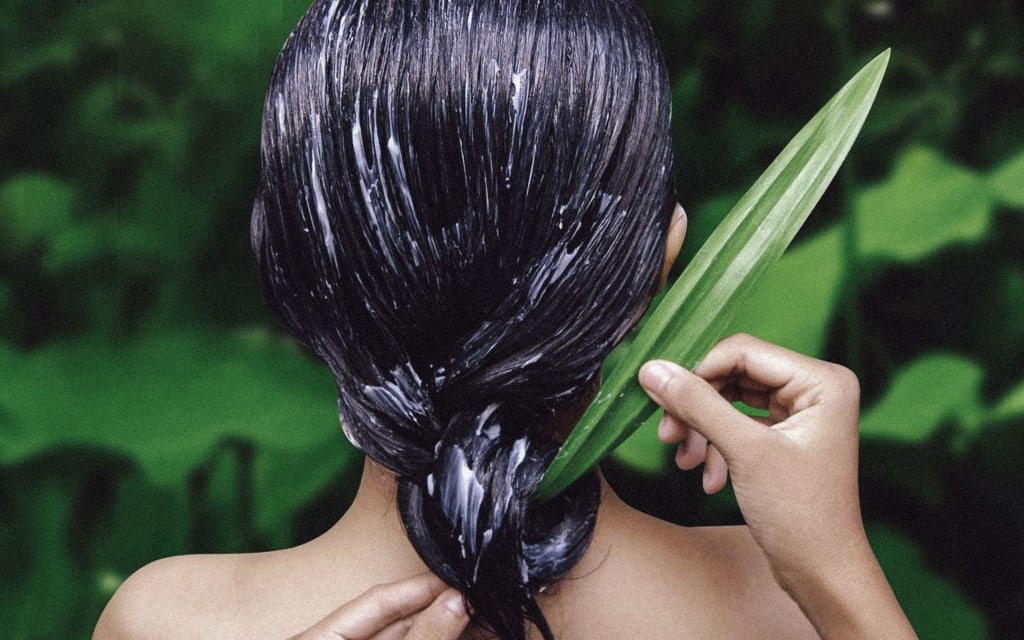 Need chemical-free, no-fuss, amazing hair every day? Check out these eco-friendly, all natural hair products, which consist of shampoos, conditioners, masks, balms, sprays, and treatments to keep your hair healthy, shiny, and soft. Because these products are natural, use significantly reduces the chance of harming the environment or animals. Whether you have curls, straight tresses, or wavy locks, these all natural hair products will care for your hair with healthy goodness.
Alterna's Bamboo Smoothing Treatment is guaranteed to give you frizz-free hair, working overnight while you sleep to wake up to smooth, soft hair. It conditions your hair with a mix of oils, by smoothing the cuticles and protecting against humidity to prevent annoying frizziness. You don't need to worry about re-applying—once absorbed overnight, it will continually replenish and prevent frizz for up to 72 hours.
With no sulfates, parabens, or phthalates, Bamboo Smoothing Treatment also has eco-certified bamboo extract and kendi oil to fortify your hair while nourishing it. Alterna does not use DEA/TEA, petrochemicals, dyes, or artificial colors in the treatment, making it safe for the environment as well as your scalp, skin, and hair.
To use one of the most convenient all natural hair products, simply apply it to your dry hair before you go to bed. Dollop a quarter-sized amount on your palms and spread it on your hair evenly from root to tip. Wash, condition, and style your hair as normal in the morning. You may also apply the treatment to dry hair and put your hair in a ponytail, braid, or bun so it can do its magic during the day. Just be sure to wash it out in the evening.
Blossom Ginseng Biotin Volumizing Conditioner builds and thickens your hair by protecting each strand's follicle. Its special ingredient is natural sugar starch maltodextrin, which covers each hair separately and also protects the health of your scalp while boosting the growth of new hair with the help of ginger and ginseng. Blossom Ginseng Biotin Volumizing Conditioner does not contain any parabens, sulfates, silicones, DEA, synthetic colors, or phthalates to irritate your skin, hair, or scalp. This all natural hair product is vegan and cruelty-free! What's more is that it can be used on chemically treated, relaxed, and colored hair.
To apply on straight or wavy hair, spray the oil into one hand, dip fingers from the other into the substance and rub onto your scalp. For curly hair, spray it onto your scalp from about five to six inches away. You can also use it as a deep conditioner; add the oil and wrap your head with a hot towel for around ten minutes. Voila, your hair will be soft and strong after the oil is absorbed thoroughly.
This all natural hair product contains herbs and extracts, including tea-tree, to make your hair shine with volume without the nasty chemicals. The conditioner actually substitutes for your shampoo and conditioner—so no need to mess around with applying different products. The Tea Tree Cleansing Conditioner is part of a range that abides by the philosophy of using natural ingredients, with no parabens, sulfates, or phthalates. This reduces the harmful effects that long-term lathering can cause without compromising on making your hair softer, stronger, and shinier.
To apply, just rinse your hair and apply with your hands, using the amount necessary for your length and volume of hair. Massage it through your hair evenly with some water to dilute it. Rinse your hair and repeat. You can also leave it in if you want to apply it as a conditioner to soften hair.
If you have an itchy scalp, dandruff, or you just want to rejuvenate your hair, try this Green Olive and Lavender Scalp Oil. It will relieve the itchiness and help stimulate natural and healthy hair growth.
The oil absorbs excess gunk that has built up in your hair, and it keeps the moisture in while calming the skin. There are no parabens, sulfates, phthalates, artificial oils, or fragrance, and the natural ingredients of olive oil, lavender, sweet almond oil, and Vitamin E stimulate health. To use the oil for straight and wavy hair, apply to fingers and massage into your scalp for ten to 15 minutes. The same method applies for those with curly hair, except simply spray it from five to six inches away directly onto your hair.
Organix Coconut Milk Shampoo uses organic coconut milk, Vitamin E, and coconut extract to replenish your hair and give it a soft feel with a coconut tropical scent. The formula also strengthens strands with egg-white extract, and moisturizes and cleanses hair with its foamy lather. It doesn't contain any parabens or sulfates, so is good for Mother Nature as well as your scalp and hair. For best results, you can use it with Organix conditioner and anti-breakage serum. Simply apply to your damp hair after rinsing with water and lather it to the ends. Wash out and apply conditioner. Suitable for all hair types.
Avalon Organic Clarifying Lemon Shampoo gently eliminates gunky chemical build-up and cleanses your hair with shea butter to hydrate and nourish it. This all natural hair product leaves it shiny, full, and bright. The citrus lemon scent leaves your hair fresh and smelling of summer. The shampoo is ideal for those who have problems with normal shampoos that create build-up and leave your hair sticky. The texture of your hair will feel cleaner, lighter, softer, and more natural without any chemical sheen.
With no artificial colors or fragrances, phthalates, sulfates, or parabens, the shampoo is also eco-friendly. To use, rinse your hair with water and apply a dollop of shampoo, massaging into your scalp with fingers thoroughly to the ends. Rinse and repeat if necessary. Best used with Avalon Organic Conditioner.
Art Naturals Organic Argan Oil Hair Loss Prevention Shampoo will help prevent hair loss, hair thinning, and balding, while stimulating new, healthy growth. Herbal extracts of argan oil, nettle, horsetail, rosemary, and aloe vera will aid the restoration of thinning and weak hair, gently moisturizing and adding volume. The formula includes dihydrotestosterone (DHT) restrictors to stop the production of the hormone, such as caffeine. DHT leads to balding as it limits blood flow to hair follicles. Caffeine catalyses the hair shaft to grow more quickly and robustly. After dampening your hair, apply shampoo from scalp to tips, working it in gently but completely. Wait up to three minutes for the shampoo to be absorbed by the hair follicles.
Organix Brazilian Keratin Therapy Shampoo is a natural, luscious mix of cocoa butter, coconut oil, avocado oil, and aloe extract for softening, moisturizing, and creating glossy hair, combined with keratin proteins for strength. It contains no sulfates, parabens, or phthalates, and it is suitable for straight and curly hair. The scent of coconut and cocoa butter complements the texture of your hair after it's been washed with Organix Brazilian Keratin Therapy Shampoo. It's best used with the accompanying conditioner and hair serum. After rinsing your hair with water, apply the shampoo and lather through, then wash it out, using conditioner afterwards.
Want beach hair without actually going for a swim? Mermaid Sea Salt Hair Spray gives you the sun-kissed waves you want with extracts of organic sea kelp and organic aloe vera for vitamins and moisture. It will style your hair without drying it out. The special ingredient is Atlantic Sea Salt, distilled from the ocean to add fresh volume to your hair. The rose scent is derived from rose geranium and palmarosa essential oils. Environmentally safe, hypoallergenic, and cruelty-free, the spray contains no parabens, sulfates, phthalates, gluten, artificial colors, or perfumes. Simply spray on and style as desired.
Meadowfarm oil, mango nut butter, castor bean oil, and pomegranate oil are combined in this unique natural balm to nourish and style your hair. It sounds so good, you could almost eat it. The oils and butter are full of antioxidants while softening and moisturizing your hair for added shine. Suitable for all hair types, the balm also helps protect against color loss. It also contains rosemary, sunflower seed, vanilla, ylang ylang, and balsam extracts to add to the bouquet of natural scents. It's vegan, gluten, and cruelty-free, and it does not contain parabens, sulfates, phthalates, silicones, or any artificial scents or colors. Apply to semi-wet or dry hair as desired.
If you have ultra-curly hair, braids, or coils, this is the product for you. Aethiopika Hydrate & Twist Butter will soften the most hard-core curls without losing their shape and texture. The olive oil, mango butter, and rice bran oil work together to relax and moisturize, while plant wax minimizes frizziness and styles the hair for easy twisting and braiding. Its dense, creamy texture adds body while it maximizes the natural softness of your hair. No parabens, sulfates, or phthalates are contained in the butter. Even better, it doubles as body butter to nourish your skin. To use, just scoop out a fingerful and rub between your tips before applying it evenly through your hair.
If you have issues with dandruff or an itchy scalp, eczema, or psoriasis, try Green People Daily Shampoo. This all natural hair product is a gentle shampoo that's sensitive but cleans your hair and leaves it shiny. Best of all, it doesn't irritate your skin or scalp. It can even help prevent hair loss and thinning, while activating new, healthy hair growth. The organic ingredients exclude any alcohol, parabens, phthalates, sulfates, and artificial perfumes. Just use a small amount of the shampoo by working it into wet hair through to the ends and rinsing completely. For best results, use it with Green People Daily Aloe Conditioner.
About the Creator
Holistic health practitioner. Believes in using natural remedies over traditional medications whenever possible. Volunteers at a recycling plant.
Reader insights
Be the first to share your insights about this piece.
Add your insights