Creatd, Inc. Q4 and Full Year 2020 Financial Results Webcast
Recap of Creatd's 2020 earnings report - March 31, 2021, 11:00am EST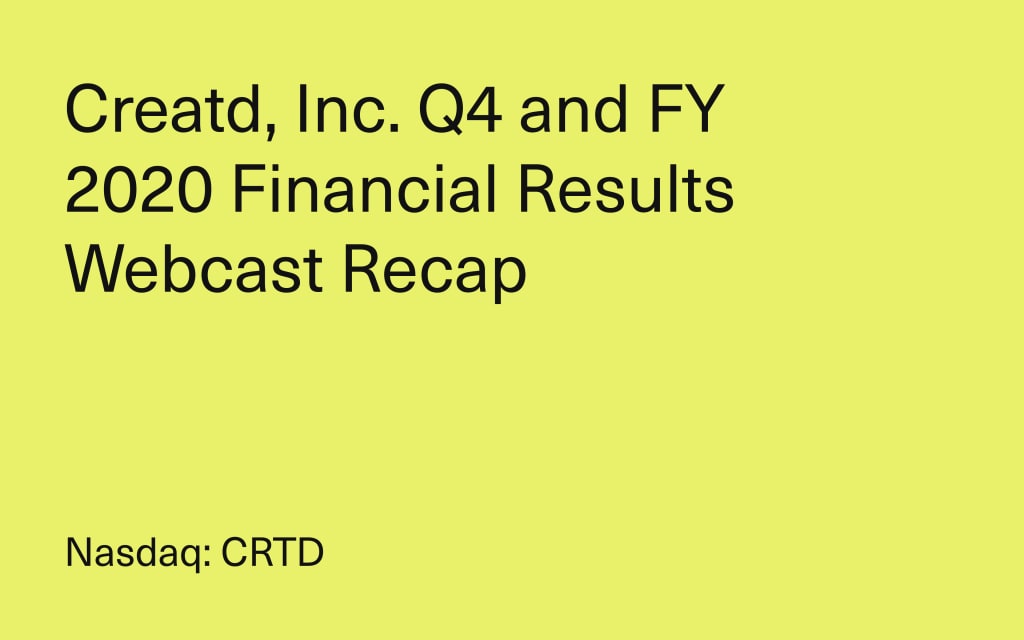 Below you'll find the complete transcript of the Creatd (NASDAQ: CRTD) Q4 and Full Year 2020 Earnings Call, edited for clarity, relevance and legibility.
Call Operator: Ladies and gentlemen, good morning, and welcome to Creatd's Fiscal Year 2020 financial results webcast. I would like to hand the call over to Rachel David, head of Corporate Communications and Business Development at Creatd.
Good morning, and thank you for joining us for Creatd's Full Year 2020 Financial Results Webcast. I'm Rachel David, Creatd's Head of Corporate Communications and Business Development.
Our fiscal year 2020 financial results and press release were released earlier this morning. This was our company's fifth 10-K filing and our first as a Nasdaq-listed company. The press release is available under the News and Events tab of Creatd's Investor Relations site.
Before we begin, I'd like to cover the safe harbor regarding forward-looking statements. During this presentation, we will be making certain forward looking statements, including projections and estimates about future events and results. These forward-looking statements are subject to risks and uncertainties, and actual results may materially differ. Factors that could cause these results to differ materially are set forth in today's press release and in our annual report on Form 10-K filed with the SEC. Any forward-looking statements that we make on this call are based on assumptions as of today, and we undertake no obligation to update these statements as a result of new information or future events. You can find further information about that on our website, or in reports filed with the SEC.
We will start today with opening remarks from Jeremy Frommer, Creatd's Founder and CEO, followed by Chelsea Pullano, Creatd's CFO, who will review our fiscal year 2020 financial results. After Chelsea's financial review, Jeremy will share some perspective on our forward outlook, followed by a Q&A session. If you would like to submit a question for consideration, you can do so from the Submission box located on the webcast page.
Now I would like to turn the call over to Creatd's Founder and CEO, Jeremy Frommer.
Thank you, Rachel. Good morning, everyone.
2020 was an unpredictable year, well beyond normal. It will have consequences that will last for some years to come. Some of my peers have referred to it as a Black Swan event, characterized by extreme rarity, severe impact, and that they are often obvious in hindsight. Fortunately, Creatd not only met the challenges of this year, but thrived through them, including uplisting to the Nasdaq this past September.
Additionally, it was a positioning year for the company that now affords us broader access to the capital markets and, while expensive, was well worth it. My team and I, my Board, my friends and family, represent a great deal of the stock and investment in Creatd. This positioning period now hopefully affords us far less dilutive financing opportunities in the future.
From September to December 2020, in less than a four month period, we raised over $15 million and swung from negative $11 million to almost $8 million in positive working capital for that period. We will await our CFO's presentation to give details on the significant reduction in debt and a broad discussion on the year's operating expenses but, since there are a number of new investors on this call, I wanted to give a quick recap of how we got here, where we're going, and who we are.
My partner Justin Maury and I met in 2014. Our original mission was relatively simple: make money on the internet. Our initial business model involved rebooting legacy media assets such as magazine archives, and adapting them for the digital space. Through a long period of experimentation, we found ourselves facing two core obstacles: how to get the content discovered online and how to get rewarded for it.
In early 2015 it became clear that to achieve our objective, we would need to build a proprietary platform ourselves. Off-the-shelf products simply weren't cutting it, and only by designing one from scratch could we unlock the value of behavioral data, and create a scalable, sustainable, and defendable business model.
Our customers would be the tens of millions of creators, who generate billions of pieces of content daily, ranging from blogs, to videos, to podcasts, to music, and more.
We reasoned that everyone who creates online, struggles with the same two obstacles: getting their content discovered and getting rewarded for their creativity.
Our technology platform solution could help overcome those obstacles for every creator online. Our company had found its new mission—and we called it Vocal.
We decided we would raise capital for this venture in a very unorthodox way for a tech company, though not so much for a CEO who had spent a few decades on Wall Street in the institutional fin-tech space.
In February of 2016, our predecessor company, Jerrick, went public on the OTCQB, trading under the ticker symbol "JMDA." Nine months later, in December 2016, our company launched the first version of Vocal, a user-generated, storytelling platform that put creators and their interests first.
We had 1,000 creators and six niche communities. One year later, we had grown to over 100,000 creators. It was an invaluable first year for the company in terms of the insights it uncovered. We knew we would eventually be able to charge money for the service we were providing, but to do that it was crucial to deeply study and understand what drives Vocal's creators, how they define 'success,' and then how to evolve the platform to best serve their interests so much so that the creators themselves, would be incentivized to pay a monthly subscription fee to use it.
By the end of 2018, Vocal had grown to nearly 400,000 creators and 34 communities. That was also the year we launched our first agency business model, Vocal for Brands.
The next year, 2019, was a watershed year for us, when Vocal's freemium to premium model finally turned on its engines. Vocal+ was our first premium paid offering for creators, providing access to exclusive opportunities and increased rewards. We introduced Vocal+ to the platform in the third quarter of 2019, and around the same time, we made our first acquisition of a small digital agency to jump-start our brand marketing business.
By the end of 2019, we had reached 600 paying Vocal+ subscribers and over 500,000 freemium creators. Total gross revenues for 2019 were $453,000, with creator subscriptions accounting for 7% of that.
Bear in mind what I said a few moments ago: Vocal is a creator-first platform in spirit and in function. So, while brand partnerships are a part of the platform's revenue equation, the intention has always been to have the creator subscriptions grow to be the dominant revenue driver for the company.
Gross revenues for fiscal year 2020 totaled $1,423,000 million, of which $287,000 were attributed to paid Vocal+ creator subscriptions. This was within range of our original projections of $1.5 million gross revenues provided on our third quarter call.
One of the primary drivers for year over year growth was the launch of Vocal Challenges in January 2020. Challenges worked to further enhance the value proposition for a creator to upgrade to a paid subscription. After accounting for reward payments to Vocal+ subscribers, which they can earn through reads on their stories and winning challenges, net revenues were a little over $1.2 million. Even with these adjustments, net revenues for 2020 tripled year over year.
In just the first quarter of 2021, Vocal+ subscriptions have generated approximately $325,000 in gross revenues and $265,000 in net revenues, already significantly outpacing its performance at the same time last year. The agency business grew as well, generating nearly $450,000 of gross revenues for the quarter. While the expected gross revenues for the first quarter 2021 should be between $725,000 to $775,000, net revenues should be $650,000 to $700,000. This represents between a 75-85% quarter-over-quarter increase, with creator subscriptions representing approximately 40% of total revenues.
Tomorrow we begin the second quarter of 2021 with over 20,000 Vocal+ subscribers, and a conservative estimate of $600,000 in creator subscription revenues for the quarter. We can comfortably project that Q2 of 2021 will be our first million dollar-plus quarter in net revenues. By the end of fiscal year 2021 we should have reached what you might call Creatd's 'golden revenue ratio,' which we defined as when agency-related revenues represent approximately one-third of revenues, while creator subscriptions represent the remaining two-thirds. Given Q1 and Q2 forecasts, as well as projected further growth for Q3 and Q4, I am comfortable with my previous projections of between $5 to 7 million in gross revenues for fiscal year 2021.
I look forward to discussing future strategic plans in my closing remarks but, for now, I want to hand it over to my CFO, Chelsea Pullano, to review the results of fiscal year 2020 in more detail.
Thank you, Jeremy, and good morning everyone.
For the full year 2020, net revenues—which take into account the net revenue reporting that Jeremy mentioned a few moments ago—totaled $1.2 million. This was roughly a three-fold increase compared to 2019 revenues of $454,000.
The platform side of our business, Vocal+, had its first full year of revenues in 2020. Since then, the Vocal+ subscriber count has been outpacing our guidance. Vocal+ subscribers can opt to pay either $9.99 per month or pay the full year subscription fee of $99 up-front. As we have an increasing number of subscribers opting for the full year plan, our subscriber deferred revenue has been building each quarter of 2020 from approximately $5,000 in the second quarter to $21,000 in the third quarter to $59,000 in fourth quarter. Deferred revenues from creator subscriptions are expected to increase again to approximately $146,000 for Q1 2021.
During our third quarter conference call this past November, we projected reaching 10,000 subscribers by the end of December; we actually hit that figure in early December. We then projected reaching 20,000 by the end of the first quarter 2021, and recently announced that we crossed that milestone several weeks ahead of schedule. Today we are confirming our previous guidance of 100,000 Vocal+ subscribers before the end of fiscal year 2021.
The agency side of our business, which includes Vocal for Brands and Managed Services, collectively produced triple-digit growth since last year, and represented the vast majority of revenues in 2020. This growth is expected to continue in 2021, in part due to the brands that have begun to partner with us on our Vocal Challenges, though we expect that overall, agency-related revenues will represent a lower proportion of total revenues as creator subscriptions continue to expand.
Our operating expenses were elevated during the year as we readied our company for the Nasdaq uplisting, while simultaneously positioning our company for accelerated growth. For the year ended December 31, 2020 operating expenses totaled $17.5 million as compared to $7.7 million for the year ended December 31, 2019. The $9.8 million increase is mainly related to non-recurring charges—specifically, a total of $1.3 million attributable to the Nasdaq up-listing, including additional advisory, legal and accounting services and financing activities during the year, that included two underwritten offerings. In addition, operating expenses included a total of $5 million in equity grants to our employees and management team.
The remainder of the increase in expenses during 2020 is attributed to a significant increase in personnel, including the addition of a Chief Operating Officer, additions to the sales team with senior level experience and long-standing brand relationships, and an increase in marketing, which provided us an opportunity to reduce our creator acquisition cost to a record low, altogether totaling roughly $2,000,000.
Going forward, without the burden of the extraordinary expenses we incurred during 2020, we calculate that our base level of quarterly operating expenses will be around $3 million—which, during 2021, we anticipate could increase slightly with a measured added increase in marketing. Included in this quarterly budget is an increase in research and development during 2021, which we expect to grow to $500,000 during the course of the year with an eye towards features and systems to support recurring revenue. Keep in mind, what we spend in R&D, we get back a portion in the form of a tax rebate via our R&D subsidiary in Australia; our rebate in 2020 totaled approximately $507,000.
For the full year 2020, Creatd's comprehensive loss totaled $24.2 million or $5.68 per basic and diluted share. As we previously discussed, this loss included a number of non-cash and non-recurring charges. Net of these charges, our loss would have been approximately $11 million compared to the comprehensive loss for full year 2019 of $8.0 million. Net cash used in operating activities during 2020 totaled $7.3 million, an increase of approximately $1.4 million compared to 2019. During the full year 2020, our average monthly cash burn for operations was approximately $612,000 per month.
We closed the year on a great note, as we successfully secured $7.8 million in net proceeds in under 7 days during the December holiday period from the successful completion of our Series E Convertible Preferred offering, bringing our net equity above $5 million at year end and leaving the Company with a healthy cash position. At December 31, 2020, the Company had cash and marketable securities of approximately $8 million, and accounts receivable of $90,000.
In total, the Company's assets increased by $8.2 million year over year, to $10.8 million at year-end.
The Company's total liabilities decreased year-over-year by approximately $5.6 million, to $5.4 million. Subsequent to year-end, Creatd directed a portion of the net proceeds of $7 million from the December Series E Preferred capital raise to eliminate approximately $1 million of debt and a significant portion of outstanding payables. The Government PPP loan totals roughly $694,000, the majority of which we anticipate will be forgiven, and have begun the forgiveness process with the lender. The portion that may or may not be forgiven carries a 1% annual interest rate.
In sum, with little to no debt and a healthy current cash level, our balance sheet has never been stronger.
I want to underscore that currently, we are sitting with a strong cash position and look forward to achieving breakeven this year, however there may be opportunities to accelerate growth further, which could require the need for additional cash. As we contemplate our growth opportunities, I would like to take a moment to discuss our numerous options to access capital, should the need arise:
1. We have strong relationships with our service providers such as Stripe and Facebook where we have credit lines when needed. Facebook in fact has generally raised this line, which now stands at $1.5 million.
2. We have filed a shelf registration statement, which, once effective, would provide us with swift, efficient and less costly access to capital than a traditional underwriting.
3. Subsequent to year end, we have also begun, and continue, to see the regular exercise of our warrants. We currently have over 6.1 million warrants with an average weighted strike price of $5.37, of which over 5.9 million are priced at $4.50 per share – these are primarily the warrants from our September and December financings. Subsequent to year end 2020, Creatd has already received proceeds totaling roughly $1.3 million from the recent exercise of a total of 283,000 warrants - and we certainly anticipate more to follow as the share price continues to appreciate.
Before I conclude, I would like to briefly review our cap table.
The number of shares of common stock outstanding as of December 31, 2020, was approximately 8.7 million, consistent with the amount outstanding as of September 30, 2020.
The Company's fully-diluted share count totaled 17.3 million, an increase of approximately 4.9 million shares from the third quarter, due, in large part, to the December raise of the Series E Convertible Preferred Stock and accompanying warrants. If all the Company's currently allocated options and warrants were to be exercised for cash, Creatd would receive approximately $36.3 million in additional capital.
As of today, after accounting for the previously mentioned warrant exercises and the conversion of the majority of the Series E Preferred stock into Common shares, Creatd has approximately 10.6 million shares outstanding.
So, to conclude: We made great headway in 2020 and positioned the Company for future success. We perfected our business flow and processes, galvanized our business model and put the finishing optimization touches on our core tech platform, while simultaneously releasing several rich-media tools to attract more creators to our rapidly growing base and the Vocal+ subscription offering.
We completed two equity raises securing $15.5 million in gross capital proceeds, uplisted to the Nasdaq Capital Market, eliminated the vast majority of our debt, thereby leaving us—for the first time—with working capital to allocate to a well-conceived strategic business plan.
I'd like to say thank you to everybody for joining us today, and I look forward to answering any questions later in this call. I would now like to turn the call back over to Jeremy.
Thank you, Chelsea.
In the interest of time, I will quickly mention a few of our more important strategic initiatives for 2021.
Number 1: Reach 100,000 paying Vocal+ Creators by the end of the year.
Number 2: Increase agency business primarily through accretive acquisitions of small agencies generating between $2-5 million in revenues with talented key people and an opportunity for significant cost cutting.
Number 3: we currently have 4 investments in development under our corporate venture division, Creatd Partners. We expect that number to reach 10 by the end of fiscal year 2021.
Number 4: We expect to continue developing our partnerships with third party marketing platforms such as Google and Facebook, with whom we have an enterprise level relationship and, in some cases, such as Facebook, access to a credit line.
Number 5: Lastly, while there are a number of technology platform acquisitions we have looked at, this year will be more about reaching our internal goal of $6 million in gross revenues from pre-established business lines, and I would expect 2022 to be a more acquisitive year in the SaaS space.
Before I let the operator begin the Q & A session, I wanted to respond to the flood of questions we have received regarding NFTs, Crypto, and Blockchain. I thought it would be helpful to read some of those communications verbatim.
The first one reads: "As an investor I was wondering if you would be introducing NFT news soon?"
Another one reads, "Please properly prepare for how you intend to address the NFT issue on next week's webcast. Don't fall in the same trap that another CEO fell into. He was asked about NFT's and basically said, 'Oh, yeah - they're really interesting. We're taking a cautious approach, but should be developing an NFT strategy soon.'"
The inquiry continued, but it felt more like a demand. He said:
"That's no good. Creatd has access to unique IP and you provide services to content creators; you'll need to embrace NFTs, transition your unique IP into the NFT blockchain and make NFTs part of the services you offer to creators." He went on, "If you fail to properly address NFTs on your webcast, then you will do so at the detriment of your investors and stock price. Wishing you the best of luck and success."
And then there are my favorites: short, sweet, with little room to maneuver and a glaring need for some insight. "Hi my name is Mike. Are you an NFT or a crypto play?"
So that there is no ambiguity in the market, I neither believe we are an NFT nor a Crypto play.
We are institutionally curious about all things tech, including Blockchain. We have a fiduciary responsibility to understand any tech that impacts the creative community we serve, and determine if it is a benefit or a detriment to our mission.
In 2018, Stripe, one of the world's largest payment processors, said, "Empirically, there are fewer and fewer use cases for which accepting or paying with Bitcoin makes sense. Therefore, starting today, we are winding down support for Bitcoin payments." At that time, in 2018 we were at the start of due diligence for integrating Stripe's crypto framework into our product and thankfully did not continue. The transactional fees resulting from crypto conversions made it difficult to gain transaction traction. Let alone, if we had integrated it, we would literally have had to undo it afterward. When it comes to these kinds of systemic changes, our second to market mover advantage demands patience and research. The day we had initially planned to release the feature, transaction fees rose to $37 irrespective of the amount of crypto being converted and remains to this day too high for content and digital microtransaction-oriented platforms to economically scale crypto features. The transaction fees are cost- prohibitive.
That said, much has changed since then, and part of our strategy at Creatd is, as I said, to amplify the second mover advantage. If we believed there was demand for crypto or token payments in our ecosystem and from our creative community, and if it was economical and accretive to the value of the company, we would efficiently execute on a plan to monetize that opportunity and we continue to watch closely as companies like Paypal push into the cryptocurrency market.
In regards to whether we are an NFT play, the same logic applies. Currently, at a price between $50 - 500 to mint an NFT, there is a big obstacle to get over if you want to scale the concept into a digital library, let alone determine if there was any demand. Then there are the very important sustainability concerns around the carbon emission output to run the systems to do the minting. Finally, and most importantly, before we made any significant moves into the NFT space, we would have to be sure that we would never damage the reputation of our platform and the trust our creators, their audiences, and the brands we work with put in us.
I try hard not to be the CEO who promotes something and does not have a plan for executing on it. I would not "set up a division to explore NFTs" or "have plans to partner with an NFT company" without a deep exploration of the facts and opportunities of a new business line. The bandwidth for this just simply does not exist.
What is fact is that, within one of our business divisions, there is a very special collection of original art including original documents, illustrations, collectables, and photographs—in particular, in excess of 100,000 original 35mm slides, photographs, and negatives most notably Bob Guccione, once the CEO of General Media, owner of Penthouse Magazine, Viva, OMNI, and health and wellness magazine Longevity.
Creatd has the right to utilize the images from this specific collection for sale, print, download or other reproduction in any form whatsoever. This collection has a carrying value of $0 on our balance sheet as a result of an impairment charge taken many years back. We have not had the company's licensing rights valued as a digital library, but the physical assets alone have been independently appraised at between $5-7MM, let alone the value of mining the other intellectual property opportunities.
We have leveraged the transmedia and IP opportunities on a number of occasions, including:
The film Filthy Gorgeous, directed by renowned documentary filmmaker Barry Avrich, which premiered at the Toronto International Film Festival in 2013;
The book No One's Pet, written by notable film critic Glenn Kenny;
The film Till Human Voices Wake Us, directed by celebrity photographer Indrani and starring Lindsay Lohan;
And, in fact, the Vocal communities Longevity and Viva are examples of print-to-digital transmedia and intellectual property opportunities we have leveraged from the collection. In 2013, Vice Media devoted an entire magazine issue to the collection.
We are continuously expanding our IP library and collection. In the past, the collection was used to secure an asset-backed loan in excess of $4.5MM, which is no longer on the balance sheet.
At this point, though, the only actual plan regarding NFTs and learning more about the blockchain opportunity in this format is to choose a select few images from the collection, and potentially the award-winning Lindsay Lohan short film, mint them, and introduce them into an NFT marketplace. If and when there is any further development at the company regarding the monetization of these assets, blockchain, crypto, and the NFT spaces, we will disseminate that news in a professional and disciplined fashion.
Now, I want to hand over to the operator for the Q & A.
Q&A
Participating in the Q&A today, along with Jeremy Frommer and Chelsea Pullano, are Laurie Weisberg, Creatd's Chief Operating Officer, and Justin Maury, Creatd's President and Head of Product.
Q1: This question is for Justin - Please talk about the impact of the Facebook and Apple issue on your business.
Justin Maury: For those of you who are not aware, Apple's iOS 14 updates impact the way in which companies like Facebook are able to receive and process conversion events from internal tools that they have, such as the Facebook pixel. While this doesn't really affect Android users, Apple controls over 50% of the smartphone market share in the US. So, this is obviously a big concern for Facebook, even to the extent that they took out a couple of ads in The Wall Street Journal and The New York Times really fighting against this initiative by Apple. I think the reason that this is such an issue for Facebook is that at Facebook's core business model, it's really around advertising. The algorithms that power that advertising model are reliant on this data that Apple is now asking users to opt into as opposed to opt out of.
But to go back to the question, how does this affect us? Transparently, it already has. And it's not affecting just us. It's an industry-wide problem, and there's increasing CPMs and conversion cost across multiple industries and sectors. Facebook has been a close marketing partner of ours over the last couple of years, but we're now more actively diversifying our marketing portfolio, customer acquisition strategy. When we look forward, I think that we're still going to be marketing with Facebook throughout Q2 2021, but what we're now doing is diversifying those customer acquisition campaigns to other platforms such as Google and Snapchat and Twitter.
I think it's also important to note that these platforms are also affected by this iOS update. But we believe that this omnichannel approach to greater acquisition will help us reach our target audience throughout the funnel. Now, from an organic perspective, our core base of over 900,000 creators and over 20,000 Vocal+ subscribers acts as a strong foundation for these organic growth efforts. We're actively analyzing and improving our communications with our readers, drip email campaigns and organic social channels, all with the goal of getting them to convert to a Vocal+ subscription.
From the product perspective, we've been analyzing our first party data and have identified insights into features that will help increase the value proposition of someone upgrading to Vocal+. Some of these features will increase the engagement between creators and their audiences while simultaneously introducing new recurring revenue streams.
Like I mentioned before, this is an issue that's affecting the entire industry, but we do feel confident that Vocal's freemium to premium model has positioned us strongly to be able to adapt and continue to scale rapidly. So in conclusion, I think that the Facebook/Apple issue has, in our opinion, temporarily increased the subscriber acquisition costs. Overall, what we've seen is a blended SAC, which includes the organic efforts that I just mentioned, that has decreased over the last few months. We anticipate that to continue throughout Q2 2021.
Q2: This question is for Chelsea - You had 2 large offerings in 2020; both deals came with warrants. Please help me understand how you avoided Warrant Derivative Liability Charges.
Chelsea Pullano: In 2017, we adopted what was, at the time, new accounting guidance - ASU 2017-11 - and this guidance determined that warrants would no longer be accounted for as derivative liabilities as a result of down-round features. And, that all other features in our warrants that could potentially trigger derivative liabilities – things like fundamental transaction triggers – are determined to be in our control to trigger. Therefore, don't require us to book derivative liabilities.
Q3: Another question for Chelsea - Where do you stand with your NASDAQ listing, per the disclosures the Company put out at the end of last year and earlier this year?
Chelsea Pullano: The December 2020 offering that I discussed earlier in this call was done mainly for the purpose of rectifying this issue. We raised capital of $7.8 million at the end of December 2020, in just under seven days during the holiday period. And that got us the capital we needed to meet Nasdaq requirements, and left us with a net equity of over $5 million dollars at year end. We were issued a reprimand letter by Nasdaq, and are subject to a panel monitor for the next year. But we've retained our Nasdaq listing and, as of today, are in compliance with all continued listing standards.
Q4: The next question is for Laurie - What was it that made the Moleskine Challenge so successful?
Laurie Weisberg: I love that question, as the Challenge was a great project for both parties, and I would categorize it as a win-win for both Moleskin and Vocal. For those who are not familiar with this particular campaign, we partnered with Moleskine on what we call the Little Black Book Challenge, where we reached out to our creators and we asked them to submit unique fictional stories about coming into twenty thousand dollars unexpectedly—by the way, twenty thousand dollars was the big grand prize amount, our first ever Challenge to have such a nice grand prize.
The only ask of the creators was that they tied in a little black book, which of course is Moleskine's most iconic product. And no doubt, because of that big prize-winning kitty, many creators were drawn into the challenge, and so we increased our Vocal+ subscriptions dramatically and it was our largest ever Challenge to date. I also think, not just that the prize winning kitty, but also just the opportunity and a chance to work with and be connected to such an iconic brand was a major appeal to to our creators. We also, for the first time, added some very unique guest judges, and we actually partnered with Daniela Riccardi, who is Moleskine's CEO, and Erica Wagner, who is a literary editor and former judge of the Booker Prize. After we had selected a shortlist of stories from over 12,000 submissions, both Daniela and Erica get to to choose the winning stories.
And so literally, this this Challenge went viral, which was very, very exciting to us, but more importantly, Moleskine was so happy because not only did we drive a record level of awareness, which in fact led to about 65 million impressions, but Moleskine themselves received 12,000 authentic stories, all with a creative tie-in to the Moleskine brand—which, by the way, they will use in the future. We're talking about several other projects that will leverage this content, and in fact, we're already in talks with them now about an additional campaign which will launch imminently.
Jeremy Frommer: When you say, Laurie, that this gets back to what we always talk about as a management team when it comes to working with brands, there are certain similar DNAs between us and the ones that really work best with.
Laurie Weisberg: Yeah, that's a really good point. I think what we have now is a blueprint for how we run a successful Challenge. And more importantly, I kind of select the brands that would most likely benefit from our solutions. Thinking back to the Moleskine/Vocal challenge, we were immediately aligned with the mission to give to to give creators a new platform and promote storytelling in a brand safe environment, something that not many platforms can offer today, and that's super important. Going forward, part of 2021 strategy is that I will personally be selecting the brands we're going to work with, which obviously include inbounds, and hopefully we will have the same goals in mind. I'm really excited for what 2021 will bring, and I'm really sure though that we have a clear roadmap for how to succeed.
Q5: This question is for Jeremy: To what do you attribute the decline in Vocal Plus membership from 23,200 on March 2nd, 2021, to 21,390 today?
Jeremy Frommer: Probably the exact same thing that attributed to the pull back when we got to 6,000, when we then dropped back to 4,400. I want to straighten something out for investors. We serve two constituents as a publicly traded management team: First, our shareholders, and creating value for them, and Second, our customers, our creators, creating value for them. The reason we put up the 'ticker' – as I've heard many of you call it – or, the counter of creators, was not for investors to sit there and keep track of when we throttle back, because we want to reset values, or because we're ahead of schedule and want to take down marketing spend. That's not how we run the business. Sometimes we see a spurt of 10,000 Vocal+ creators inside of only a few days at the end of the Challenge.
The reason why we put the counter there was something called social—meaning, so that when a person comes to subscribe to Vocal+ or upgrade from the freemium platform, they want to feel that they're a part of the larger community. I would have to be Houdini to make sure that the Vocal+ subscribers grew every single day, and didn't ever go back down. Again, I put that up there for the creators, not investors. But overall, I think that I'm pretty consistent with what I've always said. I have hit my targets, and I stand exactly by the target I shared today, of reaching 100,000 Vocal+ creators by year end.
Q6: The last question today is for Jeremy - The 10-K makes reference to Creatd Partners. Can you please give an update on your investment in Plant Camp, and on the company's corporate venture strategy more broadly?
Jeremy Frommer: I think many of you heard me talk about the different pillars of the company, one of them being Creatd Partners. I still remember when Justin and I met – many, many years ago when he was just starting to work with me – and we often talked about arbitrage on the platform. And I said to him, "Wait 'till you see the bigger arbitrage that we'll be doing once we're a publicly traded company. Wait 'till I show you cap structure arbitrage." And from Justin, I learned digital arbitrage.
And really, we're a very unique blend here of smart people from the tech space, from the fintech space, from the Wall Street space and design space. So, our venture capital initiative is about identifying direct-to-consumer brands (and, by the way, we see hundreds of them. They come across us every day looking for help, resources and investments) and we decide which of them are the best of the best and, like Laurie mentioned, are aligned so much with us that it makes sense not for us to be just a service provider, but for us to participate in the value of the upside. I think last time I talked about Plant Camp, I discussed that I expected that they would be out of their first run by the end of April. I'd probably push that projection out now to the end of May, for no reason other than that it's just been a very, very busy period. But Plant Camp is doing amazingly well. I'm thrilled with that one. In fact, I've had two conversations recently – conversations only – with external investors who definitely want to invest in it once they are fully convinced of the business model that's been proving out with our algorithms and our conversion methods. If that continues, I would expect to see some sort of additional investment from an outside investor, at a higher valuation.
I think this lends itself to talk about our acquisition strategy in general. As I mentioned earlier, now we have a large, outstanding authorized share count. And when people ask me about it, I say that we're looking to make accretive acquisitions. I talk about agencies that we can find – a great deal of them are distressed these days – and I hope to take a look at a lot of those and see what kind of value you can take out. And, as I mentioned earlier, we're also constantly looking to expand our digital library, which connects back to the notion of NFTs, which we've gotten many questions about since I discussed them a few minutes ago.
I have no idea whether the NFT market, and what we may do with the assets that we have in our collection, will turn out to be something substantial. What I do know is that acquiring good media content is what we're about, and it doesn't matter whether we can turn them into NFTs or not. We can do a hundred other things with them. I hope the NFT market is a fantastic market. I hope that everybody can figure out how to make money from it. But that's not how it always works. So, we're going to look for the type of assets that are not dependent on a single trick like that.
The last thing I will leave you with is that we're looking at some really incredible SaaS platforms, that, given our ability to integrate them into our framework, as well as our ability to finance these acquisitions, including using other currencies, I would say that 2022 is the year we're looking for to make a significant acquisition in the market.
Call Operator: This concludes today's call. A replay of the webcast will be available shortly on the Company's website. Thanks again, and enjoy your day.
To learn more about Creatd, please visit:
Reader insights
Be the first to share your insights about this piece.
Add your insights