The Future of Vocal+
The end of Founding Membership, and a new beginning for our entire community.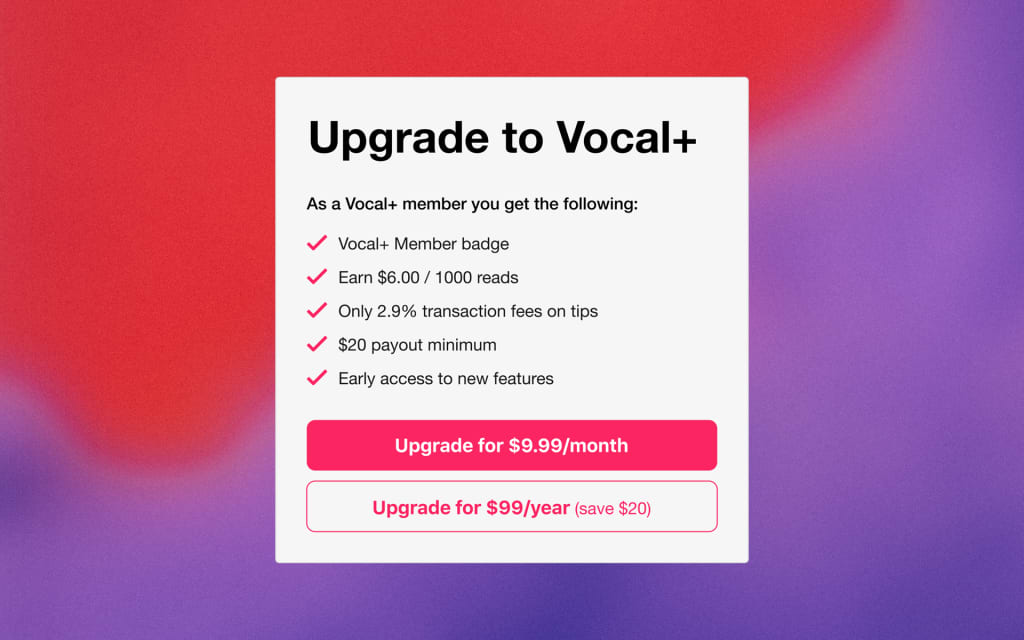 From building a home for your stories to fostering the growth of an entire creative community, we've been hard at work for the last three years helping you create, share, and earn from your stories. A few weeks ago we shipped Vocal 2.0, which along with the new features and updates, sets the stage for the future.
Today, we're excited to introduce Vocal+, a premium membership for creators. For only $9.99/mo or $99/year, you get access to the following:
Vocal+ Member badge
Earn $6.00 / 1000 reads
2.9% transaction fees on tips
$20 payout minimum
Early access to new features
So many of you—over 1,200 of you, in fact—have become Founding Members of Vocal+ since it launched in the beginning of the summer. That's 1,200 creators who are making connections with each other, earning more for their stories, and helping our community grow and constantly improve. 1,200 creators who are active partners with us, giving us feedback that's helping to develop new features that will benefit our entire creative community.
Our goal in building the new Vocal was to bring this feedback to life. We heard you when you told us you wanted to earn more for your stories—that's why Vocal+ offers increased earnings and monetization benefits. We heard you tell us that you wanted more freedom to create—we gave you brand new creator tools to make that happen. And we've heard so many of you ask for a new, sustainable model for Vocal+ members—so now, we're making that happen, too.
The New Vocal+
When we announced Vocal 2.0, we also announced an extension of our Founding Membership offer. This offer meant a full year of Vocal+ at a 58% discount, in the hopes that these first creators of the membership would give us the feedback we'd need to feel confident that we were offering something helpful and meaningful to our creators. We never would have imagined when we introduced Founding Membership that over a thousand of you would take us up on the opportunity.
But thanks to you, we feel sure that the tools and benefits that Vocal+ offers, and the features that are on our future roadmap, are the right ones for our community. So now, we're excited to announce that Founding Membership is closing, and we're launching Vocal+ in its full form.
This means that we're introducing a whole new payment structure. Vocal still offers a free creator option—but for those who want to become a member of Vocal+, you now have the option of becoming a member monthly or annually, with automatic renewals that ensure that your cycle of creating and earning is never interrupted.
The new Vocal+ membership plans are as follows:
$9.99/month
$99/year (save $20 or get 2 months free)
Vocal+ memberships are recurring and can be cancelled at any time. You can read more about Vocal+, or sign up for either of these new membership plans, here.
Down the road
We've updated and improved a lot over the last few months, but we're not done yet. When we announced Vocal 2.0, we told you all about our plans for the future of the entire platform: Things like sentiment and social features, editorial and functionality updates, and an iOS app are all in the works for the entire community to benefit from soon.
But the future holds exciting things for Vocal+ members, too. All of these recent updates and a new, faster platform means that we're able to build better, more effective tools and exciting community features together with you, our creative partners.
We're excited to roll out some incredible benefits for members in the coming months. Not only will Vocal+ members be the first to benefit from some of our future community-wide updates, but you'll also be able to take part in exclusive creator challenges—weekly contests open only to our Vocal+ members meant to inspire and encourage you to create.
This is just a peek at some of the big features we've dreamed up for the future. We're so excited to share them with you and hear your thoughts.
Thank you
To all of you that have been our partners through this journey over the past few years, thank you for your support, and just as importantly, your feedback. Building an entire community means making mistakes, listening to each other, and growing together, and we hope that these updates help us continue to do just that. Thanks to every one of you that became a Founding Member, Vocal is a better platform and a stronger community than ever before.
All of you inspire us with your stories every day, and our goal is that these features help you continue to do so freely and with more creativity.
We can't wait to see what you create.
About the Creator
Founder and President of Creatd (Nasdaq: CRTD), the parent company of the Vocal platform.
Reader insights
Nice work
Very well written. Keep up the good work!
Top insight
Heartfelt and relatable

The story invoked strong personal emotions
Add your insights