Vocal 2.0
Introducing the next chapter of Vocal.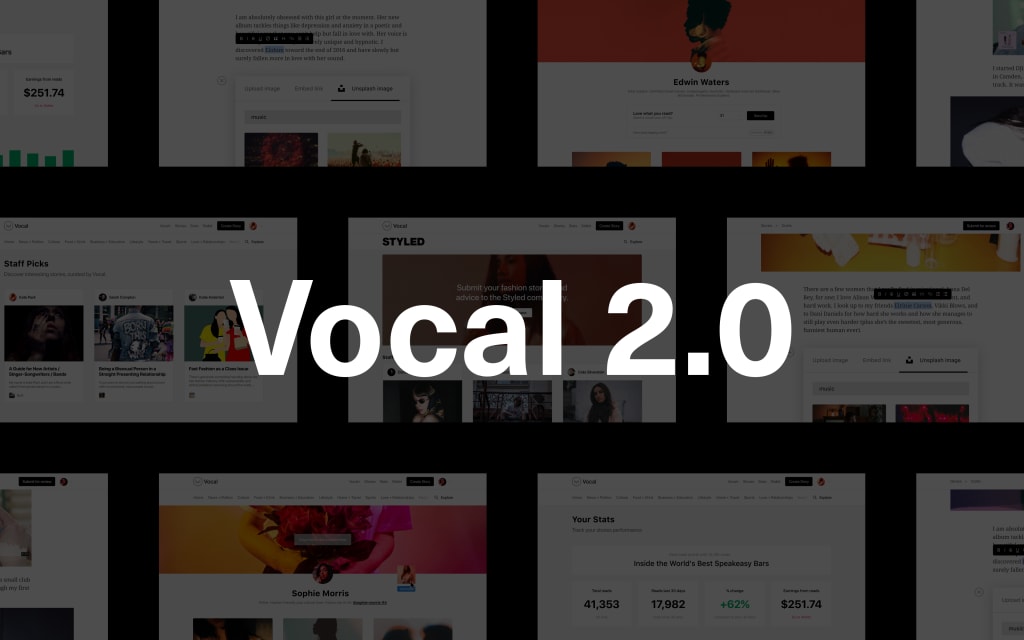 It's hard to believe, but it's been nearly 3 years since we released Vocal. We've since been joined by over 470,000 creators and their stories.
Over the past few years, creators of all shapes and sizes have shared stories that have entertained, educated, shocked, and moved us. Writers, musicians, podcasters, videographers, bloggers, and creatives of all types have partnered with us to create a global community for storytelling.
We've spent that last nearly 3 years listening to you and building Vocal to solve your needs. We've zigged and zagged together, discovering new paths along the way, together. Some ideas and features have stuck, others came and went.
So, in late 2018, we embarked on the re-platforming of Vocal. Not only had we reached a scale threshold, but the future roadmap of Vocal depended on it.
Today marks the beginning of a new chapter for Vocal. Here's what we've been working on in order to provide you with the best storytelling platform:
Introducing the Vocal Editor 2.0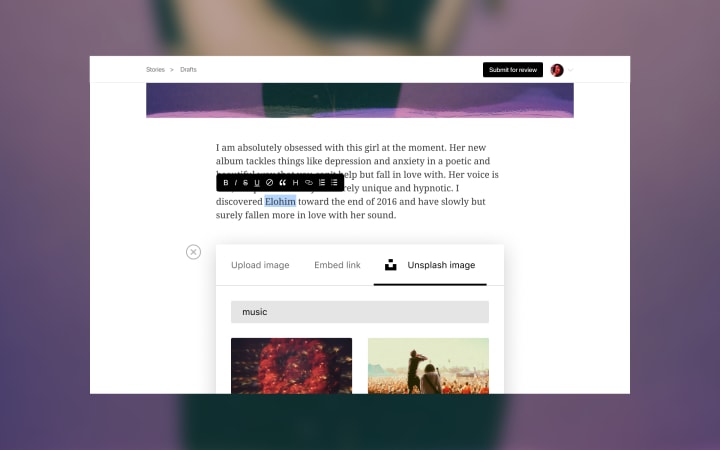 The editor is at the core of the creation process for creators, so we wanted to ensure we are providing a best-in-class experience. Previously, Vocal's editor relied on "content modules," which allowed you to create sections of rich media content to build out your story. This first version of the editor was great, but not nearly as flexible as the new one.
Vocal's new editor is based on "content blocks," which lets us provide you with a "blank sheet of paper" writing experience while still being able to easily add images, videos, and embeds of any kind. You'll notice the new editor has three options to include rich media:
Upload a photo
Embed a link
Search for a photo on Unsplash
You'll notice we've removed the text module from the editor. Because of the Vocal editor's new freeform structure, you can easily add text, photos, and embed almost anything anywhere in your story. Want to add a new section title to break up your story? Simply highlight and click "H" from the tooltip bar to format your text as a section title. You can even add links to your section titles now.
Also, we've removed the gallery module from the editor. We plan on introducing a new, improved version of galleries in the future.
In addition to a new content creation experience, Vocal's new editor provides the technical foundation for future features like collaborative editing, mentions, new integrations, and more.
We've brought communities closer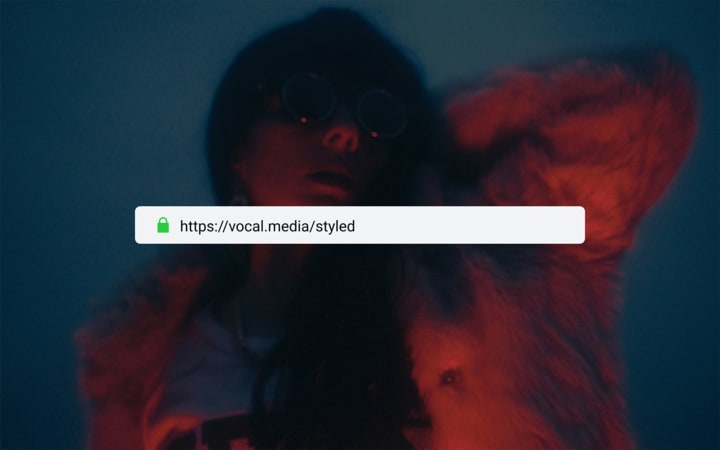 You'll notice that the community sites are now a part of the Vocal domain. Don't worry, we've redirected all of your stories to the new URL structure.
This was a decision that was not made lightly. When we initially launched Vocal, we hosted our communities on their own domains to support discovery for your stories from search engine optimization. We spent a lot of time and effort building the ability to support cross-domain sessions to keep you logged in across different community domains. We did this to ensure you had a fluid and cohesive user experience when switching from one community domain to another.
But technology has recently presented us with a fork in the road. Recently, Apple has released ITP 2.2 (Intelligent Tracking Prevention 2.2) in order to prevent advertisers from nefariously tracking you. Given that Vocal is a platform free of display ads, and more than 60% of our creators are on Apple devices, we support this change 100%.
However, this affected our ability to provide cross-domain sessions to you, ultimately creating a potential poor user experience. Despite hacks and patches to get around ITP, we decided after careful consideration that the best solution going forward was to consolidate the communities into one Vocal domain.
A single profile page to showcase your work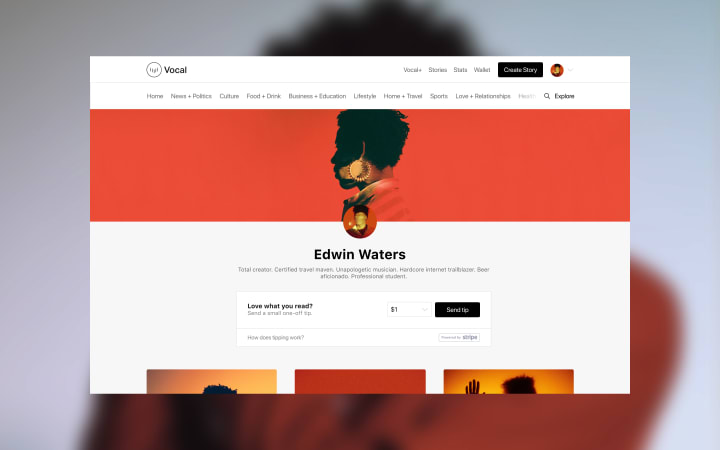 In the past, we provided you with not only a Vocal profile page (https://vocal.media/authors/your-name), but also a profile page on every community you published a story on. We did this to provide your audience the best user experience when trying to discover more of your stories. We didn't want them to have to leave the community site to come to Vocal, only to go back to that site.
Since our communities have now joined the Vocal URL, we have decided that the best experience is to provide you with one dedicated profile page that showcases all of your work. Now, your profile page (https://vocal.media/authors/your-name) is the single destination to discover all of your stories.
Make sure you update your creator page, and look out for more customization and features to come in the near future.
We've upgraded Stripe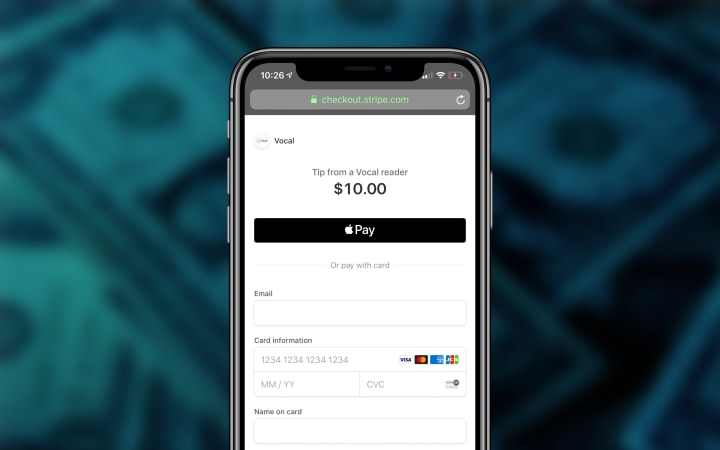 We have upgraded our integration with Stripe to the latest version. The new version supports SCA (Strong Customer Authentication), localization in 14 languages, Apple Pay, and additional security on your transactions.
You will also notice that the tip dialog has a new look. Not only does it look better, but it actually makes the process even easier for your fans to send you a tip. In the past, sending a tip had a 2-step checkout process. Now, all of the payment information is on one screen, making it easier for your fans to show their support through tips.
We've made it faster to get your stories published
Another core component of Vocal that we have updated is our moderation system. Since day one, our goal has been to create a safe community for creators to share their stories. To ensure our communities remain free from bad actors, the Vocal Moderation Team reviews hundreds of stories daily, ensuring they comply with our Community Guidelines.
As part of our replatform, our new admin and moderation architecture has been completely rebuilt. The new architecture allows us to moderate your stories more efficiently, which in return means your stories get published faster.
We've upgraded our systems
We strive to ensure that Vocal is up and running 99.99% of the time. In the past, as with every growing company, we've encountering some issues that have caused Vocal to go down for short periods of time.
As part of the new Vocal, we've made significant upgrades to ensure platform stability. Additionally, if you ever encounter an issue on Vocal, we've integrated Sentry to help you report the issue easily.
Vocal+ Founding Member Extension
It's been three months since we've introduced Vocal+, and we're so thankful for the support of our Founding Members. As our community grows, we want to continue championing and helping you share your stories. Because of this, we've decided to extend our discounted Vocal+ membership offer.
So many creators reached out to ask for an extension of the Founding Member discount, and we want to make sure that as many of you as possible take advantage of this offer. So, we're extending the 58% discount of $50 for a full year of Vocal+ until September 18th, 2019.
After Founding Membership closes, creators will be able to join as a regular Vocal+ member for $9.99/month. Learn more about becoming a Vocal+ Founding Member.
What lies ahead?
The work that we've been doing over the past few months will allow us to move faster and with more confidence as we build the future of Vocal together with you, our creative partners.
Here are few things we are excited to introduce to you in the near future:
Sentiment feature
Creator challenges
Following
UI updates
iOS App
Commenting
Editing a published story
And many more
We believe that creators like you are our partners. If you would like to suggest a new feature or have any questions, please contact us and we'll get back to you as soon as we can.
We're grateful for all of the amazing stories you've shared and for your support of Vocal—you continue to inspire us every day, and we can't wait to see what you create next.
About the Creator
Founder and President of Creatd (Nasdaq: CRTD), the parent company of the Vocal platform.
Reader insights
Be the first to share your insights about this piece.
Add your insights