America's Oil Diplomacy Has Been Broken Down
While the War President is happily trying to satisfy to Ukraine's President demand with Billion of US contribution .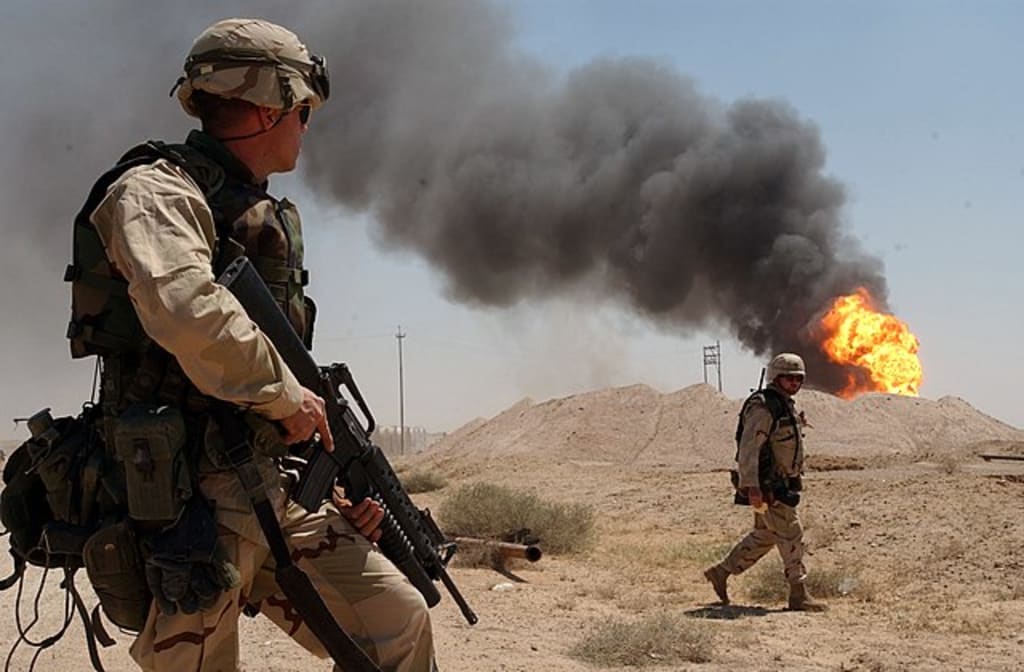 Wikimedia common ; U.S. Navy photo by Photographer's Mate 1st Class Arlo K. Abrahamson.
Silently New Mega deals worth hundred and hundreds of billions was newly established between China and some Middle East countries ,and some drastic changes are now in place and set up between China and Saudi Arabia.. History has been made
Saudi Arabia will now accept RMB payments for oil equal in value to China's imports.
Saudi Arabian Banks will now establish a $75 billion revolving fund and a Riyal-RMB exchange protocol. The Amount is now $ 10 Billion but that could increase to as much as $ 280 Billion by 2032 depending on China's investment into Saudi Arabia for their new project
China is the first nation except the United States and the United Kingdom to establish a Revolving Fund in their currency in Saudi Arabia. Even the EU lacks a revolving fund and relies on the USD for trade with the Middle East.
Previously, while Saudi Arabia accepted payment in RMB, the protocol was only formatted with Riyal-USD-RMB and RMB-USD-SAR remittance arrangement ,But All has change since President Xi's visit to Saudi Arabia last week .
In the former , Chinese exporters would receive their payments in RMB only after the Riyal was translated into US Dollars by an intermediary bank dealing in US Dollars and then converted back into RMB.
Now it has totally change , Thanks to Biden's Swift sanction on Russia
Now, Chinese exporters will receive direct payment in RMB in return for Riyals.
China is no longer required to pay Saudi Arabia from its New York-based Foreign Exchange Reserve Accounts. China can pay Saudi Arabia from its Shanghai or Beijing RMB accounts and they will kick off the trade for 10 billions to hundreds of Billions in the near future
It was heard the agreement agreement between the Saudi Prince With President Xi will explore pricing Oil in RMB if China agrees to a 30-year Oil contract…all thanks to USA's President
U.S PetroDollar
In the 1970s, the United States and Saudi Arabia reached an agreement requiring all oil sales to be settled in US dollars. In return, they were assured that U.S. military might would be used to safeguard their vital interests. This pact permitted the United States to flood the Soviet economy into submission (by flooding the global market with cheap Saudi oil).
Throughout history, The British were the first to make a single national currency acceptable over the world. Furthermore, their monetary supremacy lasted for only two centuries .Since the stability of the British pound was tied to international monetary order, the British were drawn into every major conflict of the 200 years spanning 1763 and 1945 and the same is happening to the U.S since last 80 years
Ex-President Trump realized the hard way that maintaining monetary dominance over the world was useful for military purposes but not viable for the long term.
All the former President , Bush , Carter and Obama were dragged into wars that weren't even in their own country's best interest. In other words, they felt progressively compelled to send in the troops despite the fact that the real danger lay not in the safety of their nation but in the stability of their currency.
Trump was the Only Ex-President who highlighted the problems and knew the burden of managing a global currency could put the US economy in jeopardy. This is a tiring duty that comes with problems all around the world and he was trying to find ways to suppress China ,as he knew the OLD Mold casted in the middle east will cause US Oil Diplomacy to break down and Now it has begun ..while he try to built a strong oil reserves for the U.S
The present War president has started depleting the reserves to save U.S Dollars and economy from Inflation caused from his agenda to Support supplying arms to Ukraine to drag the war further into 2023
What long-term effects may a deal where Saudi Arabia accepts Yuan instead of dollars for Chinese oil purchases have on the US dollar?
Obviously, as the globe adopts more eco-friendly forms of energy, oil consumption will decline. Oil imports denominated in US dollars mean that the dollar will weaken over time unless the United States actively intervenes to maintain its current level of strength.
Not only is that a difficulty, but there are other ones as well. Because of US sanctions, several countries are abandoning the US dollar. Currently, 104 nations accept the Chinese currency, the Renminbi (RMB). After the United States imposed sanctions on Iran, Europe, Russia, and China developed an alternative to SWIFT and the US dollar all at the blessing from the sanction the Swift remittance system on Russia
In an effort to facilitate trade with nations subject to American sanctions, India, Russia, and China have been looking into alternatives to the US-dominated SWIFT payment mechanism since 2019. It has been decided to connect Russia's SPFS financial messaging system to China's CIPS cross-border interbank payment system. India is working on a service that will connect to SPFS and fulfill the role of a local financial messaging system. In light of the recent sanctions against Russia, this timetable will be accelerated.
The dollar's strength as a weapon for the United States will inevitably decline if current trends continue. Although the dollar's value may fall, it's unlikely to fall by much , as Now interest rate are being hiked for the offset ,but when all Inflation settled, the Greenback might be Dumped
The United States' primary strategic objectives in semiconductor chip production and technology war are, first, to prevent the advancement and modernization of China's science and technology, and, second, to consolidate the advantages of the US supply chain and keep the United States competitive in it Semiconductor Chip production
This action was started by former President Trump, but he was not allowed to see it through to completion, and it has only gotten worse under the new administration as a result of policy shifts and now it seems all items related to technology related products will have drastic stock issue and new pricing that will see major trade imbalance in the next few years
In the future, we will see the release and full manifestation of the price of this lethality.
The point of this strategy is that a big number of American politicians and elites are behind it, but many businesspeople who want to harness the hegemonic strength of the United States but can't succeed through normal and fair competition also play a role. US import goods will only get more expensive and we can forget about cheap Train transport in the near future and electric cars will only get more expensive .
The United States stopped working with China and stuck to its old ways of thinking, betting that it could achieve technological supremacy on its own or with the help of its friends if it did not. It's clearly going against the current. The disruption to global industry from the tech battle will worsen for some time to come ,and the big shift might be going to India .
About the Creator
Estalontech is an Indie publisher with over 400 Book titles on Amazon KDP. Being a Publisher , it is normal for us to co author and brainstorm on interesting contents for this publication which we will like to share on this platform
Reader insights
Be the first to share your insights about this piece.
Add your insights