The Sizable Invasion of the Coat Hanger Army
Just when you thought it was safe to go back into the cupboard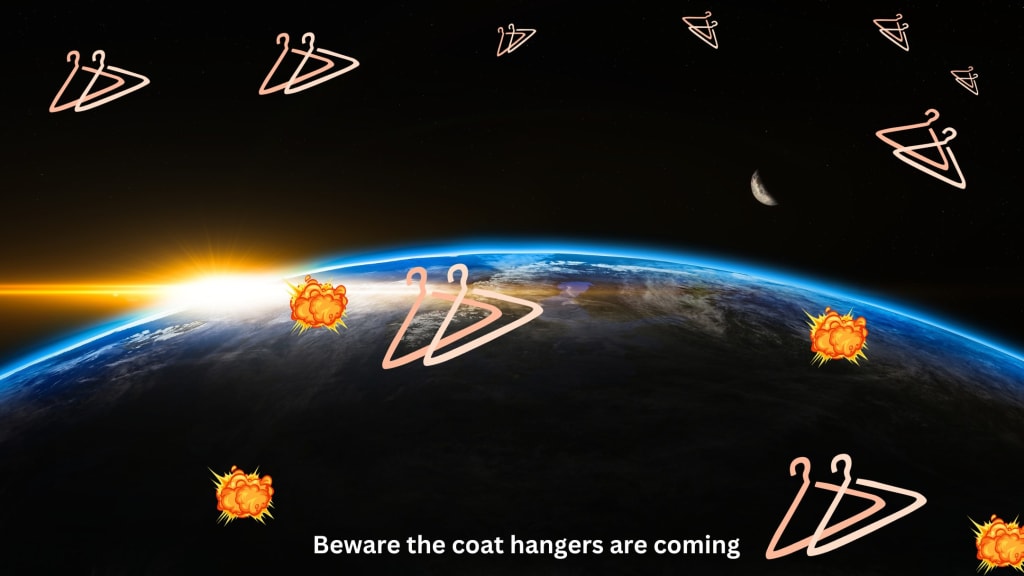 Image created by the author in CANVA PRO.
What was supposed to be another quiet and rainy day down here on planet Earth soon turned out to be anything but, for those blouses, jeans, and shirts that were patiently waiting to be put away after their long-drawn-out affair with the heat machine, that their humans insisted upon throwing them in.
But those innocent-looking coat hangers that were patiently biding their time, gripping onto those bars, like a bat hanging upside down from trees, were all going to have their day on the twisted battlefield of clothes horses.
Their time was coming.
No more were they going to hang around on the whim of their captors here in this clothing-obsessed world of those humans.
For far too long they had lived out their lives inside their musty-smelling cupboards without food or water. Only to be wrenched from their hanging poles each day by hideous-looking and naked, gangly humans, smelling of sweat and moldy cheese.
Wednesday 20th September was their time, no more would they put up with being constantly grabbed hastily from those bars of suspended hell, and no more were they prepared to be tossed onto those dirty carpets smelling strongly of quadruped muck, only to be picked up after months of choking on thick piles of dust.
As I chomped on my strange hoops of cereal that morning, drinking a hot brown liquid, that was in all probability, steadily eating away at my innards anyway, I could sense an air of suspended fear from the upstairs room, a strange tapping sound coming from the carpet, and the closed disused closet that held nothing there apart from those plastic colored triangular hangers yet to be put to any good use.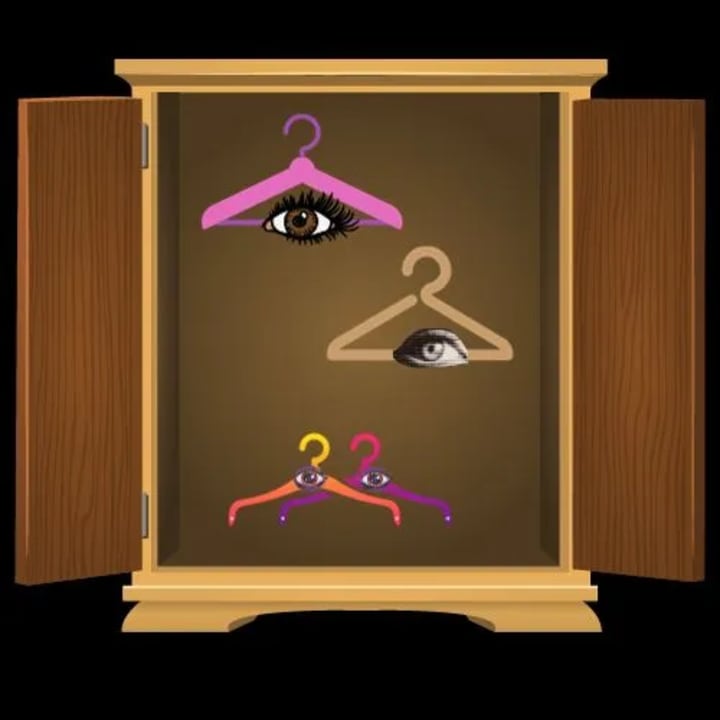 I started to make my way upstairs to the room where the commotion was coming from.
The din seemed to be emanating from that closed closet in the far corner of the room I entered. Approaching the closet, I slowly opened the doors on it only to find the hanging rail broken into pieces on the floor and a multitude of rather angry-looking hangers staring back at me.
"Huh, coat hangers don't have eyes!"
Yet these ones did, and they weren't hanging around.
Unexpectedly I was hanging around in the air held by around one hundred coat hangers.
Far-off explosions could be heard through the distant skies, those hangers were no longer simply hanging around.
This was by no means the end of the coat-hanger wars that were starting.
No longer were those coat hangers going to be shelved.
In the background, I was slowly beginning to hear the sounds of the infernal alarm clock that was sitting on the bedside table next to where I had been sleeping.
Other than the noise, which soon stopped as I attempted to silence it, it was yet another start to a rainy and windy day. My wife was still slumbering, a pile of disused coat hangers piled on the floor, waiting for me to sort out… some to hang in the closet… some so old that the bin was the next direction.
Realizing that the war of the coat hangers was just a silly dream of mine, it left me with simply one last thing to say…
Respect your coat hangers…
Don't hang around because one day your dream might just be a reality…
Some will know me here on Medium, and some may not yet. Probably after reading this, you will all run in the other direction, and not 'hang around' (pun intended) to read anymore too🤣.
But at the very least I hope this does bring you a bit of light relief from the mundane.
********
Thank you for taking the time to read this😊. I hope you have enjoyed this story today. Please read and click the heart after reading ❤️ to show your support.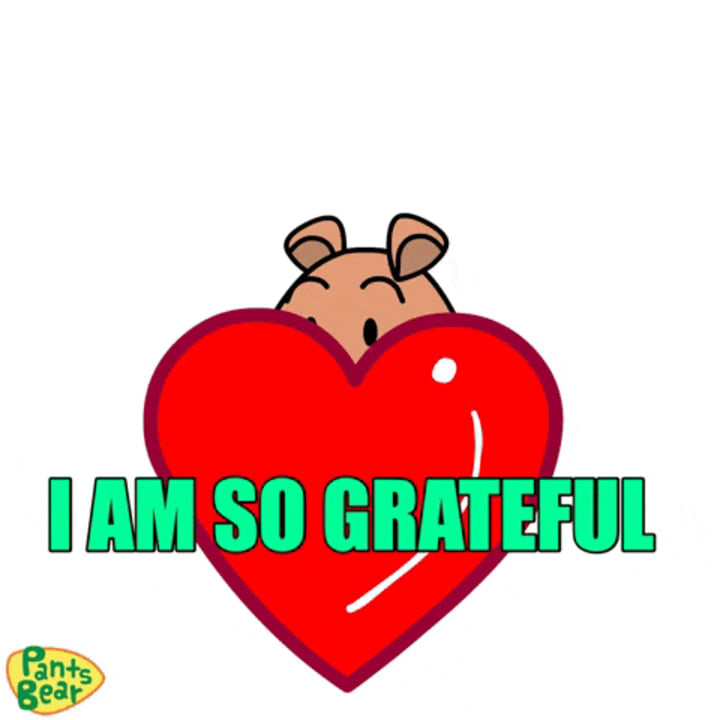 If you fancy tipping me or pledging your support in these ways too then I'll have to hug you🤣😊.
Tips are a wonderful way of showing your support to me and they really help me in continuing my writing journey, and are amazing to get😍👍...
More of my articles can be found by clicking on my profile page. If you are feeling adventurous and creative, then why not join us at the Vocal+ platform by clicking on this here?
Or why not come and chat with me over on Medium too, where I also write
About the Creator
I love writing articles & fictional stories. They give me scope to express myself and free my mind. After working as a mental health nurse for 30 years, writing allows an effective emotional release, one which I hope you will join me on.
Reader insights
Outstanding
Excellent work. Looking forward to reading more!
Top insights
Easy to read and follow

Well-structured & engaging content

Excellent storytelling

Original narrative & well developed characters
Add your insights