Tom Bradbury: No Words Left Unspoken Part 1
Highlights of his literary journey and why Tom was one of the greats.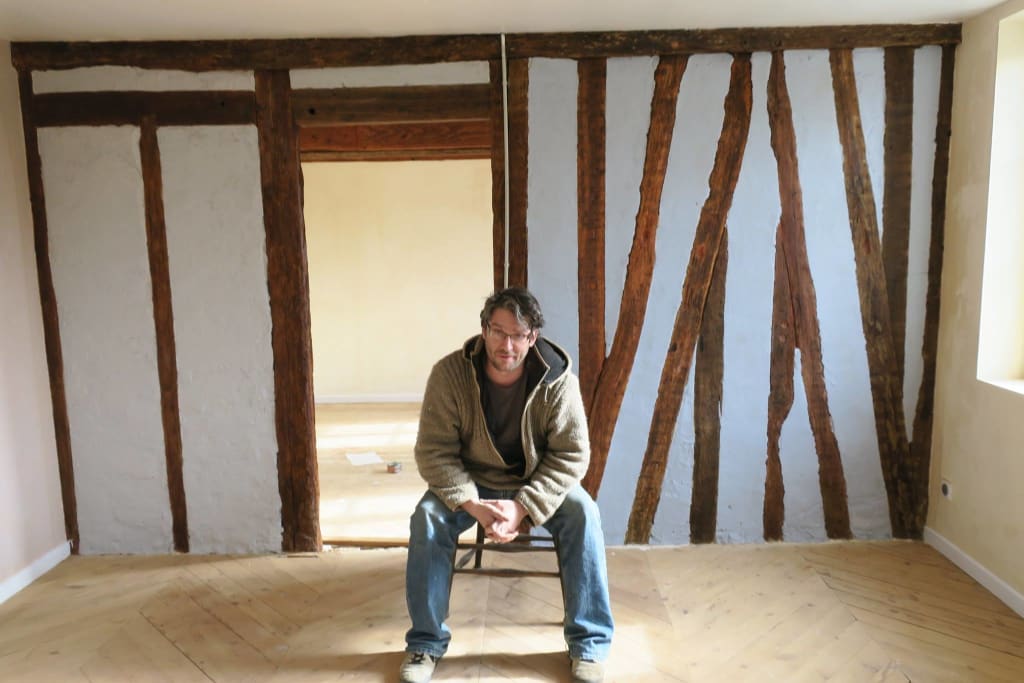 Tom looking like he's about to tell us one last tale. Photo from Facebook.
This is the official memorial document for Tom's family & friends. It will be featured in this week's VCC issue as my entry for my column "Chat With Les". Part 2: "The Voices That Remain" will be released shortly as a substitute for the "Society Pages" column.
~~~
As said by Tom himself in his premiere piece on Vocal Media eight months ago,
"When you stop talking about the people you have lost, it is like they have died twice."

- How to Make Tarte Tatin, Tom Bradbury
As his editor, I wish to add that while voices may fade, words never die. Like the great authors before him, Tom's words, whether they were written online, said in person or by phone, jotted on cards or letters, will live on forever. I can't speak on his life in its entirety, nor even his complete Vocal journey, but I did spend hours upon hours writing and talking with him every single day of every week since shortly before the release of our first joint work, 'A Cowboy Is More Than Its Stetson'. Stetson was Tom's suggested title for a Vocal community dedicated to those that identify as male, which would be the natural twin to VIVA (a safe space for those that identify as a woman).
It is a privilege to write this final compilation for Tom, but it was hard to decide on a scope. Where he was grounded, I am a dreamer. We were a balance as a writing team. I miss the order he brought to my chaos, and I hope that wherever he is, he isn't forgetting to step beyond the boundaries on occasion and 'follow the story' as I was fond of iterating. My natural inclination is to expand this into a 10,000 word essay, but I can hear him telling me to keep it simple; it's a little ironic that the editor now needs to make sure she takes her scissors to her own work!

Limiting this memorial to the time Tom has spent on Vocal is the right lens and breadth to start. Later on, I will be taking a lead on editing a post-humus anthology of his fictions as per family and friends' requests. Interested parties may contact me through my magazine: The Vocal Creators Chronicle. Proceeds from this work, the issue of The Chronicle it will be released in (October 9, 2021), as well as those from my eulogy, will be forwarded towards the cost of publishing.
If you haven't yet read my eulogy, it's here:
For Tom's full portfolio, click here.
Let's begin.
Part 1: A Brief Review of Tom's Literary Journey on Vocal
Challenge Wins:
2nd Place in 'The Wave Makers' Challenge
"You want to save the world; save the oceans, live in it. Take from it but also put back into it. Farting cows will not destroy us. Learn how to make food from your surroundings, save on packaging and food air miles. Interact with the environment you live in; do it with a friend. If you want to save the world start by making dandelion lemonade. Once you have done that the rest will start to follow."
2nd Place in 'A Day in the Life' Challenge
"I have no previous experience in raising sheep. Yet with my heritage breed, I have learnt to encourage them to give birth in the field and live a crazy six weeks of no sleep. Around this time you are more likely to see me in that same field with a headlamp on, in the dead of night; than actually find me asleep in a bed. I can now almost tell by sight who is next due and when the babies might come."
What Vocal Had to Say About Tom:
"Something of a Vocal celebrity, largely due to his dry wit and Dickensian penchant for the Tall Tale, Tom Brad has eight months of Vocal experience and has earned a following as a result. He is even the protagonist of a fiction series currently being written by fellow creator Arpad Nagy. Needless to say, Tom is a valued member of the Vocal community, and this Challenge win (his second) comes as a surprise to no one."
Winning a Fab 5 in the Vocal Social Society:
Winning Announcement
"Belief in the supernatural, an entity or entities beyond what we can see, touch, or feel, is a defining aspect of being human. We wish; we hope; some of us pray, and above all, we desire answers. This piece was chosen to represent Humanity firstly because it is well-written and engaging. What sets it apart is the subject: wishing using objects, specifically throwing objects of value away from ourselves, is a near-universal practice across the globe, suggesting it is a cornerstone of how humans navigate their existence. Lastly, the author, Tom Bradbury, eloquently leads us from a humble moment of discussing childhood shoes into the darkest depths of what lies within our hearts." -Introduction to the win penned by Call Me Les (Lesley Leatherdale)
From the story:
"Wishing wells have no interest in commerce; they are purely invested in you. Wishing Wells are for wisdom, knowledge—they are there to answer the question you need an answer to but cannot find. " -Tom Bradbury
The Time Tom Was a Spy:
Tom will certainly live on inside the fantastical spy mini-series referenced above. Episode one may be found below. There are 7 episodes total. An engaging writer and longtime friend of Tom's, Arpad's stories were something Tom secretly revelled in and he was quick to ask whether I'd read them.
Dating Advice For the Ages:
In my Chat With Les column, my signature interview question (What song would you enter a room to and why?) was inspired by this piece. Tom gave the question to me as a gift, and it's something I'll cherish always.
Below is a quote from the story.
If you were a dinosaur, what dinosaur would you be and why?"

"Wow, what a clever question… Mmm… A T-Rex"

"Why?" smiled Poppy.

"They are just badass, the boss, I am a natural leader…"

She tuned Callum out and let him rant on, recalling her father's advice from that afternoon.

Anyone who says they want to be a Tyrannosaurus Rex is a dickhead. The word tyrant comes to mind. If your date picks a carnivorous apex predator, he is definitely not boyfriend material.
The Story Passed on to a Friend, Joey Lowe:
"Jason could see it was art glass, post war. It looked like three glass blocks that had been assembled by a….. a drunk. The name was genius. There was something about it that just made you want to take a closer look. It hypnotised you."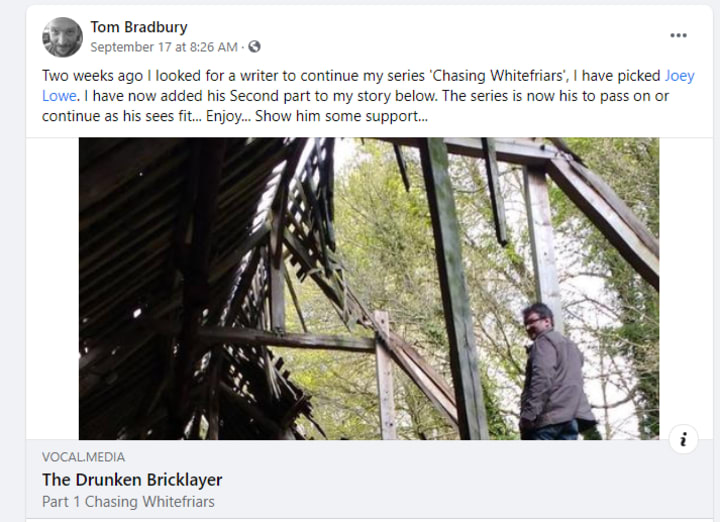 Tom's Only Public Foray Into Poetry on Vocal:
Despite what he jokes, he was quite proud of this piece.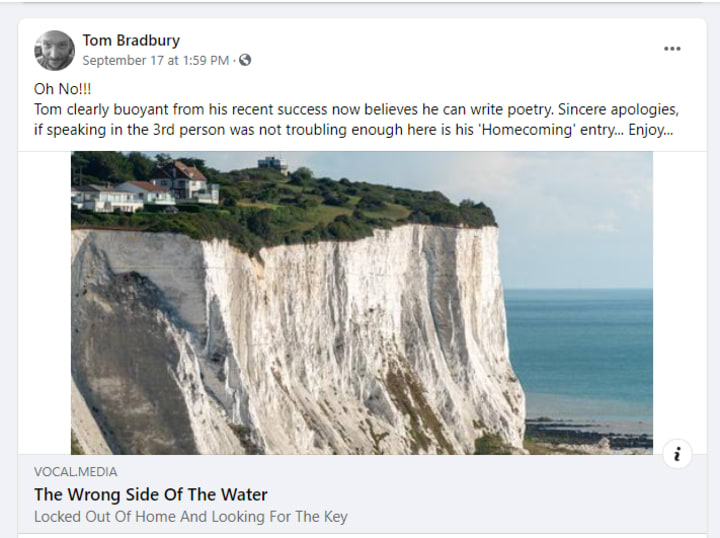 The Doomsday Entry That Would Make A Hell of a Video Game:
"He does not move. I see his focus switch to behind me. Looking over my shoulder, I see the figure holding out a handgun; pointing directly at my head, time stops."
The One He Considered Making into a Children's Book:
This was a particular favourite of mine. We had only begun looking at its potential together.
"The name Marlowe means driftwood. Like driftwood, he washed in with the tide and the winds. It started around the third week of September. The first leaves of Autumn would start to fall. Then like the illumination of a candle, he would just simply blink into existence. Every year he would first appear as just a thought. An idea travelling in on the storm."
Non-Fiction Highlights
About his father and how he ended up in France:
"Between May 2010 and May 2013 down Hatfield Road in St. Albans, behind the Fleetville Vintage Emporium was another large thrift store, full of wonderful second hand furniture and vintage bric-a-brac. It was a unique experience. A place full of interesting things and fascinating characters. It was called Scallydog's Emporium. It was quite unlike any place that had been created before or after. It was run by a father and son team called Trevor and Tom. "
Recipes (Aside from Dandelion Lemonade):
French
"The secret to a good Tarte Tatin is to pretend it is a lot harder to make than it really is."
British
"This humble little snack surged again in popularity. So let me show you how to make one as after all, the great food critic, Anthony Bourdain, who used London as a second home enjoyed the occasional Scotch Egg when it was cooked just right."
The Animals He Adored:
About the Sheep
"They were Ouessant sheep. The Ouessant sheep is a breed of domestic sheep from France. Developed from the island of Ouessant, off the coast of Brittany. This is an Atlantic island which makes these extremely small sheep, tough. They are not fans of shelter and will only use it in the most extreme weather. I call them my little Vikings."
"The ram in the photo is 'Louis XV' named because when I acquired him he was then my fifteenth sheep in the flock. There was a tradition when I acquired my flock that the head ram was named after a King of Normandy. So I had 'William the Bastard' who was later succeeded by 'Rollo'. I diverged though and started to select more diverse names. Which is how Louis got his name. I may have diverged too far as I currently have two twin rams in waiting for leadership called 'He-Man' and 'Skeletor'."
"They live in a large open green space; they are raised the way animals were kept three hundred years ago. We don't section and separate by sex and age. The rams are removed only for the delicate 'tupping' season. This way they exist with their own social balance and hierarchy. Something very difficult to do today on a modern farm."
About his beloved Marla
"She was a nightmare. My other dog was phenomenally intelligent but he was a heart dog. Marla was a head dog, she could assess every angle and opportunity instantly. If Scally was a superhero, Marla was his nemesis, she was the super villain...She was also beautiful and many years later was admired as she sat serenely devoted to me in the café while I had my morning coffee and she had the biscuit. With patience and time she grew into being a wonderful dog."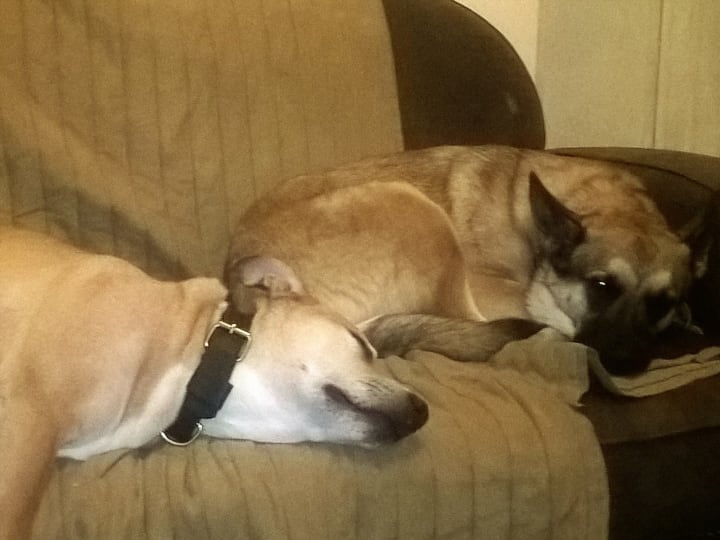 How To's:
"I should tell you I was a city born kid, the truth is my connection and reference to farms may have been based on the Loony Tunes Cartoons and watching the antics of Foghorn Leghorn." - Part 2
Tom has two other excellent How To's about wood fuel conservation and sustainability that were incredibly popular, but due to the nature of the topic, they have not been included here.
Fiction
Tom was well loved on the Facebook Groups for his fictions. While he was a great supporter of VSS, his home away from home was The Vocal Creators Support Group run by his cherished friend, Judey Kalchik. He particularly enjoyed her Vocal Cooks Collaborative.
Tom's fictions were always thoroughly researched, planned and precise with great twists and unusual subject matter. They are the bulk of his work and I couldn't possibly list them all here, though I highly recommend you read them in their polished form in the coming anthology. The Summer Fiction Series on Vocal was something Tom particularly enjoyed and I have many fond memories of editing the stories with him. Though he has several other fictions, many of which are exceptional, these 8 honed his craft. By the time he got to Hypoxia, he was really coming into his own.
Editor's Choice Fiction
There are two pieces that stand out to me and deserve individual mentions.
Ramblings in Hypoxia
This piece was truly the pinnacle of Tom's writing career—pun intended. Painstaking research went into it so as to describe the effects of hypoxia within the context of the poetic narrative. I like to see it as a hybrid of our styles of writing. We both loved the serene brutality of winter weather and enjoyed bringing the scenery to life; the snow and the mountain are as much a character as the narrator. A slow build, the plot is insidious and the conclusion absolute. Tom imagined this could have been a one person radio play and I agree. I won't add a quote. Drop whatever else you had planned for today and make time to read this one ASAP. You won't regret it.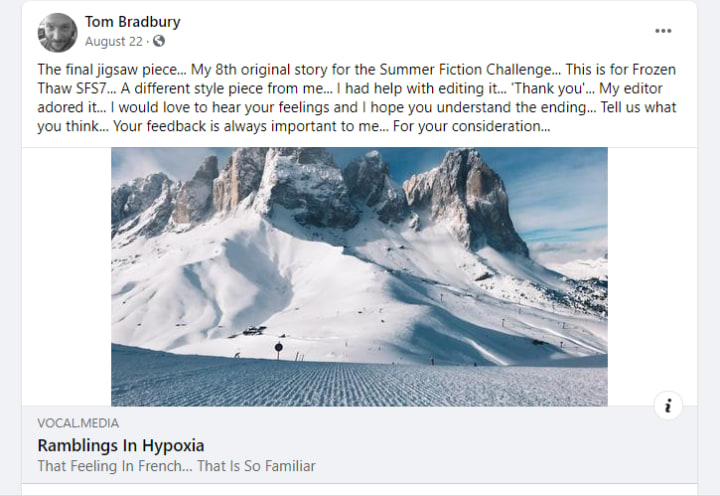 Tattarrattat
Like Hypoxia, it's well thought out, but with a faster pace and a hell of a twist ending. How he thought to turn the pieces of the human ear into metaphors for the personalities and talents of the three sisters I have no idea. I wish I'd asked. I didn't assist on this work; it's wholly Tom. Again, make time for this one—right now.
So concludes the literary review portion of his memorial. Part 2: "The Voices That Remain" will continue with the pieces written in his honour, social media highlights, and farewell comments.
Update: Vocal has awarded Tom a creator spotlight. This is a very high honour. Out of 30,000 members, they only choose 1 person every two weeks. Tom helped me with mine a few weeks ago and it was a pleasure to help Vocal now with his. Written by Vocal's Justin Murray, it is filled with every bit as much heart and soul as the tributes in Part 2. I've added it in both documents. I don't have enough words to express how much it means to the community that Vocal chose to honour him in this way.
~~~
First published by Call Me Les on Vocal Media October 5, 2021
Get in touch with Les, James or Caroline via their magazine: The Vocal Creators Chronicle.
friendship
Keepin' it real since 1987 with 3 cats, a tiny apartment and too many words in my head. Admin at the Vocal Social Society. Find me here.
No words left unspoken. In memory of Tom Bradbury.