Special Edition: Tom Bradbury
Vocal Creators Chronicle October 9, 2021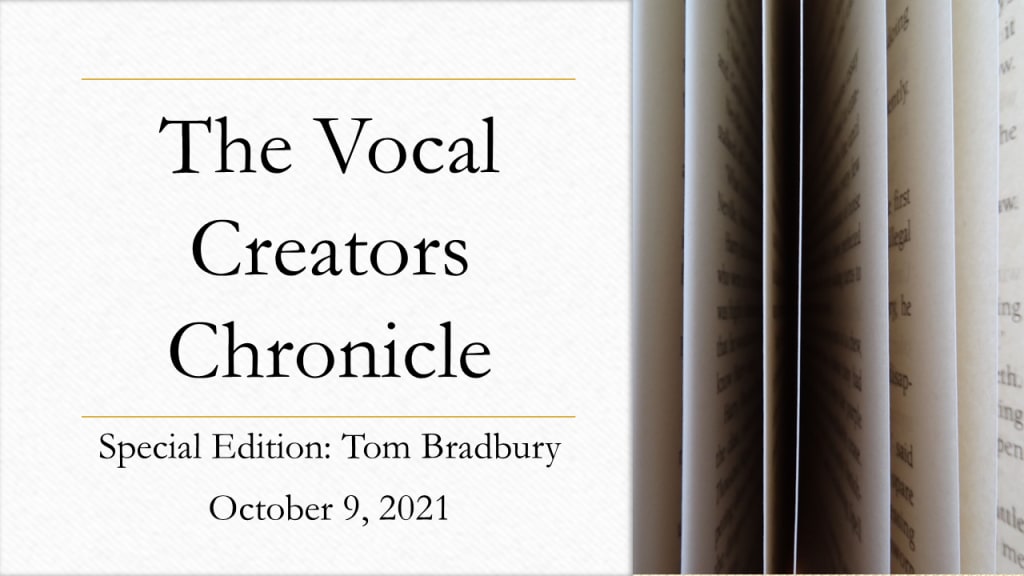 Hello all, in light of recent events, The Chronicle thought that it was fitting this week's issue be a special tribute edition for our recently departed friend, fellow writer, mentor, leader and shoulder to lean on, Tom Bradbury. This version will be somewhat of a different format than what you are used to, but made with every bit as much care and consideration as always. -The VCC Team
For those unfamiliar with the situation: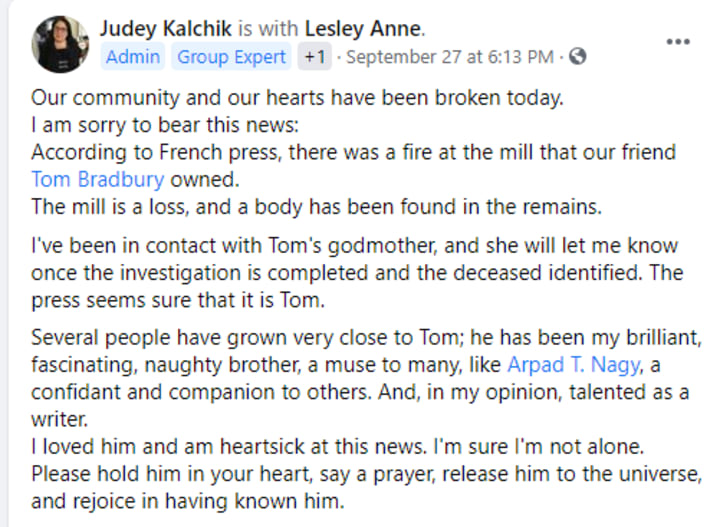 Press release: Google Chrome has a translate function which will allow you to read the article in English.
From the Editors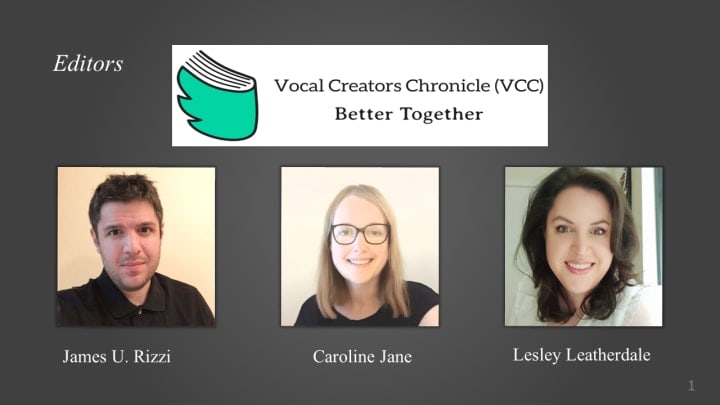 Co-Founder, Digital Editor & Public Relations: Lesley Leatherdale B.A. (Call Me Les)
This issue's "Chat With Les" interview has been replaced by a special 2 part memorial in honour of Tom Bradbury. Part 1 is in substitute for her column. Part 2 is in substitute for The Society Pages. So much heart and soul went into these two works. Part 1 covers all of Tom's literary journey on Vocal, including many of his works, and Part 2 is an absolute outpouring of support from across the platform.
It was tough to write these—not only for myself, but also the dozens of others who contributed and plan to do so soon. I didn't pull any quotes. Please take your time and visit all the incredible links related to Tom. -Les
Editor & Co-Founder: Caroline Jane
Caroline suggests that an excellent Vocal Community to explore at the moment is Psyche. Description: "An open conversation about mental health; stories, experiences, advice, real life. Psyche exposes the inner workings of the human soul, mind, and spirit." Specifically, there is sub-community titled 'Beyond the Blues' that is particularly relevant. Click here to explore it. Below is a featured selection from the sub-community chosen by Les.
"As the world is struggling with the Covid crisis, and its aftermath it seems to be a little self-absorbed to be considering Depression, and what it means or does to ourselves.

Any of that first paragraph seem familiar to you?

Well, do not feel as if you are alone in this. It is a classic self rebounding thought process of the depressed mind. treating your own condition as something that you should be ashamed of, or hide. Think about it, if you suffer from depression you spend a lot of time analyzing and criticizing yourself and blaming yourself for what is happening. The downward spiral is self-reinforced at every point. This is what makes it so difficult for outsiders to understand."
Editor & Co-Founder: James U. Rizzi
Thinking back on past interactions, I, James, can honestly say I've only spoken with Tom once. Yet, somehow he has influenced my life in a positive fashion every day since. That is a true testament to the individual he was. He had a massive impact on such a wonderful, eclectic community. Further evidence of this is the fact that since learning of his passing, I've been rendered stuck and half-hearted when it comes to writing anything new. In terms of grief, there is no right way to go about it except to give it time. Throughout the healing process, we begin to uncover the truth of the individual; while the sadness may remain in some distant fashion, the light of that person's impact begins to shine brighter. Tom had such a magnanimous effect on all of us. He strongly advocated the importance of working together and creating something extraordinary. He truly believed in what each and every one of you is capable of. So for that reason, after the grief and the mourning, however long it may be, I believe we will find inspiration again. We mustn't let what we've created so far fall apart. Instead, we should allow it to make us stronger. - James U. Rizzi
From the Columnists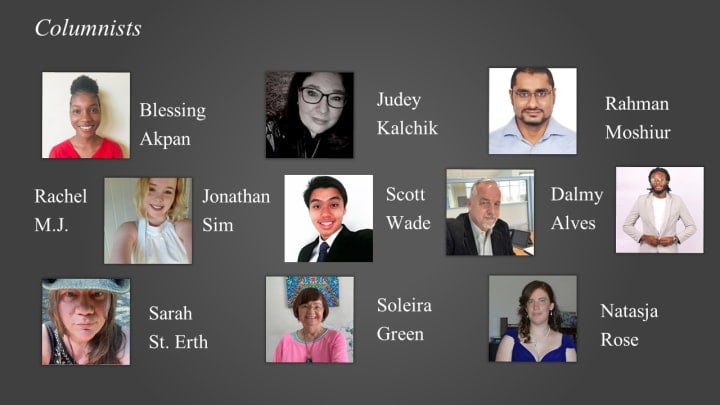 We are missing some voices this week. Many of our columnists are still struggling to come to terms with what has happened while others simply didn't know Tom. However, all of them join us in wishing their sincerest condolences to Tom's family, friends & fellow Creators.
Judey Kalchik: Vocal Creator Support Group Founder, Columnist and Long-Time Friend of Tom
"Grief is seldom a one-and-done emotion. It tends to appear, retreat, and reappear at will.

Many times the sudden reappearance of grief is called out by a reminder of the person for which we cared so very much.

In this world of social media those reminders may take the form of a saved chat, Facebook memory, reference to a much-loved story, or the knowledge that a particular challenge would have been just perfect for that person.

Just knowing that grief may return doesn't make us immune to it. Here is an article I found that may help us as we deal with the grief caused by reminders of our loss." -Judey Kalchik
Sarah St. Erth: Nature & Consciousness
"Although I am no stranger to grief, I do not feel in any way equipped to advise or direct others around this intensely personal process. In fact, repeating any of the advice I have received on grieving also sounded…less than desirable. So I decided to go on a cultural journey into the many ancient traditions and cultures of death and grieving around the world, as I am Irish, so I will start there."
Natasja Rose: Author & Columnist for Australian News
"I looked forward to his Vocal Challenge critiques, and could always count on him saying something nice when I posted a new work. I loved the way he could invoke so much emotion with a single phrase. I loves his passion for whatever he set his mind to, from building a chicken run from scratch, to intriguing fictions stories."

"Tom and I interacted most during the two months of the SFS. When I flouted the possibility of turning my mini-series of short stories into an ebook.

In his memory, I will be doing so, and donating the first month of royalties to Andy's Man Club, a suicide prevention charity, in Tom's memory. You can pre-order here."
Tom's Passion: His Pitch For A Men's Community on Vocal
"There are times when it can be hard to find your voice. I have been writing for Vocal for about seven months. I am a total amateur with far more bad habits than good, but I have had moderate success and have been improving.

Please bear with me as I explain my journey. I ended up with the rationale that a Men's Community was needed for Vocal."
Comfort Food
Directly From Vocal
~Special Tribute Coming Soon. Return Next Week For an Update~
~~~
In closing, I sincerely struggled to find the words to write a nice send-off. I don't think the best poets or writers could do it justice, but luckily for me, I know quite a few. What you have all said, written and created has immobilized the legacy of our vocal champion. Wherever he is, I know he'd be proud. Tom Bradbury truly embodied our magazine's motto, and that is we are, in fact, "Better Together." Thank you, Tom. Gone but never forgotten; rest in peace, friend - James U. Rizzi.
In Tom's name, please consider donating to Andy's Man, a UK based charity that helps men struggling with suicide and depression.
Much Love,
Your editorial team at the VCC
~~~
About The Vocal Social Society
Feel Free to Send the editors: Les, James or Caroline, a message and let them know what you are thinking about. Address: [email protected] or through Messenger on our Facebook page.
Accessibility & Diversity: Should you require accommodations or materials in an alternate format, please don't hesitate to let us know. The Chronicle values inclusivity and diversity and is always open to improving your experience.
Important Note: While we love the brand that gives our creations a place in the world, The Vocal Creators Chronicle is an independent publication. We are NOT Vocal Media, and we neither represent them nor answer questions on their behalf. All direct Vocal inquires should be directed to their support staff, starting here: SUPPORT. You may also find relevant information through their resources section, which can be found here: RESOURCES.
Be sure to subscribe to The Vocal Creators Chronicle on Vocal to receive all the latest updates from your favourite magazine BY CREATORS & FOR CREATORS in your daily news feed.
Vocal Is For Everyone. Join Vocal standard or Vocal+ today and start publishing your creations alongside thousands of other talented creators from around the globe.
Visit our website for additional information or to have the Vocal Creators Chronicle sent directly to your inbox FREE of charge.
About our content: According to Vocal, anyone can publish on their platform. They moderate every story to ensure it complies with their Community Guidelines. However, they do not fact-check every story. Furthermore, the views and opinions expressed in the stories of the columnists and the editors of The Vocal Creators Chronicle are those of the individual Creators and do not necessarily reflect the official policy or position of Vocal nor The Vocal Creators Chronicle. The Chronicle does not accept liability for the personal opinions or use of advice of any of the columnists or editors. All advice is considered to be undertaken solely at the readers' discretion. Non-original content submitted by columnists is expected to be used in accordance with its source licensing agreements and The Chronicle does not accept personal liability for the use of content included by its columnists.
First published October 9, 2021 by The Vocal Creators Chronicle.
~~END~~