The Library of Lives
At London Victoria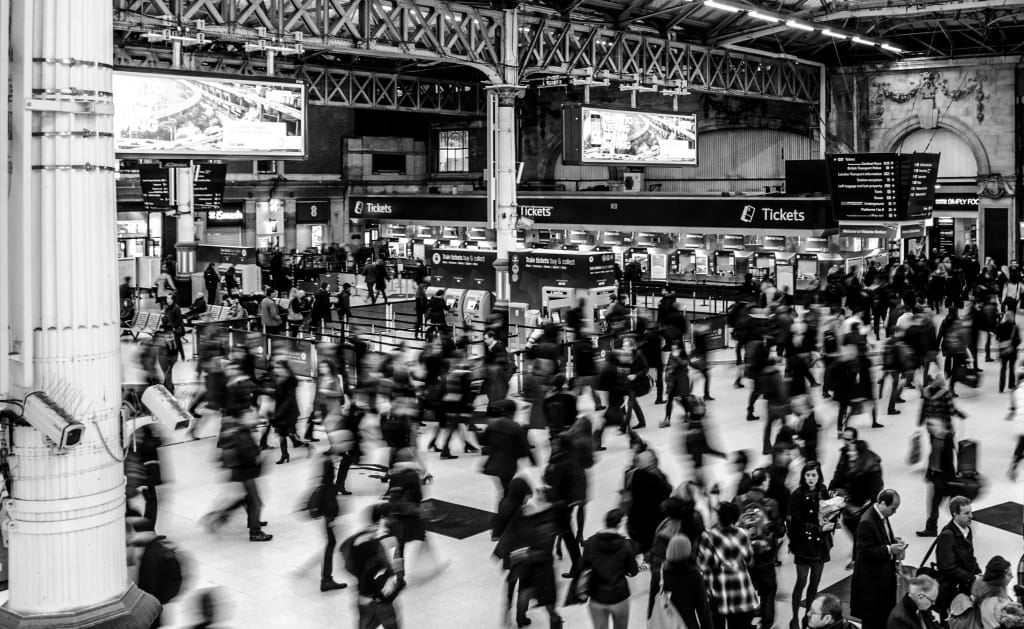 I sat on the train and wondered and waited. I thought of that film I watched on my first meeting of a man who I'd spoken to for two years online and never met till then. He cooked me steak as if it was just another Thursday. "Before the sunrise," a film about a French girl and American man, strangers on the train who fell in love for a day before resuming the rest of their lives. It seemed fitting. The spontaneity. The random belief that anything could happen. If you just let it. If you took a chance on a stranger.
Then the train staggered to a halt. Halting my own reverie and bringing me back to reality with a gentle jerk of my head. I hopped off the train like a nimble bird (or so I optimistically imagined), not the giant woman that I am and walked alone through the half-deserted train station. I heard whistling. Tuneful, cheerful ... It was a train conductor walking by. I wondered about his story. Train stations are by far the best place to wonder about peoples' stories. I passed a girl who struck me like lightning all whilst having no idea she was being observed. Or perhaps she was used to that. Perhaps it had once hurt her, but now she was numb. The image flew past like a blur, almost in slow motion. She wore a black, tattered T-shirt almost merging to dark grey with Pink Floyd proudly emblazoned on it in a dirty grey-white. She had her headphones in with brown, flat hair and glowing blue eyes that seemed completely listless in a chubby, but determined face. I'd never know her story. But other stories caught my eye as I walked through this library of life.
A little, brown, French bulldog strutting his sweet way boldly forward. He was led by who I thought was a roguishly dressed lady, very tall. But it was in fact a slender man with his mass of dark curls piled high on top of his head in a bun, very slightly reminding me of a pineapple. He was in a couple with another brown-haired albeit petite woman. Laughter cascaded between them as they followed the little dog on its leash. As I passed the couple, I saw an ebony lady with Instagram drawn-on, black eyebrows. She was charming but somehow the eyebrows were the most striking thing about her. This marker of her own creation. I passed many a further character mulling through the crowds same as I was. A man who was almost undoubtedly Italian stood jauntily by a wall. He had a short, black beard and mustache with a soft flop of matching hair on his head. He had a silver hoop earring glinting in one ear like a pirate. I assumed he was adventurous, but I would never know.
Striding onto my crowded tube, I saw that eyebrows was on the same one but had managed to grab a seat. Small world makes people collide and pass each other by for no apparent reason. I stood awkwardly in the centre of the aisle. I was the only one at that moment who'd braved it to give other people space. But people always cluster by the doors and assume others will move. Someone was now observing me. My eyes met the intense gaze of a striking figure stood facing me with his back against the end of the carriage, stale air from the small window rippling through his hair. A tanned man with dark, brooding eyes. He'd planted himself there with purpose. He looked angry but determined, as if he was on some military mission. Or perhaps he was just tired. He held the upper hand rails, one hand on each side, spreading himself out across that central space both lazily and defiantly. He had a khaki backpack held strangely across his front like a talisman. A form of protection. Such an intense stare. What could I do but stare back?
All at once he was left to continue his mission alone. To stare into space or at someone else, who knows? Eyebrows came out at the same stop as me. She now felt almost uncomfortably familiar and I sped ahead of her, bounding up the stairs to the escalators. I breathed a little heavier on the rising steps, must stop smoking really, and stood behind a lady whose long black hair brushed her behind. The ends were so frayed. I wanted to pluck them like daisies in the grass.
As I stepped outside this next station, I saw police tell a homeless man to move on. Inside I hoped that wasn't what I was seeing. A lady with a Chelsea blonde fade caught my eye, smoking a cigarette contentedly. She had large, hipster glasses. The glass was so clear in that elegant, black frame. She wore a large, black scarf and a beautiful camel coat that reminded me of Burberry but was most comically paired with scuffed, dirty white trainers. The contrast made me smile. I looked now to the darkened sky. A full, white moon with clouds sailing in front. It seemed cushioned in the clouds. Nothing could mask the brightness. That's why the moon always reminded me of my love, who I was forced to leave, but never forget.
humanity