Merry Christmas & Happy Holidays From the VCC 2021
A special holiday bonus issue. December 10, 2021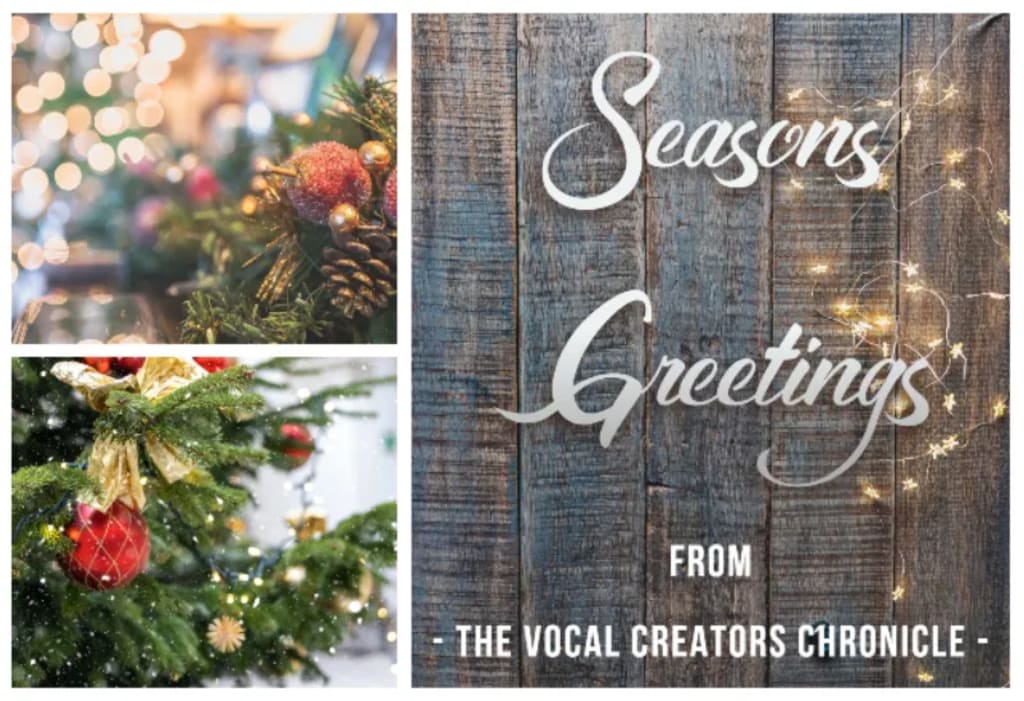 Cover art designed by Rachel M.J.
If ever I have a house my Dear, that's truely called mine;

That can afford best Countrey chear, or ought that's good therein:

Though thou wast Rebell to the King and beat with Wind and Rain,

Assure thy self of welcome Love, for Old long syne.

For Old long syne my Jo, for Old long syne,

Assure thy self of welcome Love,

for Old long syne.
Last Verse of "Old Lang Syne" by James Watson (1711)
One of a number of old poems that were collected together by Robert Burns to create the popular holiday poem Auld Lang Syne.
Festive trivia about Auld Lang Syne ~ it means "Old Long Since" or "Days Gone By" and was often used in old fairy tales instead of "Once Upon a Time".
The last standard format magazine of the year has already premiered. If you haven't yet read the final issue, "It's Never Too Late to Shine" check it out below.
However, while this is the last curated edition, be sure to stay tuned for the epic release of 2021's Vocal Yearbook, lovingly compiled by your yearbook geek, Call Me Les. It's not too late to be a part of it; post your "Who I Am" on the thread in The Vocal Social Society by December 31!
Merry Christmas to those celebrating and Happy Holidays to all. May your days be filled with laughter and light. - Your VCC team.
This edition's suggested soundtrack.
~Be sure to hit that 'back button' or follow the 'return to magazine link' (available in some inclusions) to return to the main magazine and explore all of its content.~
This bonus edition is a short and sweet holiday special featuring a variety of creators and intended to liven up your days ahead. But first....
Let us begin with a wish.
The "Vocal Wishlist" completed by Pam Reeder via our survey in the Vocal Social Society!
Ho Ho Ho - All I want from Vocal is...

We asked and you answered. We took inspiration from your favourite Vocal leader, Kathryn Milewski, and opened up the topic to all of the Vocal Social Society. Here's what we came up with. Massive thank you to the talented Pam Reeder for taking charge of our wishlist!
The Ultimate Secret-Santa Gift Buying Guide - Office Edition

-The Office Couple

"Every office has one - you know, that obnoxious couple who can't seem to keep their hands off of each other? And if it's not their hands, it's their eyes, and every time you get caught in the cross-hairs of their gooey looks you feel like you need to take a shower.

While it might be easiest to simply consult their other-half for gift ideas, you could instead take this opportunity to send them a hint. Let them know how you feel about the PDA with a handy-set of smudge free lipsticks!"
Christmas Down Under

"References to "roaring fires", means it's time to update your Bushfire Evacuation Plan and check the smoke alarms, and snow isn't a thing unless you live in Hobart, at the bottom of Tasmania, and it's been really cold that year. As such, songs like "White Christmas" or "Jingle Bells" only result in awkward glances while you try not to giggle."
Santa Ditches Naughty and Nice List In Favour of More 'Woke' Approach

"He received a petition. Somehow they broke through the firewall, and change.org managed to get the thing delivered straight to his inbox. The one that only me and Mrs C are meant to have access to. The message was crystal clear— They wanted him cancelled. Not Christmas, but the man in red himself."
Feliz Navidad: An amazing journey of 5 decades for the beloved Christmas classic

"The back story on the song is pretty interesting and began when Feliciano felt homesick during the holidays. He was missing his family in New York and his extended family who were further away as he sat in a Los Angeles studio. He began thinking back on Christmas Eve celebrations with his brothers, where they ate traditional Puerto Rican foods, drank rum, and went caroling"
Solitude, Snow and The Glacial Call of the Wild

"I had a scarcity mindset. It's not completely my fault, when one grows up with nothing, you're taught every day to hold onto jobs, be thankful for the roof over your head, be pleased food can be put on the table and to keep your head down and not rock the boat. The biggest curse of the poor is the stifling, limited mindset handed down to us as we grow up."
Russian Father Frost and Snow Maiden

"​In Russia, the Julian calendar is in use so the Russian New Year takes place on January 7th. There are two characters who are essentially part of the Russian New Year celebration. Those are Ded Moroz aka Grandfather Frost and his merry granddaughter Snegurochka the snow maiden. Each New Year they arrive with a troika, a sleigh that is pulled by three horses and they give gifts for children and everyone with a gentle and kind soul. "
5 Spirited Side-Splitting Christmas Comedies

"Out of all the many gut-busting choices the seasonal genre has to offer, only a few can occupy the coveted spaces of one's holiday movie rotation. There is only so much time permitted every year to experience the exceptionally executed and sometimes explicit noel-centric hilarity and for those looking for five deeply funny Christmas movies to enjoy during the holidays, look no further than these outstanding options."
Christmas Isn't Christmas Anymore

"What really made me like Christmas again was when I stopped making plans and started spending it all by myself. 2019 was the first time I was alone, and it was the best decision I ever made. I went to the movies first, enjoying the empty space in the theater. I hit the pool on the rooftop of my building when I got back, and had a lovely IPA while relaxing with a book. I bought all my favorite foods, from rosemary focaccia to grilled artichokes and chocolate ice cream, and washed them down with some champagne while watching Home Alone."
""Featured Recipe by Abby Draper: A 100-Year Cookie Tradition

"In recent years, Christmas hasn't felt as much like Christmas to me. Without the sounds of giant dough mixers, dinging shop bells, and clanging tins, or the promise of Springle right out of the oven, Christmas just isn't the same. I grew up in a playpen next to dedicated cookie makers and survived on winter lunches of Hamel cookies and hard-boiled eggs."

Brought to you by Judey Kalchik &The Vocal Creators Support Group. For the Vocal Cooks Collaborative index, CLICK HERE.
Special Features For Our Members
Fireside Fictions Winter 2021

A collection of heartwarming stories curated from VSS members.
Bonus News Down Under Column: Voting in Australia

"In Australia, Voting is compulsory. The upside of voting being compulsory is that because you are required to vote, it is made as easy as possible to do so."
Shop the Latest Books In Time For the Holidays
The latest and greatest books from your fellow creators. An ongoing circulation open to all creators who have a book to their name!

Save on shipping and help the environment by going paperless with an e-book. Your storage space will thank you, too!
Meet a VSS Member
Aiberry Sp!

Ali is a familiar face on the weekend poetry thread. We love her variety of tones and creative use of structures. She often free flows and it's very much like walking through a dream while reading her work. Well done, Ali! We love reading your poetry each weekend.
Directly From Vocal
Vocal Is For Everyone. Join Vocal+ today and start publishing your creations alongside thousands of other talented creators from around the globe.
The Clock is Ticking! 2 Challenges to complete before the end of the year!
The Vocal+ Fiction Awards

25 grand prize winners will be selected to receive $5,000 each, and have their stories published in Vocal's first ever book—a collection of short stories by Vocal creators, available for purchase, estimated for release in the spring of 2022. 1,000 runners up will be selected to receive a free year of Vocal+."
The Remarkably Real Challenge

"Our partners at Charles & Colvard know a thing or two about authenticity. They're redefining "real" in the diamond industry with their Made, Not Mined gems by proving that you don't need harmful mining practices to create something authentic. And together, we want to celebrate what makes you... you!"
See you in 2022! And until then, reminding you we are #bettertogether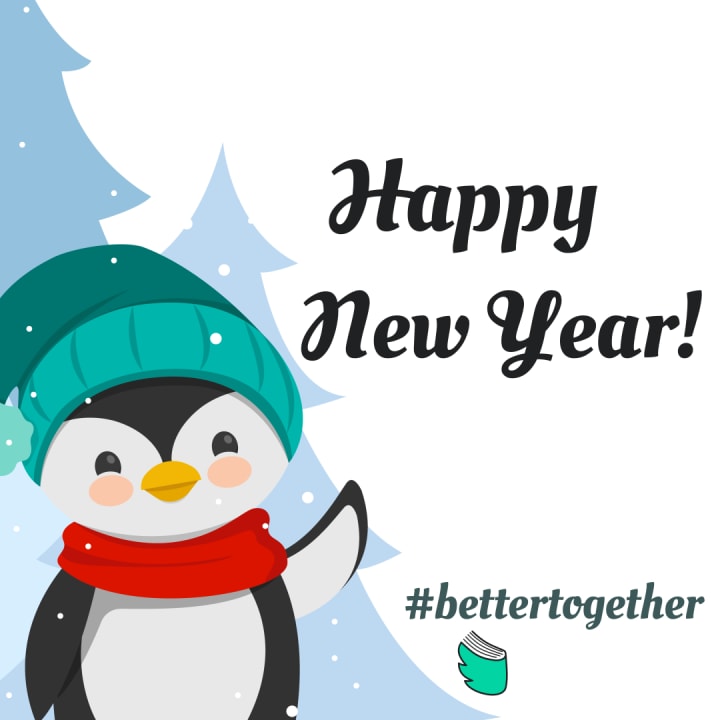 Pssst...want a hint as to our next issue's theme? Once again Judey's got you covered!
Our email is always open. Share your kindness. Celebrate life.
If you have an adventure, idea, story or piece of music that needs to be shared more widely, then please, let us hear about it.
Be sure to subscribe to The Vocal Creators Chronicle on Vocal to receive all the latest updates from your favourite magazine BY CREATORS & FOR CREATORS in your daily news feed
***
Message the Editors: Les, James or Caroline, and let them know what you are thinking about. Address: vocalcr[email protected] or through Messenger on our Facebook page.
Want to be interviewed? Have a new book to your name? Message Les directly for consideration. [email protected]
Important Note: While we love the brand that gives our creations a place in the world, The Vocal Creators Chronicle is an independent publication. We are NOT Vocal Media, and we neither represent them nor answer questions on their behalf. All direct Vocal inquires should be directed to their support staff, starting here: SUPPORT. You may also find relevant information through their resources section, which can be found here: RESOURCES.
About our content: According to Vocal, anyone can publish on their platform. They moderate every story to ensure it complies with their Community Guidelines. However, they do not fact-check every story. Furthermore, the views and opinions expressed in the stories of the columnists and the editors of The Vocal Creators Chronicle are those of the individual Creators and do not necessarily reflect the official policy or position of Vocal nor The Vocal Creators Chronicle. The Chronicle does not accept liability for the personal opinions of or use of advice of any of the columnists or editors. All advice is considered to be undertaken solely at the reader's discretion. Non-original content submitted by columnists is expected to be used in accordance with its source licensing agreements. The Chronicle does not accept personal liability for the use of content included by its columnists.
First published December 3rd, 2021 by The Vocal Creators Chronicle.
~~END~~
Reader insights
Be the first to share your insights about this piece.
Add your insights