Lust into Love
I lusted after him at first but boy did it change.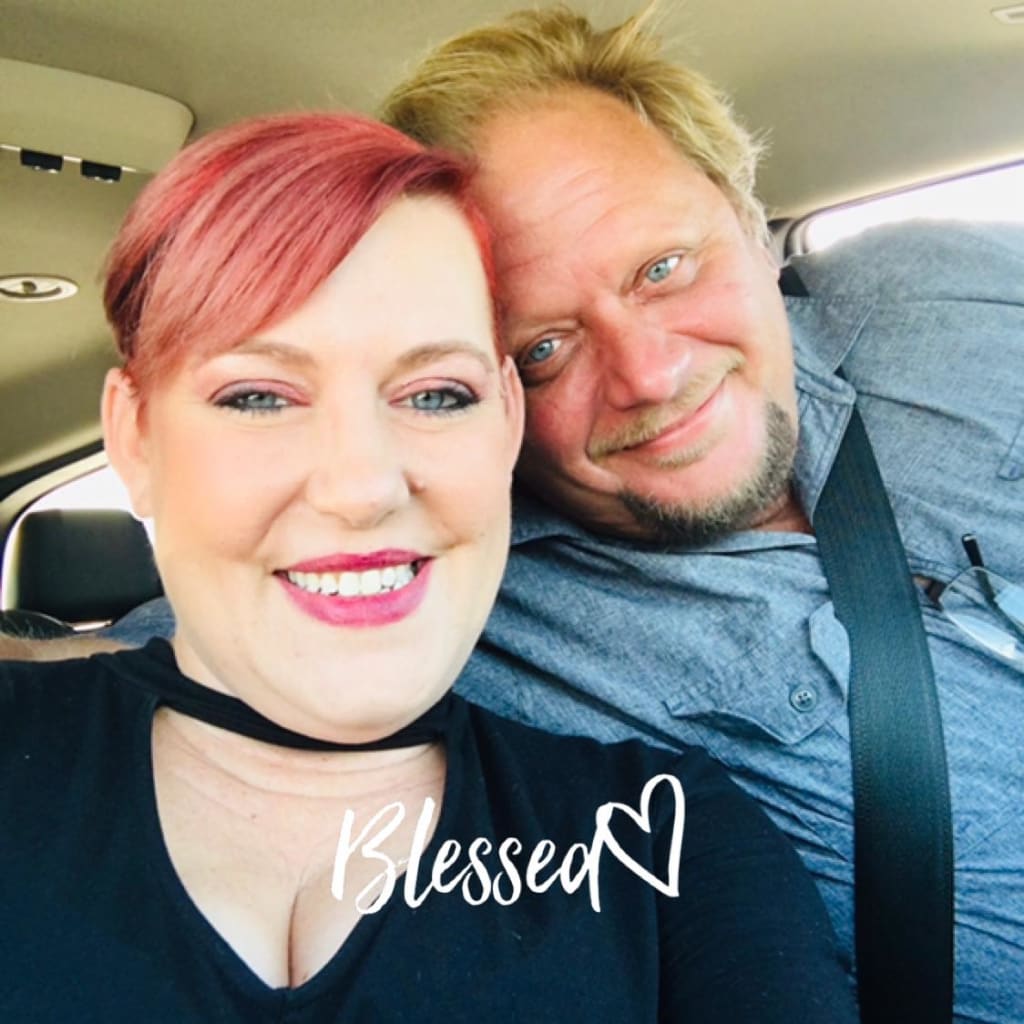 15 years of trials and triumphs
It all started July 1, 2005. I was a front desk clerk at a local motel in a town called Copperas Cove, Texas. I worked the second shift so it was always relatively calm and slow which gave me plenty of time to read, relax and dream about the future I wanted for me and the 2 young children I already had. I was completely drawn into a Dean Koontz book when this blond haired, blue-eyed, tan man walks into the office. He was looking for a suite to fit him and his crew, who were in town doing a swimming pool. To sum up the chaos of the next 30 minutes lets just say that due to mistakes made by first shift I checked them into a room that was already occupied, then checked them into 2 rooms that housekeeping had yet to clean, and finally got them in rooms that were clean and unoccupied. I was completely mortified and apologetic and luckily they found the humor in it all. About 30 minutes or so after getting them properly checked-in the blond haired, blue-eyed handsome man came back into the office. He introduced himself as Jim and we began talking about all sorts of things. I had never in my 23 years had a conversation that was so vague but intimate in my life. Before he left he asked me out to dinner the following night and I agreed. So when I got off work at 11 pm the next night we went to the only place still open at the time (which was Chili's) to talk and get to know eachother. I wanted to be honest and upfront about my wants and expections before we even ordered drinks so there was going to be no misconceptions. I bore the ugly truth of my being a control-freak, a walking medical bill, and the fact that my kids would always come first. He in turn told me that he was looking for someone who could be supportive and give him children of his own. With terms being accepted and acknowledged on both ends we ordered drinks and our meal and talked the whole time about our families and our lives. I lived way out in the country so when he took me home we parked in the middle of the driveway, put down the tailgate, talked and looked at the stars. I was completely in lust with this man.
3 months and 3 days after, we met we got married. Now at the time I loved things about him but I was not truly "in love" with him. But I knew that with more time things could and would change. The first couple of years there were some growing pains but for the most part our blended family was coming together but deep down there was just something that was missing in me and I could not figure it out. In 2008 our daughter Lilyana was born and that's when I really started to struggle with everything. And it got much worse when our youngest daughter Felicity was born in 2010.
So a little back story on me....I grew up in a very strict, disfunctional, and love given only with conditions family. Now I had also experienced traumas that began with the death of my dad when I was 4 years old. At the age of 11 I began to experience auditory and visual hallucinations. For years following I fell down a drug-induced rabbit hole. The summer when I turned 16 I met up with someone I've known my whole life but had been out of touch with for years and we started dating. The following April we married. I had my first child Caranda when I was 18 and then my son Aiden when I had just turned 20. I didn't graduate high school but had gotten my GED and was supposed to be sworn into the military 9-11-2001 but I didn't go in due to the fact the man I was married to was also in the military and I didn't want to leave my child without both her parents. A little over 3 years of being married I asked for a divorce. I wasn't in love with him, was tired of the mental abuse, and did not want my children to grow up in an unhappy home. I then spent 2 years being a single mom and had several more traumas befall me.
So back to present day (2008-2010) the voices in my head were getting out of control and I felt like I was crying out for help but never actually asked for it. I then did what I do best and worked on self-destructing. I knew that something was fundamentally wrong with me and not the world around me but I could never quite figure it out. So I just completely quit caring about myself and everyone around me. I ended up cheating several times, neglected my kids and responsibilities, and started using drugs again. When Jim found out about the affairs I completely lost it and attempted suicide which landed me in my first psych ward. I started seeing a psychologist and psychiatrist and was diagnosed with Schizoaffective Bipolar-1 disorder, Generalized Anxiety Disorder, and PTSD. For a period of time I was so heavily medicated that all I was was a shell of a person. I couldn't concentrate long enough to hold a conversation or I just simply slept. But during my sessions with my psychologist I had come to realize that my "fundamental wrongness" was more I never actually figured out who I was as a person. I had only been a chameleon that changed to the given circumstances and people I was around. But here I was around 30 and had no clue on how to even begin figuring out who I am and what I really wanted out of life. So over the next couple years I was in and out of treatment facilities to break down the walls and misconceptions I had been or had instilled in myself.
Now during the years of 2014-2018 I was a constant roller coaster. I start doing really good and then plummet severely due to fear and insecurities getting in the way. The biggest fear being of failure. Also during this time my husband needed companionship and sought it elsewhere. But time and time again we would work through. In 2018 he actually left me and that's when I began to really change and see things from a perspective that fear is only momentary and subjective. I began loving me for all my faults, intricacies, and self-involvment. Jim and I were still on speaking terms and I truly only wanted him to be happy even if that meant it wasn't with me. It was hard but it made me realize that love is about actions not words. I deeply loved this man to the best of my flawed ability. And I knew we would always be entwined due to the children and the fact that deep down we loved eachother and wanted the best for eachother.
After awhile we got back together and was open and honest with eachother that we had to both rebuild trust and work on ourselves individually and together. We started having more open and honest conversations about thoughts, feelings, behaviors, etc. Now during our seperation an amazing individual came into Jims life and helped him see and grow as a person. It wasn't until long after we got back together that I talked with her for the first time and I could not believe the unconditional understanding and love that came with every word she spoke. We continued speaking with more frequency over the phone until I finally got to lay eyes on the beautiful soul that God had put in our lives. She has helped both Jim and I to understand that we must find ourselves individually to make a solid unit. So we starting focusing on ourselves and it was amazing at how doing this natually made us stronger together.
No matter the struggles we have gone through the past couple of years I only fret for a moment only to realize that as long as we stay strong nothing can completely tear us down. I wake up and go to bed every night falling more and more in love with this complex, sophisticated, funny, honest, and uncharacteristically kind man. Just a few days ago we celebrated our 15 anniversary. As I sat across from him at dinner I just looked at him and thought about how lucky I was to have a man that tries everything in his power to lift me up when I have fallen, pushes me to see my full potential, and loves me unconditionally. Some say they wish they could go back in time to change the past. I don't. Without all the stumbling blocks I never would have learned the lessons I have learned and grown as much as I have. I still have a long way to go and that it fine. As long as I am learning and growing daily I will continue to know how to love without conditions on myself or others.