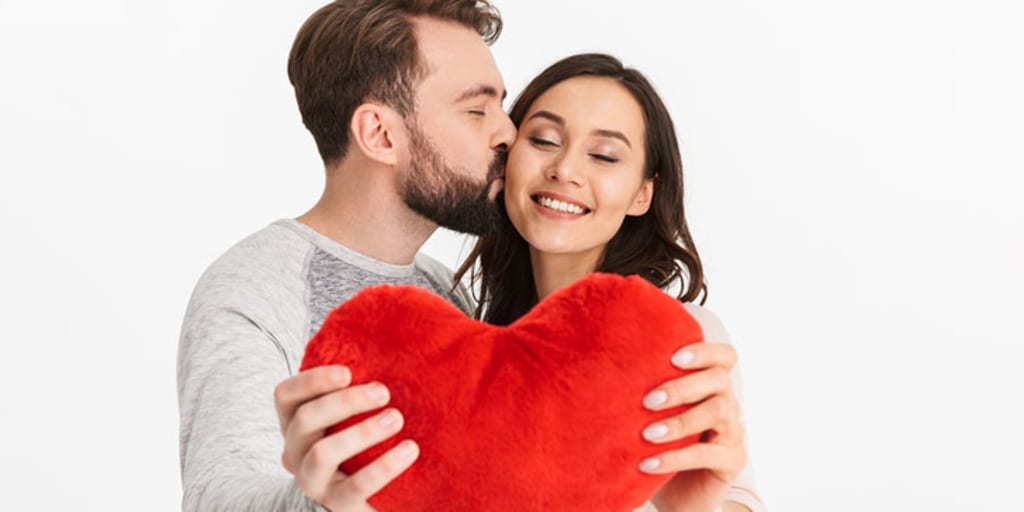 Love!
A long time ago, someone told me one of the truest love stories. It was this: the real value of your life is how well you loved and were loved back.
In an age where people, places and moments are too easily replaced, societal norm has acclimatized to a kind of social media dating that is anything but normal.
I have often pondered what impact this modern re-invention of romance would have on me if I were 10-years-old today. I grew up where liking a boy meant a stomach of fluttering butterflies if he looked at me. At 10-years-old, my idea of romance or love stories was the way your reflection danced into someone's eyes and how that made you feel.
I have never stopped believing that or living by that.
Here are some inspiring love stories to restore that faith in love that the 10-year-old you had:
1. True love knows no obstacles or distance.
Despite abject poverty and social stigmas of his "untouchable" caste, Pradyumna Kumar Mahanandia[1] earned a place as a student at the College of Art in New Delhi.
Following his painting of Indira Gandhi, many people wanted him to draw them. One of those was Charlotte Von Schedvin, who was traveling in India.
They soon fell in love and got married. Charlotte, however, had to return home to Sweden. She offered to pay for Pradyumna's plane ticket, but he had too much pride to accept and promised he would make the money on his own.
After a year, he had still not saved enough.
Selling all of his possessions, he made enough to buy a bicycle. He then cycled for four months and three weeks, covering 4,000 miles across Afghanistan, Iran, Turkey, Bulgaria, Yugoslavia, Germany, Austria, and Denmark to get to Sweden.
They are still happily married 40 years later, and live in Sweden with their two children. Pradyumna became a well-known artist and is a cultural ambassador.
When asked about his arduous journey, his reply was, "I did what I had to, I had no money but I had to meet her. I was cycling for love, but never loved cycling. It's simple."
2. You are never too old to find love.
In 1946, Anna and Boris had only been married for 3 days in Serbia when he left for the army. Afterwards, Anna and her family were exiled and despite both their frantic searching, the two were unable to find each other.
Years passed and they both married other people, yet neither forgot their first love.
When their spouses had died and after 60 years, they coincidentally visited their hometown at the same time. When Boris saw her, he ran up to her and said: 'My darling, I've been waiting for you for so long. My wife, my life…'"
They remarried not long after.
3. Love as first sight does exist.
Nacho Figueras is universally recognizable as the polo player with the striking model looks, featured in many of the "Polo by Ralph Lauren" adverts.[3]
He first saw Delfina Blaquier in their native Argentina when they were just teenagers. He knew immediately that he would marry her and decided to pursue her properly.
Every night, he would travel for almost 2 hours to see her, after working all day at a ranch. He would sit with her on her porch and play his guitar to her for a short while, before going home to sleep for another long day at work.
The couple married in 2004 and have since had four children
4. True love means loving each other until the very end.
Princess Charlotte was the daughter of George, Prince of Wales (later George IV) and Caroline of Brunswick.[4] She was the future heir to the throne and was adored by the people, which was a stark contrast to the rest of the Royal family who were loathed.
Her upbringing was turbulent amidst her warring parents. At 17-years-old, Charlotte was pressured into agreeing to marry a Prince she didn't like, until she met the handsome and dashing Prince Leopold of Saxe-Coburg-Saalfeld. Her father finally relented and permitted her to marry the impoverished Leopold.
Following their wedding and two miscarriages, Charlotte again became pregnant with the entire country elated.
In 1817, at 21-years-old and after two days of a difficult labor, Charlotte delivered a stillborn 9-pound son by breech birth. Prince Leopold was so worried that he refused to leave his wife's side and insisted on helping her–something that was unheard of at the time.
After the third day, Charlotte's condition seemingly improved. Leopold was urged to take an opiate to rest, as he had not slept for 3 days. Unfortunately, Charlotte's condition worsened and it was not possibly to rouse the sleeping Leopold as she died.
Her death elicited international grieving on an even bigger scale than Princess Diana's. Britain ran out of black cloth because everyone wore black–even the homeless found black scraps to tie around his or her arms.
Prince Leopold plunged into depression and eventually took a mistress who resembled Charlotte. Years later, he remarried and named his daughter Charlotte.
The Princess' final wish before dying was for Leopold to be buried beside her when his time came. Shortly before he died, he asked Queen Victoria for this wish to be fulfilled but it was denied. His last words were: "Charlotte Charlotte".
5. Remembering your love stories will keep love alive.
Jack and Phyllis Potter met in 1941.[5] Jack frequently wrote in his diary about their story and continued to do so for his whole life.
After seventy years together, Phyllis had to be moved to a nursing home as her dementia became too much for Jack to deal with alone. Unperturbed, Jack visited her daily and read to her each day from his diaries to help her to remember their love and life.
6. Young romance can stand the test of time.
Kate Middleton was just 19-years-old in 2001 when she first met Prince William, where they both studied at St. Andrews University.[6]
Unfortunately, the pressures of the media and a long distance relationship caused them to split up in 2007. They, however, decided to get back together later in the same year.
Prince William eventually proposed in 2010 with the late Princess Diana's famous sapphire engagement ring. And in 2011, millions all across the world watched their wedding ceremony that culminated with "that kiss" on the balcony of Buckingham Palace.
7. Love stories that are worth it, are worth the wait.
In the 1974, Irina and Woodford McClellan got married in Moscow.[7] Woodford, an American, had to return to the USA when his visa expired. He was repeatedly denied returning to Russia, and she was likewise refused entry to the USA.
It took 11 years of phone calls and letters to each other and unwavering endeavors before they were in 1986 in the United States.
Final Words: Live, Laugh, and Love
or those who have found love, remember the beauty of being in love is finding new ways to keep falling in love with that person.
For those who are still looking for love, don't let the cynicism of the social media generation to cloud your hopes. It's true that love happens when you are not looking and when you least expect it. Have faith in yourself and in the love that you deserve. After all, you owe it to your 10-year-old self.
Inspired by J.S. von Dacre.
Reader insights
Be the first to share your insights about this piece.
Add your insights