Fireside Fictions Winter 2021
A special feature curated from VSS Members and brought to you by the editors of the Vocal Creators Chronicle.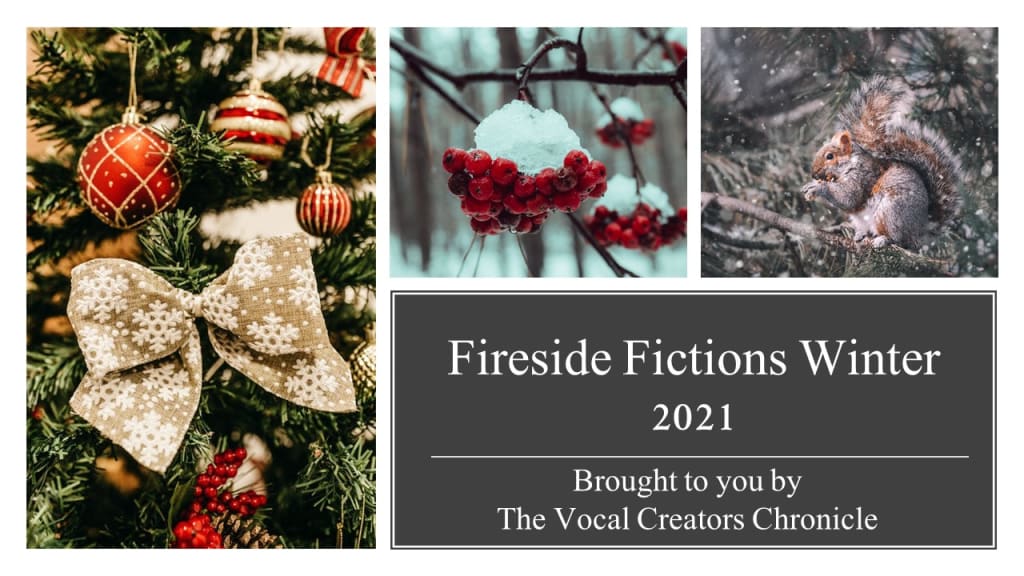 Hello friends! The holidays can feel like a blur. We're inviting you to slow down, and enjoy some heartwarming content, straight from our members at the Vocal Social Society. Walk a while with us in the wonderful world of fiction from whatever nook you feel most comfortable in.
Want your story featured? Join VSS and start posting today!
You can join The Vocal Social Society by CLICKING HERE
Now, get cozy and get reading...
5 Fictions To Warm You Up
"Christmas Magic" by: Caroline Aguiar

"She watched Jimmy with a smile on her sleepy face. He busied himself arranging his pillow under the tree. His small hands patted the wrinkles away from the blankets creating a comfy bed. He looked up at her beaming with delight."
"How Grown-Ups Say, "I Love You" by: Lena

"When the day of his graduation came, I worked up my courage and pushed through the crowd to say goodbye. When he saw me, he smiled and gave me a big bear hug, whispering into my ear, "I'll really miss you, Jilly Bean."
"The Sandman and The Sea Girl" by: Mike Singleton

"She looked to the far end of the beach and saw the upturned boat that was the home of the SandMan. He had lived on the beach forever, like a hermit, and there was smoke so he was in. He was a bit like a bogeyman , so she was not sure if he could help her, but he was her only option. She had no friends, so she picked up the bird and walked towards the SandMan's dwelling."
"Special Delivery" by: Paula Shablo

"The box sat on the stoop, mocking me. It was about three feet by two feet and wrapped in brown paper. You know the kind I mean if you're old enough to remember the days when the supermarkets packed your groceries in brown paper bags instead of deadly plastic. It looked as if two or three bags had been disassembled and taped together to cover the box completely."
"The Old Pond" by: Cendrine Marrouat

"Even though she had heard the stories twenty times or more, Marie wanted every second to be etched in her mind. Grandma's hands would delineate specific moments in the most fascinating ways. Her voice would lose its now usual tremolo. And the smile would never leave her face; the same smile as the one that she had at 18, when she was in love for the first time..."
Shop the Latest Books in Time For the Holidays
The latest and greatest books from your fellow creators. An ongoing circulation open to all creators who have a book to their name!
Save on shipping and help the environment by going paperless with an e-book. Your storage space will thank you too!
That's all the fictions for now! See you in the new year!
- Your VSS Admins
Our email is always open. Share your kindness. Celebrate life.
Be sure to subscribe to The Vocal Creators Chronicle on Vocal to receive all the latest updates from your favourite magazine BY CREATORS & FOR CREATORS in your daily news feed
***
Message the Editors: Les, James or Caroline, and let them know what you are thinking about. Address: [email protected] or through Messenger on our Facebook page.
Want to be interviewed? Have a new book to your name? Message Les directly for consideration. [email protected]
Important Note: While we love the brand that gives our creations a place in the world, The Vocal Creators Chronicle is an independent publication. We are NOT Vocal Media, and we neither represent them nor answer questions on their behalf. All direct Vocal inquires should be directed to their support staff, starting here: SUPPORT. You may also find relevant information through their resources section, which can be found here: RESOURCES.
About our content: According to Vocal, anyone can publish on their platform. They moderate every story to ensure it complies with their Community Guidelines. However, they do not fact-check every story. Furthermore, the views and opinions expressed in the stories of the columnists and the editors of The Vocal Creators Chronicle are those of the individual Creators and do not necessarily reflect the official policy or position of Vocal nor The Vocal Creators Chronicle. The Chronicle does not accept liability for the personal opinions of or use of advice of any of the columnists or editors. All advice is considered to be undertaken solely at the reader's discretion. Non-original content submitted by columnists is expected to be used in accordance with its source licensing agreements. The Chronicle does not accept personal liability for the use of content included by its columnists.
First published December 8, 2021 by The Vocal Creators Chronicle.
Reader insights
Be the first to share your insights about this piece.
Add your insights