Fab 5 Winners November 5, 2021
Week 4: VIVA & Pride, Potent & Proof & Beats, Blush & Styled, Photography & Petlife, Humans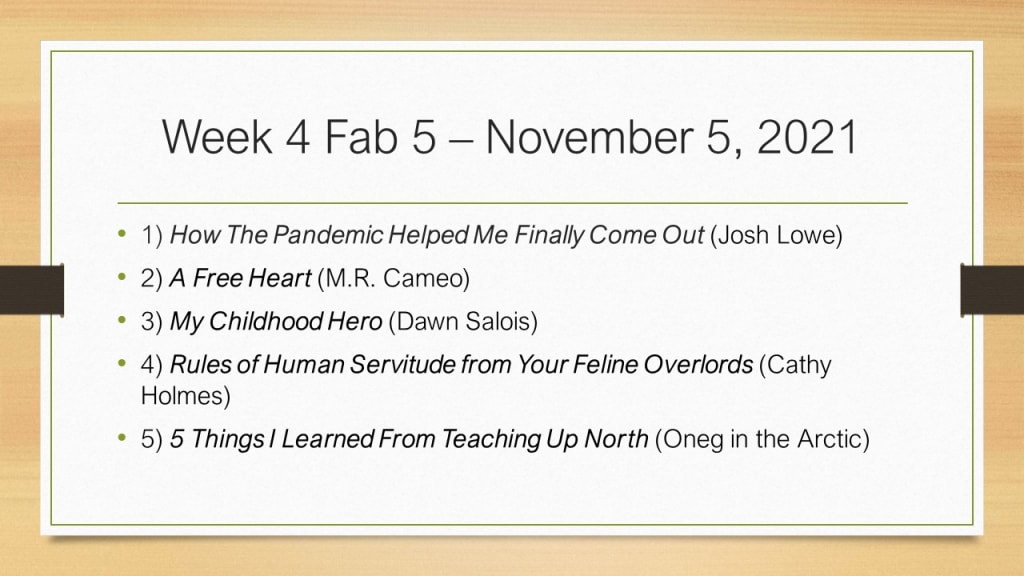 Welcome Vocal Fam! We want our winners to know why they won and to uplift the collective by letting everyone read the peer reviews. Thank you to all the dedicated moderators who help read the entries every week; we couldn't do it without you. - Les
Not sure what the Vocal Social Society is all about? Check out our welcome article:
WINNERS
(Unless otherwise specified, intros penned by Caroline Jane.)
My Childhood Hero – A Goddess With a Mission – Dawn Salois
That inspired reading Dawn's article about her childhood TV hero that some of us ended up watching an episode of The Secrets of Isis: The Lights of Mystery Mountain. We are mesmerised, honestly, and completely in synch with why Dawn, as a child, adored Andrea Thomas – science teacher by day and crime fighting, elements controlling superhero Isis by… well… whenever she pops her amulet on essentially. Honestly - we feel culturally enriched knowing Andrea Thomas was out doing the super thing before Wonder Woman or Bionic Woman even got their hot pants on. Thank you for bringing her to our attention Dawn.
" The fantasy world that existed in the series was so impactful because it gave me, as a young girl, a strong, powerful, intelligent role model to look up to. I actually have trouble finding other people who are familiar with The Secrets of Isis, but it was a very important part of my early years.

The Secrets of Isis series consisted of 22 episodes and lasted two seasons, running from 1975 to 1976."
How the Pandemic Helped Me Finally Come Out – A True Story Recounting One of The Most Important Experiences in My Life – Josh Lowe
How on earth do we write this Fab 5 selection up when all any of us want to do after reading it is stand on a chair and clap! Reading this, you feel like you have been on the coming out journey with Josh. It is frank, inspirational, and completely endearing. A must read… simple as that!
"It had gotten to the milestone in my first non-hetero relationship where it was 'time to meet the parents', and of course I couldn't really do that without, you know, first explaining to my parents why my partner was a Jason and not a Britney or a Kaylah. In a lot of ways, it felt like I was living on a sinking boat, and I had the choice of either coming out and living a new life, or, staying on the boat and sinking under the weight of the world."
A Free Heart – Whether Getting Over Heartbreak, Reveling in Yourself, Or Just Conquering Life – This Playlist Has Got You Covered – M. R. Cameo
Wow! This is a genre busting playlist that works at a really visceral level. Every track punches in its own right but together you will genuinely feel like you have been on the relationship rollercoaster. From MC Hammer to Lynrd Skynrd to Madonna to Alice Cooper to Drop Dead Fred to Billie Eilish. This is a bumper bag of a playlist – dive in, we urge you… in fact, we keep going back for more and we keep bringing out something different every time!
"Whether Getting Over Heartbreak, Reveling in Yourself, or Just Conquering Life - This Playlist Has Got You Covered"
Rules of Human Servitude by Your Feline Overlords – Being Trained by A Cat – Cathy Holmes
This is an article that brings a little bit of joy into the world one paw print at a time. By imagining herself as your Feline Overlord Cathy Holmes describes cat ownership from the perspective of a cat and it is as amusing as it is accurate. Whether you are a cat owner or not you will find yourself smiling whilst reading this article… it is a great fun read.
"Dear Human,

It has come to my attention that there seems to be some confusion on your part as to your place in my empire. I have decided it would be beneficial to both of us for me to dictate a list of rules for you to abide by in order to care for me properly. So sit at your desk and prepare to type. I would do it myself, but I don't have thumbs. Besides, why should I?"
5 Things I Learned From Teaching Up North – Every Child Matters – Oneg in the Arctic
Exploring the perspective and lifestyles of others is a huge part of the Vocal Experience. Oneg brings unique and heartfelt insight into what it is like living and teaching in the Arctic. There is equal amounts of admiration as there is inspiration in this article. Oneg's passion for teaching comes off the page. The images are wondrous, taken by people who live there. The account over all is other-worldly yet, at the same time, the stark reality of the places and people Oneg describes has quite a grounding effect on the reader. This is a unique voice.
"Before I share what I've learned, I'd like to mention that though Igloolik (Nunavut), Kimmirut (Nunavut) and Poplar Hill First Nation (Ontario), are all at quite a distance from each other, they all share some common themes. As a first generation settler on Turtle Island, I have not grown around family much. I am in constant awe of the deep connections to the land, animals, family, and community that Inuit and First Nations carry within them, regardless of the circumstances."
Congratulations winners! Your peers at the VSS salute your efforts.
Until next time, reminding you we are 'better together'.
Psst...have you joined Great Incantations yet?
First published by Call Me Les for The Society pages - a mini magazine in The Vocal Creators Chronicle family on November 8, 2021
Reader insights
Be the first to share your insights about this piece.
Add your insights