Fab 5 Winners October 22, 2021
Week 2: 01 & Futurism, Education & Feast, Confessions & Serve, Psyche, Filthy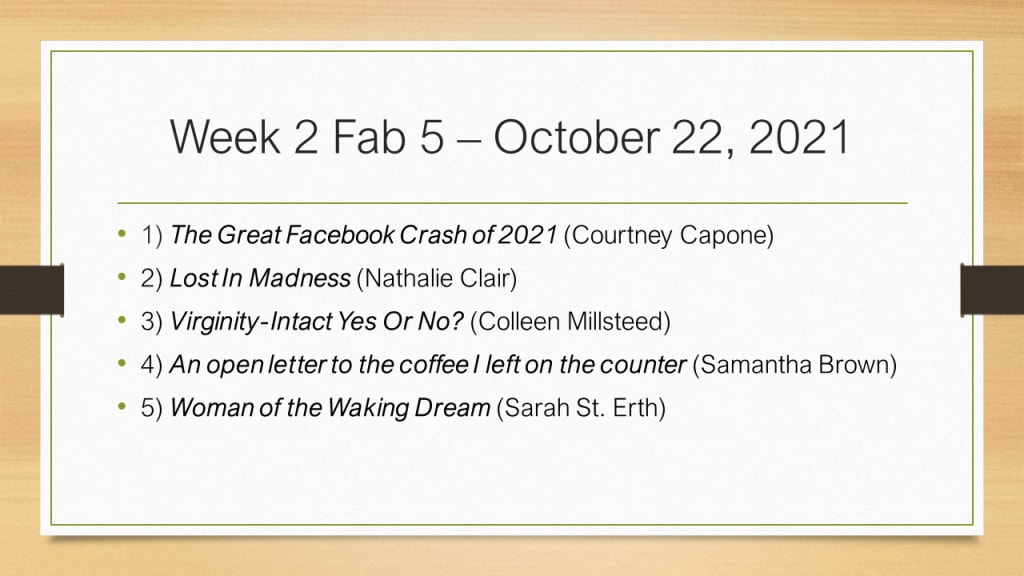 Welcome Vocal Fam! As most of you know, we've eliminated solo threads to improve your experience with the Fab 5 in VSS. However, we still want our winners to know why they won and to uplift the collective by letting everyone read the peer reviews! Thank you to all the dedicated moderators who help read the entries every week; we couldn't do it without you. - Les
Not sure what the Vocal Social Society is all about? Check out our welcome article.
WINNERS
(Unless otherwise specified, intros penned by Caroline Jane.)
Lost in Madness – Nathalie Clair
This is a short flash fiction that intensely describes a moment of love between two people who have been together a long time. In it's brevity it manages to convey the sincerity and passion of a moment with flair and honesty. This may be in a community called Filth but it is anything but and the categorisation belies the skilful way it is put together.
"He placed his hand on my cheek, leaned in and kissed me, softly, not rushing. I gave in to the sweetness of it, enjoyed it, didn't analyze it. I didn't think about how in that moment his kiss felt like I love you. I only thought about the smoothness and softness of his lips, the sweetness of his tongue intertwined with mine as they danced like lovers in the night."
An Open Letter to the Coffee I left on the counter – Samantha Brown
A sublime metaphor that expresses how we all risk missing out on the important magical moments that nestle in the details of life. If we only didn't have to rush how much more could we savour? Samantha Brown has put together a brilliantly executed piece of flash fiction that randomly sits in the Feast community. Cherish this. It is a modern life mini-fable that will stay with you.
"While I was enjoying your fall spiced, icey goodness I fully intended to finish what we had started. In those moments enjoying you, I was unaware of any gap in my heart. I did not mean to leave you unfinished and abandoned. High and dry. Forsaken."
Woman of the Waking Dream – Sarah St Erth
A true story. A wholehearted account of an away day that laced together the power and truth of a person's dreamscapes with their waking life. Sarah's work always delves into the relationship between nature and consciousness. In this short piece she captures the essence of the impact her beliefs have had on her life. The line
"Let your dreams take flight and see just where you find yourself, I am sure it will be magnificent"
Will certainly resonate with many of you. We urge you to read the whole of the piece for a full appreciation of this in context.
"High in the cascade mountains of B.C., 5 of us arrived in a mini van that had made the arduous journey up old logging roads to the remote property that she lived on. We had brought gifts, salmon, tobacco, and sweet grass, cloth for prayer ties, as well as ourselves. Life up here was sometimes lonely, and our arrival was a celebration of connection and re-connection."
Virginity Intact – Yes or No? – Colleen Millsteed
The fact that this ever happened is heart-breaking. This short piece is raw and as the community it represents describes – utterly confessional in nature. To put a child through such invasiveness as described in this piece is barbaric, especially when the instigator is a person claiming to be their mother. This is a huge punch of a confessional – read it and reflect – We salute the author for being so candid in sharing something so personal. This article caused an outpouring of support for Colleen in VSS. For anyone who is just reading it now, please feel free to send her a message on the 'Tiny Wins' thread pinned to VSS Featured Posts.
"Mum climbed in behind the wheel, backed out and started driving down the road. One look at her face and I knew it was best to stay silent. It didn't take me long to realise we where heading to the hospital. It's only a small town we live in and only takes minutes to get anywhere."
Congratulations winners! Your peers at the VSS salute your efforts. Until next time, reminding you we are 'better together'.
Psst...have you joined Great Incantations yet?
To get to the latest issue of the magazine, follow this link!
First published by Call Me Les for The Vocal Creators Chronicle on October 25, 2021