Fab 5 Winners October 15, 2021
Selections from Week 1: Gamers & Geeks, Motivation & Longevity, Wander & Earth, Journal, Men's & Chain & Trader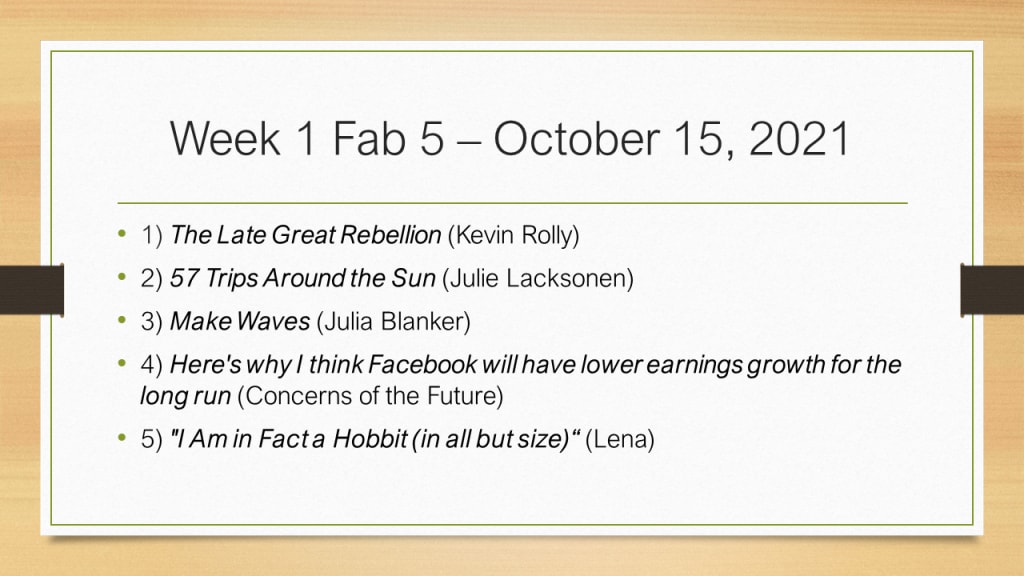 Welcome Vocal Fam! As most of you know, we've eliminated solo threads to improve your experience with the Fab 5 in VSS. However, we still want our winners to know why they won and to uplift the collective by letting everyone read the peer reviews! Thank you to all the dedicated moderators who help read the entries every week; we couldn't do it without you. - Les
Not sure what the Vocal Social Society is all about? Check out our welcome article.
WINNERS
(Unless otherwise specified, intros penned by Caroline Jane.)
The Late Great Rebellion – Kevin Rolly
It is a rare article that leaves you simultaneously excited, melancholic, wistful and determined and it is for some of these reasons that our Fab 5 panel picked this as a winner for the Wander Community. Kevin skilfully describes his travels using storytelling that weaves waves of emotion, you are never sure if you should laugh or cry. Perhaps you should do both. Parallels were drawn with the film Amelie - for the quirky photos with an unexpected mascot which are adorable and also darkly comedic.
"It was an intimidating portent for a first-time filmmaker regardless of whether it was true or not. But I believed in what I was doing and being rebellious in nature made my choice easy. Screw them. Fail me if you want. A degree in filmmaking is useless anyways. "
57 Trips around the Sun – Julie Lacksonen
We believe here at VSS that age is just a number. Why shouldn't we each come of age every birthday? Julie Lacksonen gives us here an alphabetised list for living. Each one of her 57 tenets of life is heartfelt and to the point and neatly slam-dunked into the net. We know that Julie is a teacher – I wish Julie had been my teacher!
"My birthday is October 14. By the time you're reading this, I will have turned 57. Therefore, I have compiled 57 words of wisdom for your consideration. Some include relevant quotes; some are life lessons I've learned the hard way. It's less painful learning from others' mistakes than from your own (see #39)."
Make Waves – Julianna Byrd
The responsibility and the pain of standing by your values knowing that you will "make waves" is expressed in a truly heartfelt way here by Julianna. If ever you have stood up and stood tall for what you have believed in amongst a community of people who really don't want any ripples in their long lived in pond then you will find a kindred spirit in this story.
**Special note here: our lovely and kind Julia is now a VSS admin!**
"This is not a story I've wanted to tell. As I stare at my still-blank screen, white canvas waiting to hold my story, thoughts jumbled in my mind like a slinky twisted beyond saving—I feel the warmth of my tears streaking down my face and in the vast silence hear them dripping to the desk below. For a while, I can focus my attention only on those drops of water."
Here's Why I think Facebook Will have Lower Earnings Growth For the Long Run – Concerns of the Future
This is such a relevant piece for everyone who uses facebook. Facebook is changing its algorithm to become more altruistic which means that they can no longer capitalise on the salacious nature of our human spirits. Shock, gossip, tittle-tattle sells – just ask the British Tabloid Press. Facebook's algorithm used to follow this sensationalism to driver readership. Now, there has been an intervention and they can't… what does this mean for their future? Will we all be as hooked in a kinder facebook world?
"Understandably, anger promotes more engagement than happiness. When you're angry, you want to say something and pick a fight. When you're happy, you are less inclined to do anything. Facebook knew this and made its algorithm promote more hateful content since it creates higher engagement, at a cost to society."
I am in fact a Hobbit (in all but size) – Lena
"For me, the Gamers and Geek communities are about more than just, well, gamers and geeks. It's about how far you're willing to go to show me your obsession and convince me to check out the thing or idea that you are, indeed, trying to get me to buy, or buy into. I want to see blood, sweat, and tears. I want you to totally "geek out" on your chosen topic as if your life depended on it. And that's exactly what Lena did in her piece on Tolkien." - Moderator KT Marie
"I discovered that world when Peter Jackson released the first in a series of movies in tribute to the masterful storyteller J.R.R. Tolkien. The first time I watched The Fellowship of the Ring I was completely transported. I was not alone. The world was obsessed. Fans of the author, both old and new, flocked to the theaters and bought the costumes and books in mass."
Congratulations winners! Your peers at the VSS salute your efforts. Until next time, reminding you we are 'better together'.
Psst...have you joined Great Incantations yet?
To get to the latest issue of the magazine, follow this link!
First published by Call Me Les for The Vocal Creators Chronicle on October 25, 2021