Campfire Date Night at Home [Printable Included]
Cozy up in your backyard, balcony, or even indoors with a romantic campfire date night that's perfect for almost any time of the year!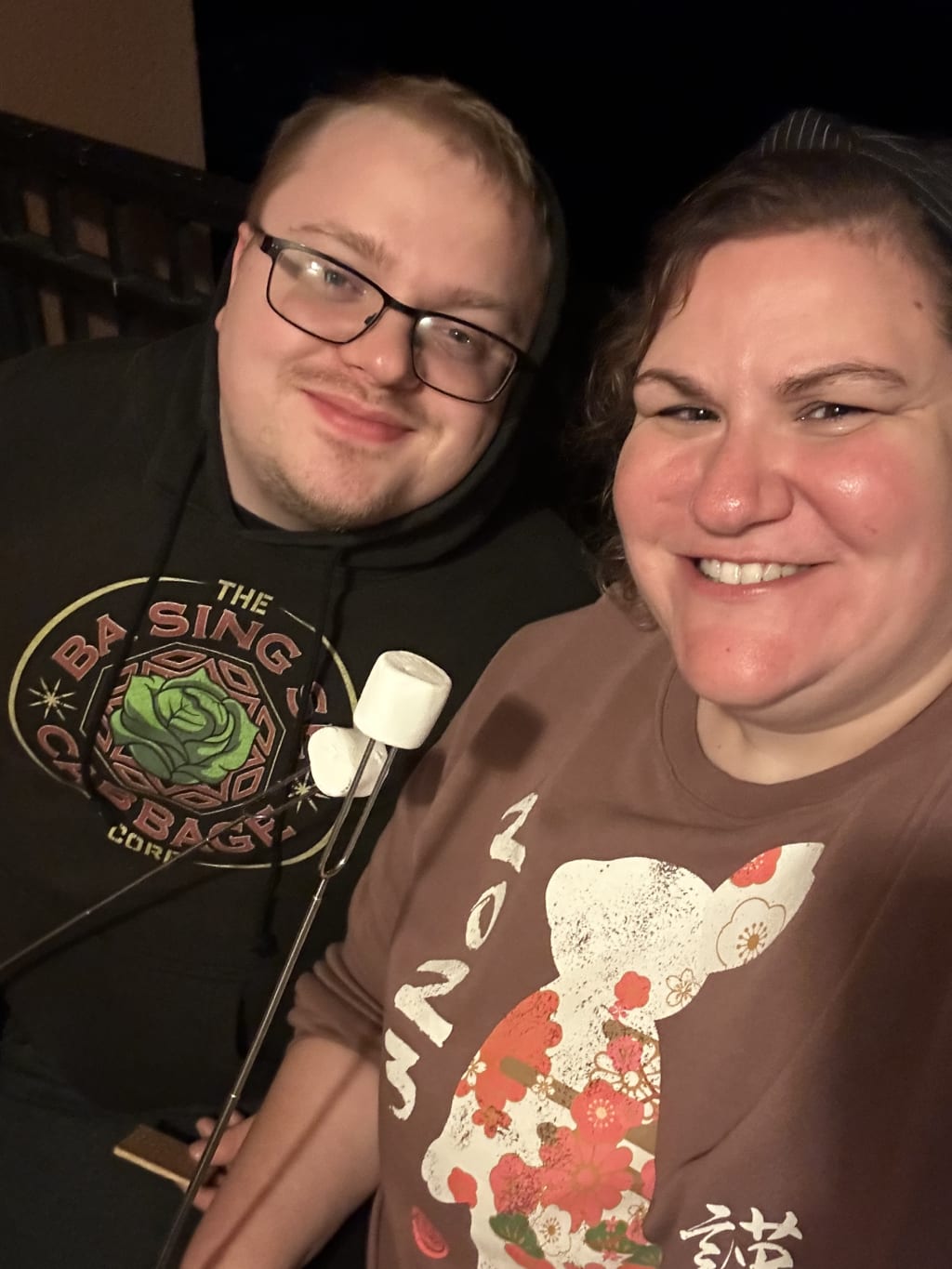 Steven & Sandy
By Sandy Lo
There is nothing more romantic than snuggling by a fire with your significant other. But not everyone has a fireplace or backyard for a big fire pit. We certainly don't! Steven and I have an electric fireplace in our living room, but we definitely can't roast marshmallows in it and our condo just doesn't have the same effect I was looking for when I was thinking about a campfire date night.
As a born New Yorker, I have never been camping and never had a backyard equipped to have a fire pit. I've always dreamed about being closer to nature and going on a fun camping trip, with some modern conveniences of course... after all, I'm still a born city girl no matter how many times I've lived in the south. I'm not entirely sure how much I could rough it!
Now that I live in Florida, while I still don't have a backyard, our condo does have a balcony that overlooks a lake. We decided to purchase a small tabletop firepit (only $30 on Amazon) and supplies for s'mores. But of course, we wanted more to our date than just stuffing our faces with gooey marshmallow deliciousness. So, I found a fireside chat card game and I finally decided to put the gigantic $8 book of ghost stories I got from Barnes & Nobles a couple of years ago to good use.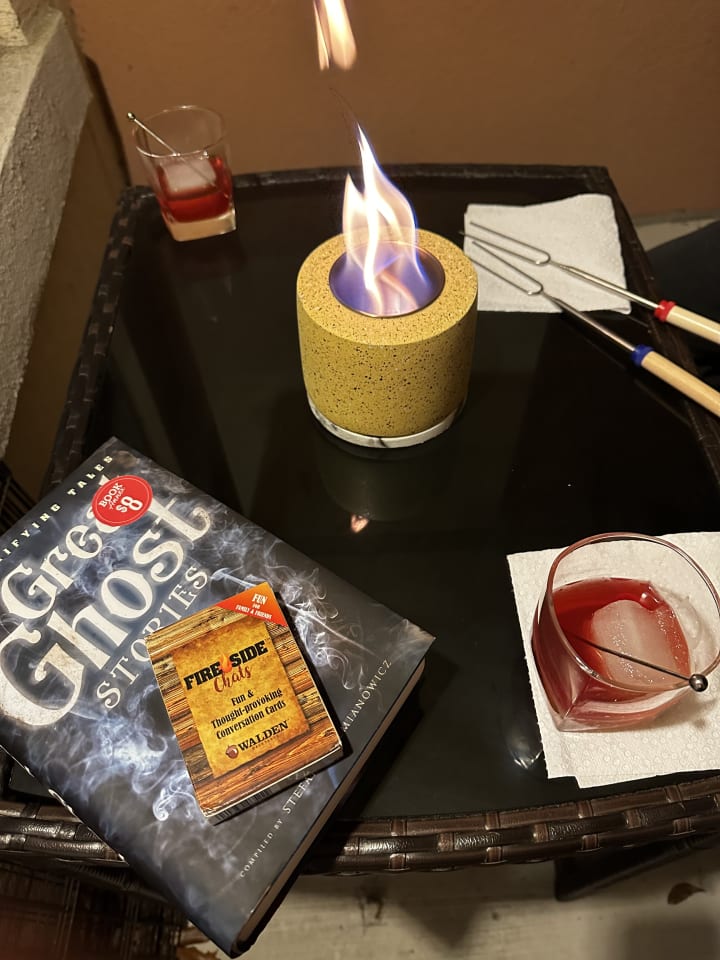 The idea was to stay outside in the night air for as long as possible in February! Granted, we live in Jacksonville so our wintry night could have been a lot colder, but it was still pretty chilly.
It was wonderful to snuggle up under some blankets and ask each other thought-provoking questions from the card game while sipping on warming old-fashioneds and feeling the heat of the flames in front of us.
For our s'mores, we decided to mix things up and instead of using just Hershey's chocolate, we also made some with Reese's peanut butter cups and Ferrero Rocher hazelnut chocolate bars.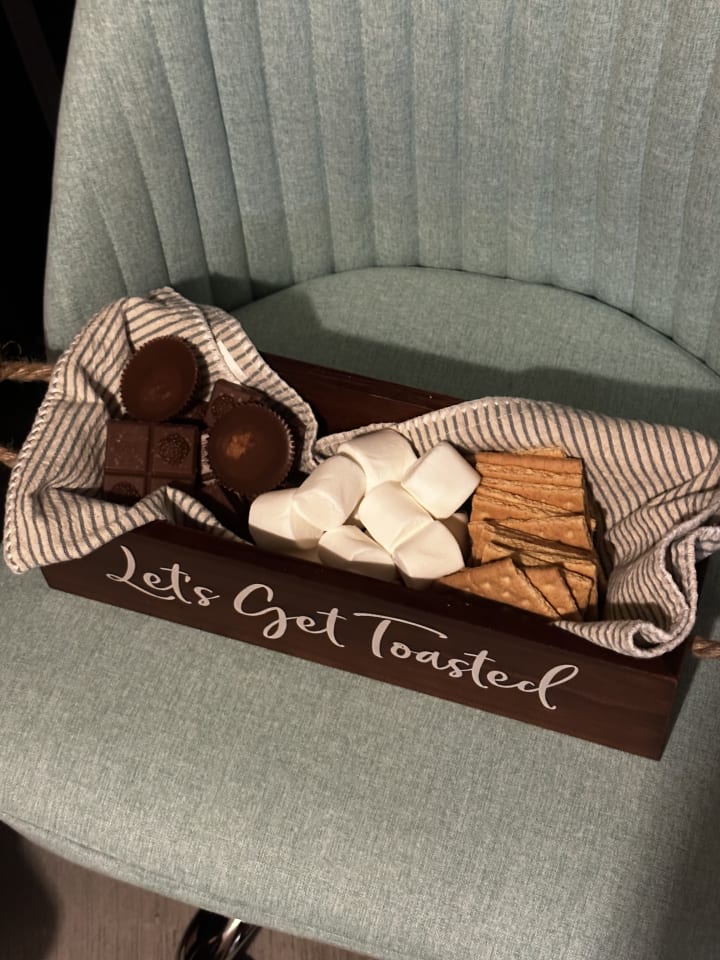 After the s'mores and question game, we each picked a ghost story from the book and read them to each other. I'm sad to say that both ghost stories were a huge letdown. For short stories, the writing was overly detailed, not scary, and super hard to follow. Next time, I might stick to something more childlike. You can never go wrong with "Goosebumps" or "Scary Stories To Tell In The Dark", right?
Other than the crappy stories, the date night was cozy and romantic even if we got too cold by the end of it! A slightly warmer night would have been ideal, but I won't complain since Steven and I both love the change of seasons. With both of us being northerners, we tend to miss fall and winter and love when we get a taste of it here!
If you have a backyard, you could totally set up a tent with pillows and a blanket and kick your camping night up a few notches!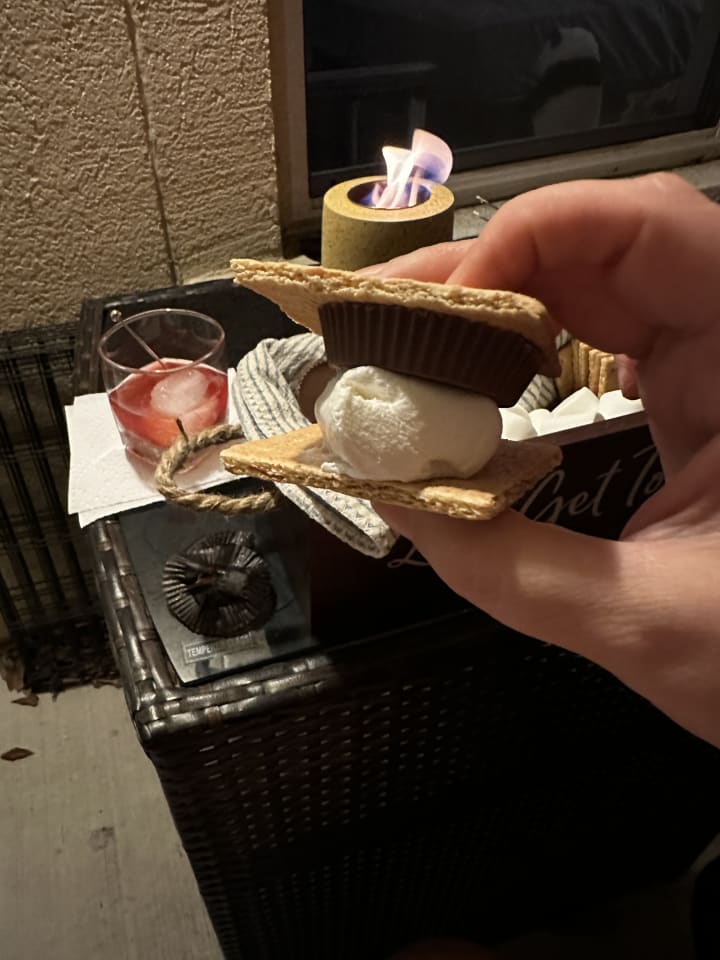 And if you don't have a backyard or a balcony, you could transform your living room into an indoor camping space. Our tabletop fire pit works inside too! You could set up a tent or blanket fort indoors and maybe use some kind of light projector to make you feel like you're under the stars.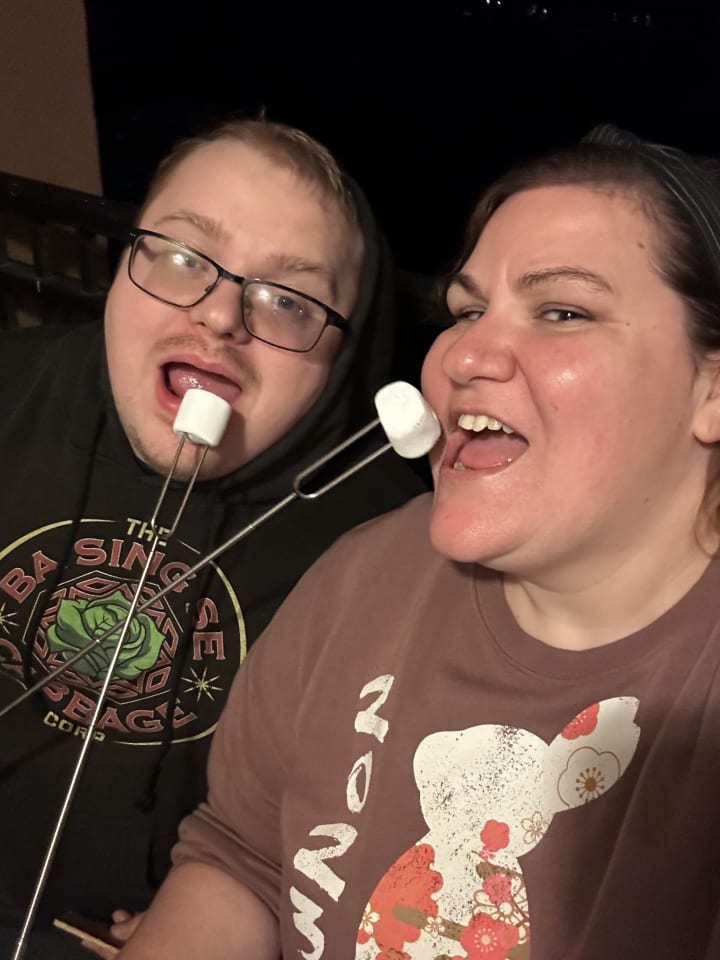 I was originally planning to make chili for dinner, but we wound up doing this date somewhat last minute so I whipped up salmon burgers over rice and veggies. Not exactly campy, but it was delicious!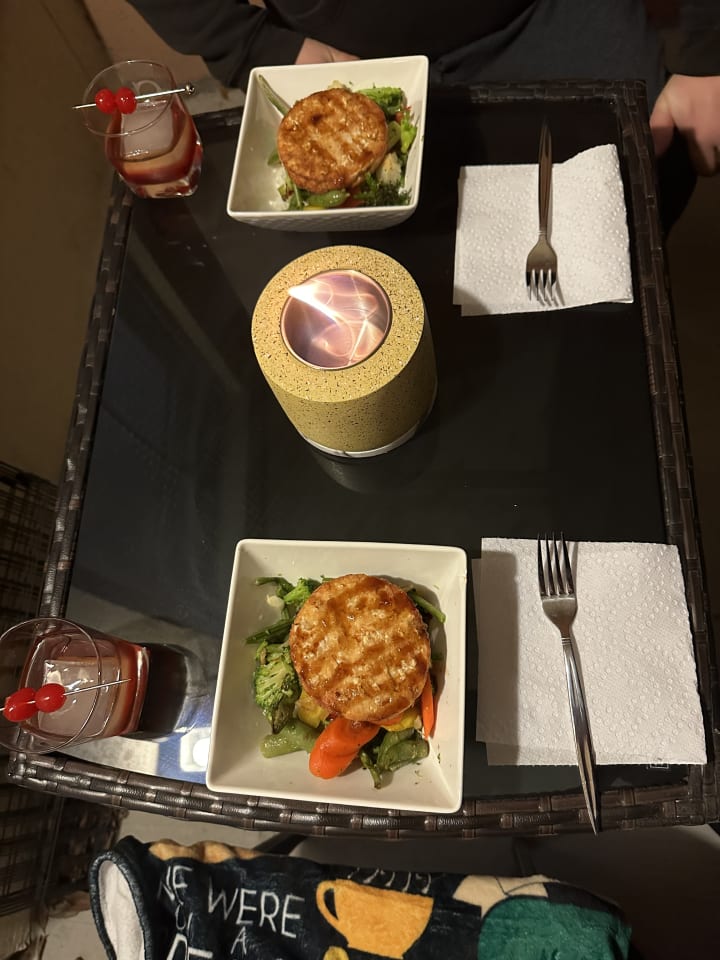 Check out our shopping list here or scan the QR code on the printable below!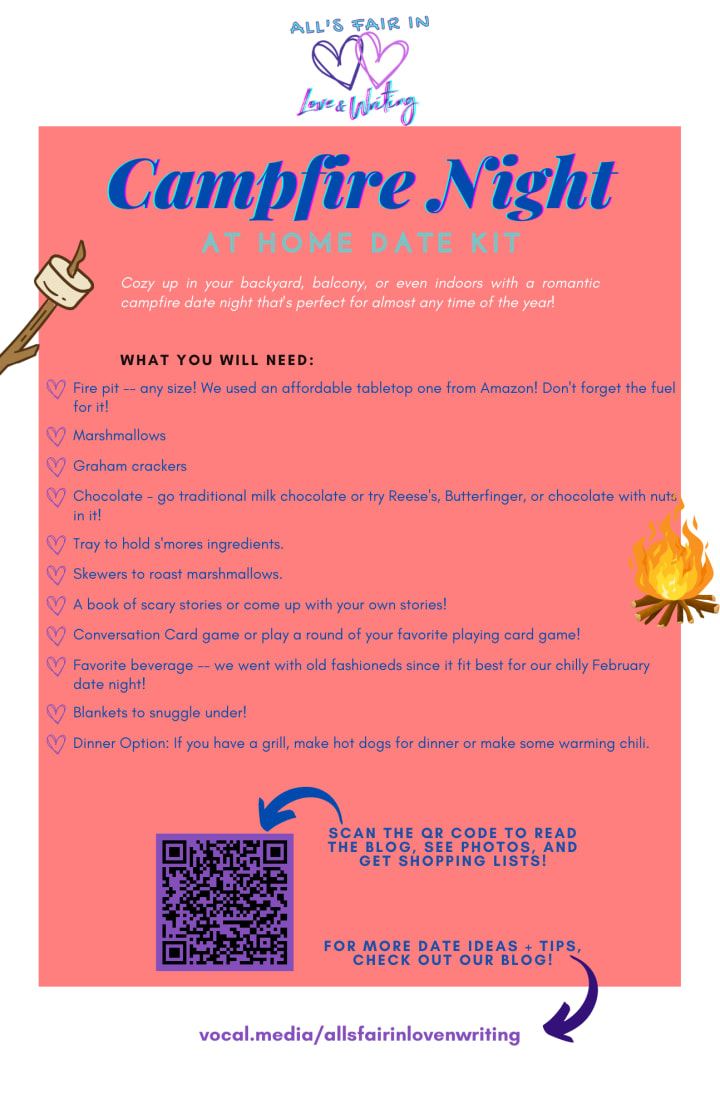 Check out our other date night ideas!
Read why we started our date nights here.
About the Creator
Two writers in love! Sandy Lo is a romance author, blogger, and journalist best known for the Dream Catchers series and StarShine Magazine. Steven is a gamer and aspiring fantasy author.
Follow us on Instagram: @AllsFairinLoveNWriting
Reader insights
Be the first to share your insights about this piece.
Add your insights