If you're new to D&D-based roleplaying games, Baldur's Gate 3 has several romance options. Like most RPGs, you can form a romantic relationship with a companion by talking to them, helping them with side quests, and cueing a steamy scene at camp. Larian showed a tryst with Halsin the druid in its final livestream before launch, proving things get hot.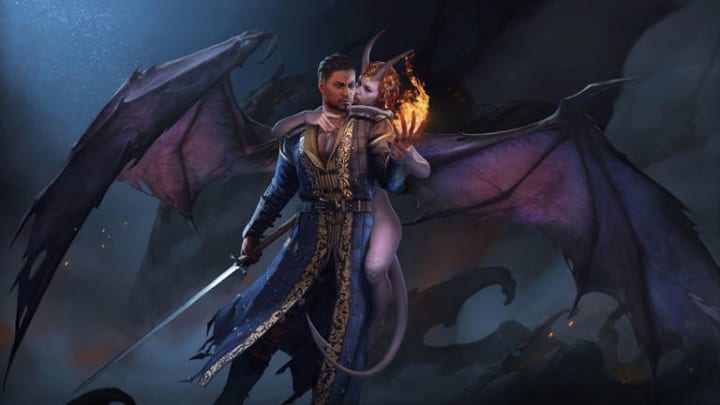 Baldur's Gate 3 romance isn't as simple as doing a quest and getting the romance scene, according to Larian. Your party members will approve or disapprove of your choices and allies. No rival-mances here, Dragon Age 2 fans—only approval limits companion romances. Baldur's Gate 3 romances are gender-neutral. When creating a character, consider whether playing as The Dark Urge, the violent intrusive thought generator, will affect romance scenes.
Below, we'll discuss your romanceable companions, their relationships, and how to win their approval. Our Baldur's Gate 3 companions guide explains each character's class and where to recruit them.
Shadowheart romance
Likes: Deceit and animal kindness
Dislikes: Cruelty, Gith support
Shadowheart worships Shar as a cleric. She may have a close second place in her heart. Shadowheart's romance starts with a bottle of wine and a kiss at your camp's Tiefling party in Act 1. Shadowheart notices if you've already made plans to spend the night with anyone else with a wry "first come first served," and though you can ask if she's open to a "shared arrangement," she declines. If you choose her, she hopes for more, so later acts will likely feature more private scenes between you.
Astarion romance
Likes: His whims, monsters, murder
dislikes altruism
Astarion, a vampire, is self-centered. He's flirtatious whether you accept his camp extracurriculars or not. Astarion's initial vanity and compliment fishing mask a tortured past, and you may learn the truth about his scars later in his romance.
Wyll romance
Likes: Courage, kindness,
Dislikes: Cruelty, supporting demons and goblins
Wyll, the Blade of the Frontiers, is the resident warlock and monster hunter. Despite his good guy image, Wyll's pact with his half-devil patron affects who he supports. Early in his romance, the cambion Mizora still calls to him and interrupts intimate moments.
Gale love
Likes kindness, magic, intelligence
Dislikes: Cruelty, violence, stupidity
Gale says he's direct. You can do a mage's mind meld with him early on, a "romantic moment" he recalls when requesting your company one night at camp. He's charming, quoting romantic literature before your date and telling his story afterward. Gale is ready to face his future "side by side" after your first night together if you can love him despite his many problems.
Lae'zel romance
Strength, violence, Gith support
Dislikes: Weakness, avoiding violence, supporting Shadowheart or the Gith
Your githyanki party member has a whirlwind romance. "I smell your sweat," she says after a cold start. Taste it." If you accept, she will adopt you. Don't fall for Lae'zel's passion and dominance. She initially says she wants to bed you again but your bond isn't deeper, even as a fellow githyanki.
Karlach love
Likes: unknown
Dislikes: Unknown
Karlach's romance is adorable, even though he's a Tiefling. In early access, Karlach requested a dinner and conversation date with a custom character. She's excited too, meeting at a city restaurant and asking classic getting-to-know-you questions to an unamused waiter. Karlach's romance will be more at full launch, but it seems like a feel-good story.
Halsin romance
Likes: unknown
Dislikes: Unknown
Your druid party member started the bear love scene. Monster romance readers, pay attention: a heart-of-gold guy who's jacked but gentle, promising to hold back his beastly qualities no matter how badly he wants to devour you is right out of your playbook. You can also choose to be eaten by a bear.
Minthara love
At the end of Act 1, you can have a one-night stand with Minthara, but you have to be evil to impress her. If you're bad for Drow, you get a steamy camp scene.
About the Creator
Am wayne, a writer from kenya specified in research and article writing. I love doing research on natural things, football updates and updating what going on in the world
Reader insights
Be the first to share your insights about this piece.
Add your insights