Sea of Stars, a retro-style indie RPG, will launch on Xbox Game Pass and PlayStation Plus simultaneously, a first for the subscription services.
Illusion of Gaia and Chrono Trigger inspired the game's beautiful graphics.uGiven the industry's growing popularity of subscription services, Sea of Stars' simultaneous launch on Game Pass and PS Plus may be an anomaly, but it may open the door for future titles to launch on both services.
This summer, Xbox Game Pass and PlayStation Plus will launch Sea of Stars, a retro-style indie RPG. Over the years, Xbox and PlayStation's subscription services have been big platforms for day one indie releases, but a single game has never launched on both.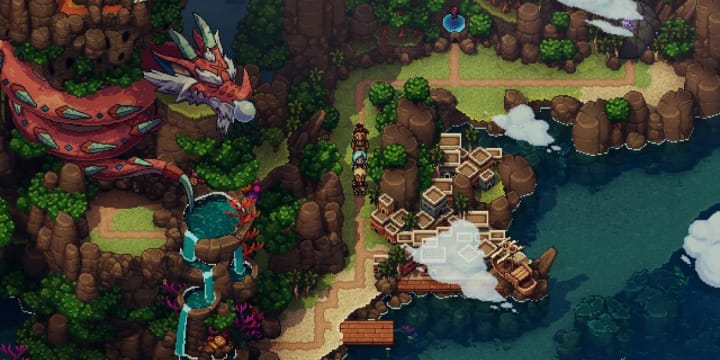 Sea of Stars is Sabotage Studio's turn-based RPG. Sea of Stars' top-down Zelda-like pixel art is inspired by classic JRPGs. Sea of Stars, inspired by Illusion of Gaia, Chrono Trigger, and Super Mario RPG, aims to be the best '90s SNES RPG experience. Sabotage Studio collaborated with Chrono Trigger, Chrono Cross, and Xenoblade Chronicles 3 composer Yasunori Mitsuda on Sea of Stars' music.Retro-pixel art.Last month, Xbox Game Pass announced Sea of Stars' launch date. PlayStation announced on Twitter that Sea of Stars will launch on PlayStation Plus on August 29. Xbox and PlayStation first. Games have left one service and joined the other, but none have premiered on both platforms' subscription services on the same day.
Though unlikely, knowing who launched Sea of Stars first and how would be interesting. A game that launches day one on a subscription service cannot launch on the competitor's service. Game Pass and PS Plus launches include marketing rights. Sea of Stars' simultaneous Game Pass and PS Plus launch may be a fluke. As subscription services become more popular, this unprecedented situation could allow other titles, big or small, to follow suit.
Sea of Stars launches in late August alongside EA's Immortals of Aveum and FromSoftware's long-awaited Armored Core 6. Sabotage Studio's retro turn-based RPG will release alongside Goodbye Volcano High and Quantic Dream's Under the Waves on August 29. Though unique, Sea of Stars will have lots of competition around its release date. Being the first game to launch on Game Pass and PS Plus may help.
Sea of Stars releases August 29 for PC, PS4, PS5, Switch, Xbox One, and Xbox Series X|S.Sea of Stars has everything RPG fans love—pixel graphics, turn-based combat, and quirky characters. The new Sea of Stars demo makes classic RPG gameplay feel fresh. Sabotage Studio CEO and Creative Director Thierry Boulanger told Game Rant he wanted to make a game with the nostalgic feel of 90s RPGs but with a modern twist.Sabotage Studio's second major game, Sea of Stars, released its first demo on February 8, 2023. The demo lets players explore an island with three main characters. Players can explore the bustling Port Town of Brisk, solve puzzles in a mystical dungeon, catch fish to cook, and fight enemies in turn-based combat. While this may sound typical for an RPG game, each system has been updated to feel seamless and new while retaining that retro feel.
.
Boulanger wanted to improve the traversal system of old RPGs. Sabotage wanted to "unshackle the traversal" by freeing movement from a grid. In Sea of Stars' demo, players can jump from almost any platform, enter and exit bodies of water, and seamlessly explore the world.As a nod to old RPGs, we made the world map move one step at a time. That controls your world map character. We wanted to 'unshackle the traversal'. So you can hoist up, jump up from anything, exit in and out of the water with no clear transition between entry points and exit points—everything is organic, making it more of a world you can touch.
Enemies behave similarly. Old RPG combat systems had random encounters, but now all enemies are visible. These enemies interact with the terrain like the player, starting battles. It's more real and connected.
Combat is where Sea of Stars innovates on these old systems. Players must time their clicks with character animations to cast spells, keeping them engaged in combat. Spells use a lot of MP, but it regenerates during combat, so players no longer need to save it for the end of a dungeon. If other party members are alive, a character will revive after a few rounds after combat. Sabotage wanted to improve exploration, combat, and fishing in Sea of Stars.
About the Creator
Am wayne, a writer from kenya specified in research and article writing. I love doing research on natural things, football updates and updating what going on in the world
Reader insights
Be the first to share your insights about this piece.
Add your insights