Animal Crossing Quarantine Edition
From Wild Worlds to New Horizons
On March 20th 2020, the long awaited Animal Crossing: New Horizons was finally released to the world, just in time to save quarantined folx from blood-sucking boredom.
For those who are not familiar with the game, Animal Crossing (AC) is a life simulation video game. It made its debut in 2001 on the Nintendo 64 console in Japan (also known as Dobutu no Mori). Later, further versions such as Wild World, City Folk, New Leaf, and more were released for various consoles. I for one, started my Animal Crossing adventure in elementary school on my Nintendo DS with the Wild World version. And boy was it a wild world!
Animal Crossing has a uniqueness about it that no other game seems to match. Through its simplistic features, tasks, and open-ended gameplay, it manages to give the player a sense of peace and tranquility. This game is not about winning or losing, bad or right choices, rather it is about play a day-to-day normal life (with less drama).
The Basics
Here's the gist of it: you are a human who arrives in a new town where all the characters are sassy animals. You get a new house courtesy of the (scheming) Mr. Nook, and then you spend the rest of your life paying off your mortgage.
Wait... that sounds a bit dark, doesn't it...
Let's try that again: Welcome to your new town where you can go fishing, catch insects, find fossils and make friends with local animal-folk. By obtaining items and selling them for Bells (AC currency), you painfully and slowly pay off your debts to Mr. Nook who keeps upgrading your house.
Honestly? The game is quite simple. But it's exactly that which makes the game so brilliant and relaxing. There's no rush, the game goes by real time, and you can get lost in the AC world for hours. Or in my case, years.
Wild World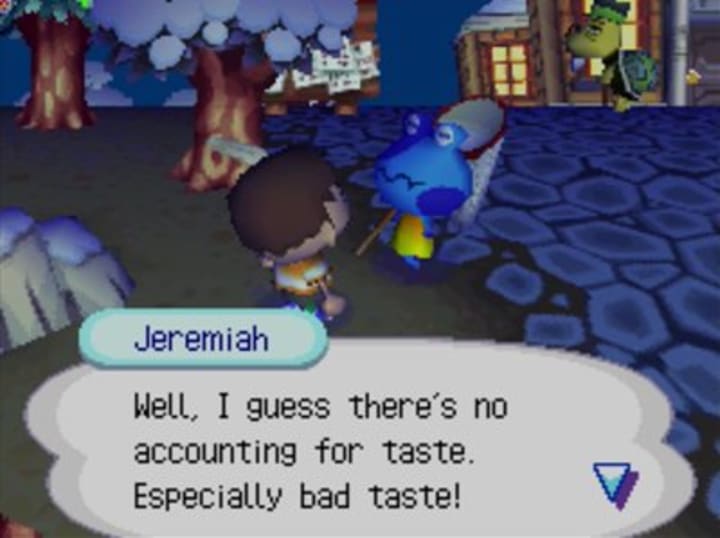 I first started playing the game when I was in elementary school. I would spend between an hour to two every night playing Wild World because I had sleeping problems as a kid. I would fall asleep to the game's background music and even wake up humming it. It's not that I had nothing better to do, its just that it gave me an alternate universe where everything was much simpler. My biggest worry might be that I let some fish get away because I didn't nab it in time.
This game was even educational. I learned about new aquatic life and insects, as well as fossils and their fun facts. In the game there is a Museum run by Blathers (an owl in an argyle sweater) who talks way too much but loves to give you information about every critter and fossil you find. You can also donate your findings to the museum and build up the exhibits. My favorite thing about the museum though, is the tiny café in the basement run by Brewster (a pigeon with a monocle).
That café became my nightly end, where I'd sell all my wares, put on my lucky #1 red tee, and go for a cup of Joe before shutting down my game. Every Saturday night there would be the infamous guest musician, K.K. the dog, who would play random songs in his cartoon voice for you. If you requested an actual song title, you'd even get to take the track home as an item. This was and still is one of my favorite parts of the game.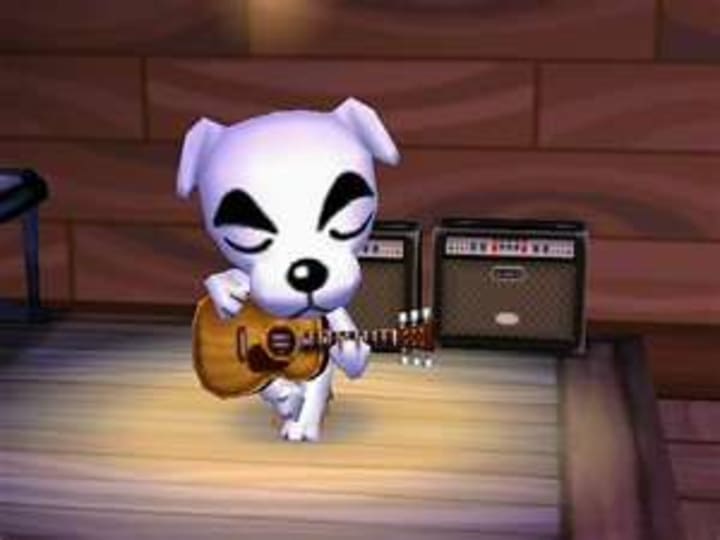 Now I want to mention one more thing about this game before I fast forward to the present. The most ANNOYING and wholesome thing about this game was what would happen when your console battery died and you didn't save your progress. Introducing RESETTI. Resetti is the angriest, most irritable little shit in the whole AC universe. He is a hard-working mole who has zero time for your "forgot to save" bullshit. And when you finally recharge your device and try to start playing again, he will pop up and lecture you for legit 10 minutes. It doesn't matter what you try to say to him, or how hard you try to get him to hurry up his very long speech, he will go on and on about how irresponsible you are for forgetting to save the game. He is relentless. Furthermore, the more you forget to save, the longer and more aggressively he will lecture.
Always. Save. Your. Game.
With Love and Responsibility,
Resetti
New Horizons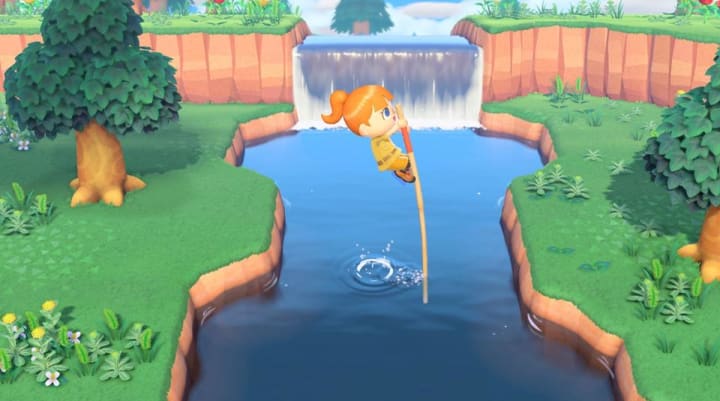 Let's jump back to the present-
Look at those beautiful graphics. The clear water, the barely-pixel-looking waterfall. Such beauty, such grace!
This game was just released on March 20th, 2020, at a time where the world was entering unknown waters: COVID-19. Everything started to close down, businesses, schools, borders, etc. and and everyone was told to stay home and to practice social distancing. From GameCube to the Nintendo Switch, millennials have finally seen some light during this pandemic spiral.
To be honest, I spent around 12 hours of game time in the first 3 days... by now, who knows how many hours I've logged. Going from the Wild World to these New Horizons is not just a coincidence in wordplay. For one thing, the graphics are just stunning. Second of all, it's more open-task play rather than feeling pressured to completely Nook's tasks right away. And obviously, the newer version has a lot of new aspects in it! More specifically, it takes after MineCraft in the sense of resources and construction.
In the new release, you are dropped off onto a deserted island with two other characters, Mr. Nook, and his two apprentices. Together, you learn DIY projects to build tools and furniture and you begin the long task of developing the island.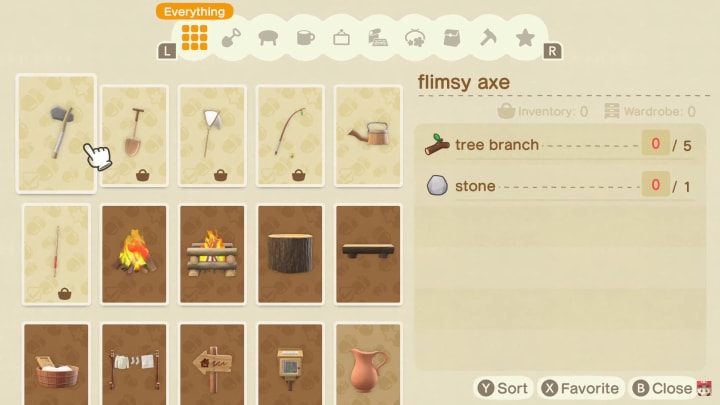 In New Horizons you have to construction your tools and a lot of the furniture. You have to scavenge for resources i.e. tree branches, stones, clay, wood, iron, etc. and you use those to build your world. Another thing that's really cool, is that you really work to develop your island in terms of infrastructure, residents, plant-life, and more.
What's interesting in this game in comparison to the others (excluding the app edition), is that the game has updates every month. Meaning, Nintendo adds new features, items, events, etc. and the game can never truly end.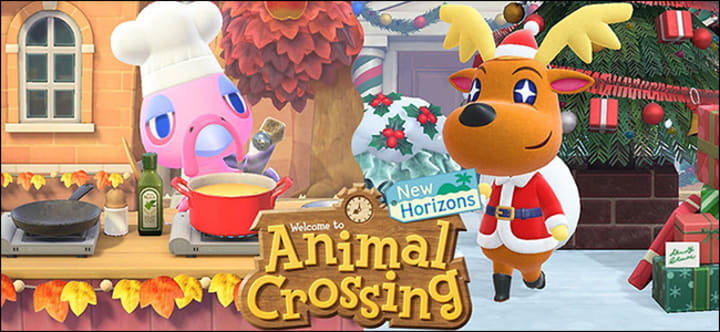 From diving for pearls, Sunday fireworks, and Fall events, to Holiday celebrations and customizations, Animal Crossing will keep things interesting.
But.
I have to say- I don't like it.
Animal Crossing has always been a daily adventure to unlock more options and perfect your town. In New Horizons, it's way too easy.
Growing up playing the older versions, it wasn't that easy to pay off your loan and unlock every feature. And maybe that's only because I kind of sucked at playing and didn't cheat... but regardless, in ACNH it's way too easy. And it gets boring.
Let me explain- when you unlock all the island renovation features, and have practically unlimited storage, with so many ways to earn bells, the game ends too quickly. It's SO easy to make money, especially when you can play online with others to "cheat" the turnip stock market. All you do is sell all your turnips on other peoples' island at a better price and BOOM, your home mortgage is paid off and you can renovate your island 50 million times.
I found that way too quickly, I'd run out of reno projects on my island and then I was like "now what?"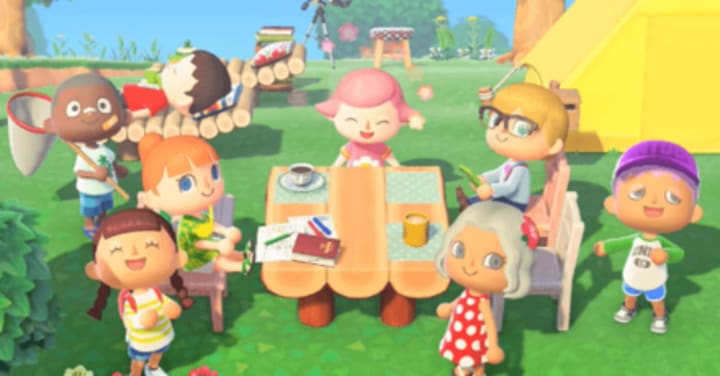 Since the game was so online-friendly, it was so much easier to obtain materials, Bells, and the residents you wanted. It was too easy to make the perfect island. And that's where I see the Monthly Updates as a cheap way to spice up the experience so you don't get too bored.
Basically, you finish off everything in a week, ditch the game, wait for the next update, and the cycle continues.
But where's Brewster? What about a hair salon? Some characters and buildings that will stick around?
Nope.
Instead you have holiday characters that will stay for a bit so you can get their little party favors and then forget about them by the next update.
Am I salty about it?
YES.
But-
I still strongly recommend this game, and maybe Nintendo will add some permanent features. And if New Horizons becomes a tad too mundane, then dust off and crack open your old DS and go back into a Wild World.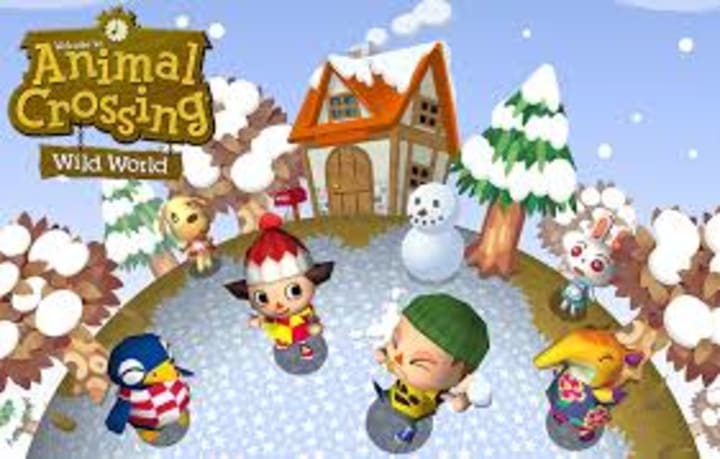 handheld
About the author
Stories from the TRUE NORTH with a side of humour, adventure, good food, and snowy poetic dreams
Reader insights
Nice work
Very well written. Keep up the good work!
Top insights
Easy to read and follow

Well-structured & engaging content

Expert insights and opinions

Arguments were carefully researched and presented

On-point and relevant

Writing reflected the title & theme
Add your insights