16 Marvelous Mario Comics
What do you say to Mario when he doesn't get a joke on the Internet? It's-a meme Mario.
Even if you aren't a video game connoisseur, you still might recognize the loveable red plumber, Mario. That's probably because Mario is the face and namesake of the best-selling video game franchise of all time (over 750 million copies of games sold) that has extended into tv shows, feature films, comic books, and theme park attractions.
Having been around for over 40 years (Mario debuted as "Jumpman" in the 1981 Donkey Kong arcade game), Mario has left quite the impression on generations of players (including me). So today, to celebrate my love of both Mushroom Kingdoms and Webcomics, I've collected 16 Mario comics for you, organized by comic artist. Hope you enjoy!
Bonus joke: What are Mario's overalls made of?

... Demin demin demin
Mario Comics by Safely Endangered
Some of the regulars to my webcomic features know that I love Safely Endangered and have talked about their work before in my delightfully dark and pokemon webcomics features. But I'll let their comics do the talking here...
1. It's-a the Mario Bros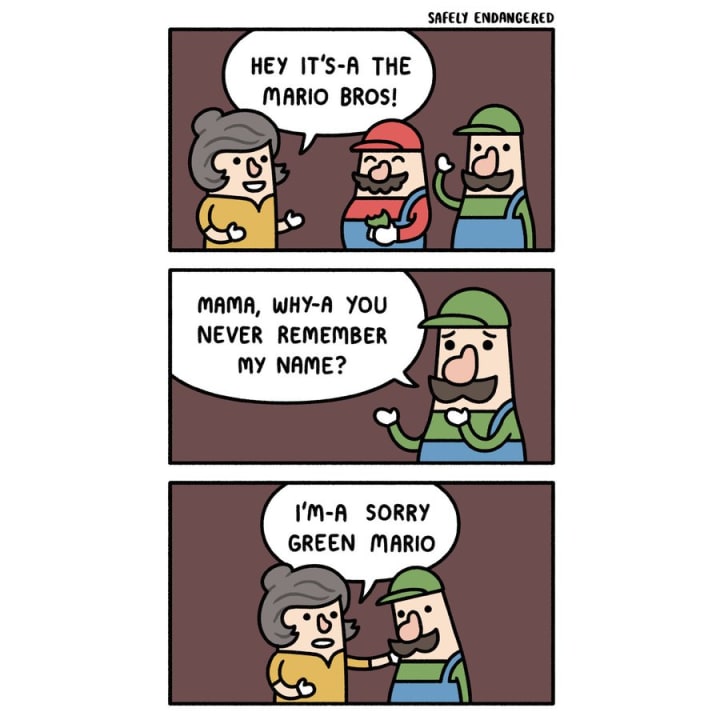 2. Press B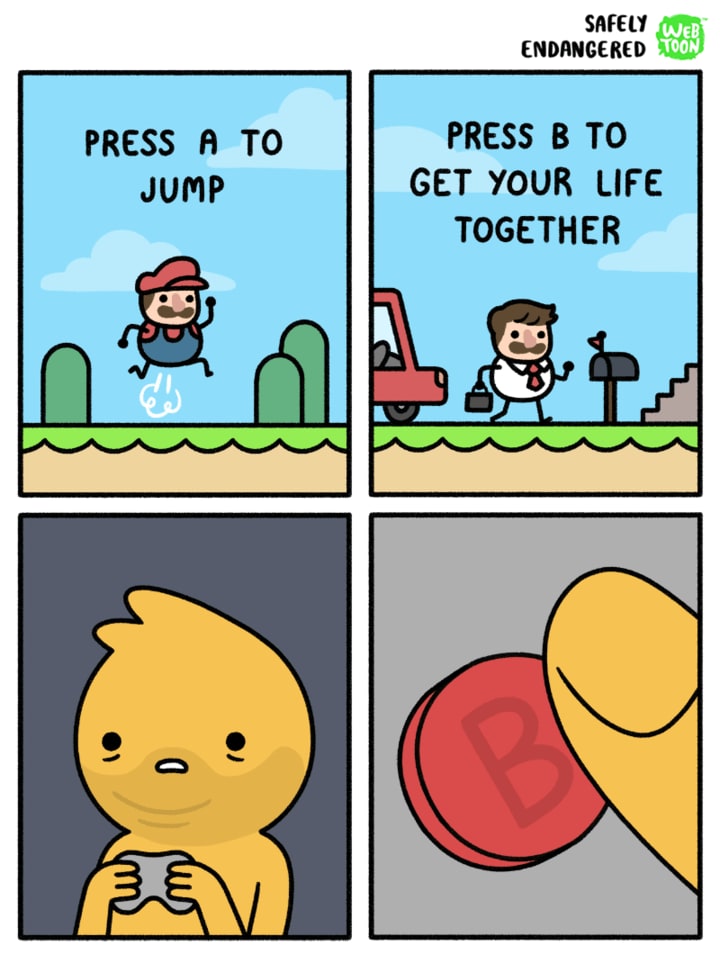 3. Super Smash Crossed Lovers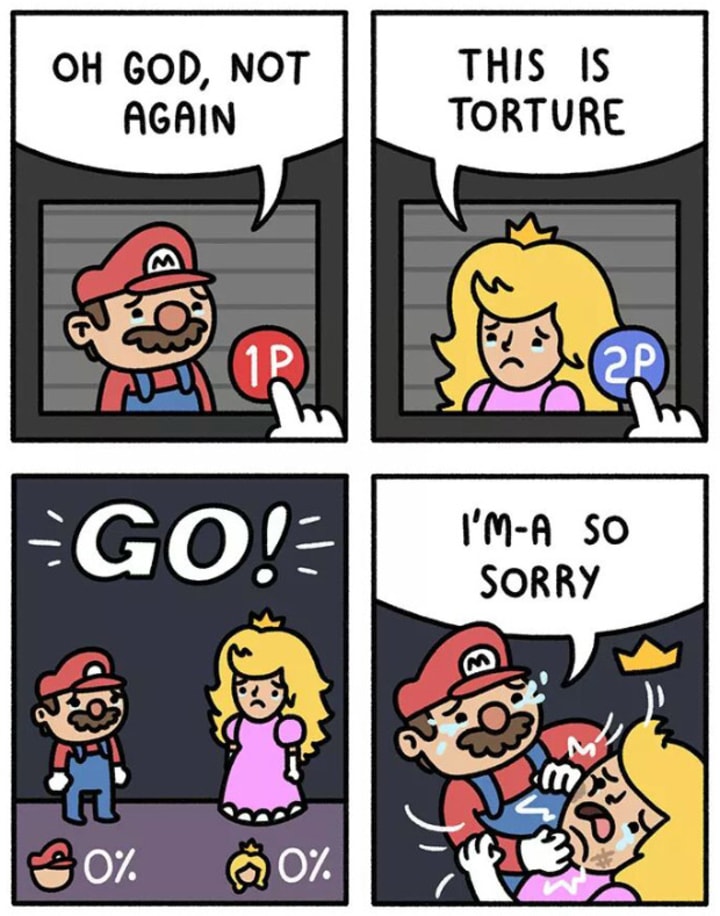 A little context for the above comic - this comic references the super smash bros series, and makes fun of the fact that it pits friends (or lovers) against each other in a battle to the death.
4. Peach's Kink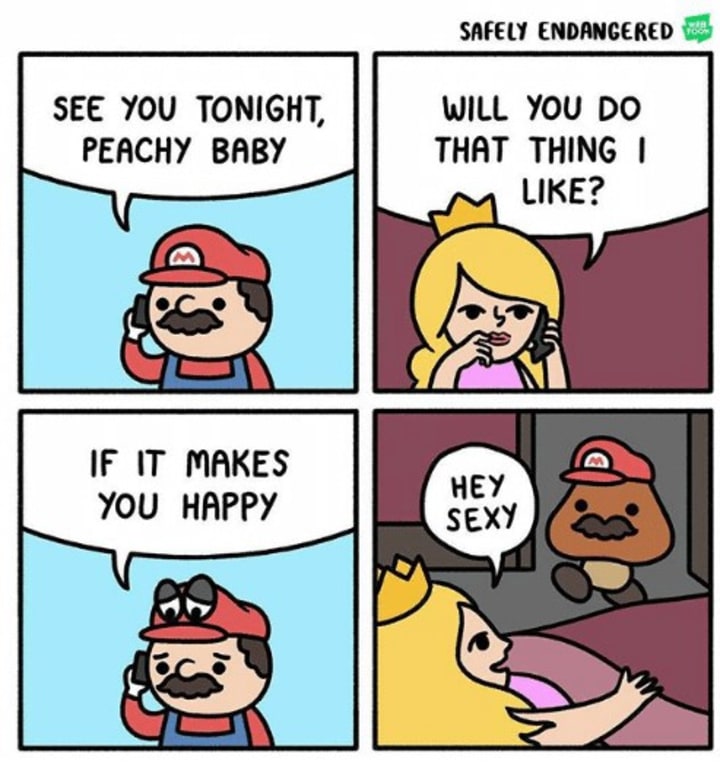 A little context for the above comic - This comic references Super Mario Odessey, in which Mario could throw his hat/partner Cappy at various monsters and creatures to "capture" them (aka possess them).
5. Extra Life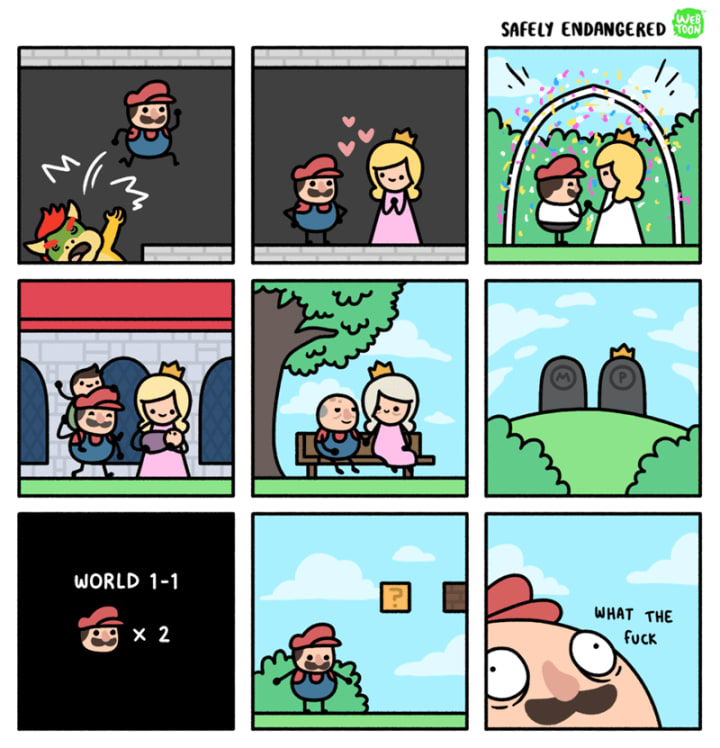 Mario Comics by Colms Comics
Colms Comics is another comic artist who I've highlighted before in my pokemon webcomics feature, he is an excellent nerdy comic creator with a detailed style and killer sense of humor.
5. Yoshi's Revenge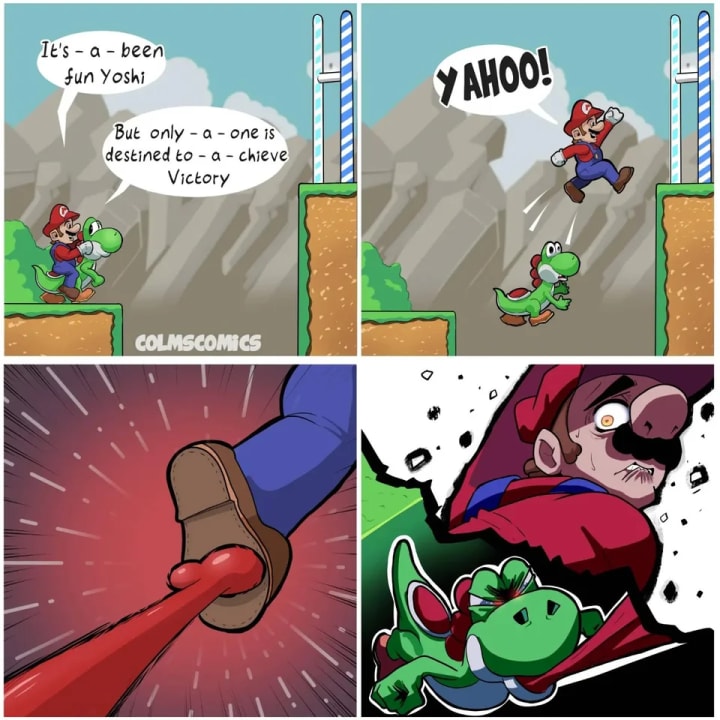 Mario Comics by Adam Ellis
Originally a Buzzfeed comic artist, Adam Ellis has left the popular site and established himself as a creator apart from Buzzfeed. I adore Adam and talked about him in my Raunchy Webcomic Artists feature. In addition to his raunchy comics, Adam also creates classically funny comics and occasionally dips into the worlds of nerdy things (like Mario) as well as internet-based horror stories.
6. Fire Flower Transition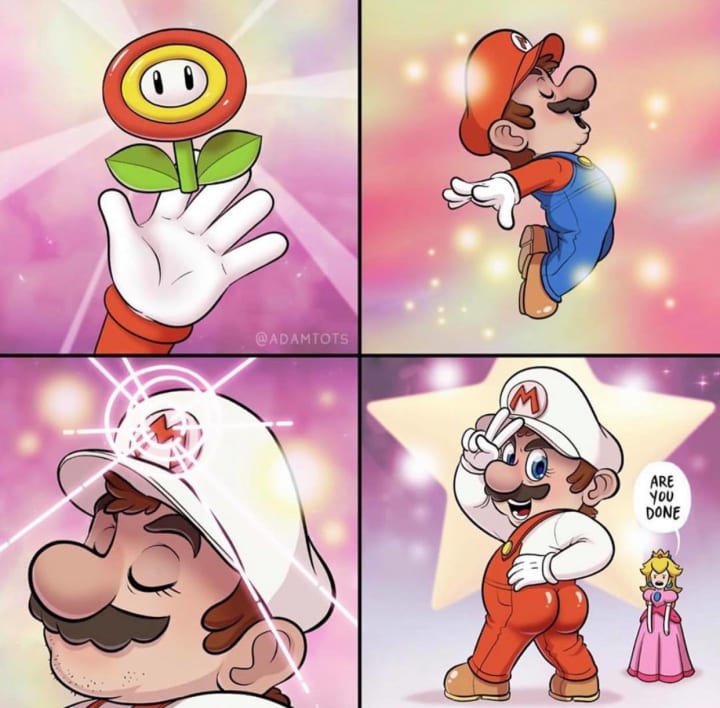 A little context for the above comic - This depiction of Mario transforming into his Fire Flower Power form is directly inspired by the classic Sailor Moon Transformation sequence.
7. Your Princess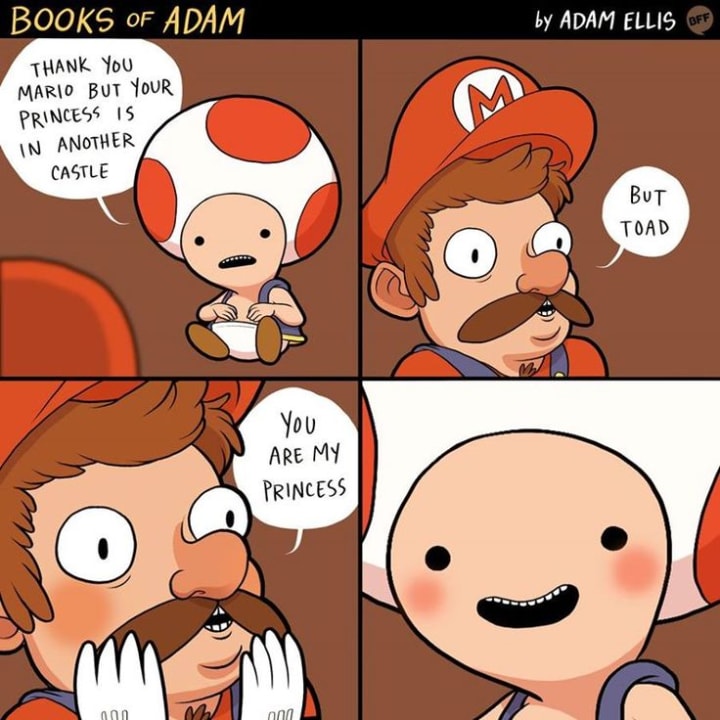 Fun fact - Adam Ellis later did a re-draw of this comic. I personally love the derpy-ness of the original, but which do you like better?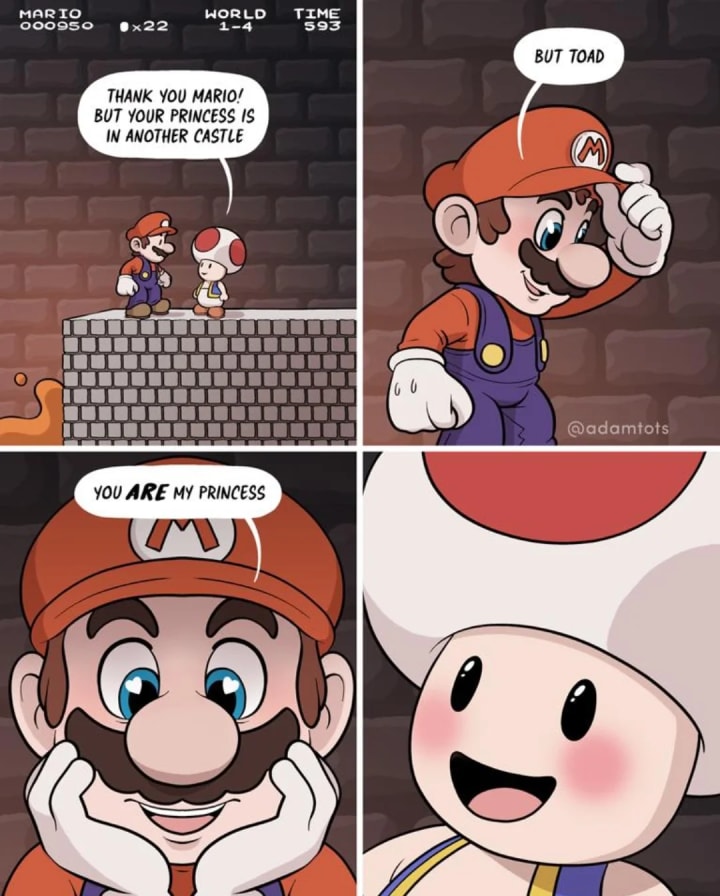 Mario Comics by Awkward Zombie
Awkward Zombie creates a lot of great video game comics and is another artist who was featured in my pokemon webcomics feature. What I like about her is that she does a lot of niche comics, specific to each game title. For example, she doesn't just do Mario comics, but she does comics for Mario Kart, Mario Party, Mario + Rabbids, Mario Galaxy, Super Mario Strikers, etc... I've included some of my favorites, but you can check out more of her comics here.
8. The Endless Staircase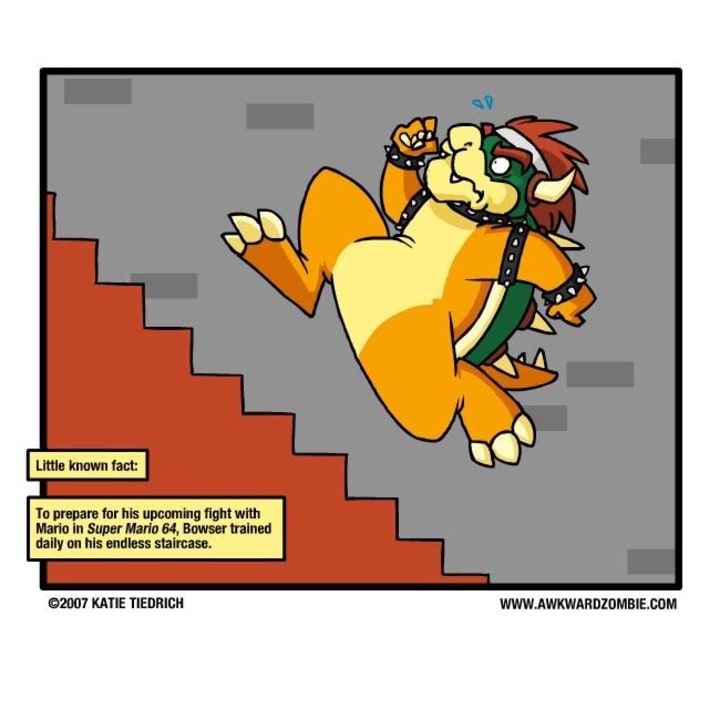 9. Mario Kart Shenanigans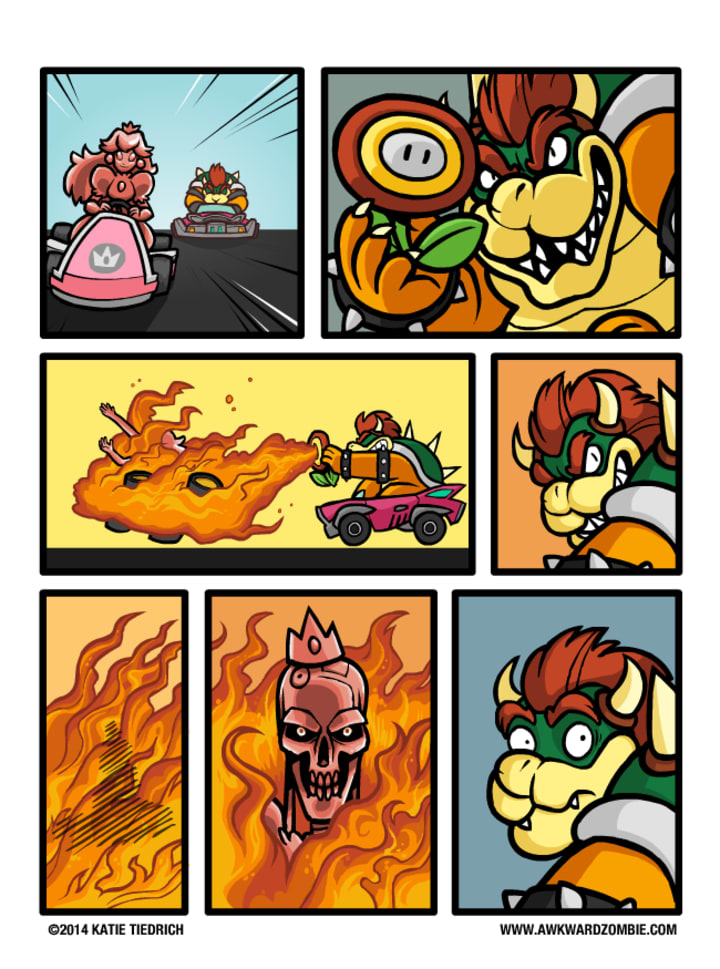 10. The gang's all here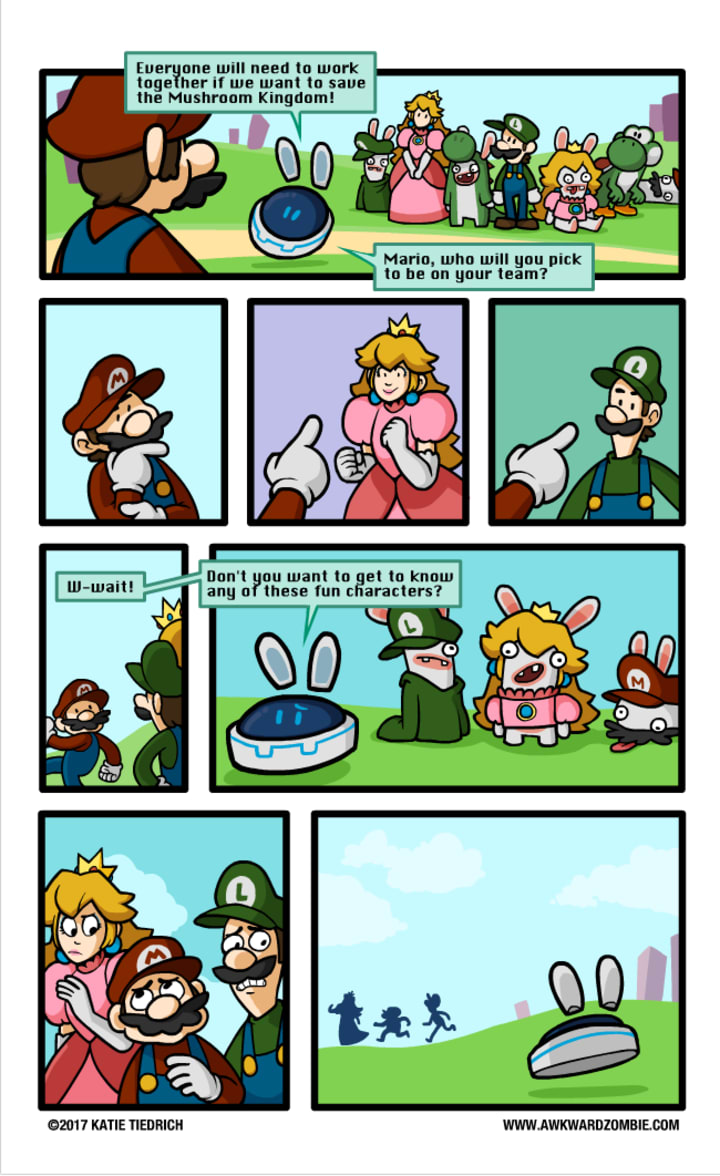 A little context for the above comic - This comic (as well as the next) references the game "Mario + Rabbids Kingdom Battle" a game that combines the classic Mario characters with the zany Rabbids from the "Rayman Raving Rabbids" spinoff series. Mario + Rabbids is a simple and kid-friendly turn-based strategy and adventure game where you pick a team of three for your battles.
11. Rabbid + Pipes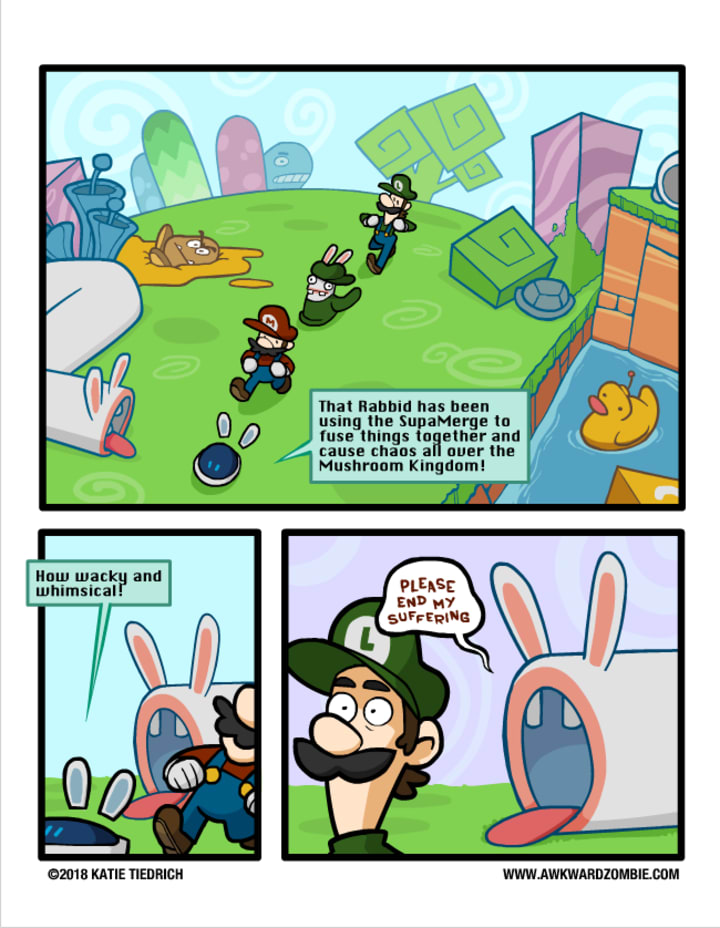 12. Plunder Chest
A little context for the above comic - this comic is a reference to Mario Party 2, a Nintendo 64 game. In this game, all of the characters had cute little costumes for each party map/board - including the Western Land and its cowboy hats. In this comic, Luigi and Peach both have a Plunder Chest - an item that steals another item from a randomly chosen opponent. Peach used her plunder chest to take Luigi's plunder chest, so he no longer has a chance of taking the Wario's Magic Lamp (the Magic Lamp is an item that directly takes a player to the location of the star, via riding the back of an all-power Mushroom Genie).
Mario Comics by JHallComics
JHallComics is another creator I mentioned in my Pokemon collection (it's almost like comic artists who love one Nintendo franchise also might love another). JHallComics previously worked with College Humor and their sister site, Dorkly.
13. N64 Controller Techniques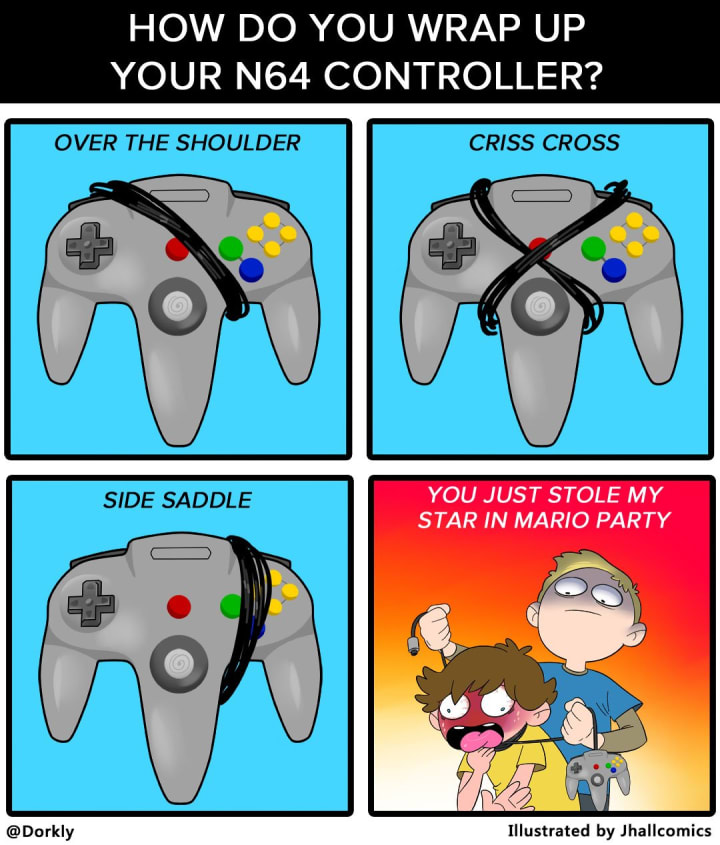 Personally, I am a dual side-saddler, as in I side-saddle on both sides of the middle joystick. I've never tried the "you just stole my star in Mario Party" technique, but it seems like a handy technique for your cords.
Other Mario Comics
Although I usually try to give proper credit to the webcomic artists, sometimes I find comics where the artist is difficult to track down. This is usually because the image is shared in multiple places and either (a) lacks a watermark or (b) had the name of the artist cropped out (If you're the type of person who crops out an artist's name and claims their work, then shame on you).
I've tried to credit the following comics as best I can, but if I represented anything inaccurately, please let me know so I can update this article and give them proper credit.
14. City Life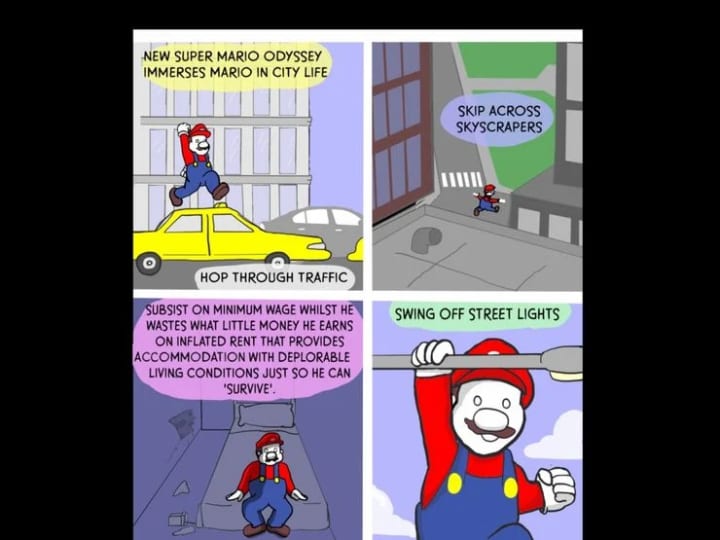 15. Star Power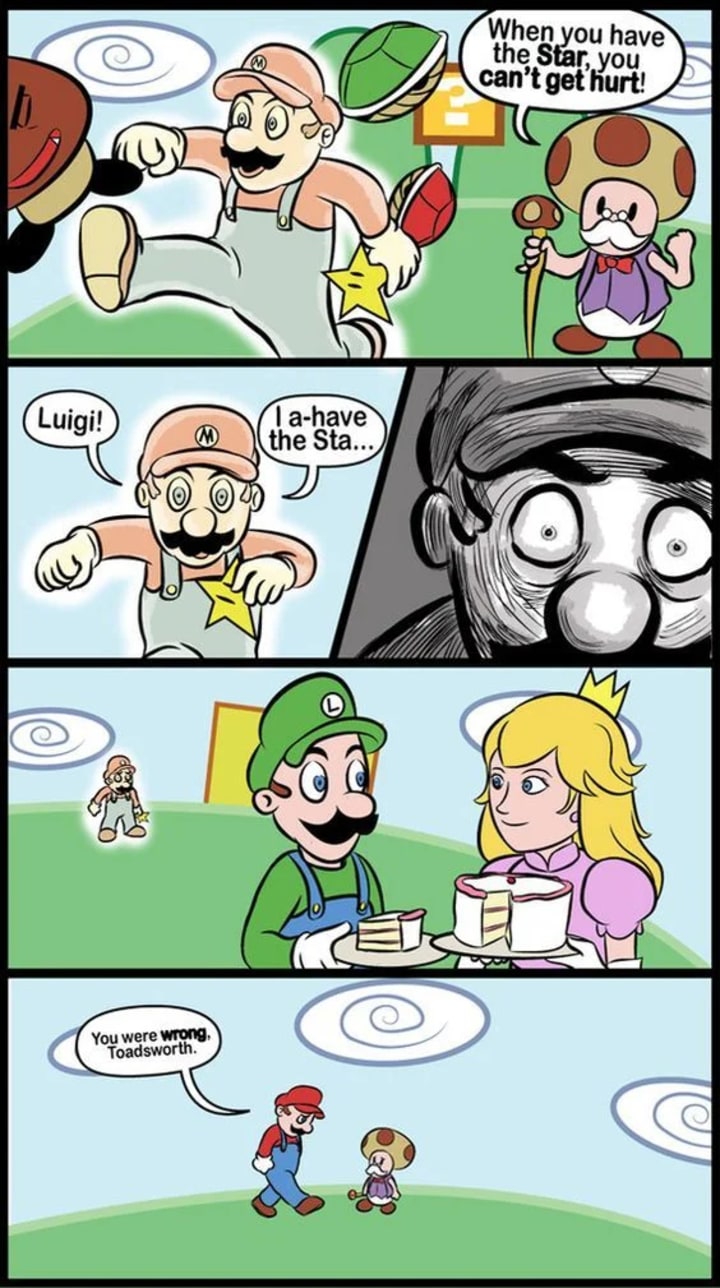 16. All is Fair in Love and Go-Karting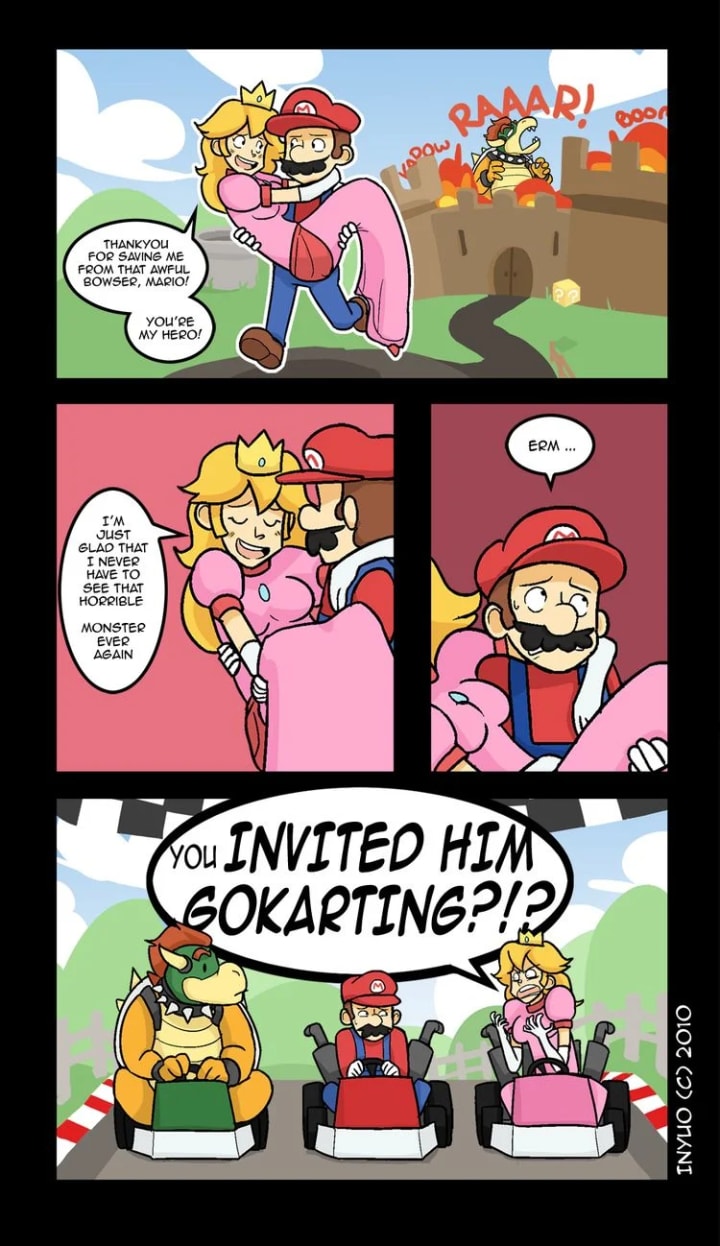 Thank you!
If you liked this specialty collection, you might also like my collection of Pokemon Comics!
And if you want EVEN MORE webcomics, please check out the other articles in my mini webcomics series by clicking the links below:
Please, let me know if you would like to see more webcomic features. You can leave a heart to let me know you like this series, or you can let me know on Instagram or on Twitter (I also love webcomic recommendations)!
list
About the author
Reader insights
Nice work
Very well written. Keep up the good work!
Top insights
Compelling and original writing

Creative use of language & vocab

Excellent storytelling

Original narrative & well developed characters
Add your insights