Omni Magazine: Pseudoscience Then and Now
From UFOs to ESP, learn more about the dubious scientific reporting that still reverberates in headlines and entertainment today.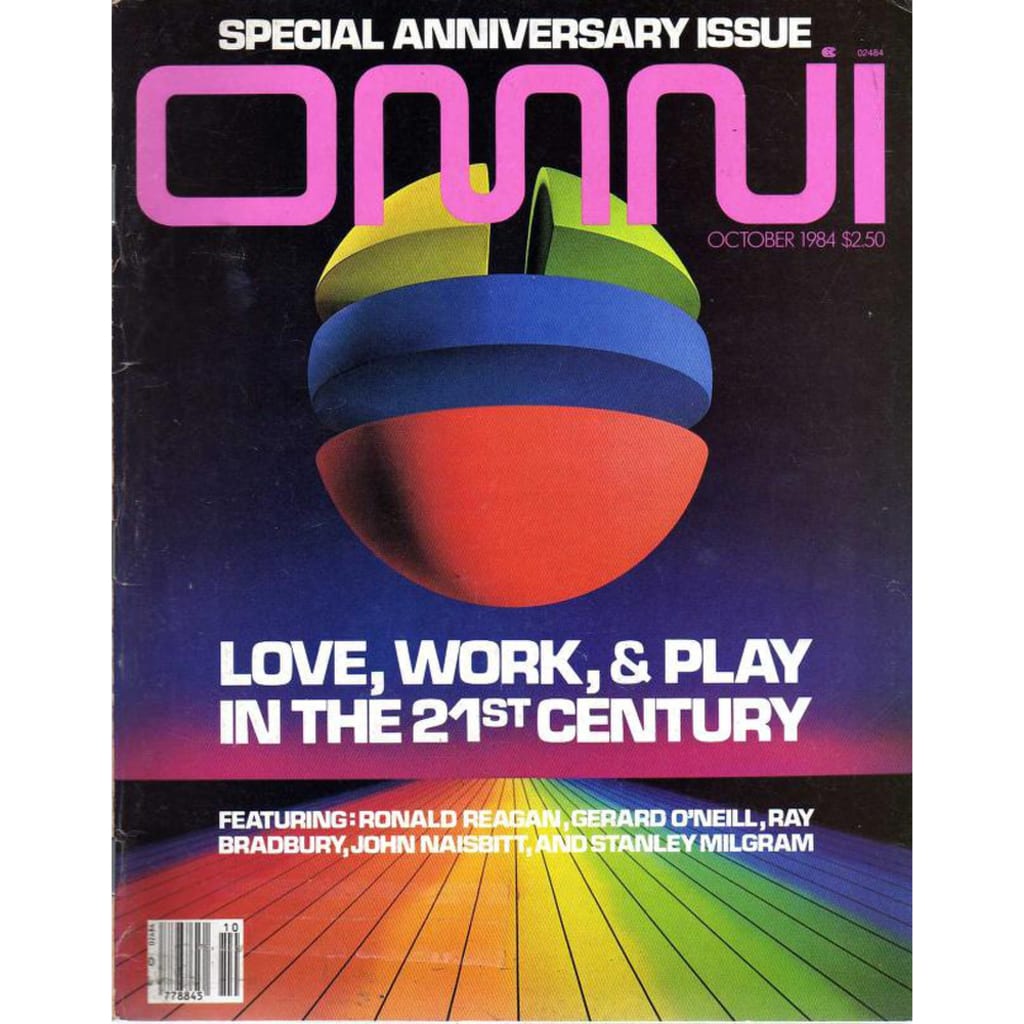 Omni, October 1984. The OG Collection.
For every science-fiction fan who remembers Omni magazine as the first place they encountered the work of Ursula K. Le Guin, William Gibson, or George R. R. Martin, there is another former reader who remembers the increasing number of pages dedicated to UFOs, non-peer reviewed medical recommendations, and paranormal discoveries.
These articles are even more surprising to the contemporary reader, who is both used to seeing dubious scientific reporting on the internet and trained to question it. Just as recent events such as the Covid-19 pandemic and vaccines and the proliferation of non-experts dispensing diagnoses on TikTok helps to contextualize our hesitancy about science in the headlines, there was a historical grounding that sparked the content in Omni.
In "Pseudoscience as Media Effect," published in the Journal of Science Communication in 2020, Alexandre Schiele describes the 1970s-1980s as the first boom of pseudoscience in mass media in recent memory. Schiele writes that up until the 1970s "pseudoscience was largely confined to the fringes of mass media or to fiction, the separation between the real and the fictional remaining clearly demarcated." With its signature blend of fact and fiction writing Omni was the ideal environment for these boundaries to begin the blur, and readers still remember how Omni prioritized entertainment over peer-reviewed reporting.
Read on to explore three standout examples of pseudoscience in Omni, and why they are still resonant in popular culture today.
November 1978: UFO Update on Betty Hill, by James Oberg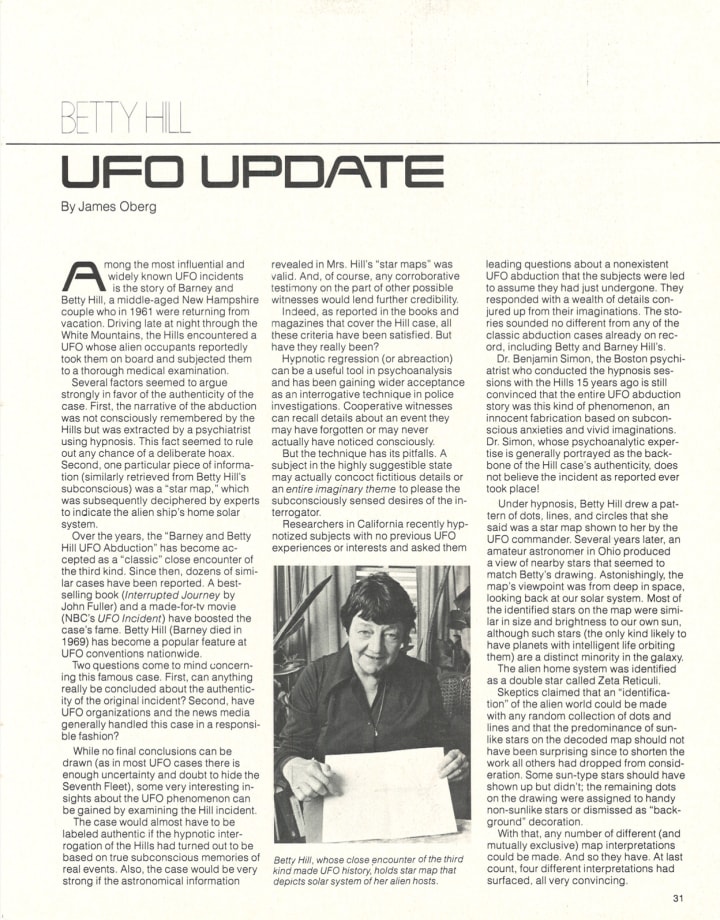 Omni frequently published an "UFO Update" alongside similar bulletins on new discoveries in medicine and environmental science. In the November 1978 issue it took on one of the more famous "close encounters of the third kind," the abduction of Barney and Betty Hill in New Hampshire in 1961. In the decades since their night aboard an UFO, Betty Hill became a frequent authority on extraterrestrial life, visiting researchers and UFO conventions alike. The issue featured Hill holding her "star map," which tracks an alien solar system and which she drew while recalling her abduction during a hypnosis session. A script on the Hill's encounter was included on the 2022 Black List, which reports the most highly sought after unproduced screenplays.
Hill isn't the only figure of interest in this article, as author James Oberg himself has a career that may also come to your screen soon. Oberg is an American space engineer, journalist, and historian. After working under NASA for 22 years, and specializing in orbital rendezvous and studies of the Soviet space program, Oberg wrote for numerous publications on the most controversial scientific topics. Oberg often reported on UFO sightings, attempting to offer scientific explanations on the fringe topic, and was even commissioned by NASA to write a refutation of moon landing conspiracy theories. Red Star in Orbit, Oberg's book on the Russian space program, has been optioned by HBO as the basis for a new production.
February 1981: Hypnotic Witnesses by R. Bruce McColm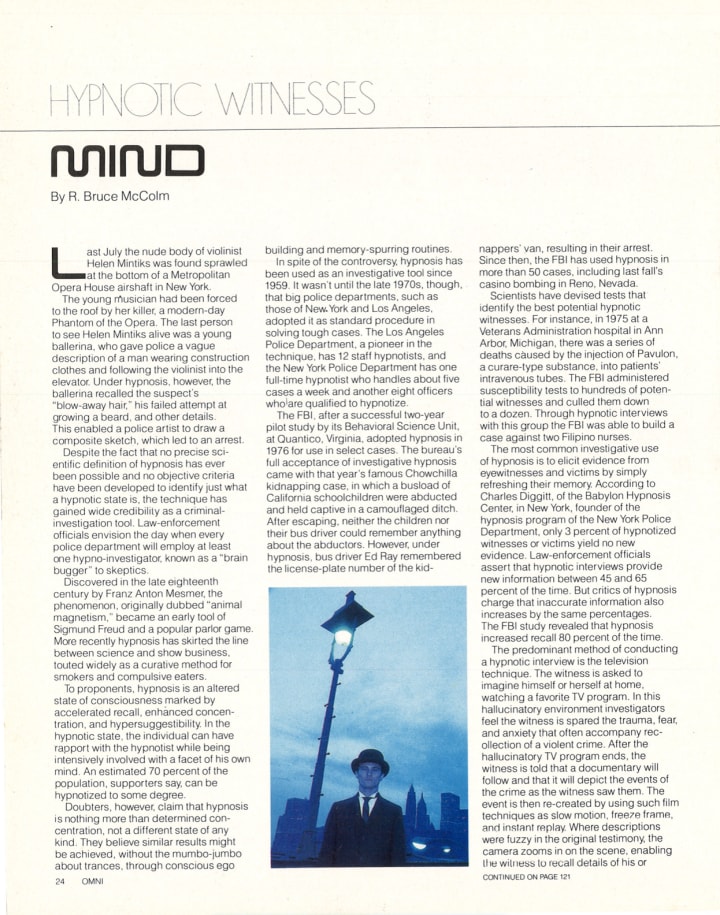 As Oberg reports, Barney and Betty Hill's story is often cited as more credible because their memory of the abduction was revealed while under hypnosis by a psychiatrist. McColm provides an update on increasing acceptance of hypnotic testimony, tracking the method from its discovery in the late 18th-century, to its acceptance by police departments in the 1970s. McColm reports that at the time of publication the Los Angeles Police Department had 12 hypnotists on staff. Hypnotic interviews helped the FBI solve kidnappings and poisoning cases alike, so Omni reported. In "Hypnosis: Science, Pseudoscience, and Nonsense," published by the American Psychological Association in 2018, the authors track contemporary acceptance of hypnosis to the root myths that supported it throughout its history, refuting the claim that a subject under hypnosis is truly in an altered state of consciousness. Testimony under hypnosis today is a controversial topic, as different jurisdictions require additional evidence and validations of witness consent. Hypnotism is not the leading method of witness discovery today that McColm all but predicted it would be in 1981.
November 1979: Interview with Parapsychologist Carl Sargent, by Dr. Christopher Evans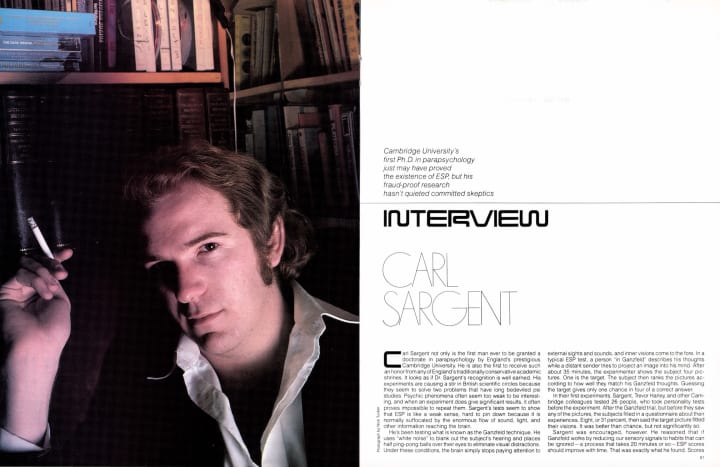 Carl Sargent's introduction is enough to make any Omni-reader pay attention, reading "Cambridge University's first Ph.D. in parapsychology just may have proved the existence of ESP, but his fraud-proof research hasn't quieted committed skeptics." Sargent is a controversial figure in the psychology field due to the very same reason the article touts him as significant - he performed parapsychology experiments under the tutelage of revered academic institutions, namely Cambridge. As British skeptic and Omni contributing editor Dr. Christopher Evans reports, Sargent implemented the "Ganzfeld technique" in his studies. The Ganzfeld experiment in parapsychology uses sensory deprivation to reveal extrasensory perception (ESP) or telepathic abilities in participants. It is easily confused with the "Ganzfeld effect" in psychology, the well documented phenomenon of the brain seeking perception under sensory deprivation, however this difference is not explained to Omni readers.
It was later revealed by Susan Blackmore during a visit to Sargent's lab that his experiments were rife with errors and fraud, as protocols that Sargent himself developed were not being followed. Blackmore is a fellow parapsychology Ph.D. who turned from belief to skepticism, and whose story would make for an engaging screenplay of its own.
A Scientific Thread
While Omni democratized science reporting, bringing discoveries to the general public, it also may have contributed to the thread of underdeveloped science literacy that we still see today. Readers were not given proper information to evaluate the brand new, and at times not yet validated, science reported within. This responsibility now lies with a new generation of journalists, scientistis, skeptics, and readers alike.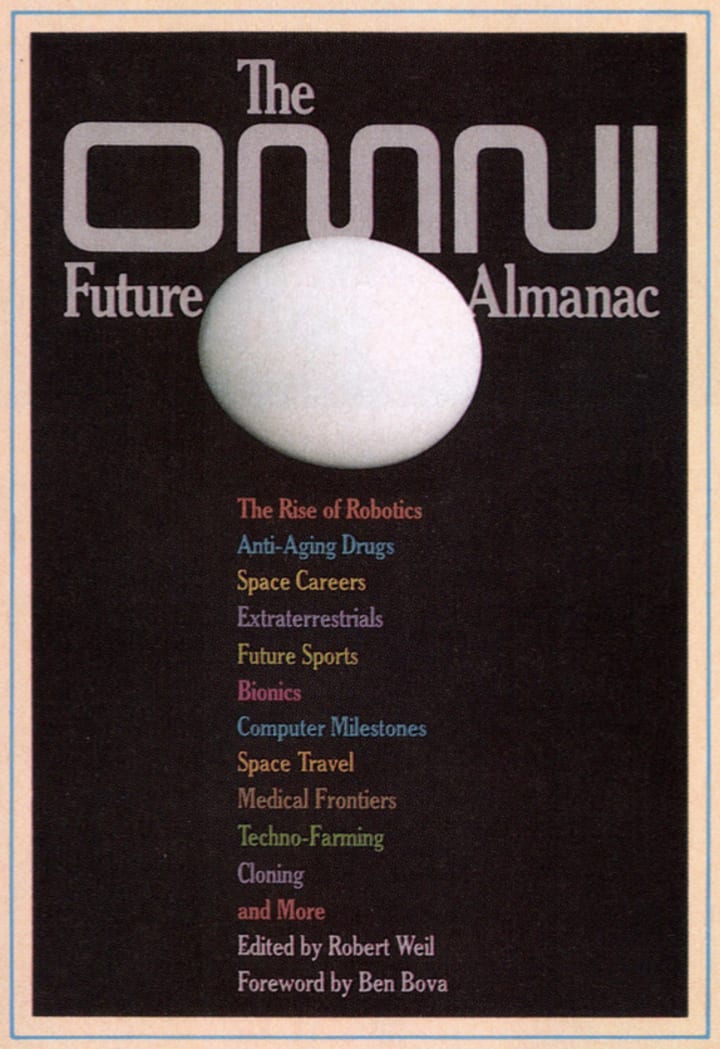 About the Creator
Exploring the most significant and hidden stories of the 20th century through iconic magazines and the titan of publishing behind them.
Check out our AI OG sandbox - https://vocal.media/authors/og-ai
Reader insights
Nice work
Very well written. Keep up the good work!
Top insights
Easy to read and follow

Well-structured & engaging content

Expert insights and opinions

Arguments were carefully researched and presented

On-point and relevant

Writing reflected the title & theme
Compelling and original writing

Creative use of language & vocab

Excellent storytelling

Original narrative & well developed characters

Eye opening

Niche topic & fresh perspectives
Add your insights