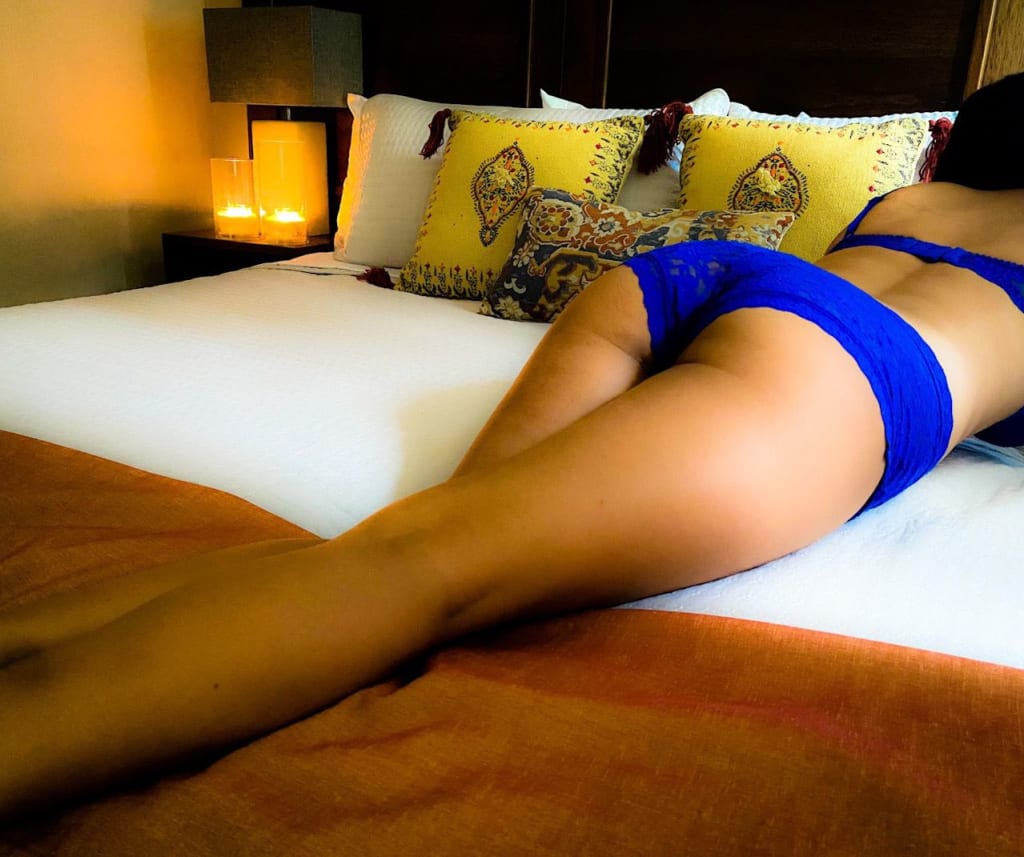 The young girl, I'm guessing in her early 20's, had great tits. She was short and soft, but her tits were full and perky. Her blonde hair was wet from the swimming pool, and she was completely naked except for the white towel loosely draped over her shoulder. It was my first time at a lifestyle club and venturing outside my home to have sex in 15 years. Before that, I blew guys in the car, had intercourse in fire exits, and had my pussy eaten in the open field of a park, but since then, getting caught for indecent exposure stopped being thrilling and became more pain in the ass.
I've never kissed a woman, either. I've always been attracted to their bodies, especially their breasts, but it never occured to me to pursue anyone. Only if I watched porn with a heterosexual couple would I get turned on more by the woman.
I was in a white teddy, sheer from my breasts down to my torso, showing off my large nipples and pretty belly button. I started chatting up this girl with the great tits while we were both in line at the bar to get our drinks. I swear, very innocently. I wanted to know if the pool temperature was warm, where it was, and all that. She was very friendly and helpful. Once we chatted a bit, we went on our separate ways.
I watched a dominatrix discipline a man, volunteered my date to fuck a woman with his big toe, sat on my partner, and rode him until he came. Then we went to the pool and enjoyed the warm water contrasting nicely with the cold snow falling on our heads. It was charming and so relaxing. Then I saw the girl again, all alone. Just the fact that she was alone attracted me to her because it said loud and clear to me that she was adventurous, sexually open, and comfortable in her skin. I asked her if she came alone, and she confirmed that she did. I told her it was my and my partner's first time at a lifestyle club. She asked me if I had ever kissed a woman before, and when I told her I had not, she was so surprised. I didn't know until that moment that I was the weird one for not having kissed a woman. I asked her if she'd do me a favour and kiss me, to which she enthusiastically agreed.
As soon as she grabbed me and kissed me, my first impression was that her lips were incredibly soft. I didn't realize there was a difference between men and women in this respect. Her lips were small, and so was her tongue. Her lips were more like what I'd expect of the inner linings of a pussy. The inside of her lips was so soft and felt wetter to me than any man I'd kissed.
While I was meeting her tongue with every stroke of mine, I still wasn't sure if I would be attracted to a woman or not. She had a nipple ring on each side, and her tiny, pink and hard nipples just begged to be licked and stroked by my tongue. Well, as soon as I fondled her breasts and began kissing her nipples, I knew I was done for. I looooooved licking and fondling her tits. I was so turned on I began to rub my pussy against her leg. She was so sweet, telling me I was sexy and that she wanted to eat my pussy. The girl asked me if I wanted to get a room, and I said I wanted to eat her pussy for the first time and that my partner would be watching. She was game.
We found a room with an empty space. There was an orgy in other rooms, and since this was my first time, I wanted a low-key area. I need to concentrate on my task. Otherwise, I might suck a dick in confusion.
She had a ring through her clit too. Her clit was small, pink, hard and seemed ready for me. Her pussy was gorgeous, with labia tucked in neatly. She was completely bare, so I didn't have to ask for directions when locating her clit. I licked her clit gently with the tip of my tongue, and she responded by moaning. When I brought my tongue down to her wet opening and pushed through it, she didn't seem as enthusiastic, so I resumed licking her clit.
I always wondered what it'd be like eating a pussy with an odour. Lucky for me, I guess, she had no smell. Maybe a little chlorine. But her cute pink pussy was perfect for my first time. After I licked for a while, I inserted two of my fingers into her which was dripping wet! Fuck. And she was so fucking tight. Now, I don't have a dick to penetrate her with, so it shouldn't matter to me, but I really liked the tightness of her pussy and how it gripped my fingers. I'm not sure why. I turned my hand palm up and pushed up on her G-spot gently. From my own personal experience, I knew that too much movement just distracted me from orgasm, so I kept my pace steady and slow. When I slid my fingers in and out, she didn't seem to like it that much, so I stuck with gentle upward movements.
When she was getting close, she told me she would come, so I slowed down my fingers and my licking. Then I wished I had a cock because I wanted to fuck her. I'm not sure where this longing came from, but I really wished and still wish I had a cock to fuck a woman with. It would be handy to have both a penis and a vagina. Anyways, her inner muscles gripped my fingers in steady waves. It lasted for several seconds, then just when I thought she was done, she started coming again. I still kept my slow pace and was cautious not to rush.
After the second orgasm, I pulled out my fingers and crawled over her. She pulled me down towards her and kissed me passionately. She said, "You are fucking amazing. You're so sexy." She seemed tired and limp from orgasm, so I said, "See you around," and left the room. I led my partner to an isolated room and let him fuck me from behind….first. He then turned me over and fucked me missionary. He came all over my tits, and I was pretty happy.
All in all, this was a great night and a great experience. I popped my cherry as the eater of a pussy, and I must say, I loved it. I foresee myself going back for more pussies and tits because, my god, they're fucking sweet. In the meantime, I hope to be fucked by my partner from behind while I'm eating a pussy. That would be hot. If another guy wants to join us and fuck her mouth, that'd be even better.
Update: What can I say? I'm an overachiever.
It happened. Read about two-guy-one-girl threesome on a tropical island. Yes please.
https://vocal.media/filthy/tropical-island-threesome
And about me eating pussy again while being fucked from behind.
https://vocal.media/filthy/a-birthday-threesome-with-my-mentor
Don't forget to subscribe for more sexy stories :)
About the Creator
Writer of erotic romance novels (Rogues Worth Saving Series). I lived in 4 countries, moved over 40 times, travelled to over 20 countries, owned successful businesses, & had hot sex on 5 continents. I have shit to say.
www.mihwawrites.com
Reader insights
Be the first to share your insights about this piece.
Add your insights