Tropical Island Threesome
How my dive trip turned into the best sex of my life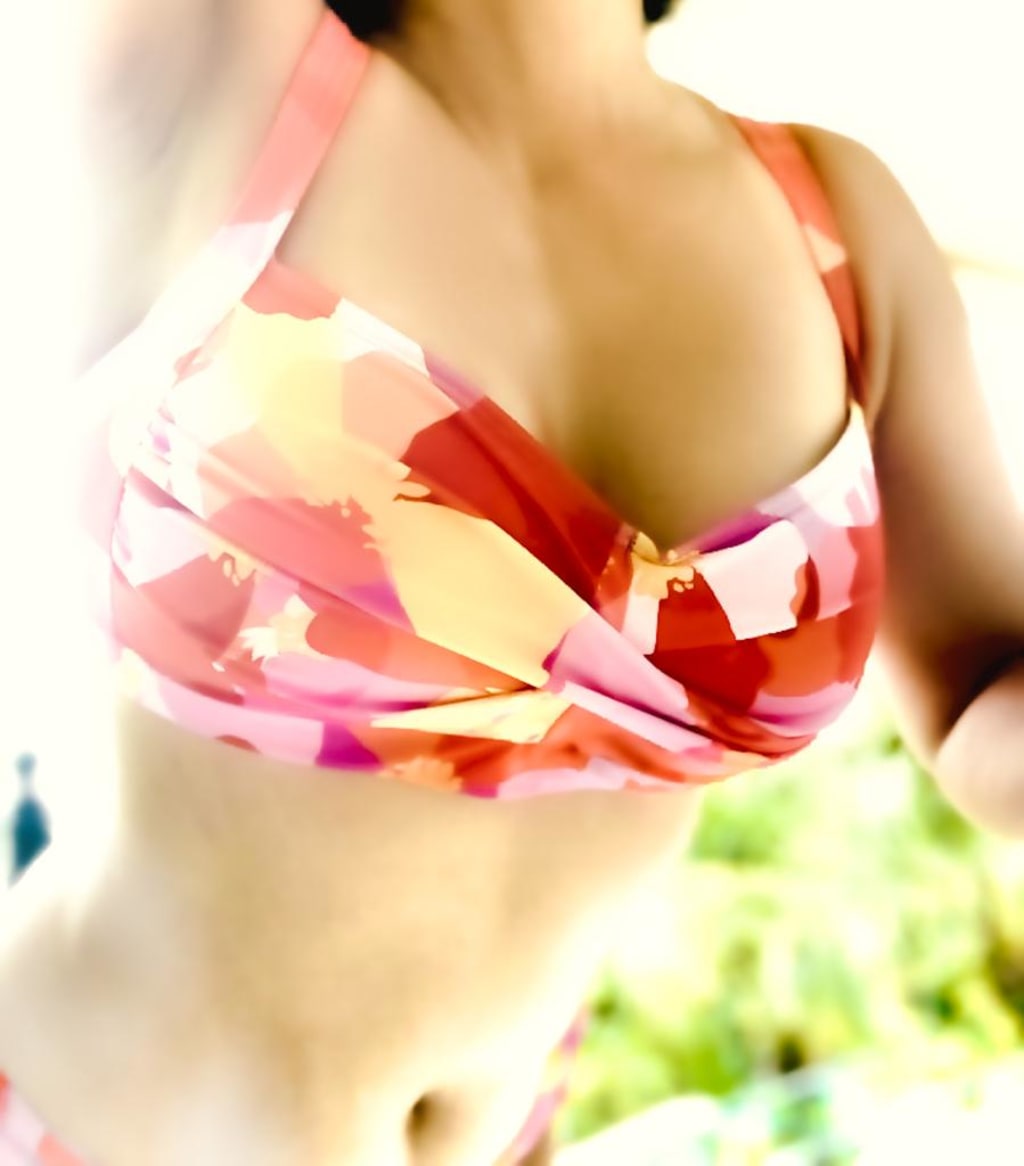 In 2019, just before the world transformed, I headed to Honduras for some much-needed R & R. I was dropped off in Utila, a small island off the coast of Honduras, by a boat dude that my driver encouraged me to go with. Whether he meant to throw me overboard or sell me to the highest bidder, I didn't know. Fortunately, he dropped me off in one piece and unbound.
I stood by the dock to wait for my ride from the lodge. I was confident they would be able to spot the only Asian in the vicinity, provided that they could get past the gigantic potholes big enough to swallow my petite body whole. I sat on my surfboard and waited, watching the motorbikes, cars, and hordes of people and animals walking past. Finally, a van full of bullet holes pulled up in front.
"You, Mihwa?"
"Yeah, you from the lodge?"
"Yup, hop on!"
The driver was a young surfer type with long sun-bleached hair and weathered skin. He was tall and beautifully sculpted. I got onto the back of the van gingerly, taking care to avoid the large holes on the floor. As we clunked onward, I hugged my legs to prevent a Flintstones-style ride. I remained tense and skeptical, but once we arrived at the lodge, it was everything it promised. The two-storey building was built to let fresh ocean breeze seep through every pore of the building. And hence, me.
The driver, John, was a South African who moved to Honduras five years ago. He worked as a customer service rep/cleaner/dive master at the lodge. He was friendly and easygoing. He told me that I was one of two guests for the week. Unfortunately, the highly rated club was no longer fully operational due to the owners' divorce.
John and I talked and got to know each other. It was slightly nerve-wracking to be alone in a large house with a stranger, but the ocean view, ocean breeze, and hammock made everything okay. He couldn't murder me when it's so beautiful here. Who could stay a psycho at a place like this? I talked to John while he cooked spaghetti and meat sauce for my dinner. It was intimate and romantic, yet I knew he was paid to be there.
I sat in the dining room with a panoramic ocean view. My heart grew wings and fluttered when my field of vision filled with endless blues. I tried to read, but my brain was full of questions such as will the other guest be a psycho? How do I feel about being alone with two men? And fuck, John is hot.
"Hey! Meet Mike from New York!"
I turned around and saw a guy with short dark hair and an intense gaze. He was shorter than John, stalky but solid. He had broad shoulders and muscular forearms. He marched instead of walking as if he was on a mission from the navy seals. I wondered how tightly wound he would be if he didn't surf. See? Psychos come here to surf, not kill.
Mike's intensity drew me to him, and I thought about him more than I thought about John. Something about intimidating men excited me. Maybe some of me wanted to be dominated, but the feminist part smacked the thought right out of my head.
For the next few days, the conditions were poor for surfing. The ocean surface was glassy and peaceful, so we decided to dive. John was a master diver, Mike was an experienced diver, and I only had a few dives under my belt. Perhaps I couldn't get my buoyancy right because I lacked experience, or I had faulty equipment. I kept floating above Mike, who, out of frustration, decided to hold my hand to keep me down with them. Despite the little hiccup, we had a fantastic first day. The next day, Mike offered his hand without being asked. My reliance on John and Mike hurt my pride but endeared them to me. Who knows what they thought of the girl they had to babysit, but whatever I lacked in diving skills, I made up by telling stories and helping out in the kitchen. By that, I mean making delicious Asian dishes.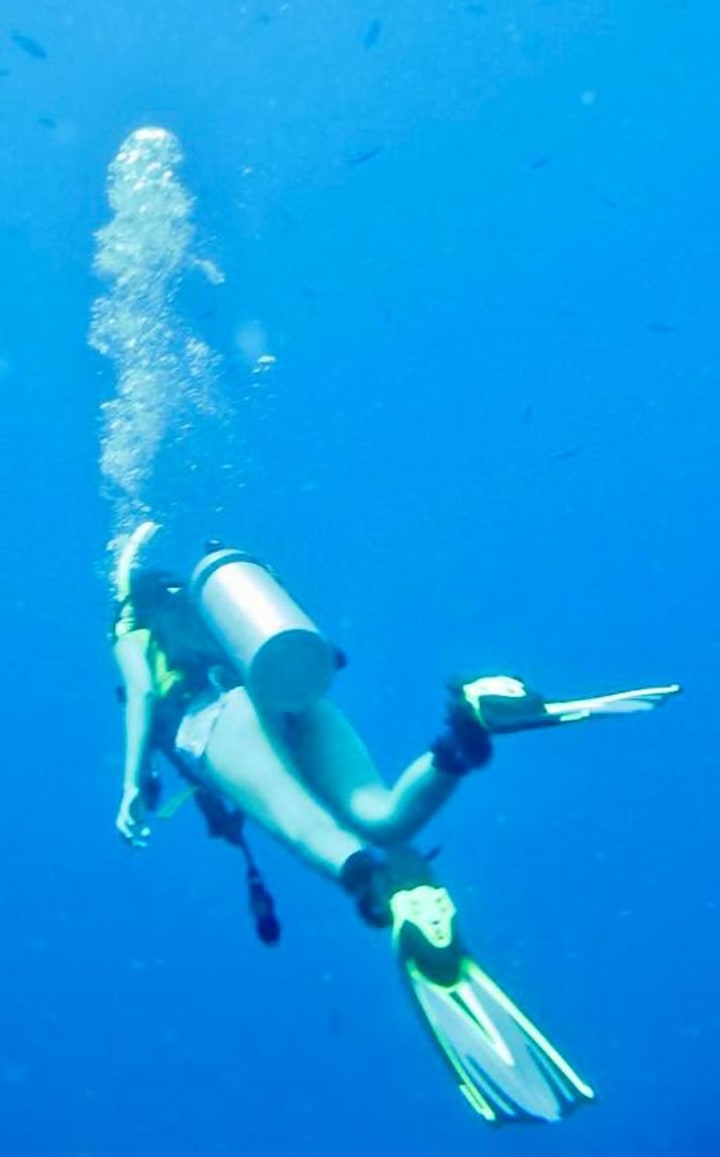 After the second dive on the third day, we all lay on the boat benches like sunbathing sea lions. After a while, I took shelter in the cabin to escape the sun. I stooped and rested my chin on the wheel with my butt sticking out. I saw Mike get up from the bench and lock eyes with me the entire time he walked into the cabin and stood behind me. He confidently rested his large hands on either side of my waist. I looked over my shoulder and looked at him. I gave him a questioning look and pressed my ass against his crotch. The hard ridge of his dick dug into my butt cheeks. He slid his hands over the side of my body, over my bikini top, then under my bikini bottom. Mike pulled me into him and pressed his engorged cock against the crack of my ass. Then he bent over to kiss my back slowly while sliding his hands under my bikini top to fondle my breasts. I chuckled when Mike pulled the bow loose from my back with his teeth. He teased my nipples with his fingers, continuing to sprinkle kisses on my back, except working his way down this time.
I ground my ass against his crotch and locked eyes with John, who was noticing the play. He sat up and watched for a bit, hesitant and looking like a third wheel. So, I smiled and gestured for him to join us. He made an "O" shape with his mouth and puffed out air, supposedly in shock. Then, he stood up, already with a massive erection. When John entered, I grabbed his neck and kissed him. Mike's hands were all over me, pulling my bikini bottom off and rendering me naked. He went on his knees and started to suck my pussy. He raised my foot on a ledge and got in deeper. I inserted my fingers into my pussy to lubricate my hand. I pulled John's board shorts down and grabbed his dick in my hand, wet with my juice. He groaned and kissed me while I pressed my cunt against Mike's face. After a while, I turned around, grabbed Mike's hand, and pulled him up. I maneuvered him so he would sit on a stool.
I leaned over and kissed him forcefully. We sucked, licked, and chased each other's tongues in a mad frenzy. Then I got down to business. His board shorts slid down effortlessly, and I held his firm shaft. I started by licking the tip softly. Mike tipped his head back and groaned.
I looked over at John, who was jerking himself off while watching us. I said, "finger fuck me, will you?" He did better. He went on his knees and sucked my cunt. He slid in and out of me with his long fingers while I blew Mike's dick. I inserted the tip in my mouth and drew circles around it with my tongue. Then I slid his cock deep into my throat until I couldn't push it in further.
"Oh, fuck," Mike groaned.
Then my mouth and hand glided up and down his shaft in perfect synchronicity. Every time I was close to the tip, I licked or flicked my tongue over the sensitive fold. I had trouble concentrating because John was hungrily eating me out. Finally, just when I was about to cum, I told John to fuck me with his cock. He enthusiastically obliged.
Soon, my mouth was full of Mike's engorged cock while my cunt was filled with John's massive dick. All the while, I had my fingers on my clit, rubbing it and feeling the pressure build deep inside. But I didn't want to cum just yet. I switched positions and sat on the stool with my back against the wall. This was way too hot for us not to swap. I told John to fuck my face and Mike my cunt. John stood over my face and thrust in and out of my mouth. Mike rammed into me, gripping my legs tightly around his hips, sometimes suspending me above the stool.
The room was filled with pants, groans, and moans. The smell of our sweat mingled with moist and salty sea air. Pressure built in my pussy, swelling my clit and labia. Then I released with a scream, coming so hard that I thought my heart might stop. I shuddered from the pleasure of it while John leaned against the wall and let the sensation jolt through him. He then shut his eyes, tightened all his muscles, and released with a deep thrust and a deep guttural sound. He covered my face with his cum. Mike's breathing became more rapid. He thrust into my cunt with increasing speed and then screamed. He sprayed his cum all over my pussy and tits.
We fucked each other's brains out for the next few days, switching roles and changing positions. It was fantastic, but I wished there was a girl I could fuck. I'm still waiting.
Update: I found her.
Read about me eating pussy again while being fucked from behind.
https://vocal.media/filthy/a-birthday-threesome-with-my-mentor
Don't forget to subscribe for more sexy stories :)
About the Creator
Writer of erotic romance novels ("Saving a Marquess"). I lived in 4 countries, moved over 40 times, travelled to over 20 countries, owned successful businesses, & had hot sex on 5 continents. I have shit to say.
IG:mihwawrites
FB: mihwa lee
Reader insights
Be the first to share your insights about this piece.
Add your insights