Kellin Quinn(KINKY SMUT)
You are talking to the guys about how sex with Kellin is getting kind of boring and he overhears and the next time you fuck he ties you up and shit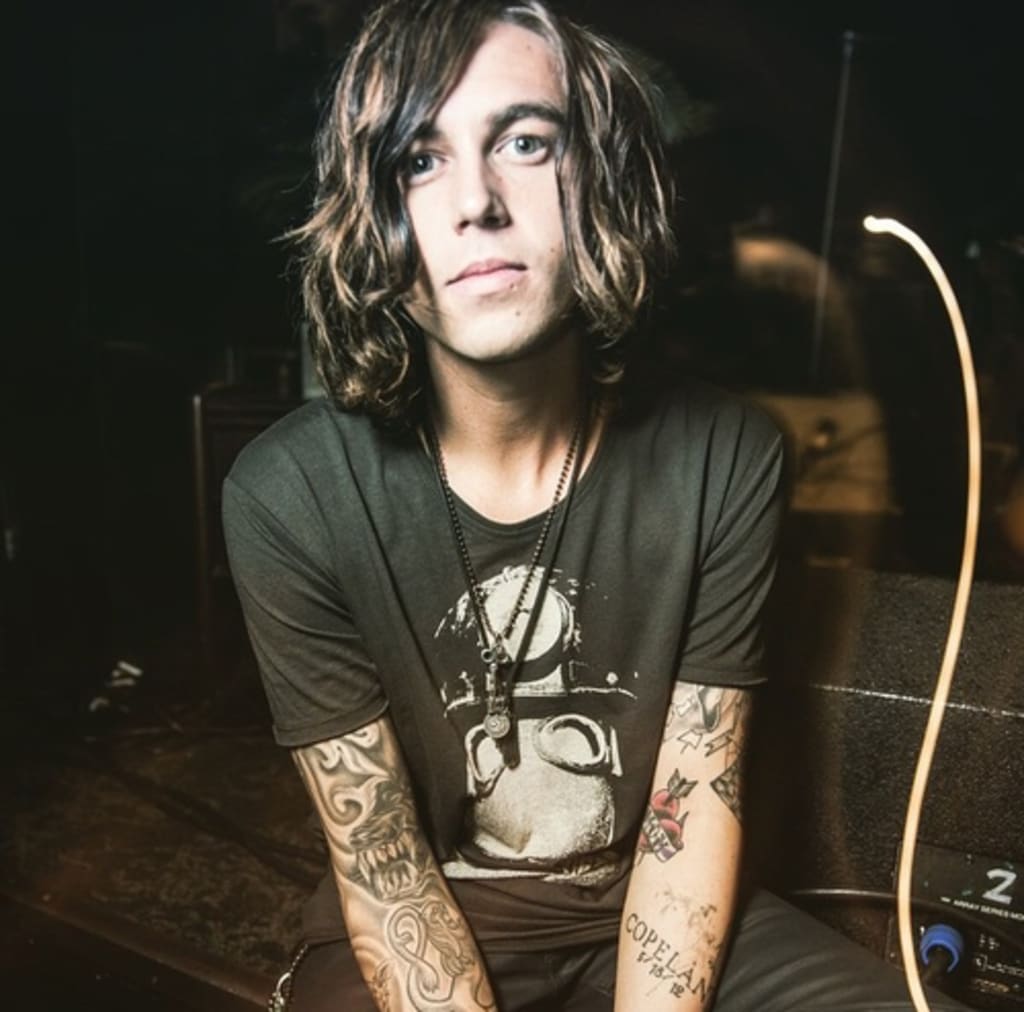 "I'm just gonna go shower real quick," Kellin tells me as he gets out of the bunk and pecks my cheek.
"Okay," I smile at him and watch him as he goes over to the shower. I decide to get up and go sit on the couch with Justin and Jack because they are the only ones on the bus, the others left to go get everyone food. I sit on the couch between them.
"Hey y/n," they smile at me and I smile back. I have been wanting to talk to someone about Kellin.
"Hey, can I ask you guys something?" I say to them as I bite on my lip slightly.
"Sure," Jack smile and Justin just looks at me.
"Okay so I love Kellin so much like he's my everything and we fuck a lot and it's great don't get me wrong but it's like the same thing every time...." I tell them and Justin just starts laughing. I look at Jack and he is holding in his laughter. I gently hit Justin's chest. "Guys stop it's not supposed to be funny, just forget it" I start to get up but they pull me down.
"No, stay," Jack tells me and I sit back down. "So like you're bored of having sex with Kellin because he's a boring fuck," Jack smiles and Justin is just laughing and I face away from him.
"No he's not boring it's just it's the same every time and I want to try something new but what if he ya know..." I explain
"What's the worst that happens he says no," Jack tells me and I shrug because I don't wanna upsets Kellin or anything.
"So like what do you want him to do to you," Justin wiggles his eyebrows, "Do you want him to spank you so you can call him daddy, or handcuffs, OOH TOYS!" Justin laughs and smirks.
"Shut up Justinnnnnn," I complain and Jack smiles at us fighting.
"What, I'm just saying that's hot just remember if Kellin won't do that with you I will," Justin smirks and I roll my eyes and kick his leg. "OW!" Justin complains like a little bitch but we ignore him.
"Just talk to Kellin okay it's going to be fine," Jack reassures.
"Okay thanks, Jack" I smile at him and glared at Justin. I hear footsteps behind me and turn around to see Kellin.
"Hey babe come with me to go get food," he smiles and kisses my head and I nod. We go out and grab food and talk and I don't bring up the sex thing because I don't want to ruin the moment. "Ready?" he asks smiling getting up from the pizza place and I nod and we go back to the bus. As soon as we get back to the bus Kellin kisses me hard before we get out of the car.
"Mmh" I moan as my body weakens into the kiss. I feel him smirk against my lips causing me to blush.
"You're so hot baby," he continues to keep his smirk pressed against my lips. I am all red and before I can say anything he gets out of the car we are renting. I watch as he walks over to my door and opens it. Without saying a word he takes my hand and brings me all the way to the bunks and pushes me in. I am still blushing and all ahh. He connects our lips and lays me down on the bunk hovering over me.
"Mmh" I can't help but moan softly into the kiss. I already can feel myself getting wetter just by the thought of what he will do to me, he has never been like this. I feel his hands graze all over my body but stop at my ass and squeeze it hard causing me to buck my hips into his body. Without warning, he moves away and takes off his clothes.
"Strip," he commands me and I do so without hesitating. I blush as I watch him take out handcuffs and a vibrator. I stare at him as he comes back to me. "Put your arms over your head," he directs and I do it and watch as he cuffs them together and to the bar above the bunk. I am so turned on by him and involuntarily buck my hips at him.
"Please touch me Kellin," I whimper pulling at the handcuffs and he smirks at me getting closer.
"If you want me to make you feel good babygirl you have to beg," he teases while running his finger across my soaking wet slit, "Y/n you're so wet for me already," he smirks.
"Please Kellin I want your massive throbbing cock inside my wet, tight pussy," I blush and watch how he turns on the vibrator and presses it onto my clit. "Mmh," I moan softly.
"You like that don't you, you dirty slut," Kellin says and smacks my ass hard causing me to whimper. I would never have been able to imagine Kellin being like this. "Tell me how bad you want me," he says harshly.
"Please Kellin I want you so bad, I want your giant cock pounding into me," I moan and watch him as he moves closer to me and shoves two fingers into me causing me to buck my hips. "Ugh fuck," I moan and he highers the setting on the vibrator and adds a third finger in going faster and harder. I can feel myself already getting ready to cum.
"You're such a dirty whore for me," Kellin smirks while smacking my ass and I moan and cum all over his fingers. He turns off the vibrator and pulls his fingers out licking two clean. He puts the third finger in front of my face, "Lick it clean," he demands, "I want you to know how good you taste," he smirks and I do as told blushing the whole time. I am panting and without warning Kellin slams into me.
"Oh fuck!" I moan out and he slaps my ass hard going faster.
"I want you to scream my name baby so everyone knows who makes you feel so good," he says and I blush. He pounds into me harder and smacks my ass again harsher this time. "Say my name!" he commands.
"OOH FUCK KELLIN!" I moan as he pounds into me faster and faster. I buck my hips and he pushes them down. I tug at the handcuffs that are restricting me from gripping the sheets.
"You're so hot when you moan my name," he says going faster and I am getting closer to cumming again.
"Mmh Kellin I'm close," I moan out as he brings his hand to rub my clit.
He slaps my ass very hard that it stings for a while after, "Hold it," he commands while rubbing my clit harsher. After he thrusts into me a few more times I feel his pace getting slower and sloppier.
"Cum in me Daddy I want to feel your giant cock twitch inside me," I moan and he smirks down at me and slams into me hard again, before cumming inside me. I buck my hips and cum on his dick. We are quiet for a few moments, both of us are just trying to catch our breaths.
"That was fucking hot," Kellin says catching his breath and I nod while I am blushing and also trying to catch my breath.
"Can you uncuff me now?" I ask him and he nods and takes them off. My wrists are red from the handcuffs and Kellin takes them in his hand and rubs them. "I love you but what got into you? I never could think you would want to do this," I say and he lays down pulling me into his chest.
"I heard you talking to the guys," he says while playing with my hair.
"Oh, I'm sorry I didn't know I-" I start to say but he cuts me off with a kiss.
"It's okay, baby because I never knew you were into such kinky shit," he says causing me to blush and hide my face into his chest. I love how he can go from so hot and dominant to cuddling me. I snuggle into his chest.
"I love you so much," I say into his chest and kiss it.
"I love you too y/n," he tells me kissing my head as I fall asleep.