Best Sex Toys for Lesbian Couples
Are you a girl who likes girls, but doesn't know where to begin when it comes to sex toys? You're not alone. That's why we've made a list of the best sex toys for lesbian couples.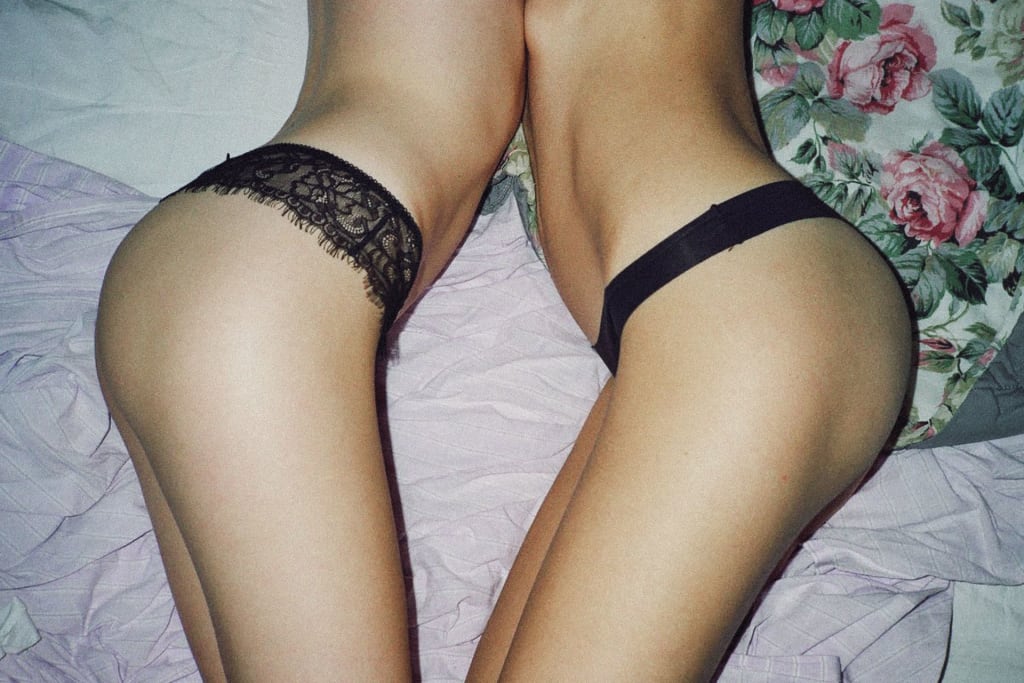 Being a lesbian can make it hard to shop for sex toys — to a point. There are a lot of options that you can choose, but not many of them are actually worth the price you'd pay. Worse, some of them are not even as lesbian-friendly as you'd hope them to be.
To make shopping easier for you and your lover, we made a list of the best sex toys for lesbian couples.
Liberator is a sex toy company that makes specialty pillows that make it easy for your favorite pillow princess to get more pleasure than ever before. The Heart Wedge tilts her pelvis up in the air, which in turn makes it easier to give hours of oral and also makes penetration easier than ever.
Oh, and finding the G-spot also becomes a breeze with this — as does trying new sex positions, and even finding new ways to enjoy threesomes. Optimizing your orgasms has never been so easy, no matter what you're into.
Because it's so versatile, it's one of the best sex toys for lesbian couples and hetero couples alike.
Bullet vibrators are some of the best sex toys for lesbian couples because of the sheer versatility they offer. You can use them to tease labias, add them to vibrating underwear to make your girl's clit go wild, or even put them in a cock ring on a dildo without issue. The more you use them, the more uses you'll come up with for them.
The Callie Bullet Vibe is exceptionally elegant and discreet, but has a powerful motor. As such, we're voting this particular bullet as a must-have sex toy for lesbian couples.
Most boys already know that it's hard to really feel very masculine while you're penetrating a girl when you're wearing a corseted harness or something similar. Tomboii takes care of the issue by creating a boxer brief harness that offers secure holding power and a lot of masculine style along with it.
You can strap high or low, and these washable briefs also work well with almost any dildo or vibrator you could imagine. Considering the style of this product, it's easy to see why we're voting it as one of the best sex toys for lesbians.
Lesbians like anal play, too! The BumBum Vibrating Plug is a great choice for girls, guys, and non-binaries alike. This easy-to-clean vibrating butt plug is made from premium silicone and boasts a tapered tip that helps send sensual vibes throughout your booty.
We're choosing this plug as one of the best sex toys for lesbian couples because it's high quality, capable of satisfying a partner, is easy-to-use, and durable. It's also a good tool to prep for anal sex. What's not to love?
This tiny little vibe is a modified bullet that's made to fit in the curves of your labia, and works to tease and please your clitoris. If you love clitoral stimulation, then this is also one of the best vibrators out there for you to buy.
Its unique shape also makes it a great teaser for vaginal pleasure, and that in turn makes it a great little tool for self-pleasure and couples' play. That, in turn, makes it one of the best sex toys for lesbian couples.
FunFactory makes a lot of great sex toys, but by far, the best sex toys for lesbian couples are the Sharevibe dildos. Sharevibe is a double dildo that allows you to penetrate your partner without all the messy straps. All you have to do is put the dildo in you, then use the longer end on your girlfriend.
It's specifically made for lesbian couples, and the wearer's end also is designed to hit your G-spot perfectly. It also is a very strong vibrator that can be used solo. So, you get double the pleasure — all with one dildo.
If you're not into having to wear underwear while you're making love, then strapless strap-on vibrators are your best option. This works just like the Sharevibe, and also has a similarly powerful vibrator in it.
However, many girls might find that they really prefer this one once they end up feeling the ridges of the dildo's front teasing their clitoris.
A lot of the best sex toys for lesbian couples are also classics. Strap-on dildo harnesses are popular because they work and they keep the dildo in place while you're penetrating your girl. Leather strap-ons are classic because they have that sexy BDSM vibe to them, too.
Considering how much of a push there's been for strapless strap-ons, we also want to point out that leather strap-ons might be one of the most underrated sex toys on the market.
Strict Leather is known for making very durable, high quality harnesses that are fully adjustable. This particular harness also can work with almost any dildo out there. So, it's highly recommended for girls who like wearing leather to bed.
This bullet is cute as a button, and also happens to be one of the most easy-to-clean bullet vibes we've seen. However, that's not why we're putting it on this list. The reason why we're loving it is because it's remote controlled, which means that there's a lot more possibilities out there.
A strong motor and a remote control means that you can definitely spice up kink by adding a little secret exhibitionism in your repertoire. However, if you just want a regular bullet vibe, it also can fit the bill, too.
The Hitachi Magic Wand is one of the most famous sex toys of all time, thanks to it having one of the most powerful motors ever included in a sex toy. If regular vibrators don't cut it for you, then the Magic Wand will.
Additionally, there are add-ons that allow you to turn the Magic Wand into a fully-functional vibrator as well as a bondage toy. Overall, it's one of the best sex toys for lesbian couples and single ladies who want a guaranteed orgasm, every single time.