Underrated Sex Toys for Couples
Looking to add a little something extra to your special night with your boo? Check out these underrated sex toys for couples to see what could spice up your night.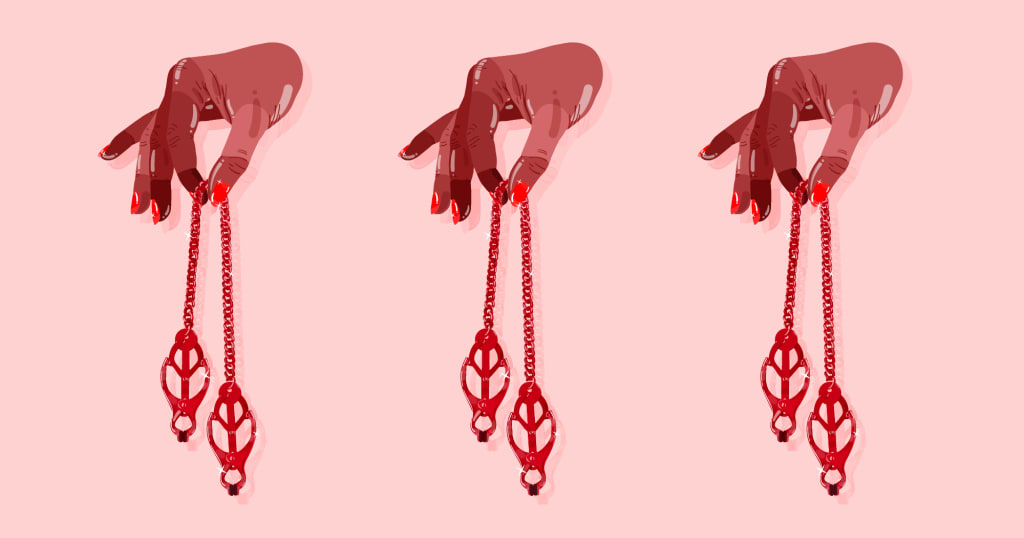 Illustrated by Anna Sudit
In case you didn't know, the sex toy industry is estimated to be worth around $15 billion dollars. Yeah, billion. And the money actually comes mostly from married couples looking to add to their sex life. People of all genders, sizes, colors, and sexual orientations can benefit from adding an adult toy into their routine. But everyone thinks about the standards when they think sex toys: regular vibrators, handcuffs, and anal beads. But there's a lot more out there. Check out the list below to see the most underrated sex toys for couples.
Nipple clamps have been gaining popularity in the recent years in the mainstream sex scene. They're one of the cheaper adult toys out there, making them accessible to all interested in some BDSM-light play. A quick tug while these are attached to your partner will send waves of pleasure throughout. If you get clamps that are tied together with a chain, you're free to use one hand to stimulate both nipples at the same time while using the other hand to do with what you please.
I can hear you thinking, "Wait, why would I want to lock this up??" and I hear you. But think about this. What's more satisfying: hooking up with someone that you've been flirting with forever and nearly dying from sexual tension, or just routine sex? Yeah, the first one. The concept applies here. That's what makes this one of the most extremely underrated sex toys for couples. The man wearing this toy, after a while, will be begging to be set free, and it'll be all the more satisfying when he is.
Now, the first thing you probably think of when you think of Ben Wa Balls would be kegels. And you're right to think so—they are great for those! But they can also be extremely pleasurable. Try heating them up a little or getting them cool and see how that can really stimulate you. How does this incorporate into partner play? Leave them in during sex. The balls will move around your vaginal walls and reach places you never even knew needed reaching. Both you and your partner should enjoy the strange but pleasurable feeling. If you get some that are on a string, your partner can use it to control pleasuring you.
Vibrators are overrated, but suction stimulators are one of the most underrated sex toys for couples. It will feel like oral sex and can almost guarantee an orgasm. And it's not just for the clit—nipples and penises can feel the love too from this diverse toy. A light air suction combined with pulsing pressure waves is sure to add something new and fun to your special night.
Are you a screamer? Get a ball gag. Previously reserved for those deep into the BDSM scene, the ball gag has been gaining popularity for its sound-muffling qualities. Plus, combined with handcuffs and a blindfold, it can be super hot (if you're into that). Just be careful; you can't say your safe word if your mouth is restrained like this! Talk to your partner beforehand about another way to express your safe word before partaking in some late night fun with this toy. Always remember that having a safe word, especially in roleplay and BDSM, is extremely important for couples who want to have a great sex life.
Less of a toy and more apparel, that doesn't stop crotchless panties from making the list of most underrated sex toys for couples. What you want to do with these is not tell your partner that you're wearing them. See how long it takes them to notice—then, when they do, they'll be quite surprised and more than just excited.
We've discussed Ben Wa balls, but if those are a little too weird for you, another internal toy might suit you better. These toys are meant to be inserted into the vagina but leave space for a penis or fingers to enter. These are often especially helpful for women who have trouble orgasming from penetrative sex alone. These toys are nicely curved, and for the most part, you won't have to worry about them slipping out. If you do encounter some slipping, just take it a bit slower. Too fast might be too intense for your partner anyway! These can also be one of the best sex toys for LDRs, as some of them come with an app that you or your partner can control remotely.
Not only is this toy one of the cutest out there, but it's super pleasurable for both the man and the woman. Everyone will love how this feels. This can be used just to tease, in foreplay, or during intercourse. It's almost more fun to let the tension build up with this toy during foreplay, making both people extra wound up and ready to go.
Couples of every combination can enjoy a good double dildo. Two women, two men, a man and a woman, and everything in between can find a use for one of the most underrated sex toys for couples. Make sure you get one that's extra flexible so that it bends to your needs. Get creative with this piece and make sure you use plenty of lube.
Hopefully, this list of the most underrated sex toys for couples has given you some ideas on how to spice up your sex life. Many of these make for a fun, sexy gift as well so consider buying one as a present for your bae. But most importantly, have fun and be safe!
About the Creator
Grew up in Tel Aviv, Israel. Good looking and kinky. Loves the beach and romance novels.
Reader insights
Be the first to share your insights about this piece.
Add your insights