Best Sex Toys for LDRs
These hi-tech sex toys help couples in long distance relationships keep the spark alive.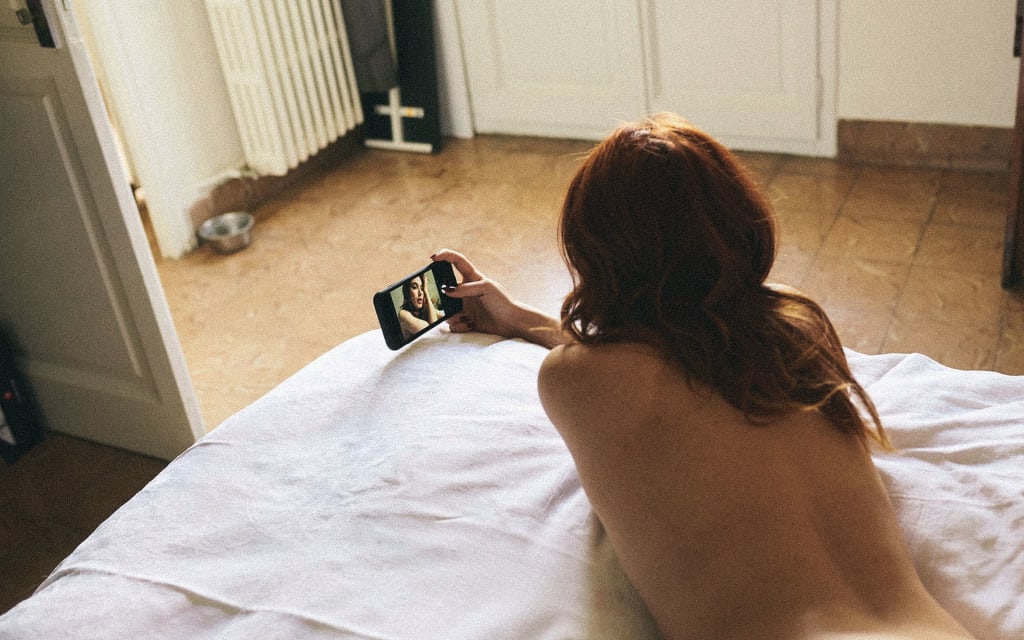 Long distance relationships, also known as LDRs, are difficult. It's rough, because you often can't feel their embrace and even keeping intimacy alive can be difficult. Assuming you can't handle the high prices associated with commuting to your lover every weekend or so, you will need to find a way to make your sex life work.
The sex toy industry is booming, and that means that there are a number of excellent toys on the market that are perfectly designed for lovers kept apart by distance. Sexperts have looked through all the sex toys currently on the market, and they're now claiming that the following items are the best sex toys for LDRs.
Fleshlight has long been the mainstay when it comes to sex toys that offer realistic sensations for men. Japanese teledildonic sex toy maker Kiirroo has decided to team up with them to create a couples' toy set that's specially designed to help people have fun with one another during periods where they may be far apart from one another.
This sex toy set allows you and your lover to feel each other's sensations using touch-sensitive technology. The Launch, which is Fleshlight-compatible, automatically strokes the man's member and can be controlled with Bluetooth technology. The Fuse can be controlled via Bluetooth or can be made to respond to commands via an app.
This set is ideal for couples who want a lot of options and realism in their long-distance play.
You may have already heard about Clone-A-Willy, the company that makes silicone replicas of men's ding-dongs. Their silicone casting sets are ideal for ladies who are really big fans of their man's members. Now, guys get to enjoy the fun, too, with a silicone casting kit of their female lover's parts.
If your man can't help but feel some type of way about your pussy, then you'll understand why this is one of the best sex toys for LDRs. It's easy to use, easy to ship, and also is safe on delicate skin.
Most people already know LELO as one of the top brands for luxury sex toys. After all, their toys were so upscale and well-built, they even made an appearance in 50 Shades of Grey. What most people don't know is that they have a sister company—the funky-cool sex toy line known as Picobong.
Picobong's adorable Remoji Diver Egg Vibe has Bluetooth technology that allows your partner to control the vibrations the egg makes using their phone. Up to six powerful vibration methods are offered, and plenty of different modes means that you can expect serious fun with Remoji, no matter where your partner is.
We-Vibe's entire shtick is making the best sex toys for LDRs, and their Gala line is a great example of how well they make it happen. This Bluetooth-enabled toy can be placed in a variety of different places, and can be controlled via the We-Connect app.
Those tiny "ears" are perfect for targeting sweet spots and letting your partner take control, even when they're away on business. As an added bonus, it's latex-free and waterproof. If you have sensitive skin and want to experiment with a little bathtub fun, Gala by We-Vibe is a great choice.
Miss the touch of your partner? VIBEASE created one of the best hands-free sex toys for LDRs using bluetooth technology and an easy-to-use phone app. This vibrator allows you to position it in a number of ways and is controlled by an app you download to your phone.
For folks missing the gentle touch of their partners, VIBEASE's Smart Vibrator gives them the next best thing. With this tech, your lover in Dubai can use the app to control what your toy makes you feel while you're in New York City. Needless to say, VIBEASE's powerful motor really goes the distance in more ways than one.
If you already have a Fleshlight to help stave off those urges to stray while you're away, you might like this cool accessory. The Launchpad is a special attachment that snaps onto your favorite Fleshlight and lets you keep your tablet right on top of your Fleshlight throughout your playtime.
This allows users to enjoy steamy Skype sessions with their long-distance lovers, or lets them add a new level of realism to POV adult film enjoyment. Few sex toys can offer you that amount of interaction or that number of options, and you have to respect that.
The Lush Bluetooth Egg Vibrator has claimed a number of awards, including several nominations for being one of the best sex toys for LDRs currently on the market. Why?
Well, it's because this gender-neutral sex toy that has incredibly strong Bluetooth connectivity and a shockingly powerful vibrating motor. It's small, app-controlled, and gives your partner all the power to please and tease.
Best of all, since it's such a small sized vibrator, you can wear it outside for extra kinky fun.
This is a special app-controlled vibrator that allows you and your partner to control what happens with the vibrator. The way this product works is simple: the woman puts the adjustable vibrator inside her.
Her partner then uses the app (or the handheld device) to change its intensity and speed. The app is easy to use, and also happens to be compatible with iOS and Android systems.
Because it's literally designed for couples and aimed at helping them achieve great sex lives while in long distance relationships, the We-Vibe Sync is an obvious top pick on any list of the best sex toys for LDRs.
Lovense, the creator of the Hush, is a well-known leader in the field of teledildonics — the industry of making sex toys that work over long distances. Needless to say, you can expect some pretty impressive work on almost everything they make that's geared towards long distance relationships.
This butt plug is wired to an app that allows you to control the plug's vibrations. Oh, and it's also the first butt plug to use teledildonic technology in it. So, if you want to have a lot of pleasure from afar, and you want it to be in the form of butt stuff, Hush is a great choice.
The Hush comes in two different sizes, the larger being 1.75 inches and the smaller one being 1.5 inches.
While We-Vibe tends to be much more female-centric than many of the other toys on this list, this sex toy set from Lovense will allow you to feel your partner, even when they aren't anywhere nearby.
Much like with many of the best sex toys for LDRs, this involves using a Bluetooth connection and a mobile app to allow you to feel one another from any place in the world.
The male portion of the set, "Max," has realistic skin and is amazingly easy to clean. Meanwhile, the "Nora" part of the ensemble is waterproof, has a rotating head, and seriously powerful motors.
Sometimes, all you really need to maintain a long distance relationship is a good ol' fashioned vibrator with a twist. The Cuddle Vibrator from OhMiBod has a great motor, a classic shape, as well as a lot of different adjustable setting for you both to play with.
This particular vibrator also comes with an app that allows your partner to remotely control what the toy does to you. The app itself is pretty impressive, since it allows you to speed up the vibrator's motor by just tilting your phone one way then another.
Sure, it's not necessarily the most futuristic-looking toy on this list, but we'd be lying if we didn't say it's one of the best sex toys for LDRs.
LELO has always lead the sex toy industry with cutting edge technology and sleek, almost artistic-looking designs. This small set of Ben-Wa balls offer strong vibrations, remote control, and a ton of different ways you can use them.
The only real downfall to the Hula Lovebeads is that they aren't Bluetooth-enabled. So, if you're looking for serious distance, this may not be one of the best sex toys for LDRs on this list.
sex toys
erotic
list
sexual wellness
Rowan Marley is a 20-year-old sports enthusiast who hails from Brooklyn. When he's not hitting up a local Zumba class, he's drinking organic smoothies. That's just how he rolls.