Best Couples Sex Toys
Couples sex toys are meant to be used with a partner to increase both of your pleasure.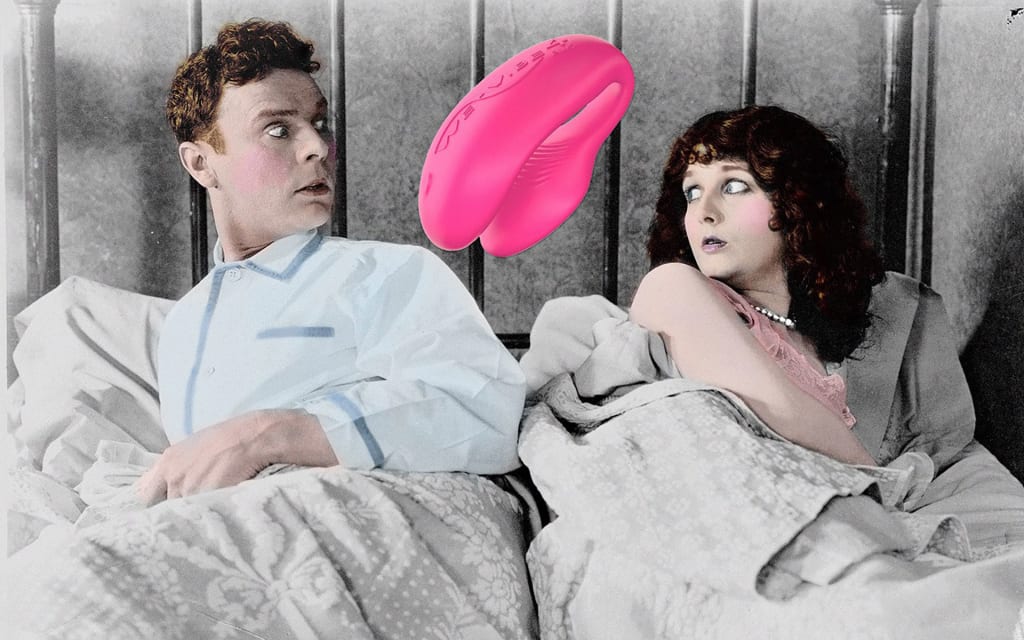 Let's face it—sex is great when you share it with the one you love. Intimacy is a wonderful thing, but routine sex can get boring. People of all genders and sexual orientations use sex toys to bring excitement into their relationships. In fact, couples sex toys can save romance gone cold. Adult toys were once seen as a taboo, but today they are bringing couples closer than ever. Sex toys can lead to a healthy and fruitful sex life. The orgasms brought on by such devices will leave you both feeling satisfied.
But which are the best couples sex toys? To make shopping for sex toys more enjoyable, couples should do this together. Use this time as a bonding experience. To help those lost in the universe of sex, here are the most sought after toys for couples. Happy hunting!
Eva, made by Dame, is a little hands-free device that is a must-have toy for every couple. Eva is waterproof, meaning it can be used in the tub or shower for extra pleasure. Equipped with wings, this little buddy will stay in place as it makes direct contact with her clit during sex. It is made of medical-grade silicone, so you won't have to worry about an allergic reaction. There is no need to keep a drawer full of batteries, because this vibrator is rechargeable. Just plug it in, charge, and you're ready to go for another round of intense orgasms!
One of LELO's greatest inventions is the Lyla 2. This is a bullet that has the stamina of a wild mustang. Its soft and durable material makes this vibrator a definite choice for one of the best couples sex toys. One of the best features is that Lyla 2 can change speeds according to body movement. The discreet buzzer is also great for water play. It can't be submerged in water for long periods of time, but you won't have to wait long for pleasure with this toy. It makes a great gift for her—or it's something that can be shared.
For those couples that are constantly seeking eco-friendly options, then the Life by Leaf vibrator is for you. It's a sleek, environmentally-friendly toy that is quiet and fun to use. It comes in the shape of a cute pocket-sized green leaf, complete with a carrying pouch to keep it concealed for easy travel. It is water resistant, rechargeable, and phthalate-free, making it a great option for every couple. This ever-ready vibrator has significant speed options (made possible by PowerBullet) that will leave you in awe. This couples sex toy can be used in all positions for extended pleasure.
If you are looking for an adult sex toy to bring you and your partner closer together, then look no further. ODEN 2 by LELO is a priceless gem that is in a league all its own when it comes to couples sex toys. ODEN 2 comes with an interchangeable base for variety and extended pleasure for both its wearer and the partner. Its smooth design provides the comfort and luxury that couples want and love. Equipped with a wireless remote, ODEN 2 offers various speeds to intensify any fun! This will give both partners the sensation that they have been chasing.
For those that want a more futuristic approach to the adult toy game, the Jimmyjane Hello Touch is a great toy for you and your significant other. This vibrating genius is great for those couples that want to use their hands more freely. All you have to do is secure the wrist pouch and place the finger pods onto the tips of your fingers. From there, you can use any of the 10 speed levels and six pulsation modes for an all over body sensation. For the ladies, use Hello Touch X on her nipples or clit for an intense round of foreplay. And for the fellas, find out his hidden pleasure spots and drive him crazy with the touch of a finger. USB chargeable, it allows for up to three hours of fun on a single charge.
Named "the couples vibrator," IDA by LELO is a wireless treat. Made to be worn by a woman during sex, this vibrator is remote controlled for optimal sensation. Its elegant design is equipped for easy fitting and has a multi-speed control. Available in three erotic colors, this adult toy is sure to mesmerize your lover. One of the unique functions of this sex toy is the remote can be tilted rather than pressing buttons to increase or decrease the vibration speed. This toy is great for women who enjoy clitoral stimulation while having sex, but want a hands free option.
If ecstasy is what you thrill-seeking couples are looking for, then this toy is just right for you. TIANI 3 by LELO is a hands free device that stays put and can be used for foreplay or during sex. Worn comfortably by the woman, TIANI is a powerful couples massager that offers both internal and external pleasure, so you and your partner can have an even more electrifying time. Men, you can take total control of your woman's orgasm strictly by using the remote control as you send her into ecstasy, or you can enjoy this couples sex toy in unison.
Touch by We-Vibe is both stylish and powerful. This wireless vibrator is USB chargeable and offers eight different speeds for intense pleasure for at least an hour. You can take sex into the bathtub for even more fun, as it is 100 percent waterproof. It's silky, medical grade silicone texture adds to the intensification of the orgasm that this toy is guaranteed to produce. Either person can apply this toy to the clit during intercourse or foreplay to increase pleasure. The round, sculpted design allows it to easily be handheld as things get steamy.
This is a different kind of vibrator that the men can really appreciate. With its luxury and sophisticated styling, this PINO by LELO is a cock ring that men and women can both enjoy. This durable vibrating penis ring will give you the sensation that you both have been missing. Men will enjoy the vibrating that travels throughout the ring around the penis, while the ladies love the clitoral stimulation that they will get with each thrust. PINO is a great way for both people to truly enjoy one toy, and one another.
The HULA Beads by LELO are unique in that they can be used virtually anywhere, if the couple is adventurous enough! The first of its kind, the rotating, vibrating beads are something that everyone should try. Controlled by a wireless remote, this couples sex toy can be used discreetly at dinner, the movies, or even just a lazy Saturday night on the couch. Men, instigate your woman's orgasm at a moment's notice, no matter where you are! HULA beads come in three colors: teal, purple, and black. Made to be comfortable and stimulating, they sit effortlessly inside of the woman. Additionally, HULA beads can be used to during kegel exercises, which can help to strengthen the pelvic floor; the gift that keeps on giving. Small enough for travel, this couples sex toy can be used on the go for some sexy fun at a moment's notice!
Between the rings, vibrators, and other toys on the market, there are plenty of options to entice even the most bashful couple. Have fun and enjoy your new additions to your sexual routine.