Sex Ed
Best Sex Positions for Curvy Women
Want to know the best sex positions in all the right curves? Check out some of the hottest sex positions for curvy women and give any of them a test run!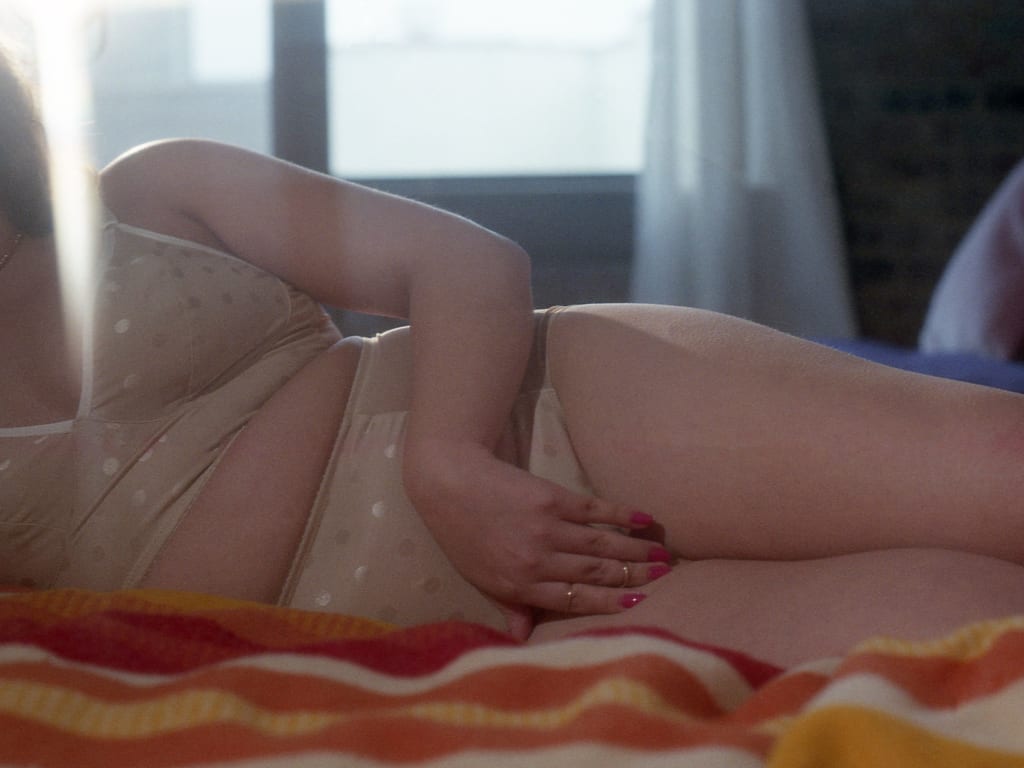 Almost everyone can enjoy sex, no matter your height or weight. What makes intercourse a steamier experience is figuring out which positions are best for you and your partner. Whether it's doggy or cowgirl, everyone sticks to certain positions that they can get off to — even if it's constantly one specific position, hey, it's working for the two of you.
However, there are certain sex positions that best fit curvy and slimmer people through experience. Some slimmer people have sex positions that they always use and then there's hot, curvy individuals who are constantly coming up with new positions to try out the next time things get hot between the two. But if you're more on the curvier side and you want to know what sex positions will be great for you and your partner, then consider any of these hot and intense sex positions for curvy women. You're bound to find your ideal position that will get you and your partner going all night (or day — sex never has a specific time).
You don't even have to be among the curvy fam when you're pulling off either the cowgirl or reverse cowgirl move. But for you sexy curvy gals, this one is definitely among the hottest sex positions for curvy women.
Have your partner lay on the bed, or the couch, or wherever you two are boning, and either sit facing or facing away from him while he's penetrating you. For more control, you can hold onto his ankles if he's really speeding things up.
What's even better about this position? You can tease him a little, because you can have most of the control by determining the pace — and when he can climax. Nothing like teasing your man a little to show you, too, are in control!
This position comes with a lot of cuddling, if the two of you are into that! Take spooning to a more sexual level and have your man hit it from behind. While you're laying on your side and facing away, your partner will enter from behind for a more intense cuddling session, but with more pleasure added to it.
Not only will the two of you become more comfortable in this position, but this gives your partner more access for neck kissing, breast grabbing, and ass grabbing with his free hand. Even though it seems like a simple position, it comes with a lot of touching!
This position is similar to reverse cowgirl, but now the two of you can pace the thrusting rhythm together. While your partner is sitting up on the bed with his back against the wall or headboard, you simply sit on him with your body facing away from him. Then from behind, straddle your legs around his waist and get a good grip on his knees while you ride him.
In this position, the two of you work together as a team — really heating things up! And your curves won't be in the way, too, while he gets a great look of you from behind — making this one of the hottest sex positions for curvy women.
Oh, this is a fun one from the greatest sex positions for curvy women of all time — the Z. I know, it sounds super difficult, but take a look at the example above. And once you get the hang of it, I guarantee the two of you will get off of it with ease and would definitely want to go at it again for round two.
Here's how it goes: while your partner is kneeling down on the bed, you're laying on your back in front of him with your legs spread apart and with your feet resting on both of his shoulders. Not only is he getting an amazing view of your body this way, but he can really pick up the pace in this position. Eye contact is key here — actually, it's key for any sex position, but there's a lot of intense gazing in this one.
You can relax yourself with this one — the speed bump. From the hottest sex positions for curvy women, your partner can penetrate you from behind, all while you're laying on your front on top of the bed, couch — wherever. Spread your legs open a bit for your partner to gain easy access and for a steamier experience for you, as well!
Not only is this sex position one of the easiest to reach an orgasm, but your partner is all in control — leaving you with nothing but pure pleasure.
Hello...doggy style! This is definitely the most iconic and the OG of sex positions — easily making it one of the hottest and most intense sex positions for curvy women. I really shouldn't explain to you guys on how this works, but I still will for newbies.
It's super easy, too easy — you basically get down on both hands and knees while your man hits it from behind. Your beautiful curves won't be in the way for this one — your partner will be doing all the work in the back (and has full access to your ass, too). Things can quickly get hot while having sex in this position, so climaxing won't be a struggle to reach here.
Ah, missionary — the classic sex position, right next to doggy style — also among the sex positions for lazy couples. Honestly, this is probably the most used sex position of all time and the best sex positions for curvy women. There are also tons of ways to make missionary position much hotter!
Anyways, while you cozy up and lay in bed, maybe even grab a few pillows to put around you, your partner will lay on top of you and start picking up the pace from there. Not only are you doing less hip movement, but this is your opportunity to give your partner neck kisses, intense eye gazing, and other love touching. This sex move also allows your partner to really get a look at you and your stunning features!
Indian style is one of the more underrated sex positions that you should seriously try out. Have your man sit with his legs crossed while you climb on top of him and spread both of your legs open on either side of his hips.
Not only is this position super comfortable for the two of you, but you, too, can gain control. Your man might even hand you the baton for this one and you can go all out — not to mention the teasing aspect of it. This position can also lead to teaming up together and getting the best out of it.
This is definitely among the fun and hot sex positions for curvy women — the bicycle! No, the two of you aren't riding bicycles, but instead, your man will be riding you like one! Not literally.
For this sexy sex position, you'll be the one laying on the edge of the bed with your legs up while your partner stands at the edge of the bed, grabbing your ankles and just going at it with your G-spot. The man here has total control, which leaves you getting 100 percent pure pleasure! And you can really get a good look at your man from this angle.
From the list of hot and intense sex positions for curvy women, this one is among the slightly difficult ones to pull off, but once you got it down, it's one of the sexiest positions of all time.
Here's how it goes: you're laying on your tummy while your man comes up from behind and slides his body in between your legs and penetrates you from there. This is definitely a sight for your man to see all while you're getting the ultimate pleasure — that's why it's called Hit the Spot. The position is basically designed to hit your G-spot perfectly and give you and your partner a powerful orgasm.