Zoodles Instead of Pasta
A Healthy Alternative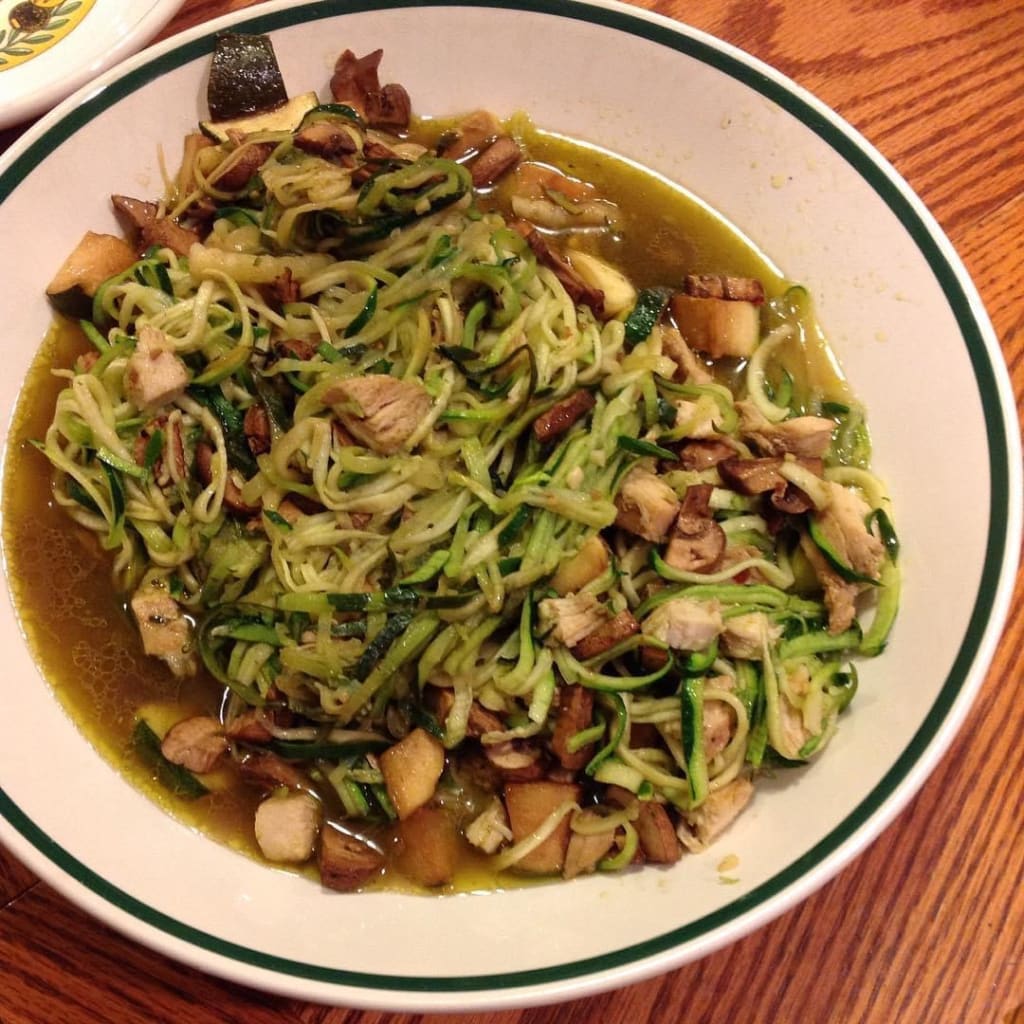 Zoodles with veggies
Zucchini noodles, or zoodles, are the perfect solution when craving gluten free pasta. These are healthy noodles that can be combined with a variety of sauces and additions, and can add a handful of new recipes to your daily dinner ideas. Some people love zucchini and have used this vegetable to make lasagna type dishes and even pizza on zucchini, but the zoodle is the most versatile way to prepare it to "fool" yourself that you are really eating pasta. I have used a portable spiralizer, as well as one that is like another appliance in the kitchen, to make many luscious zoodles dishes.
Zucchini is one of my favorite vegetables. Not only is it so healthy but is low in fat. I like to spiral them and make noodles or what we now call zoodles. It is a nice alternative when you crave pasta and just don't want the carbs. Sometimes when you tell people you are making this they will make an unhappy face until they try them. Mixed with whatever you enjoy with pasta, they will be fascinated by the results.
When I first started making my zoodles I used my hand spiralizer and realized it is a lot of work. If I have zucchini that needs to be used I will quickly spiral them so I can make an interesting "fake pasta" dish. (You can always buy them premade in a pinch— a little more expensive.) The larger spiralizer is easier than the portable one but it definitely does a number on your wrist.
So tonight I decided to make zoodles with pesto, Parmesan and some chopped tomatoes. In addition, I seasoned with pepper, garlic powder, Parmesan cheese, onion salt and added pesto and chopped tomatoes.
I cooked the zoodles in avocado oil for about five minutes with seasonings added. Then I added the pesto and tomatoes and more Parmesan cheese. To sum up in one word, yummy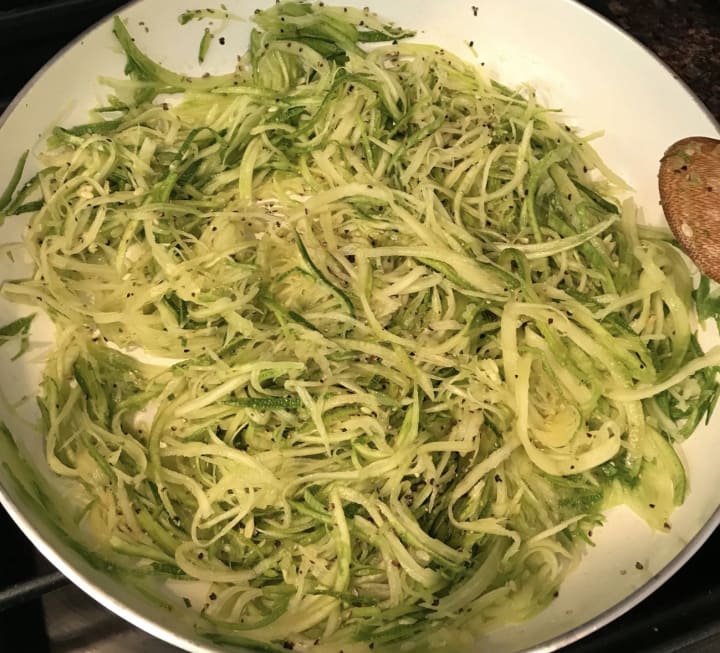 One of my favorite ways to make zoodles is with vegetables because you have so many to choose from. Then, you can either make with a garlic and oil sauce or with pesto. This is a perfect meal to make when you take a look in your refrigerator and realize that you overbought veggies this week and don't want to waste them. You should always cook veggies a certain amount before tossing in to zoodle pan. Then you can spice it up however you want and add more pesto or garlic and oil. Also, a nice addition is crushed red pepper.
Personally, I don't like veggies with pasta and tomato sauce but if you do that is always an option. In this case, you prepare the tomato sauce ahead of time or use a favorite jar brand. The only jar brand I use is Rao. I would like to try the Rao Alfredo sauce with my zoodles next. I will keep you posted when I try it.
Before cooking zoodles in the skillet, towel dry them so they have less water. Zucchini is a water based vegetable and will produce an additional amount of water when cooking. Cook zoodles in a skillet using avocado oil (my preference) or olive oil for approximately 5 minutes continuously stirring. When they are done, drain excess water out of skillet.
Add whatever ingredients you now want to put in your special dish. I have used spinach, peas, peppers, mushrooms, and even broccoli. Veggies should be already cooked or halfway cooked before adding to zoodles in pan. Season with garlic powder, Parmesan cheese and onion powder if you like. Keep stirring as you sauté veggies with zoodles. If necessary you can add more oil at this time. When you see the water consistency decrease (about five minutes) zoodles are ready to serve. You can additional cheese and stir before serving.
On a summer night I have used zoodles with tomatoes. I used grape tomatoes and cut them in half. I add them to the zoodles on the stovetop for about a minute as I want them to remain crispy when tossed in with the zoodles. Toss in a little Parmesan and let cool and you have yourself a cool, refreshing summer meal without the guilt of pasta.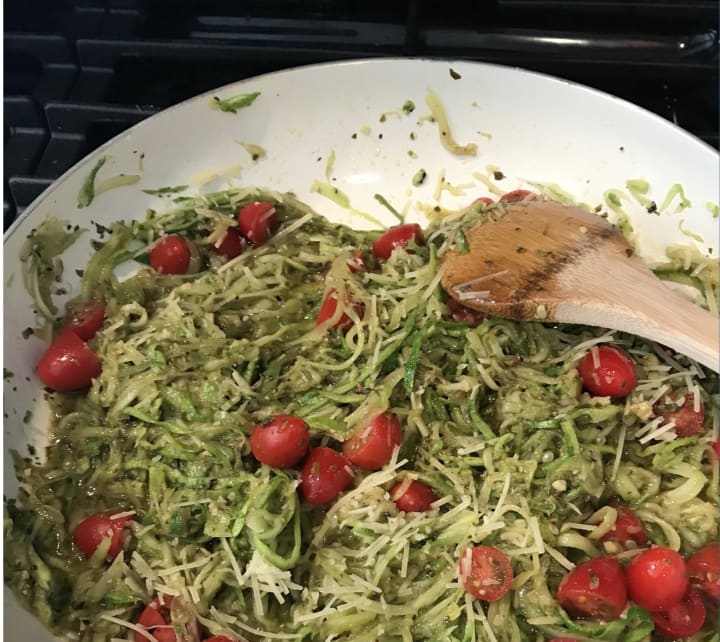 I have also made zoodles with meatballs and tomato sauce (perfect on a cold winter night and still eating healthy), with chicken and mushrooms, with shrimp scampi — the varieties are endless. Check out my fish dinners with zoodles at https://vocal.media/feast/fish-dinners-in-a-snap.
If you enjoyed this article, please share it on your Social media and send it to someone you think will like it too!
About the Creator
I am an elementary educator and freelance writer. I enjoy writing about education, health and fitness and every day life issues. You can find my writing at egallagher.contently.com and my blog, Just Me, https://egallagher713.wordpress.com
Reader insights
Be the first to share your insights about this piece.
Add your insights