Stuffed Peppers
A Colorful, Culinary Delight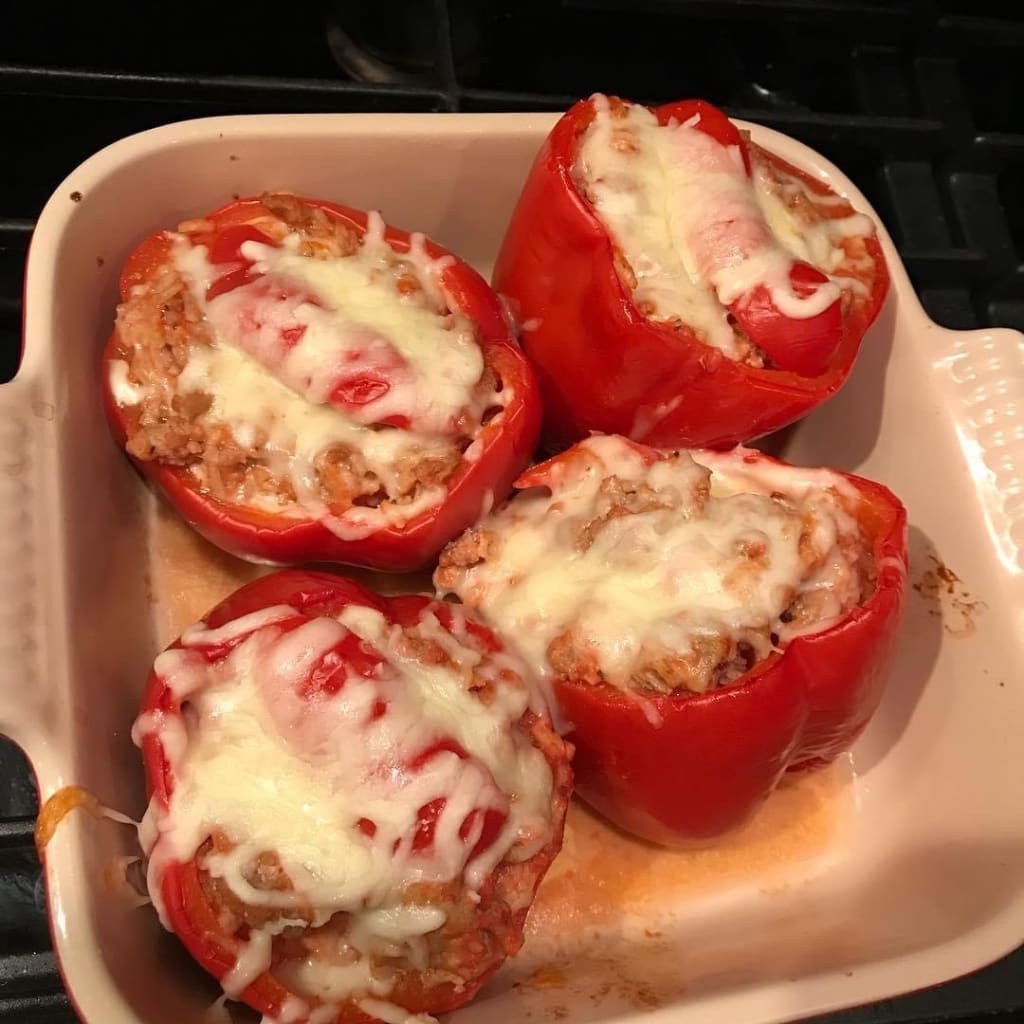 Melted cheese delicious!
We each have certain recipes using peppers that are our favorites. Personally, I enjoy stuffed peppers and I make them in a few different ways. In all cases, the first thing you need to do is to wash peppers, cut the tops off and clean out the inside. Then, place in boiling water standing up for five minutes. Take out and let them dry. They are ready for stuffing. Here are a few different ways I make the stuffing:
1. Healthy Quinoa, Low-fat cheese and Sauce
. Cook plain quinoa (or your preferred kind) prior to putting in pepper. Make sure that water is drained out after cooking. Put aside.
. Use tomato sauce (already prepared with your own seasonings). I use about 2 tablespoons per pepper. My sauce includes garlic, onion powder, red pepper and Italian seasonings (sometimes some parmesan cheese).
. Use low-fat shredded cheese. Your preference but I usually use the part-skim mozzarella cheese.
. Put peppers standing up in a baking pan and stuff each with ingredients above in order – quinoa, sauce then shredded cheese. Feel free to add more parmesan cheese to your liking.
. Bake at 375 for 20 minutes.
2. Meat Based, Low-fat cheese and Sauce
. Prepare chopped meat (beef preferred) prior to baking peppers. Cook in skillet with olive oil and garlic. Brown lightly as beef will cook again with peppers. You can substitute turkey or chicken chopped meat if you prefer. When done, drain oil and put chopped meat aside.
. Use already prepared tomato sauce and low-fat shredded cheese of your choice.
. Put peppers standing up in a pan and add chopped meat layer to the bottom of each pepper (about halfway up). Then add about tablespoons of sauce to each pepper and top with your low-fat shredded cheese. You can add more grated cheese on top if you like.
. Bake at 375 for 20 minutes.
. I usually take leftover meat and cheese and bake in a small dish on the side for a delicious add-on to your meal. We cannot waste these delicious ingredients.
Stuffed peppers can be made with all kinds of peppers. Most people use the traditional green ones. Personally, I prefer the others—red, orange and yellow – as they tend to be sweeter (and of course, more expensive).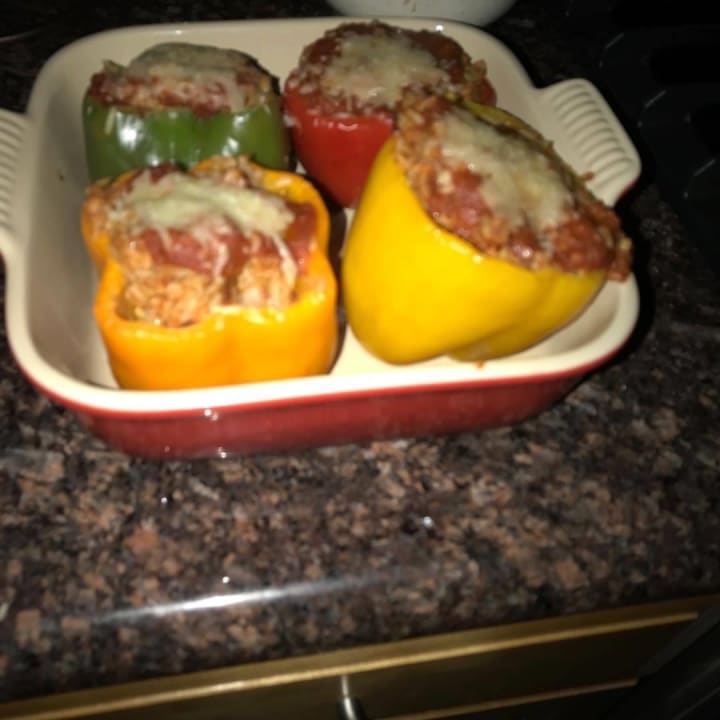 To keep it interesting, I often use different combinations in my stuffed peppers. Sometimes it also depends on what is available to use in my refrigerator. You can:
. substitute rice for the quinoa (even brown rice for the health-conscious)
. add chopped onions, zucchini and even bits of pepper to add a distinct flavor
. use different cheeses depending on your taste
. layer the peppers with alternating ingredients
. use chopped meatballs to replace the chopped meat in pan (this will give it all
the flavors from your original sauce.
. you can opt out of using tomato sauce and use a cheesier sauce (similar to one
used for macaroni and cheese.
. a big favorite is adding peas to your rice or quinoa, and even above your meat .
Most of all, when making stuffed peppers use your creativity. I don't think that I have made my stuffed peppers the same without some variation of the above recipes. Don't forget to boil the peppers before starting. Cooking them with ingredients will make the peppers hard and the ingredients moist and tender. That is not a good combination.
I hope you enjoy making stuffed peppers. These are wonderful to eat at a meal or paired with a salad. Bon Apetito!
If you enjoyed this article, please share it on your social media and send it to someone you think will like it too!
About the Creator
I am an elementary educator and freelance writer. I enjoy writing about education, health and fitness and every day life issues. You can find my writing at egallagher.contently.com and my blog, Just Me, https://egallagher713.wordpress.com
Reader insights
Be the first to share your insights about this piece.
Add your insights