You Scream, I Scream, We All Scream For (Low-Cal) Ice Cream Cake
A minimal-guilt indulgence.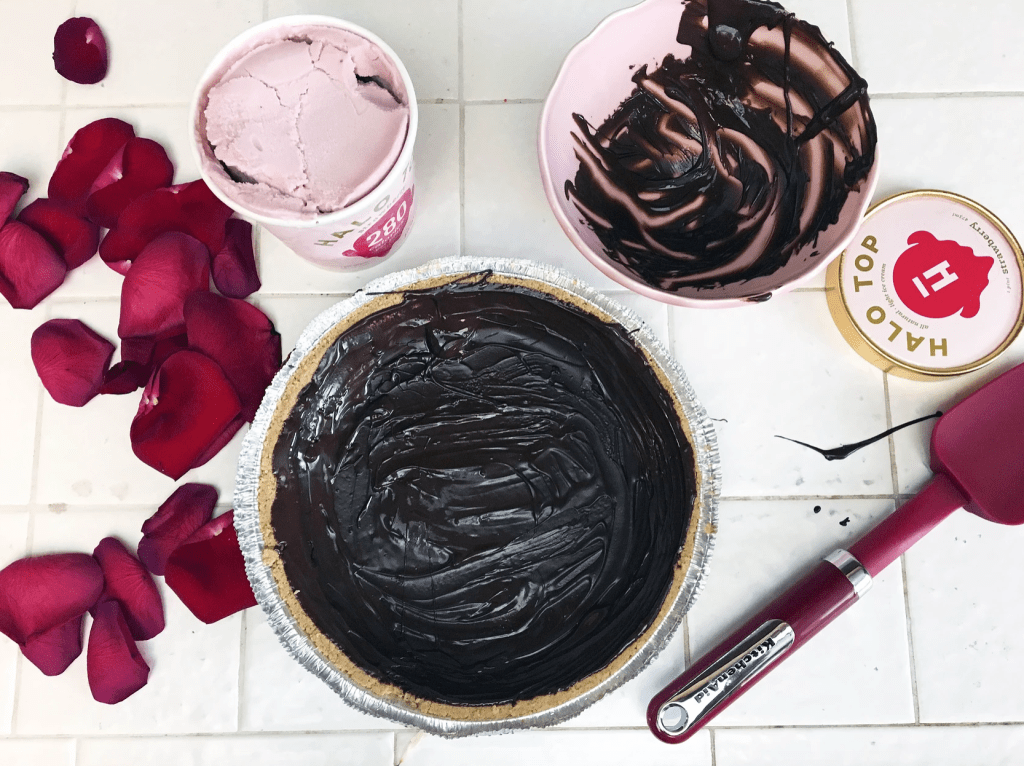 First things first... who doesn't love ice cream? (if you raised your hand just now, I'll let you find yourself to the door).
Even better, though, who could possibly resist a low-calorie ice cream that DOESN'T taste like it was made with only half of the fun? Halo Top manages to deliver all of the taste with only a fraction of the calories. I have unofficially declared them the Kings of Ice Cream. There's no chalky after taste or overly-icy consistency. It actually tastes like normal ice cream. It's just low-calorie ice cream that magically *poofs* away most of the calories....
Well... Not quite. I did some research and found out what the special trick is to this minimal guilt indulgence! While a typical ice cream may have 250 calories for a 1/2 cup serving, Halo Top only has about 70 calories (in the strawberry flavor used in this recipe).
So, what gives? For starters, this ice cream physically weighs less than other ice creams. Essentially you are eating air that's been whipped into it to increase the volume of the ice cream without adding actual ingredients. Secondly, the sweeteners used include Erythritol and Stevia in addition to Cane Sugar. Erythritol is very low calorie and Stevia is sugar-free. This makes the ice cream sweet without adding too much cane sugar. And finally, the high protein content comes from milk protein concentrate. This is a common ingredient used in many protein powders, protein bars, etc.
After indulging in a few different flavors of the sweet treat, (purely for research purposes, of course) I had a great idea. Why don't I see if Halo Top holds up well as an ice cream cake?! And so, the low-calorie ice cream cake was born.
This recipe is so simple. In total, it will take you about 40 minutes to prepare. I wouldn't recommend making this too far in advance; the day of or the night before you want to serve it is best. Also, see the end of the recipe for a really fun idea to make this customizable for any occasion! It's a perfect celebratory cake for any Valentine's day, birthday, anniversary, promotion, etc., since you can write whatever message you want on it!
I hope you guys give it a try!
Here's what you'll need:
1 pint Halo Top Ice Cream (You can use any flavor, I used strawberry)
1 pre-made graham cracker pie crust
1 cup dark chocolate chips (Again, you can use any kind of chocolate chips you'd like. I usually opt for dark chocolate because, antioxidants).
Red sugar sprinkles (Optional)
Wax paper
Directions:
Let the ice cream sit out until softened. Melt 1/2 of the chocolate chips in a microwavable-safe bowl, in 15-second intervals until fully melted.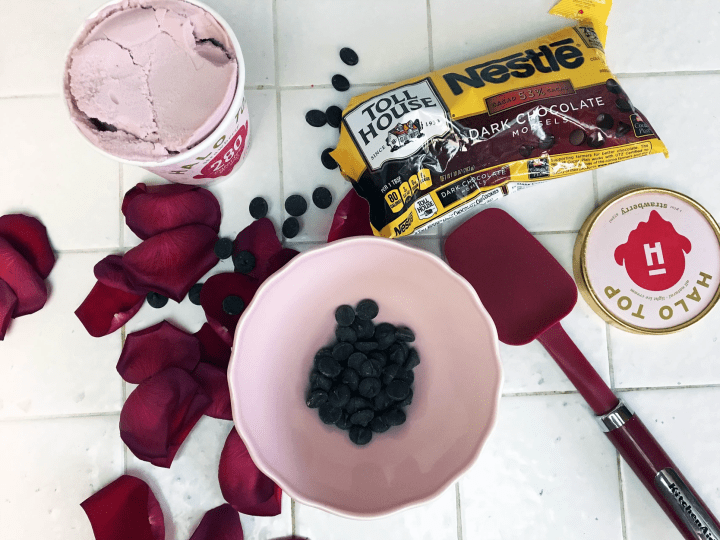 Spread the melted chocolate along the inside of the pie crust. This creates a chocolate barrier to prevent your crust from getting soggy! Let dry, and place back in the freezer for 15 minutes.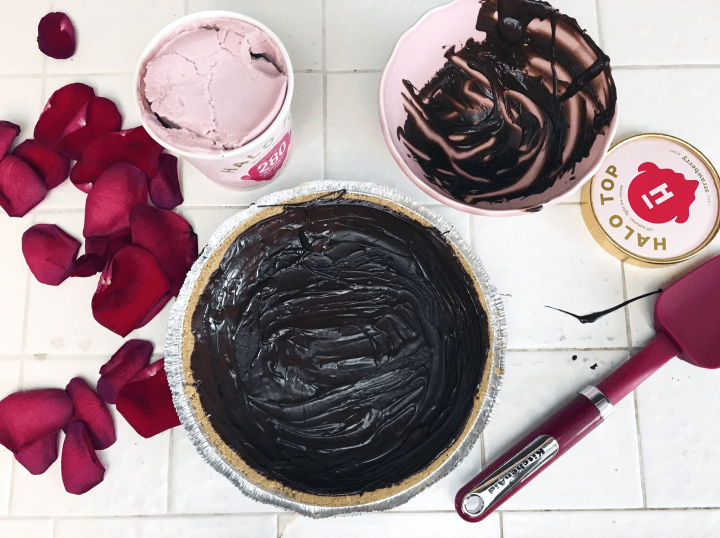 Next, spoon the softened ice cream into the pie, smooth over the top until it's flat. Place back in the freezer for 20 minutes, or until ready to serve.
**OPTIONAL**
Take the remainder of the chocolate chips, melt them as you did before, and pour into a ziplock baggie. Snip one corner of the bag and "draw" a chocolate design on wax paper. Place the design back in the freezer for 15 minutes to let it harden. Carefully peel off the wax paper and place on your cake prior to serving! Sprinkle the red sugar sprinkles around the perimeter of the cake.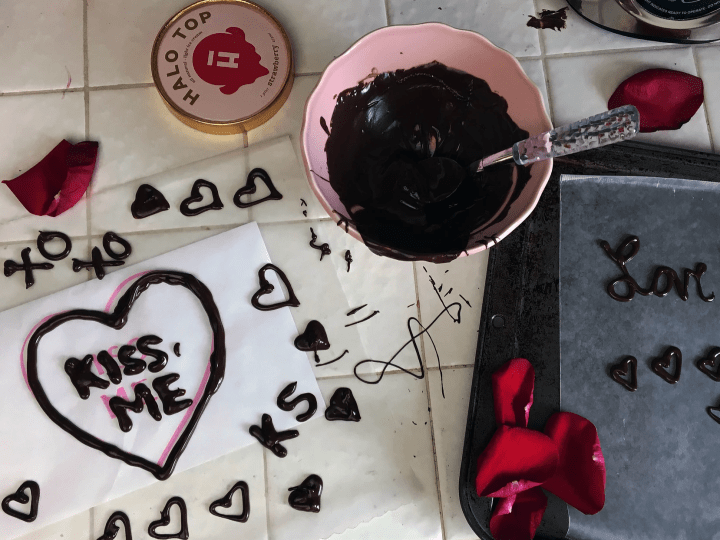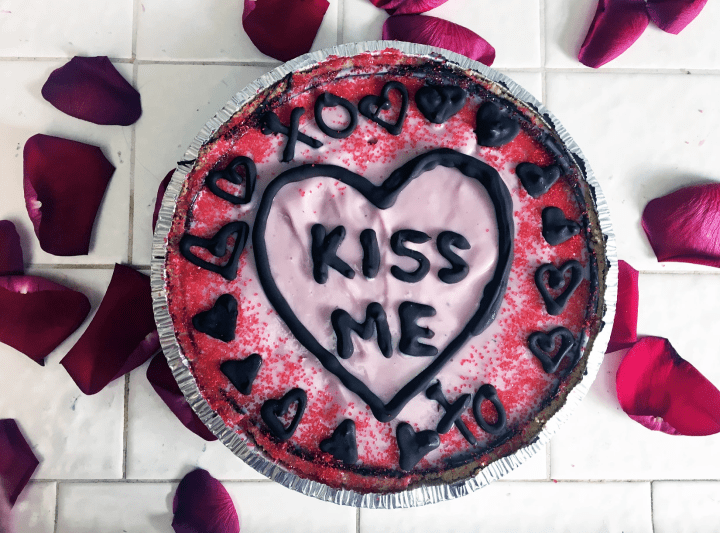 If you haven't guessed yet, I made this one for Valentine's Day. It is so sweet, simple and your lover will absolutely love it!