Where to Find Gardein in the Bronx
Frozen Plant-Based Goods Makes It Way To The BX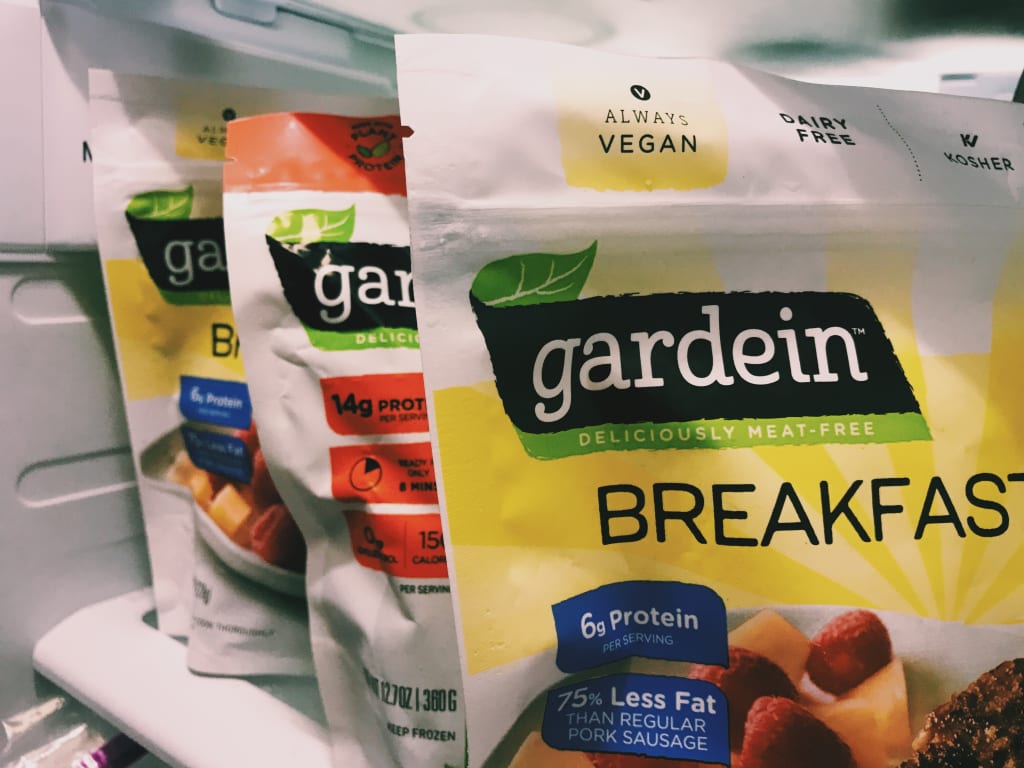 Photo by Alexis Montoya (@thebronxvegan)
From meatless meatballs to crispy tenders, Gardein blesses vegans with some of the tastiest meatless meats around. Their products have become a staple in my house, especially when I want to make my version of vegan Puerto Rican Pastelillos!
Meatless meats really make the difference when creating dishes from my culture. I'm often picking up these products when I can spot them on my trips to the grocery store. Since brands like Gardein don't have a major presence in the Bronx, I decided to show you all of the places where you can find them. Gardein, if you're listening, I'd love to see a full fridge dedicated to your products in all Bronx supermarkets by 2020. Just a thought!
Gardein lists the stores they are present in on their website, so check out the site to find the exact products they have available in each store. I highly recommend calling ahead of your grocery store visit to ensure the products you are looking for are in stock.
Target
700 Exterior Street, Bronx, NY 10451
815 Hutchinson River Pkwy, Bronx, NY 10465
40 W 225th St 50, Bronx, NY 10463
Truthfully, what doesn't Target have? Along with Gardein, you can find a number of vegan food products that can help pull any dish together. Plus, the dollar section is a magical adventure all on its own. Target is the best.
Foodtown
3100 3rd Ave, Bronx, NY 10451
1489 West Avenue, Bronx, NY 10462
5555 Broadway, Bronx, NY 10463
4332 White Plains Rd, Bronx, NY 10466
Foodtown is one of many local grocery stores present in the Bronx. I'm happy to see Gardein making its way into these shops, especially because these are spots where you'll usually find great deals on vegan products.
Super Foodtown of Throggs Neck
2945 65 Bruckner Blvd, Bronx, NY 10461
Not only can you find Gardein here, but you can find arguably the best vegan pizza in NYC. Have Pizza Gusta make you a fresh vegan pie while you shop for your groceries.
Big Deal Food Market
1018 Morris Park Ave, Bronx, NY 10462
Not much to say here, except that it is allegedly a big deal.
BJ's Wholesale
610 Exterior St, Bronx, NY 10451
184 W 237th St, Bronx, NY 10463
We love a wholesale shop that carries vegan goods. If you don't have a membership, you can get their One Day Shopping Pass!
Stop & Shop
1720 Eastchester Rd, Bronx, NY 10461
961 E 174th St, Bronx, NY 10460
691 Co Op City Blvd, Bronx, NY
My favorite supermarket, especially now that Gardein is there!
Shoprite
1994 Bruckner Blvd, Bronx, NY 10473
Basically Stop & Shop am I right folks?
Morton Williams
2467 Jerome Ave, Bronx, NY 10468
Truthfully, I've never been here but their tote bags are cute!
Good N Natural
2173 White Plains Rd, Bronx, NY 10462
I've had this grocery store recommended to me a number of times! You can find a lot of plant-based goods in this shop.
I'm always seeking out new resources in the Bronx! If you have a grocery store, restaurant, or product that should be included on this list or a brand you want me to find, let me know via email or social media. Since content like this can't be evergreen, please make sure to double check that this brand is in stock with the grocery store you intend to visit by calling their number. As a reminder, you can get more information on the exact product available in each store on the Gardein website.
—
The Bronx Vegan is a blog run by Puerto Rican and Peruvian Bronxite, Alexis Montoya. This blog aims to highlight vegan resources in and around The Bronx through recipes, reviews and more. If you like what you read, please consider tipping below! All tips will be put towards vegan efforts to share with the world.
For more, follow The Bronx Vegan on Instagram, YouTube, Facebook, and Twitter.