Vegans like Football Too
Sweet Potato Truffle Mac n Cheese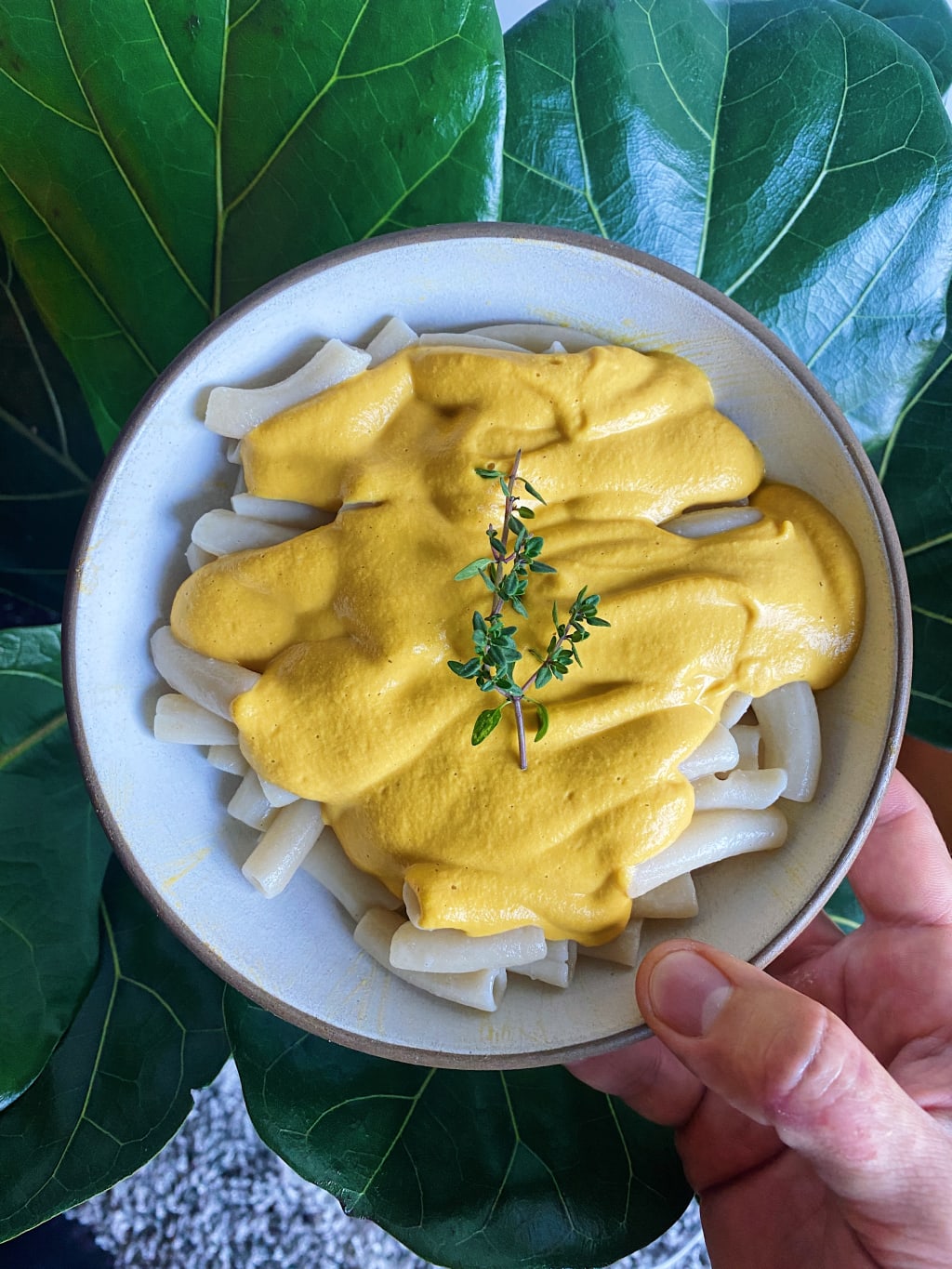 I get it... football isn't exactly the top sport that comes to mind when you think of veganism, and traditional Super Bowl menus are full of cheese, meat in all of its many forms and other non vegan items. There's usually not a vegetable in sight, and I can't tell you how many times I've gone out with friends to watch a game and the only option available to me is the carrot + celery combo on the side of the wings. Don't get me wrong, I'm grateful for the afterthought, but why can't there ever be a gametime snack that happens to be fully plant-based?
As a former college athlete and meat eater, the transition to veganism was rather unexpected, but honestly it wasn't too challenging (read more about my vegan journey here). I loved vegetables and was adept in the kitchen, but I struggled to replicate my favorite game day dishes from childhood.
Back home in New York, my family and I would go to our cousins' house for the Super Bowl and we had a pretty epic cooking tradition leading up to the big game. Each Super Bowl there are three cities represented (two cities from the teams and one city from the host stadium) and each party guest was responsible for contributing a meal that reflected the culture, ingredients or famous dishes from that city. For example, if the Green Bay Packers were in the Super Bowl, we had tons of cheese-themed dishes and when the New England Patriots made it, we had seafood (I got pretty sick and tired of clam chowdaah after all of those years).
But this year is different. This season I finally mastered a vegan dish that is Super Bowl ready. I spent all fall and winter preparing for this moment, and come Sunday, all of the non-vegans at the party will be begging for seconds.
Time for some Sweet Potato Truffle Mac n Cheese.
Ok, ok. I know it may sound a bit upscale for a Super Bowl party but here is my reasoning and inspiration behind this dish.
As a bitter Jets fan, I can't bear to see Tom Brady win another Super Bowl so I'll be rooting for the Kansas City Chiefs. Kansas City is known for barbecue, and mac n cheese is one of the most common bbq side dishes around. Kansas City also has a niche but passionate community of morel mushroom hunters, which inspired the truffles (truffle oil was easier to find in my local grocery store). I chose sweet potatoes as the base because, according to Missouri's department of agriculture, the state produces and exports a wide variety of potatoes. Plus it blends really well into a thick sauce.
I've prepared this dish three times in anticipation of Super Bowl Sunday, and my roommates, two non-vegan guys who eat little more than chicken and rice each day, were happy to taste test the fruits of my labor. They gave it a resounding two thumbs up and I am officially prepared to make this a vegan Super Bowl to remember.
1 large sweet potato (cubed and boiled until tender ~7 min)
1/2 cup soaked cashews (this helps thicken it up and adds protein)⠀
1/2 cup coconut cream (another thickener that adds some sweetness)⠀
1/3 cup nutritional yeast (a vegan's best friend that makes your dishes taste cheesy)⠀
1 tsp of truffle oil (truffle oil is an amazing addition but it's super intense so make sure not to add to much or you'll lose out on the sweet potato flavor)
*Blend ingredients together in the food processor and pour over 8 oz of pasta (I used 100% whole wheat but feel free to use your preferred type)
Garnish with salt and thyme (or any of your favorite spices and herbs) and you're ready for the game.
*NOTE*
If I had to do it over again, I would have tossed it in the oven with some seasoned breadcrumbs on top to add some crunch and change of texture.