Two Cheese Tomatoes
A delightfully fresh snack!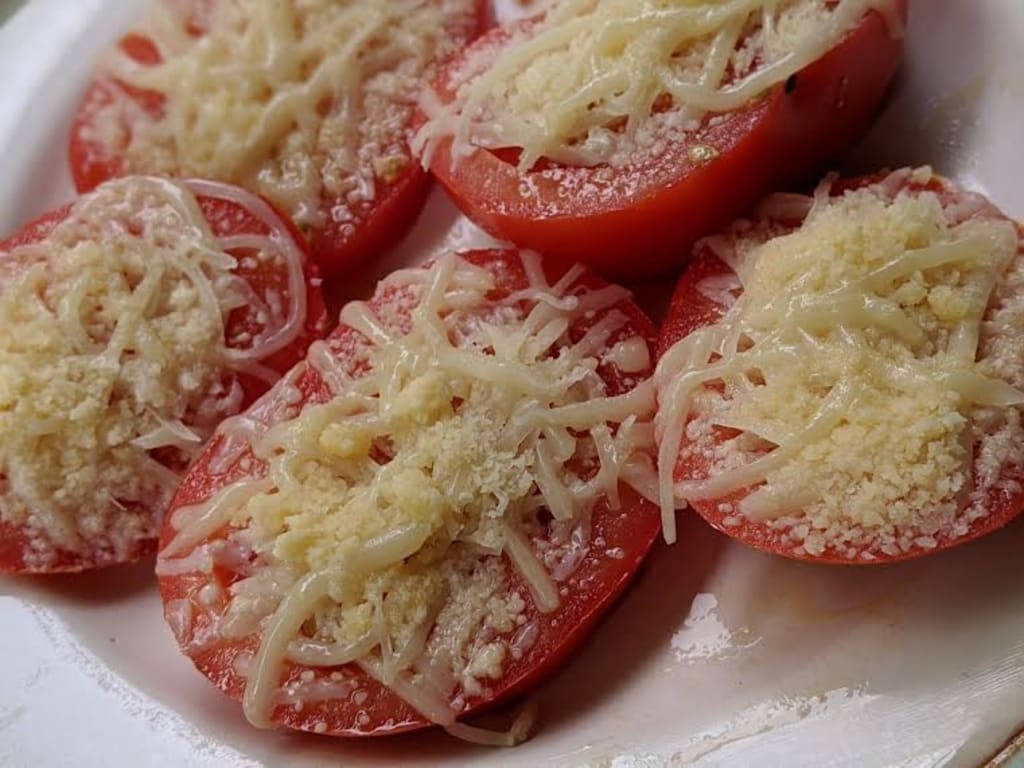 If this is your first visit to my recipes, welcome! If you are a returner, thank you!
I am a true believer that the world of food should be open to a person and moderation in all things is a great way to live life, that's why I specialize in creating macro-friendly recipes that are much easier to "fit" in moderation.
As you get to know me, you will find that all my recipes use a moderate to few amount of ingredients because I also believe that cooking should be stress free and not break the budget. I encourage that for all of my recipes you look into buying frozen rather than fresh to promote longevity of each food item if you do not use it again right away.
I would also love to hear your personal spin on any of my recipes! Have fun and please enjoy!
With summer right around the corner who doesn't love a healthy, fresh tasting snack? Growing up this was a common snack in my household, super quick, easy and super tasty! I thought to myself, well it's simple but why not make a recipe for it? Just because I think it's a "no brainer" doesn't mean everyone else has thought of it!
We often get caught up in the macros when flexible dieting, but let's not forget those very important micros (micro nutrients such as vitamins and minerals) as well! If you love cheese and there's the slightest bit of Italian in you, you'll likely enjoy this one! Tomatoes are full of lycopene which studies suggest may help reduce cardiovascular disease risk; as well as it is a wonderful antioxidant which can help reduce cell damage! So you don't have to feel guilty eating this snack! Tomatoes also contain fiber which a majority of Americans don't get enough of. Alright, I'm almost done bragging about tomatoes, lastly they also contain vitamin A, Vitamin C and potassium (another nutrient most Americans don't get enough of). Not to mention the macros are just as good as those micros on this snack so feel free to eat often!
When making a snack a rule of thumb I like to follow is always pair a protein with another food group, this helps stabilize blood sugars and keep you satisfied for longer. Snacks to me are anything less than 250 calories, much higher than that you are starting to go into meal territory.
This recipe is suitable for bariatric patients, vegetarians (if lacto-ovo), body builders, anyone who is practicing moderation who wants a healthy, fresh snack!
For more macro-friendly recipes, lifestyle posts and bodybuilding posts feel free to follow my instagram @boho_nutrition!
Servings
Makes 1 Serving
Cookware required
13x9 pan
Prep Time
Approx. 10 min
Cooking Time
Approx. 5 min
Total Time
Approx. 15 min
Difficulty Level
Easy
Ingredients
One beefsteak tomato
1/4C (30g) Fat free mozzarella
2 Tbs (5g) grated Parmesan cheese
Pepper to taste
Instructions
Preheat oven to 350 degrees Fahrenheit
Cut tomato into 4-5 wedges (these guys are big enough to make into 5 usually)
Put in 13x9 pan and sprinkle with both cheeses evenly
Spray with a bit of olive oil spray
Bake for 5-10 mins, until cheese is melted
Enjoy the melty, cheese, fresh goodness!
Nutrition Facts
(1)Beefsteak Tomato
Calories 100 kcal
Fat 2g
Carbs 9g
Protein 11g
Feel free to tell your friends all about my recipes, I'd appreciate it!
Tag me in any recipes you try!! @boho_nutrition
(I would love to hear your honest reviews positive or negative!)
Just a reminder: for more macro-friendly recipes, lifestyle posts and bodybuilding posts feel free to follow my Instagram @boho_nutrition!
Rhianon Condello RDN, BSN, RN