Transitioning from offline to online- How worth is the move for food delivery businesses?
The best refuge for businesses of today is to go online and get going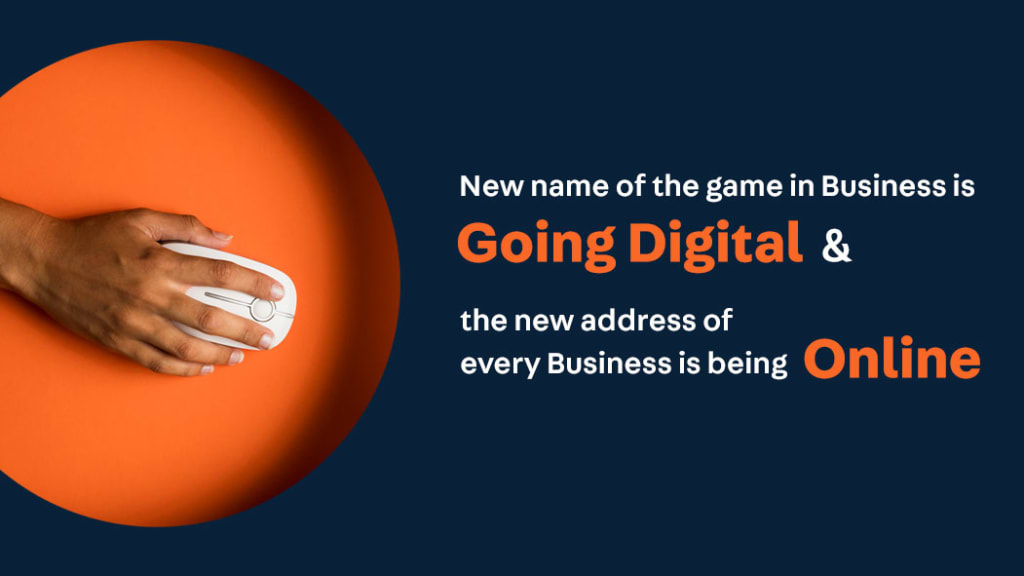 Make your food business go online and prosper
"The internet affords a level of relationship with consumers hitherto unfathomable."
- Lucas Donat
Introduction
The world of internet is a big place, and with internet services continuing to grow and penetrate with the passage of time, the competitive landscape is shifting.
Consumers of today, when it comes to online food delivery, are spoilt for choice. Businesses too are not spared from the influence of online food delivery services. It is no secret that running a business can be a challenging endeavour. And running a food business offline is highly daunting in today's world where technology rules the roost. Can you imagine a time today where you are caught up with meeting your professional deadlines and keep worrying about what would you take for lunch? Or, if you are wanting to order a Mexican cheese pizza for yourself but you cannot? Not even the minutest brain cell of yours can imagine that. These are online food delivery times dominated by technology where not being able to think of, expect or make online deliveries is unbecoming of a futuristic business and therefore, highly condemnable.
With the coming into being of e-commerce and more advanced delivery models, food businesses have progressed to an unfathomable extent. In the face of existing and impending challenges- namely some technological transitions that businesses are not able to adopt to easily, or the restrictions imposed due to covid-19 pandemic, several businesses found opportunities in moving from an offline store to making an online presence.
Yes! Yesterday's brick and mortar businesses have adopted online mechanisms and processes to remain in contention- with many of them becoming today's leading online players in that space. Seeing opportunities galore in the online marketplace, they have expanded their brick-and-mortar businesses beyond the geographic limitations of their storefronts and have reached new target markets and potential customers.
After all, e-commerce is growing fast with global sales expected to reach $6.4 trillion by 2024. This explosive growth is in part because of the effects of the COVID-19 pandemic, which had a major impact on retail sector and customer shopping behavior. Retailers, big and small, closed their doors last year, with 12,200 stores shuttering in 2020 (for comparison purposes, 10,000 stores closed in 2019).
How is getting your business online impactful in contemporary times- An example of Defcon hot sauces
Taking your offline business to an online platform— either by deciding to really invest in your e-commerce site for the first time or by joining hands with third party food delivery software and app companies— can be initially cumbersome. But the move can be worth the time and resources committed into it. All that businesses need sometimes is to hear from other business owners who have made the leap online, how did they do it, what worked for them and what didn't and other such associated elements of interrogation and doubts. To answer many such questions and to clear the air of scepticism and doubt hovering around transitioning from offline to online, an example of Defcon is worth putting in front.
John Dilley, the president and creator of Defcon Hot Sauce, was a connoisseur of wing restaurants for years and deciding one day to create his own hot sauces to surpass what he had tried. Commencing in 2004, the business grew quickly and steadily, mostly through word of mouth and by attending events.
Flashing forward to the present day, Defcon is available in 50 states and 32 countries. While not a typical offline to online story because they never had a brick-and-mortar storefront, yet they have slowly pivoted their strategy from attending trade shows and farmers markets to letting their online store shine on its own, while still selling their products through wholesalers and on marketplaces.
When the COVID-19 pandemic began, many events Defcon attended were closed, but the site witnessed an increase in sales. People were staying home and cooking more and loving that they could get a condiment to kick things up without leaving their homes. To put one revealing statistic in front, interestingly Defcon's online sales increased 65% year-over-year in 2020.
John and his wife Maggie built the store on BigCommerce after they experienced site crashes and poor customer service on their previous platform. As Maggie explains: "BigCommerce was and is a breath of fresh air, and the customer service is a pleasure to deal with. It was a pleasure to set up as everything was self-explanatory, and very easy to use."
Such endeavors on the part of Defcon were a result of the passion for taking their business online. Moving on with this understanding, businesses of today that are passionate and desirous of getting online should draw enough motivation from the case of Defcon.
Five compelling benefits and reasons to take your food business online
 Flexibility- Unlike traditional brick-and-mortar businesses where someone has to be present in the store at all times, online businesses allow you to run your company from anywhere, anytime. Thus, online businesses give you that work-life balance. The greatest benefit of an online store is that you can operate 24 hours a day, 7 days a week. Since your restaurant and food outlet is virtual, you can potentially be making money while you sleep. Hence, the flexibility of online businesses can be translated into flexible location and time of doing business.
 Low start-up and overhead cost- For new restaurants wanting to establish themselves physically, overhead costs can be overwhelming and it may impact their financial health negatively. However, high start-up and overhead costs only occur if you are planning to open a brick-and-mortar business. Online businesses, on the other hand, only require you to purchase a domain name and hosting packages. You may incur some extra cost to hire a professional web designer to design an elegant and professional-looking website for your business but that still saves you money on taxes and rent that you would have to pay for a storefront. Thus, online businesses are comparatively cheaper than brick-or-mortar businesses in term of start-up cost and overhead expenses.
 Improved restaurant image- Your restaurant's image alone should be big enough a reason to start a new website and begin selling online. It's an extremely important factor considering that without a website, prospective clients could begin to wonder how serious you are about business—if they even know you exist at all. Today, the first place many people look when wanting to discover a new business or find out more about one they've heard of is the internet. If you don't have an online presence, then you can't expect your prospects to take you seriously and you will lose business to competitors who do have an effective online presence. Quite frankly, you need to have an online presence because your prospects and customers expect you to have one. Perhaps this may be the reason why food delivery software and apps are thriving these days.
 Better customer support and increased customer acquisition- Efficient food delivery software and apps provide great customer support. Right from seeking their feedback, redressing grievances and giving instant solutions to their problems puts restaurateurs in the driver's seat- a feature that rival businesses may be devoid of. Not only does this save time, but restaurants can provide better service. Your clients and prospects are looking for specific information, such as:
 What to consider before they make a buying decision?
 How to solve problems with an existing purchase?
 Your hours of operation and when they can get in touch?
With an online presence, you can give them just the information that they are looking for, and just when they are looking for it. This means fewer phone calls with technical questions and more sales. You can spend more time working on the revenue generating activities in your business and spend less time handling common customer service issues. The better is the customer support, increased is the customer acquisition.
 Increased visibility of your food business: Several businesses that failed during the pandemic were the ones that failed to make the most of online marketplaces. The biggest merit of joining hands with an online food delivery service provider is that it provides your restaurant an increased visibility- something which offline businesses lack in. As the world users increase over online mediums and social media platforms, making your business come and stay online surely leads to increased visibility- thereby leading to increased customer visits and sales.
Some interesting statistics and facts about online businesses
Getting online is the key to growth in today's fast paced world where technology is ruling the roost. For restaurants and small food outlets it is all the more important to find an online partner to boost their visibility and subsequent chances of making increased sales. But before that, let us take a look at the below given statistics and facts that provide enough reasons to businesses to think of getting online as soon as possible.
 64% of small businesses have their own website. (Devrix)
 19% of small business owners without a website believe that their business would grow 25% in three years or less with the benefit of a website.
 55% of people will search online for reviews and recommendations before making a purchase, with 47% visiting the company website, 26% checking out the physical store, and 23% of people talking with friends and family. (KPMG)
 30% of people are highly likely to return to a website they've purchased from in the past.
 The reasons people decide to buy include competitive pricing (36%), preferred website (30%), best delivery options and price (17%), stock availability (14%).
 92% of all online feedback is considered positive, followed by 6% neutral, and 2% negative.
 Most people (roughly 47%) share feedback on the seller's website, followed by Facebook (31%), brand websites (18%), WhatsApp (17%), and Instagram (12%).
 The top things that influence buying decisions are: lowest price, enhanced delivery options, easy return policy, payment options, ability to see inventory availability, and information about the product/service.
 The two main reasons people won't buy online include wanting to see and touch the item before buying and delivery taking too long.
 It is estimated that by the year 2040, 95% of selling will be through e-commerce. (Nasdaq)
 54% of shoppers that abandon a cart item, and later find out that the offerings' price has dropped, will return and buy it after all. (nChannel)
 71% of people believe they'll get a better deal online, even if the item is not on sale.
 Loyal customers are worth up to 10x as much after they make their first purchase.
 73% of people prefer to do business with companies that personalize the shopping experience.
 Customer service means a lot; 80% of people claim they'll quit doing business with a company after a poor customer service experience.
 82% of people want an "immediate" response to their marketing or sales question.
 46.5% of small and mid-sized businesses believe that free delivery increases their sales profits (MCM).
 Online stores with a social presence have an average of 32% more sales than those that don't. (BigCommerce)
Wrapping up
The world is shifting to online platforms and with them acting as the pivot around which success revolves, restaurants and culinary businesses should adopt online processes more and more to seek refuge in them and derive huge gains out of it.
The fact cannot be denied that the importance of online food delivery software and apps has been on an abundant rise for years now. Gone is the era of relying on having to call up restaurants to place an order. Instead, most high-rated restaurants today offer delivery services through food ordering software and apps to customers to make the experience of ordering food as simple and quick as possible.
After all, customers of today, with food delivery app enabled smartphones in their hands, are equally ravenous for instant deliveries as much as they are for food. Prudent restaurateurs have either already gone online or they are planning to do it to make the most of present opportunities. The goal is to offer a streamlined ordering and delivery experience to customers. Once your app is up and running, you're good to go!
So, when is your food business going to go online?
Before it gets too late until your food business makes a decision about it, just remember that new name of the game in business is 'going digital' and the new address of every business is 'being online'. let
About the Creator
Finding comfort and learning in expression, I have been a pedagogue, a guest columnist, soft skills trainer, freelancer and a tech blog writer. I have devoted years on delivering discourses on corporate strategy and digital marketing.
Reader insights
Be the first to share your insights about this piece.
Add your insights