Online food delivery services amid the outbreak of covid-19: The one small sign of improvement in a difficult situation
Food delivery services saw a rather steady growth during the pandemic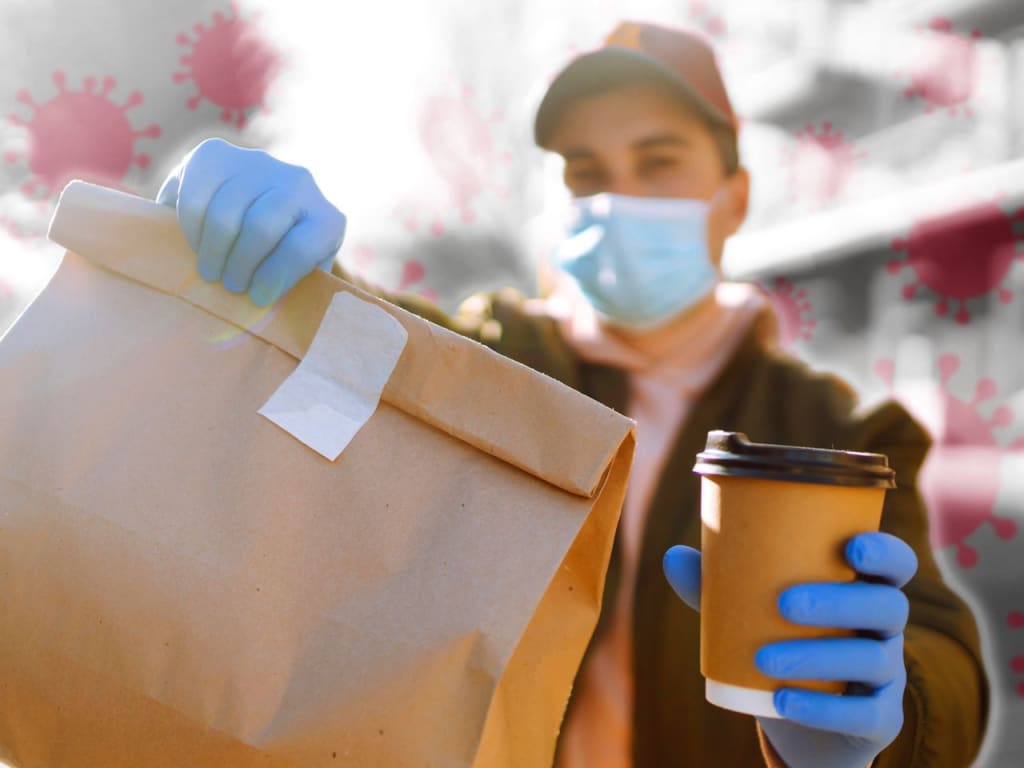 You stay home, we deliver
A report published by CNBC TV18 in May 2021 mentions that despite regulations across the nation restricting people from gathering inside eateries in the wake of covid-19, online food deliveries and food orders have not at all suffered a blow. In fact, on the contrary, more people have been found to be ordering food online and that the food delivery has picked up during covid-19 pandemic.
Covid-19, a nightmare pandemic characterized by strict lockdowns and long and harsh quarantines, was a major blow to the prospects of growing businesses and flourishing economies. People around the world were severely affected as they ran from pillar to post primarily to save themselves from the fatalities of the pandemic and secondarily to find a way out of it. Toddlers, infants, adults, the elderly, rich and the poor, strongly immune and the weak, servicemen and the business people, ministers, bureaucrats, politicians and the common people- all were forcibly home contained- with the covid fear looming over their heads and with nobody assured of getting a continuous supply of food for their families.
People then had to find alternative ideas- one where in they are prevented from going out and yet the essential supplies were delivered to their homes. Succinctly writing, they had to go for seeking home delivery solutions. This is where the role of online food delivery software and apps offering safe and instant delivery services came into play. In fact, their outreach and impact was so convincing that they became the talk of the town in no time. People, whenever they thought of seeking safe, hygienic and quick food solutions had to resort to one or the other food delivery app.
In fact, as per a report, the covid-19 pandemic caused a massive change in dining behaviors among the restaurant-goers in the United States. This behavioral change resulted in an increasing demand for takeout and online food delivery. The food delivery app industry heavily benefitted from this, having gained over a total of 111 million online users, a 16% increase from the previous year (Food Delivery App Market, 2020). And guess what's beyond this? Market revenue has also increased by 204% in the past five years thanks to more restaurants partnering up with these third-party delivery apps and thus widening the selection of food for their consumers.
Food delivery apps: Shining bright as a new penny amid the outbreak
To the fact that all businesses were badly hit by the pandemic, restaurants and culinary businesses were no exception. They too saw a tough time. But courtesy to some impeccable food delivery software and apps and their ability to deliver meal kits and food items at an unbelievable pace while ensuring safety and social distancing norms, the going for restaurants was eased.
While some restaurateurs developed and relied on their own delivery apps, others joined hands with leading third-party food delivery service providers to stay afloat. As the demand for online food deliveries continued to rise, the primary task was to stay in contention in an industry that was demanding them to come online and put their best foot forward.
Food deliveries were starting to soar. Joining hands with efficient third-party food delivery software and app providers was becoming a norm, more out of necessity. Online food deliveries were receiving a whole hearted embrace from people from all walks of life. Efficient, futuristic and robust food delivery software and apps became the desperately needed go-to options for restaurants worldwide.
In fact, a report mentions that food delivery was one of the fastest-growing verticals of 2020, providing consumers with safe, socially-distanced and convenient services. As put across by Forrester, the ability of food delivery apps to offer this convenience is the main reason the market has gained such momentum. And just to put it across idiomatically, food delivery apps were a 'silver lining in the dark clouds' that provided hope to the severed businesses. They still continue to bring respite and economic prosperity for many culinary businesses.
As McKinsey & Company reports, between March and May 2020, when lockdowns in Europe and the United States were the most severe, the food delivery market spiked considerably. It continued to spike and maintained that trajectory, thereby growing throughout 2020 and into 2021.
The most mature delivery markets worldwide — including Australia, Canada, the United Kingdom, and the United States — grew twofold (in the United States) to as much as fourfold (in Australia) in 2018 and 2019. This exponential growth continued in 2020 and early 2021 to the point where these markets are now four to seven times larger than they were in 2018.
Below given is the chart that helps build great insight about online food delivery figures in the pre covid times, after the first lockdown and after second round of lockdowns.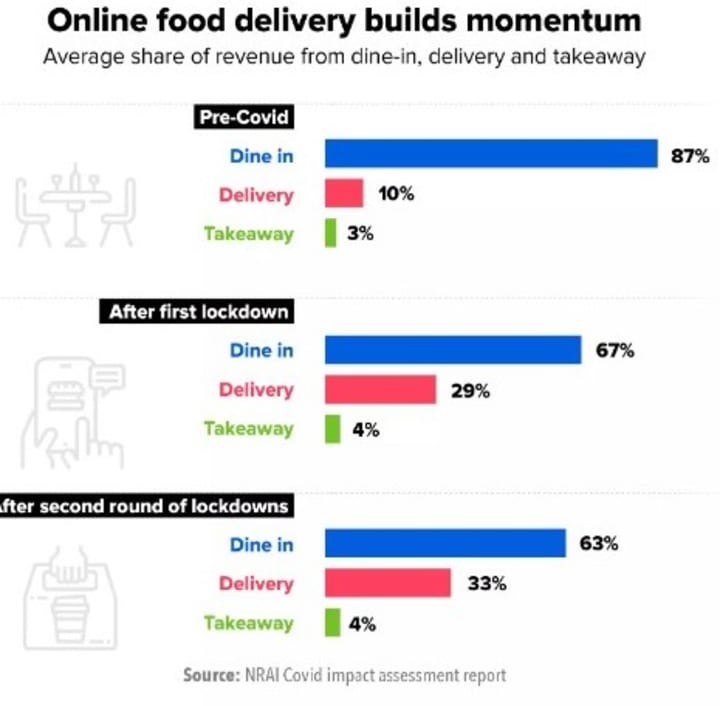 So, where on one hand the dine-in statistics have come down over the period of the pandemic, on the other hand, there has been a rise in the delivery figures during that time. Restaurants and cloud kitchens witnessed an increase in demand for online food delivery, as people's movement got restricted—especially on weekends in some metros—amid a new wave of the pandemic. Does not it mean that food deliveries are becoming a go-to destination for many? Or does it not exhibit the fondness of consumers towards an increased use of food delivery apps?
While some may wonder as to what is it that is making individuals and businesses seek refuge in them or even drool over such delivery apps, let us take a deep insight into the benefits of food delivery software and apps, that compels them to adopt and get acquainted with them more and more.
The benefits associated with food delivery apps that made restaurants put faith in them and survive the pandemic
Efficient and economic: Efficient food delivery apps bring great economies fort the business. They just don't help businesses in the making the process of online ordering hassle free, but owing to lower costs they are able to help businesses position themselves accordingly and in much better fashion in the marketplace.
Bring great ease and convenience: Being through with the period of the pandemic hand in hand with the food delivery service providers, there should not be an iota of doubt about the convenience that accompanies them. Yes! The ease and comfort food delivery software and apps bring for businesses and customers is unparalleled. Buying has progressed significantly and so has the selling part of marketing. Where on one hand, buyers no longer want to queue up for their food and meals, businesses too shouldn't risk expecting customers to take efforts to reach them.
Less time consuming: Food delivery software and apps are so designed that the customers can order and get their products at lightning-fast speeds. This consumes really less time and has pushed food delivery services to the limits. Availing food delivery services through apps are beneficial for customers who do not have enough time to shop, prepare, and cook food every week or let's say a couple of days in a month. It allows customers to be assured and enjoy high quality food and sumptuous delicacies from their favourite restaurants from the comfort of their homes.
A trenchant way to make up for reduced foot traffic: Offering food delivery services can help restaurant and food businesses recover the reduced foot traffic caused due to restrictions in pandemic like situations where lockdowns and social distancing norms were enforced. Not just this, but backing up your business with a robust food delivery software or app can also allow you to reach out to new customers who are more inclined to ordering from the comfort of their homes.
Availability of round the clock services: Owing to their round the clock availability, food delivery apps empower a business to serve in countries having different time zones. Moreover, a large number of restaurants and food joints are usually open 24*7 which enables customers to order food through apps any time they want. This has contributed to the ever-growing demand for food delivery services across the globe. While customers can order food at almost any hour of the day, businesses too can reach out to a large number of customers at even the oddest hours of the day.
Future of food deliveries
Despite relaxed restrictions and many restaurants and culinary businesses having opened up for the dine-in experience, consumers have maintained the habit of placing orders through food delivery apps in 2021. In fact, a report shows that the number of food delivery app installs and sessions have continued to grow, and revenue is projected to reach new heights in markets globally.
Business of Apps having projected that the global market for delivery apps will increase to $120 billion by the end of 2021, now predicts it to reach a whopping $300 billion by the year 2027. As the current and projected statistics, growing fondness and common sense for food delivery apps go, it gets evident that even after months of the pandemic-imposed restrictions, the growth of food delivery apps is not waning. Instead, Adjust's data shows a consistent upward trend in growth for food and drink delivery apps, with no signs of slowing down.
Wrapping up
Food deliveries are becoming outrageously large and commonplace. Revenues in the online food delivery market are projected to reach a whopping US $0.77 trillion in 2022. The journey that food deliveries have embarked upon has been noteworthy and their future is nothing less than a sea of possibilities.
With consumer choices evolving and with their taste buds craving for luscious delicacies every now and then, more so after the pandemic, food deliveries are absolutely good to go with the help of food delivery software and apps. Around all the growth over the penetration of internet, increasing urbanization and months after onslaught of the covid-19, food deliveries have just somehow become everybody's favourites.
Now, with months after ease in covid restrictions and markets and restaurants wide open, how many of us would like to take the pain of driving through the traffic, find a suitable vehicle parking space, walk up to the Doner $ Gyros or a Burger King outlet, queue over there and then order a meal for ourselves or our family? With the option of food delivery services around, this is too much to as for from a rapacious customer. No?
The answer to this rests with all of us. And it is this answer that perhaps tells us how large the world of food delivery has become in today's times. Just incredibly large!
About the Creator
Finding comfort and learning in expression, I have been a pedagogue, a guest columnist, soft skills trainer, freelancer and a tech blog writer. I have devoted years on delivering discourses on corporate strategy and digital marketing.
Reader insights
Be the first to share your insights about this piece.
Add your insights